Print This Post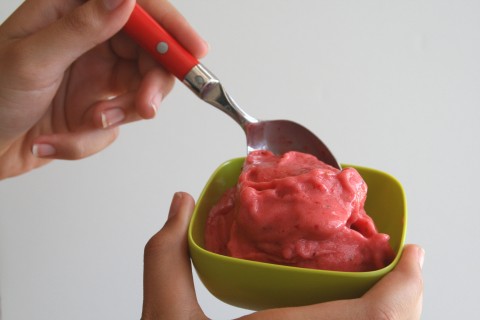 The joke goes:
Q: What's the difference between sherbet and sorbet?
A: About $3 a pint!
Sorbet may sound fancier (and usually commands a higher price), but the names are often used interchangeably. But sorbet doesn't contain any milk products, so let's call this one sherbet. Or we could just call it delicious and be done with it.
Either way, you can make completely delicious Strawberry Sherbet in the food processor in 5 minutes. (Ahem…while your significant other is cleaning off the dinner plates.) No ice cream maker needed, no cooked custard base, no elaborate set of ingredients.
Just frozen fruit, some yogurt, a bit of sugar and your finger to press the "on" button on the food processor.
Instant gratification!
5-Minute Strawberry Sherbet in the Food Processor
1 pound frozen strawberries
1 (4- or 6-ounce) container strawberry yogurt (can use plain or vanilla yogurt)
2 tablespoons superfine granulated sugar (more if needed)
Water
If using fresh strawberries, wash, dry, hull, slice them in half and place on a plate in the freezer, until frozen. When frozen, transfer berries to a zipper-top bag for freezer storage until you are ready to use.
To make sherbet, place frozen strawberries, yogurt, 2 tablespoons sugar and 2 tablespoons water in bowl of food processor. Whirl until thick and creamy, a minute or two, stopping to scrape down the bowl. Don't walk away or it may overprocess and liquefy. It will look like thick frosting. While processing, add another tablespoon or so of water if it needs help achieving the right consistency.
Taste and add another tablespoon or more of sugar if needed, to suit your palate.
Serve immediately (best!), or store in a tightly sealed container in the freezer.
Serves 4.
Strawberry-Basil Sherbet
Use a tablespoon or two of Basil Simple Syrup in place of one of the tablespoons of water, and be sure to taste before adding extra sugar, since the syrup is sweet. Strawberries and basil are a surprisingly good flavor marriage!
Strawberry-Amaretto Sherbet
Use a tablespoon of Amaretto in place of one of the tablespoons of water.
Strawberry-Cointreau Sherbet
Use a tablespoon of Cointreau in place of one of the tablespoons of water.