Print This Post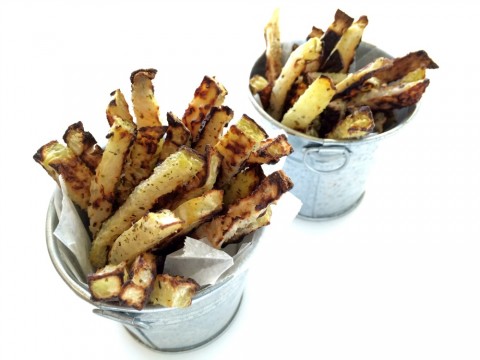 Low-Carb Baked Kohlrabi Fries, which are naturally vegan, are a surprisingly great way to eat an unusual vegetable. Kohlrabi is also relatively low in carbs, so you can indulge your fry addiction without going off the rails.
Kohlrabi might be a new vegetable to you, but cutting it into matchsticks and making fries out of it is out-of-this-world good!
I'm always in search of new vegetables, aren't you? Kohlrabi is my newest vegetable crush, and I want you to try it. Kohlrabi is also predicted to be one of the hottest vegetable trends for 2018, according to my vegetable guru Robert Schueller from Melissa's Produce.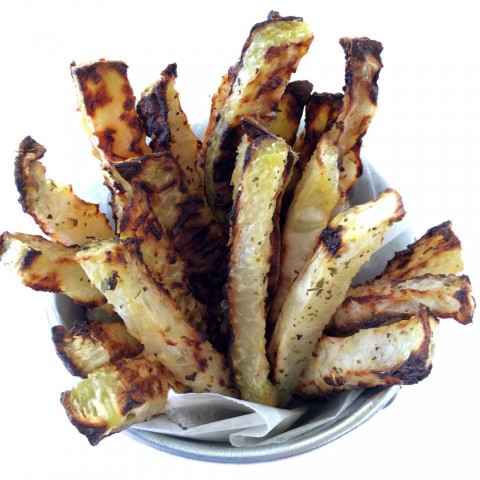 Let's be trendy AND eat deliciously, shall we?
What is kohlrabi?
It's a bit of an ugly duckling vegetable, or maybe even an aliens-are-among-us type of thing, with a knobby, bulbous root and spiky antennae stalks coming out of it. It looks like a root vegetable, but is actually grown above ground. The outside can come in three different colors – white, green and purple, but the insides are white and all the colors taste the same.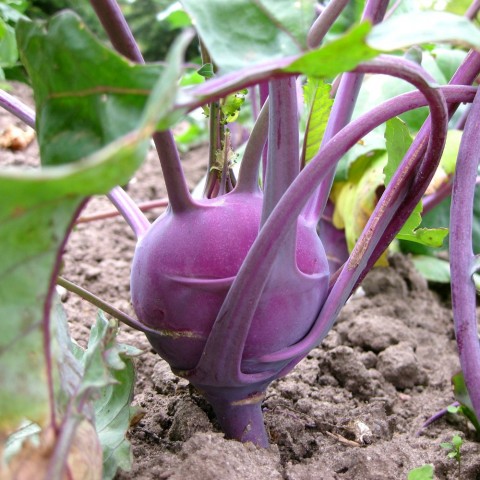 What does kohlrabi taste like?
To me, it tastes like a cross between very mild cabbage stem and cauliflower. Some people think it tastes like a broccoli stem, or turnips, but I say cabbage stem is the best match. That makes sense because it is a member of the cabbage family.
How do you prepare kohlrabi?
Wash the outside with water, dry it, and cut the leaves and stalks off if they are still attached (often supermarkets will already have cut off the leaves and stem). Peel away the fibrous skin of the bulb, and the bulb is ready to use. You can do this with a vegetable peeler or paring knife. The leaves and stalks can be stir fried or steamed for another use if you like.
How do you use kohlrabi?
Raw
Sliced into salads (use a mandolin if you have one)
 Make a slaw out of raw kohlrabi by shredding it.
Cut it raw into matchsticks and include it on your veggie tray for a party.
Slice raw kohlrabi paper-thin and use as a wrapper for a small fish taco (suggestion by chef Dan Barber of Blue Hill at Stone Barns in Tarrytown, N.Y.)
Cooked
You could grill the whole skin-on kohlrabi for 1 1/2-2 hours. Remove from grill and slice the top off, and scoop out the very soft flesh. (This is a suggestion from chef Jeremy Fox of Rustic Canyon Winebar in Santa Monica, Calif.)
You can roast it in slices, like Valentina has done here.  I drew my inspiration for these fries from her. She does hers in slices, but you could cut it into cubes if you like (timing might be slightly less since the pieces will be smaller in a dice).
Steam it and use it in many different dishes – frittatas, pasta, quick stir-fries. Once steamed, you can mash it using a potato masher or even an immersion blender. Mix it with a bit of Greek yogurt, some chives and a pinch of salt for a faux mashed spud recipe.
Or of course, make Baked Kohlrabi Fries out of it!
Cut the bulb into matchsticks…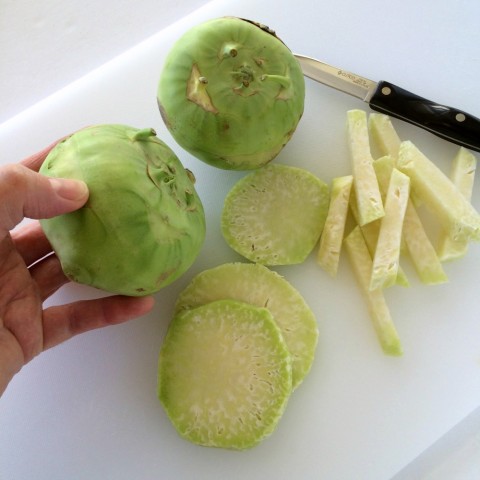 …splash with olive oil and season…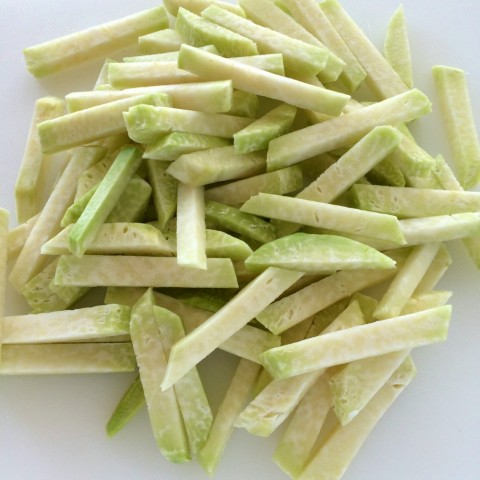 …line 'em up on a baking sheet…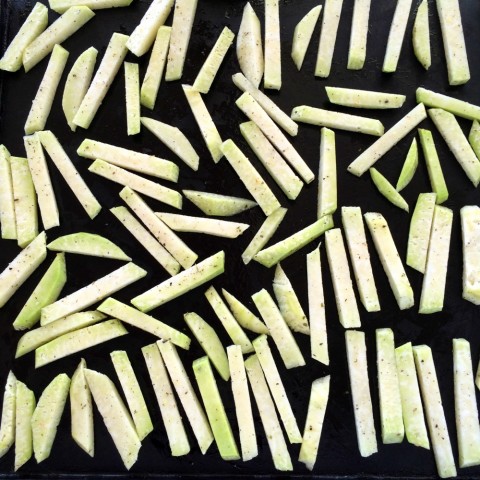 …bake and voila! (I might have forgotten to set the timer so mine might be a tad burned, but you know what? I embrace the imperfect, and they tasted great with those little burny edges. That's my story and I'm sticking to it.)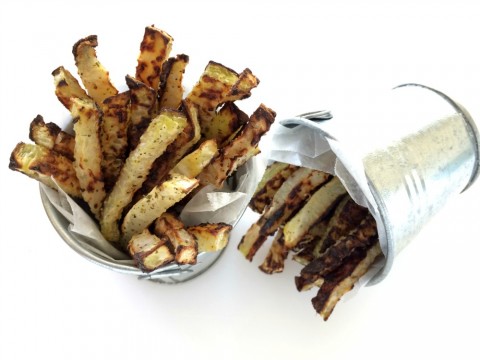 Low-Carb Baked Kohlrabi Fries
BAKED KOHLRABI FRIES, which are naturally vegan, are a surprisingly great way to eat an unusual vegetable. Kohlrabi is also relatively low in carbs, so you can indulge your fry addiction without going off the rails.
Ingredients
Directions
Heat the oven to 425F degrees. Get out a baking sheet.
Cut off the stems and any green sprouts from the kohlrabi bulb, and peel the bulb, using a vegetable peeler or small paring knife. I prefer a knife, but suit yourself.
Cut each bulb through into crosswise (horizontal) slices about 1/4 to 1/3 inch thick. Stack these circles and slice lengthwise into matchsticks (the shape of fries). Dry off the fries using paper towels. Put the kohlrabi into a big bowl, add a splash of olive oil, and toss to coat. I don't like it drenched; I want the taste to be about the vegetable, not about the oil. Add a few pinches of your preferred herb blend, or simply use salt and pepper to season them.
Arrange the fries on the baking sheet so that none of them touch. This might seem tedious, but if they are piled atop each other they are less likely to get properly browned and will steam more than oven-fry.
Bake for about 5 minutes; remove from oven, use a tongs or spatula to flip the fries, and return to the oven for another 5 minutes. Test with the tine of a fork to make sure they are tender. Keep them in the oven another minute or two if needed until they are tender to your liking, and browned. If they haven't browned yet, you can also run them under the broiler for 30 seconds of so. (Ovens vary, so I'm giving you options.)
These will be less crisp than a potato fry, but utterly delicious!
Serves 3 (allow 1 kohlrabi per person).
Notes
Recipe source: Dorothy Reinhold | Shockingly Delicious
Note: Kohlrabi contains more water than potatoes, so the fries will not be as crisp, and will be slightly chewier. That's OK, the flavor is still great!
https://www.shockinglydelicious.com/low-carb-baked-kohlrabi-fries-vegan/
Copyright Dorothy Reinhold | ShockinglyDelicious.com. All rights reserved.
Carbs in Kohlrabi
About 2.6g net carbs and 27 calories per 100g (derived from 6.2 grams of carbohydrate per 100g minus 3.6 grams of fiber = 2.6g).
If you like this recipe, pin the image below to your Pinterest board.

Thanks for visiting…are you hungry for more? Follow Shockingly Delicious on…
FACEBOOK | PINTEREST | INSTAGRAM | TWITTER
Disclosure: Melissa's Produce sent the kohlrabi and spice blend for recipe testing.
This post may contain affiliate/referral links. It is a way for this site to earn advertising fees (at no cost to you) by advertising or linking to certain products and/or services.