Print This Post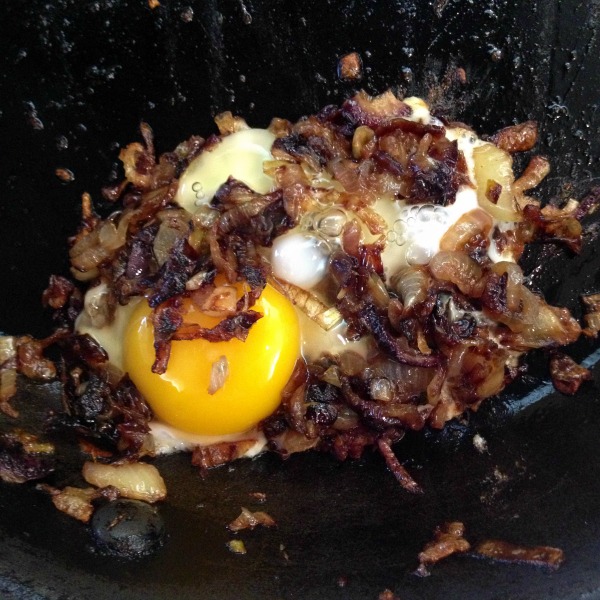 File this one under "D'oh…why didn't I think of this before?"
Every once in awhile when you caramelize a skillet full of onions, consider this idea for breakfast or lunch. Or dinner, for that matter. I don't judge what time of day you eat your fried egg.
In fact, the incredibly wonderful smell of a skillet of onions, deeply caramelizing on the stovetop, awakened my entire family the other morning. It's better than any alarm clock.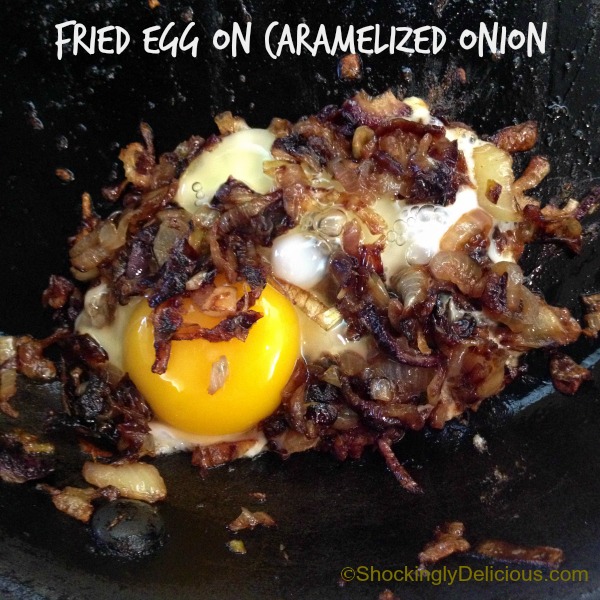 Recipe: Fried Egg on Caramelized Onions
Summary: A farm-fresh egg cracked into a tangle of just-caramelized onions is an unbeatable breakfast!
Ingredients
1 organic farm-fresh egg
1 handful of caramelized onions
Instructions
See "how to caramelize onions" below.
After you have finished caramelizing your skilletful of onions, remove most of the onions from the pan. Leave a handful of onions in the still-hot pan.
Crack the egg into the pan on top of the pile of onions, and fry it until it is done to your liking. Scoop up some of the loose onions on the sides and fling them on top of the egg if you like, while it is cooking.
Remove egg to your plate, and savor the crunchy, deeply flavored onions with the creamy egg.
And thank a chicken next time you see one.
Serves 1.
How to caramelize onions in a skillet
Heat a 12-inch nonstick skillet over medium heat. Add 3-4 sliced onions — white, yellow, red or a mix of all — and drizzle with 1-2 tablespoons of olive oil. Add 1 tablespoon of butter to the pan. Cook for 5 or so minutes, stirring every once in awhile. Once the onions begin to take on a brownish color, turn heat down to low and cook the onions for a total of about another 25-30 minutes, stirring every once in awhile. You can't rush caramelized onions, so don't think you are going to turn the heat up and get it done faster. In fact, if they are cooking too fast and burning, turn the heat down. Once they are deeply brown and sticky with caramelization, they're done! For this recipe, you'll remove most of them from the pan and save for another use, and leave a handful of tangled onions in the pan as a bed for your egg.
Cooking time: 3-4 minutes
Diet type: Vegetarian
Diet tags: Gluten free
Number of servings (yield): 1
Culinary tradition: USA (General)
My rating 5 stars:  ★★★★★ 
If you like caramelized onions, you'll like these recipes, too: