Print This Post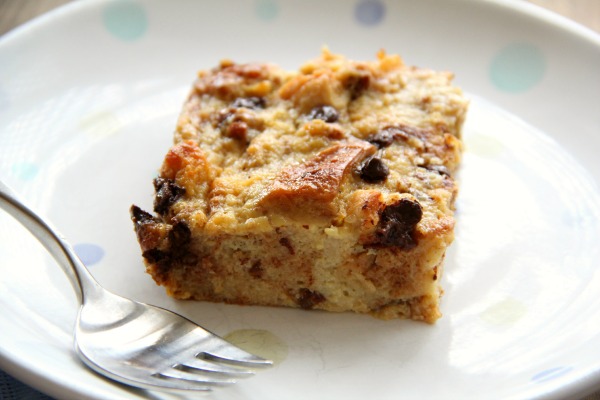 Those of us with dead-black bananas on the counter every week (you know who you are!) always appreciate a new way to use them.
I have my favorite Old School Sour Cream Banana Bread that gets made nearly weekly, and a crazy-good Spiced Banana Coffee Cake with Crumbs, and another addictive Banana Breakfast Cake that I've made 14 times since January. Seriously. 14.
To that collection I can now add Breakfast Banana Chocolate Chip Bread Pudding, inspired by my friend Erika from In Erika's Kitchen. She has a wonderful version on her site,  that includes an observation about married life. Go ahead over and read it. I'll wait.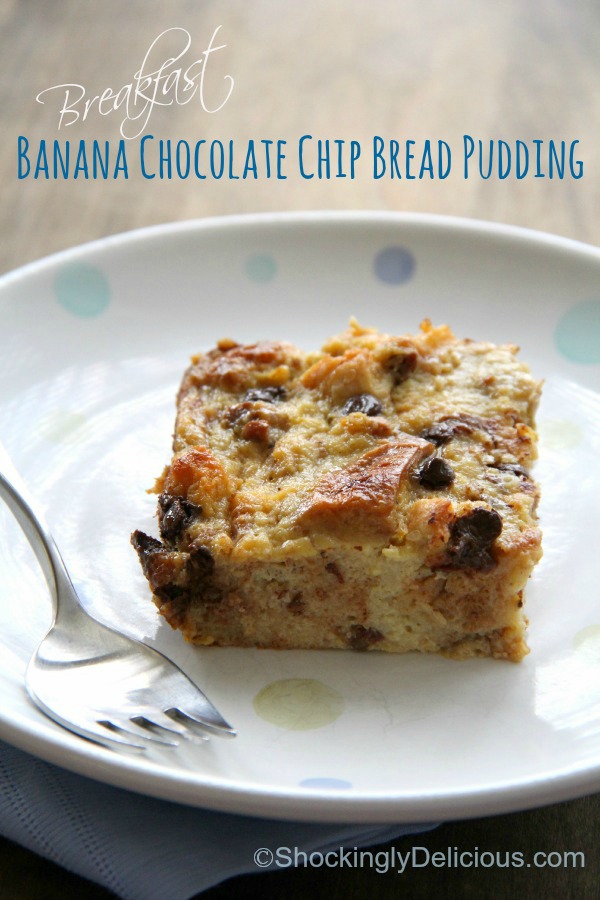 Back? Now I've tweaked her idea a bit, using what I had on hand (panettone not challah), using banana puree instead of sliced fruit, lightening it by using more milk/less cream and fewer eggs, greatly reducing the chocolate chips and eliminating the booze because my kids don't like booze in their breakfast. Imagine that.
The recipe seems to have a ton of ingredients, but it is so easy to throw together. And if you don't have something (chocolate chips?) vamp and just leave it out.
Make my version, make her version…just make it!
Recipe: Breakfast Banana Chocolate Chip Bread Pudding with Leftover Panettone
Summary: Rich, banana-infused, orange-scented bread pudding made with leftover panettone makes a wonderful special breakfast, or doubles as dessert.
Ingredients
6 eggs
1/2 cup brown sugar
1/4 cup heavy cream
¼ cup orange juice
Zest from 1 orange
1 1/4 cups milk (I used 1% milk)
1 cup mashed dead-black banana (this is 3-4 bananas depending on size; go here to see how black they should be)
1 teaspoon vanilla extract
1/2 teaspoon freshly grated nutmeg
Pinch of kosher or sea salt
6 cups torn or cubed Panettone pieces (roughly half a loaf)
2 cups torn or cubed sandwich bread, rolls or random leftover bread
1/3 cup mini semi-sweet chocolate chips
Instructions
Preheat oven to 350 degrees. Mist a 13- by 9-inch baking dish with nonstick spray and set aside.
In a large bowl, whisk together eggs, sugar, cream, orange juice, zest. milk, banana, vanilla, nutmeg and salt until well combined. Add the bread pieces and chocolate chips and stir to combine thoroughly. Allow the mixture to sit in the bowl for 15 minutes so the bread can absorb the liquid. Pour the bread pudding mixture into the prepared baking dish.
Place the dish in the oven and bake for about 45 minutes, until the bread pudding is puffed up, golden brown on top and set in the center (the middle of the pudding should not jiggle when you nudge the dish).
Remove the pan from the oven and cool on a rack at least 30 minutes. It will naturally deflate as it cools, which is fine.
Serve warm or at room temperature. For breakfast, we eat it as-is. For dessert, my family enjoys it with a mini scoop of vanilla ice cream on top.
Makes 12 pieces.
Bread note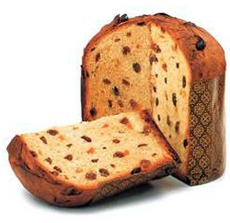 This calls for 8 cups of bread cubes. I had leftover panettone (who doesn't eat all the Panettone, right? Well, apparently we don't.), and that made a wonderful, flavorful base for the pudding. Panettone is a rich Italian Christmas bread but I get it all year long in the Italian market. I threw in some cubed dinner rolls to make up the rest of the 8 cups.
Preparation time: 25 minutes
Cooking time: 45 minutes
Diet type: Vegetarian
Number of servings (yield): 12
Culinary tradition: USA (General)
My rating 5 stars:  ★★★★★