Print This Post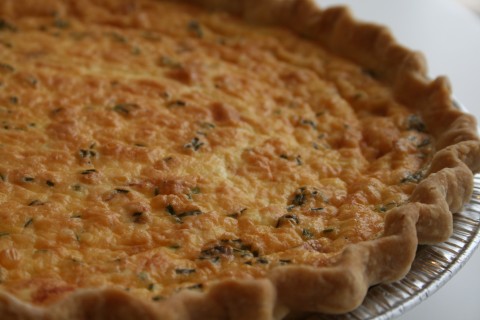 We – children and adults alike – love our smoked salmon in the Shockingly Delicious household, so we look for yummy ways to employ it in meals.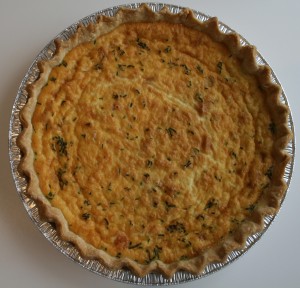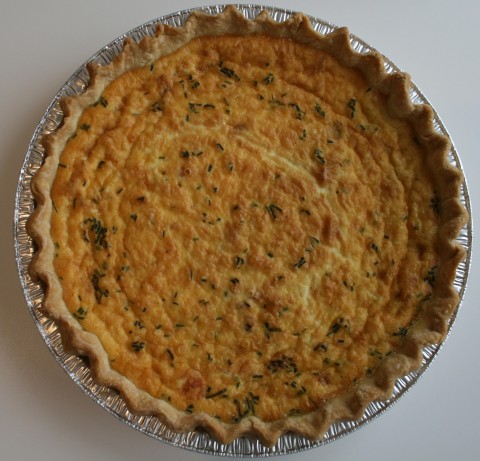 I've made this special quiche for a brunch with relatives who were passing through town and had a morning free before they had to catch a flight (it impressed!), for Easter brunch (oh yes!), for a luncheon patio party type affair (very cool!), and whatever leftovers there were fed me nicely for a light dinner the next night, accompanied by a salad of baby field greens and cherry tomatoes.
This is seriously good. You may certainly click through to the original recipe and find the pastry recipe and make your own scratch crust (standing ovation for YOU!), or you can be a lazy girl like I am and buy the darn thing (Pillsbury, red box, refrigerator section of the grocery store).
We don't judge.
We just enjoy our food.
This one will make you proud!
Recipe: Smoked Salmon with Caramelized Onion Quiche
Source: Adapted from a recipe from Campanile Restaurant, which ran in the L.A. Times in 2003.
Pastry shell fitted into a 10-inch deep dish pie plate
1 tablespoon olive oil
2 medium to large white onions, finely chopped
1 pinch kosher salt
1 pinch sugar
3 garlic cloves, finely minced
6 ounces hot-smoked salmon, flaked
5 eggs
2 cups heavy cream
Coarsely ground black pepper
3 tablespoons minced fresh chives, divided use
Heat the oven to 350 degrees and fit pastry shell into pie plate. Set aside.
Heat olive oil in a 12-inch skillet, and caramelize the onions by cooking them, salt and sugar on low-medium heat until golden brown, about 20-25 minutes, adding the garlic into the pan about 5 minutes before the onions are done. Spread the onion mixture and the flaked salmon over the bottom of the unbaked pie shell.
Beat the eggs in a bowl with the cream until blended. Season with salt and pepper. Pour over the onions and salmon, sprinkle with 1 tablespoon chives, and bake until puffed and browned, about 40-45 minutes. Allow to stand for 10 minutes, and then cut into slices. Sprinkle each slice with additional chives and serve.
Serves 6-8.