Print This Post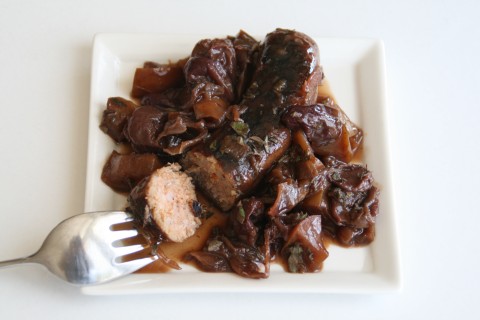 We are sausage lovers in our house. German heritage? Who knows! All I know is if there is sausage for dinner, we have four happy campers.
So a recipe by Tony Rosenfeld in Fine Cooking magazine drew my attention. It featured pan-sauteed sausages married to caramelized onions, and then braised wtih balsamic vinegar and grapes. It was brilliant and delicious! It has a vinegar tang, the sweetness from the caramelized onions and grapes, and the salty bite of a meaty sausage. Yum!  Their test kitchen guarantees their version.
But, of course, I needed to tinker with it, because that's the way I roll. More grapes, far less oil, fewer sausages (so more "topping" per sausage), added some wine, an apple…just a few changes.
Take advantage of the gorgeous, low-cost grapes in season right this minute. This makes a deeply satisfying, easy-to-make dinner, all year long. The Shockingly Delicious kitchen guarantees it!
Sausages with Grapes and Balsamic Onions
1 tablespoon olive oil
5 links sweet Italian sausage, pricked with a fork (can use Italian turkey sausage)
1 large yellow onion, thinly sliced (about 2 cups)
1 apple, cored and chopped, skin on
Kosher salt
2 tablespoons balsamic vinegar
1/4 cup white wine
1/4 cup water
40 seedless red grapes
2 tablespoons chopped fresh oregano
Heat 1 tablespoon olive oil in a large (12-inch) sauté pan or skillet over medium heat until it's shimmering. Add the sausages and cook, turning every couple minutes, until they're browned all over, about 8 minutes. Transfer to a large plate.
Add the onion and apple to the pan, sprinkle with 1/2 teaspoon salt, and cook, stirring occasionally, until the onion softens completely and starts to turn light brown, about 7 minutes. Add the balsamic vinegar, wine and water, and scrape the bottom of the pot with a wooden spoon to incorporate any browned bits.
Reduce to a gentle simmer (medium-low or low depending on your stovetop). Add the sausages and accumulated juices and grapes, cover the pot with the lid, and cook, stirring occasionally, until the sausages are cooked through, about 25 minutes. During the cooking time, add another 1/4 cup water if it is drying out.
Serve immediately, sprinkled with the oregano.
Serves 4.
Serve with:
Mashed potatoes or polenta or crusty bread
Green salad or steamed broccoli
Source: Adapted from Fine Cooking magazine.