Print This Post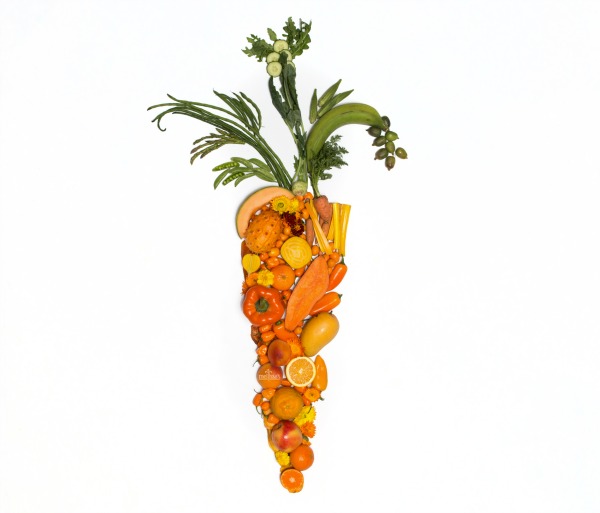 1. Cool carrot
I am such a fan of stop-motion video. It's whimsical and just plain fun. My pal Diana Lundin has shot another one (you saw her red heart constructed out of food last month), and this time it's a cool carrot assembled piece by piece out of various orange and yellow colored fruits and vegetables. Set to a lively tune, this is 13 seconds that will make you smile, and you can see it below! The carrot is the logo for ShockD friend Melissa's Produce, and talented food stylists Cindie Flannigan and Tasha Anne Powell of the Denise Vivaldo Group get the credit for giving that carrot such a fun personality! I wonder if I can do rudimentary stop-motion with my smartphone…hmmm. Not like this though!

♥ ♥ ♥
2. Phil's 21 Spice Rub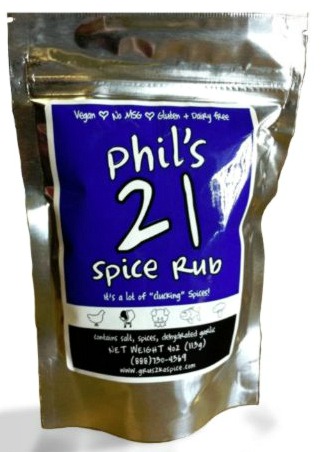 A well-balanced spice blend can be a joy in the kitchen, making it easy to flavor lots of different dishes. Phil's 21 Spice Rub has been my workhorse for a year now, first while it was in beta, and continuing now that it has been unleashed on the public. It took food industry pro Phil Gruszka 10 years to perfect this blend of 21 Mediterranean herbs and spices, and in my book, it was worth the wait. It has curry and garlic and salt, that's for sure, but I would bet on oregano, and my nose sniffs out some pepper and um…let's see, that leaves 16 other secret spices (inspired by his travels through Europe). I can't worm the secret list out of Phil, but I can tell you what I have used it for:
fantastic roasted chicken thighs
Add 2 tsp. to 1 1/2 cups of brown rice and then cook it, for a great curried rice (stir in some chopped sauteed apples and raisins and almonds when the rice is done cooking)
a little sprinkle on fresh summer buttered corn is sublime
Sprinkle onto chunked potatoes before you roast in the oven or microwave
if you want your mashed potatoes elevated to the next level, leave out the salt and throw in a bit of this blend
The sky's the limit on what you can do with this! Vegan, no MSG, gluten- and dairy-free. $6/4-ounce package through the website or Amazon.
♥ ♥ ♥
3. Fun with fonts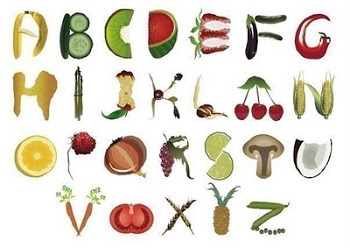 What font are you?   In this fun quiz, I got Times New Roman (big surprise there!), which this quiz says means, "You're a classic — a constant, reliable, secretly sexy classic. (Just look at those serifs!) Anyone who thinks they can turn in a term paper or a resumé that doesn't feature you is fooling themselves, and you'll be laughing all the way to the bank."
But…but…but, why couldn't I get a cool food font like this here?
(This quiz might more accurately be titled, "Which typeface are you?" but who's splitting hairs?)
♥ ♥ ♥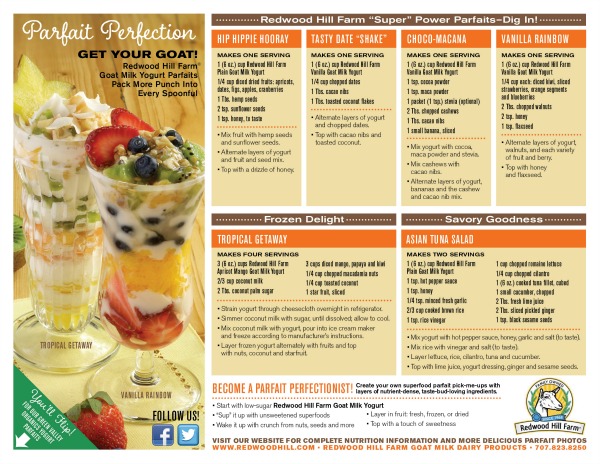 4. Breakfast parfait inspiration
So, you want to make one of those cool breakfast parfait concoctions you've seen on your friends' Facebook feeds and Pinterest, but you aren't sure exactly how to do it? To the rescue comes Redwood Hill Farm with simple but delicious ideas to make your own parfait and personalize it for yourself or your family. These are dietitian-approved and ready for prime time. The graphic using their goat yogurt is here, and the graphic using their Green Valley Lactose-Free Cow Milk Yogurt is here.  I have them both printed out for inspiration in my own kitchen.
♥ ♥ ♥
5. Coolest Kitchens
These way-cool kitchens are the edgiest you'll see! I want the glass garage door wall, above, and if I can't have that, I want the giant chalkboard wall and the wall garden. How about you?
♥ ♥ ♥
6. Look who's making my recipes!
♥ ♥ ♥

7. Not Ketchup on your ham sandwich
There's a lot of leftover ham about to come into your life (Easter, anyone?), and I'm here to remind you that a ham sandwich needs a little oomph to jazz it up. My oomph of choice is Not Ketchup,  a fruit-based condiment that will bring your lunch to life. I suggest either the Cherry Chipotle or the Smoky Date flavors (but the Blueberry White Pepper wouldn't be wrong, either). It's so versatile you can do a million things with it, AFTER you slather it on your ham sandwich. $8.99/14.4 ounces; available online or at select grocers.  
♥ ♥ ♥

8. Mother's Marinated Mushrooms
My friend Lindsay Albert posted this amazing looking pot o' 'shrooms on Facebook the other day, and I couldn't stand it. Turns out it is her mother's mushrooms, beloved among the 14 kids (yes, I'll wait while you absorb that) in the family. Apparently all the children crave pickled-vinegary foods, and although her mother did not, she indulged the family with these mushrooms, kept in the fridge along with a vat of pickled eggs and served when entertaining. Lindsay pronounces them "scrummy."
Recipe: Mushrooms a la Greque (Mother's Marinated Mushrooms)
Summary: Scrumptious marinated mushrooms circa 1970s-1990s, great for snacking or parties, from Lindsay Albert's mom.
Ingredients
3 (8-ounce) cartons of mushrooms (a mix of white and Crimini)
2/3 cup white wine
2/3 cup vinegar (either white balsamic or white wine vinegar)
2/3 cup oil (1/3 cup walnut oil + 1/3 cup extra-virgin olive oil)
Fresh herbs of your choice (Lindsay uses rosemary; her mom used tarragon or parsley)
Shallot
Salt (or use 2 tablespoons preserved lemon pulp)
Dash of fish sauce (optional; leave it out if it scares you, but Lindsay advises it gives umami and encourages foodies to use it)
Cracked black pepper
Instructions
Add all ingredients to a pot, bring to a boil and simmer for 10 minutes.
Remove from heat, allow to cool and refrigerate (leave herbs in the container).
Preserved Lemon pulp
If you took my advice and made your own preserved lemons (and if you didn't, allow me to boss you around and firmly ask you to do it), you'll know that after they cure for a couple of weeks and are ready for use, there are two parts that can be used. There's the skin, which is most often called for in recipes, and then there's the pulp and thick, salty liquid left behind. Lindsay uses that pulpy liquid in this recipe.
Recipe source
Heirloom mom recipe from the family of Lindsay Albert.
Preparation time: 7 minutes
Cooking time: 15 minutes
Diet type: Vegan, vegetarian
Diet tags: Gluten free
Number of servings (yield): 12
Culinary tradition: Greek
♥ ♥ ♥
9. Potato and corn chip together in one
Have you tasted Tortatos yet? It's a cross between a potato chip and a corn chip, and it's the best of both worlds. Made from red potatoes and white corn, these snacks come in original, barbeque, salt & vinegar and salt & pepper flavors. They're sturdy enough to use as dip chips, have that great all-important tortilla chip crunch, contain 25% less fat than traditional potato chips, are non-GMO, trans fat free, without additives or preservatives and are gluten free certified. They went over big at my house. Available nationally; $3.49 per bag.
♥ ♥ ♥

10. Fantastic flatware
Have you seen the whimsical animal art scultpted by industrial welder Gary Hovey of Ohio? He's really an artist who expresses himself using forks, knives and spoons. You have to see this…note how delicate the baby deer is. Just goes to show you when someone discovers his true artistic passion, there is no stopping him.
♥ ♥ ♥

11. Food maps
Speaking of artists, NY photographer Henry Hargreaves and food stylist Caitlin Levin has fashioned maps made entirely of food. They've used corn for the USA, noodles for China, tomatoes for Italy and seaweed for Japan, and these are simply magnificent cartography. Have a look.
♥ ♥ ♥
12. Your preserving questions answered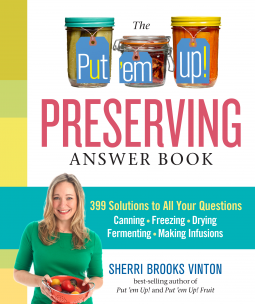 Whether you grow your own or simply take advantage of farmers markets, you are likely about to be inundated with spring and summer fresh fruits and vegetables. So many people are becoming interested in preserving the bounty that canning, drying, fermenting and making infusions has become something of a cottage industry, or at least a passionate hobby. Ready to answer all your oddball questions is expert Sherri Brooks Vinton, with her new "Put 'Em Up! Preserving Answer Book" (2014, Storey Publishing; $16.95). You last met this author on ShockD in April 2013 with her recipe for Limoncello from "Put 'Em Up Fruit." I can't tear myself away from this book, which is perhaps surprisingly engrossing. There are recipes sprinkled througout, as well; always a plus.
♥ ♥ ♥
13. Ataulfo mangoes
I used to only consider buying the big fat mangoes, figuring that there was more flesh per fruit, and mangoes were all the same anyway. Oh how wrong I was! My new favorite is the variety called the Ataulfo mango, which is small, golden yellow skinned when ripe and sometimes labeled a "champagne" mango. When you cut it, you'll notice right away it has a wafer-thin pit, and the flesh is silky smooth with no fibers. Ah…mango me! We share them for breakfast, and dice them into salads. Available March through September, with the peak of season May-July.
♥ ♥ ♥
Disclosure: Phil's 21 Spice Rub, Not Ketchup, Tortatos, Storey Publishing and Melissa's Produce sent products for review. There was no expectation of a positive review and all opinions are, as always, my own. I only recommend things I like, use and would buy for myself.