Print This Post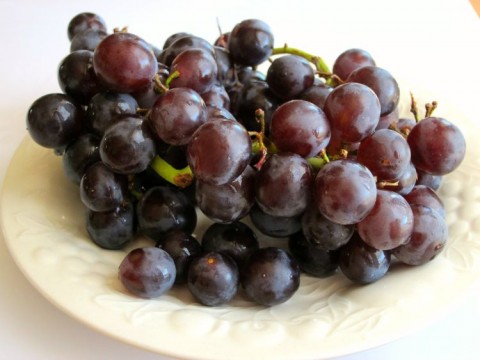 If a pale green, thin-skinned Thompson Seedless grape married a dark purple, juicy, seedy, thick-skinned Concord, what would their offspring look like? And even more importantly, since we're talking grapes, what would it taste like?
The answer is Jelly Drops™ Grapes, just coming into stores right now, and worth the wait. This child has all the best characteristics of both parents — thin skin, no seeds, juicy, a lovely dark purple color and a fragrance that demands you reach for more.
The flavor is rich, earthy, even a bit winey (in a good way!). They are a rich-tasting, healthy snack that will satisfy your sweet tooth.
Once called the Thomcord Grape, they have been rebranded with a cooler name and are now available more widely. Thank you, Bakersfield farmers, for planting more.
Friends, this is your new grape.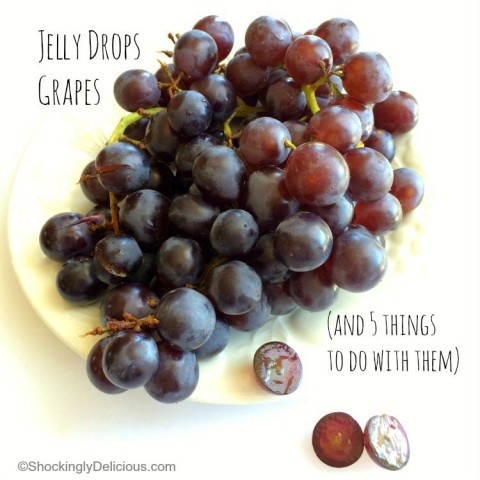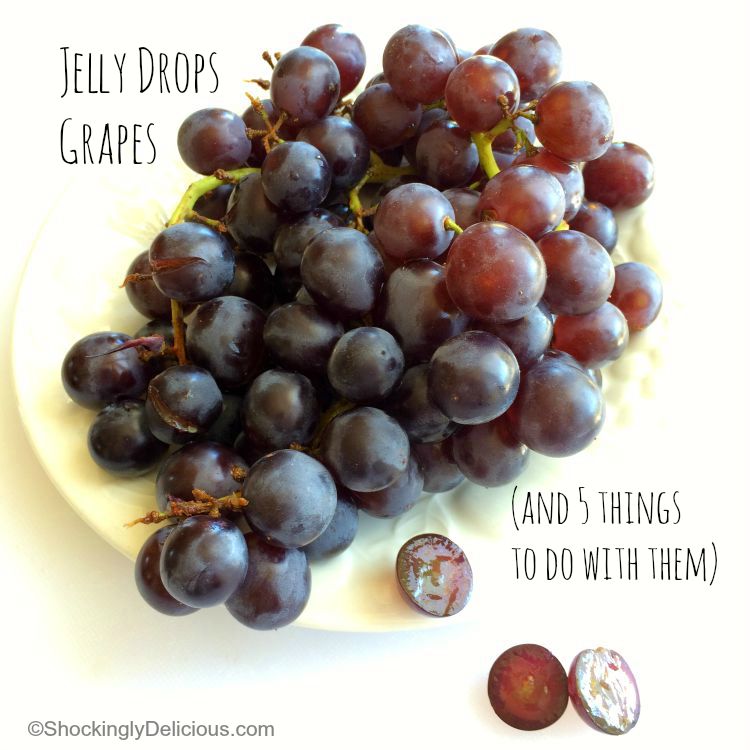 Grown: Central California (Bakersfield area)
Season: now until September
Price: Range from $3.99-$5.99 for a 1-pound container.
Storage: Keep refrigerated in the vegetable crisper during these hot summer weeks. Don't wash first; wash them right before you eat them.
Available: In California, find them at Bristol Farms, Gelson's, and Vintage Grocers (Malibu). Elsewhere, ask your produce manager to get them in for you. 
Distributed by:  Exclusively distributed by Melissa's Produce.
Delicious ways to use Jelly Drops Grapes
1. Best way: Eat out of hand.
2. Pickle some!
3. Throw them into a spicy hot tuna salad — sweet and hot is an unbeatable combo!
4. Dice them into a Hatch Chile, Grape and Grilled Onion Salsa.
5.  Roast them on a flatbread with Gruyere, rosemary and red onions, for the best non-red pizza you will ever have.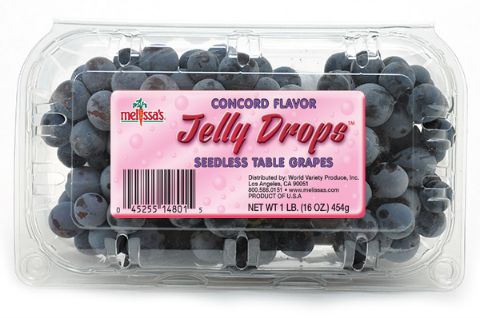 Disclosure: Melissa's Produce sent the grapes for review. As always, all opinions are my own.