Print This Post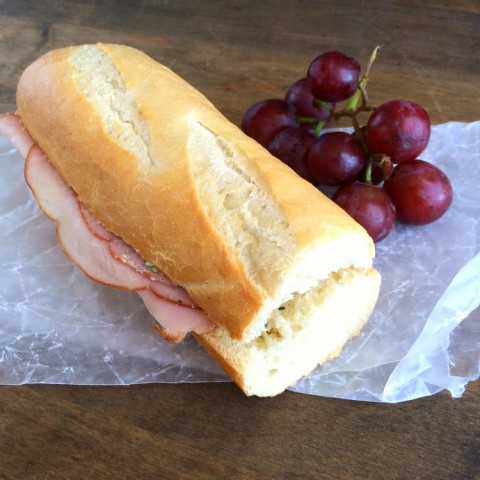 Isn't it wonderful when your friends lead more exciting lives than you do?
Case in point…my neighbor went to France and Germany, and had an epic time traveling in Europe and exploring. She also ate some food that was unfamiliar to her (snails!), and brought those cultural ideas to us back home, when she returned.
She introduced us to what she called the "French sandwich." It was disarmingly simple — a skinny baguette, spread lightly with butter and layered with thinly sliced ham, and perhaps a thin slice of cheese. It's an iconic French sandwich, sold in lunch restaurants, by street vendors, available everywhere, considered fast food over there.
Make no mistake. This was not a Dagwood — that American creation stuffed to the gills with meats and cheese, slathered with mustard, mayo and whatever other condiments you can find. There's no lettuce, no tomato, no special sauce.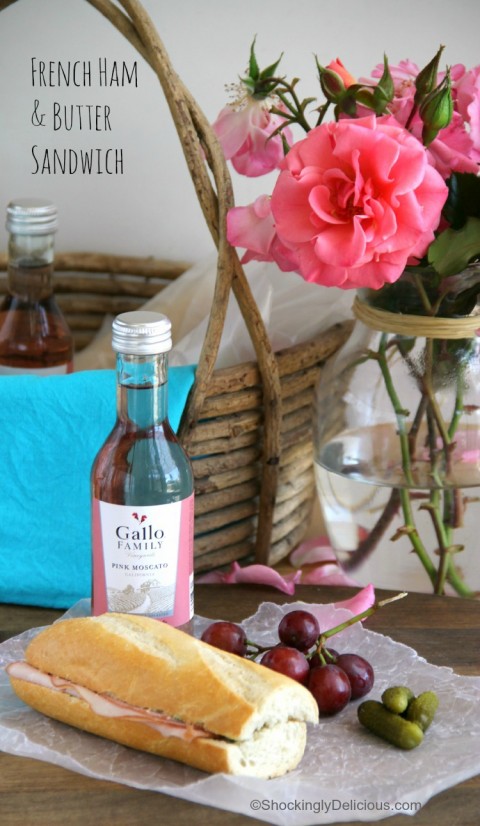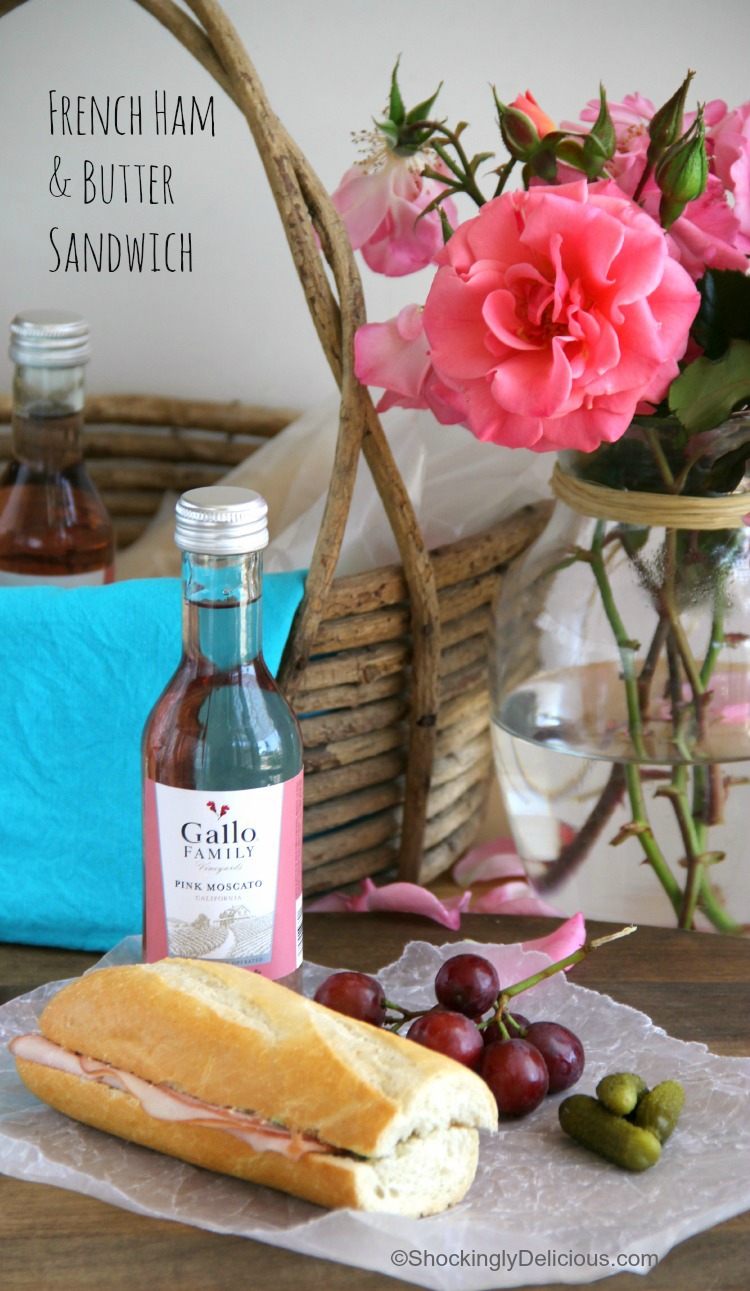 This is a pure, simple sandwich, with no other competing flavors to muddy up that delicious bread and high quality ham. The sweet butter seals the sandwich together, offering a counterpoint to the salty ham, giving the whole thing a rich flavor without making it greasy. Mustard? Who needs it?
She and her traveling companions bought them for lunch many days, and the simplicity of it made for fine eating on their picnic meals, along with a piece of fruit and a little dessert. As she recounted their trip, I could imagine them all, splayed out on the grass in the park, laughing and eating their sophisticated French sandwiches, not a care in the world.
This week our #SundaySupper blogger crew is celebrating National Picnic Month, sponsored by Gallo Family Vineyards. We're pairing our dishes with Gallo wines, for a relaxing, fuss-free outdoorsy event.
So I want you all to try this simple, elegant, European sandwich on your next picnic. I'm going to suggest a couple of refinements to it, but it is all up to you, of course.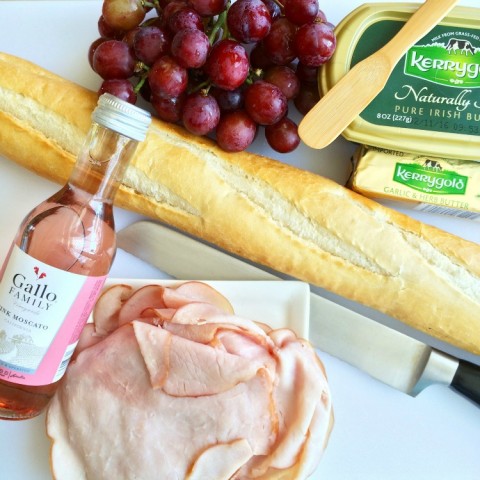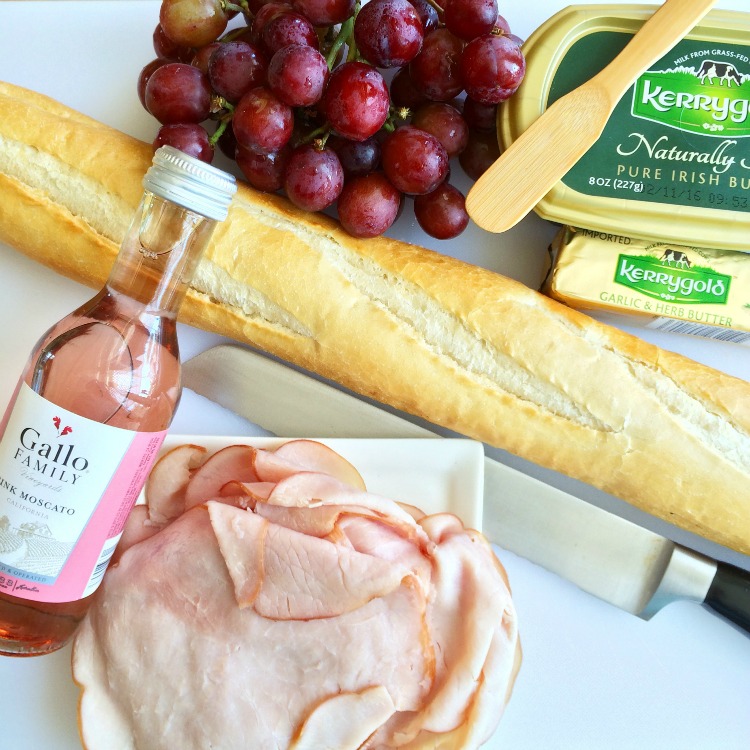 Use a high quality, fresh, skinny French bread baguette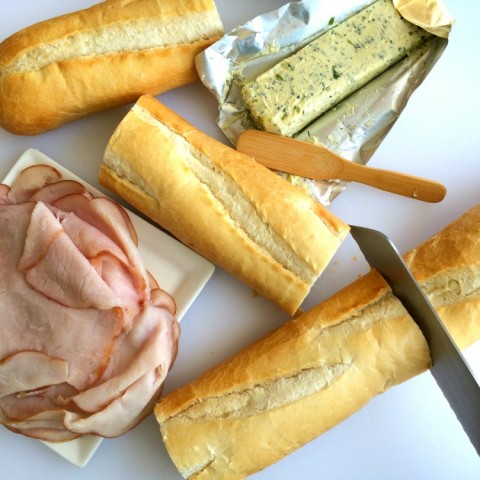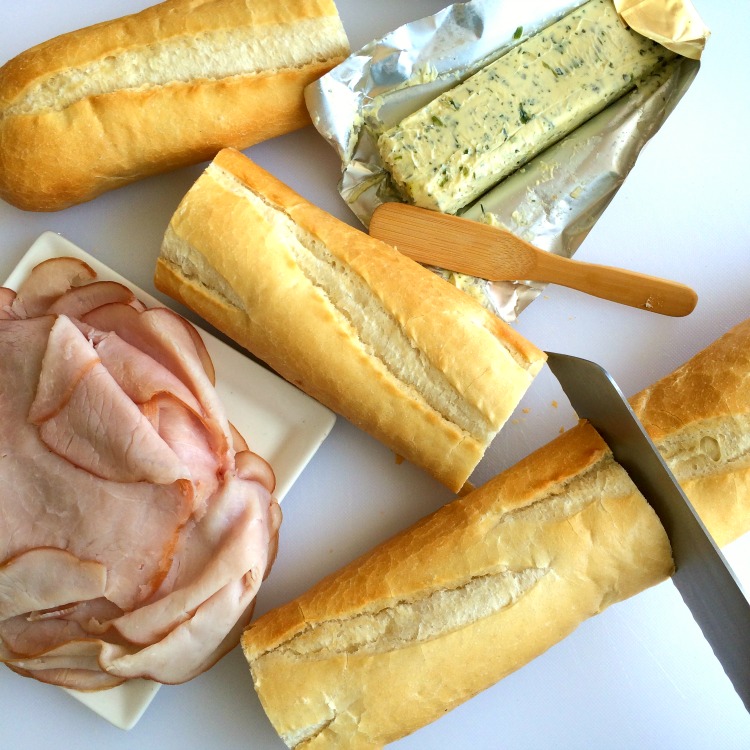 Use pure butter (not margarine). I often use unsalted butter because the ham is salty, but suit yourself. I often also use a garlic and herb compound butter, to give it an even more flavorful spin than plain butter.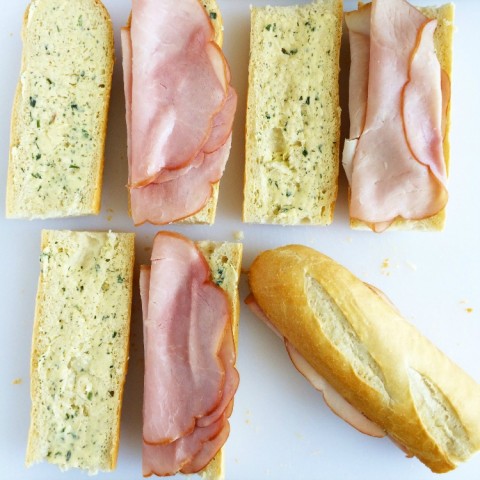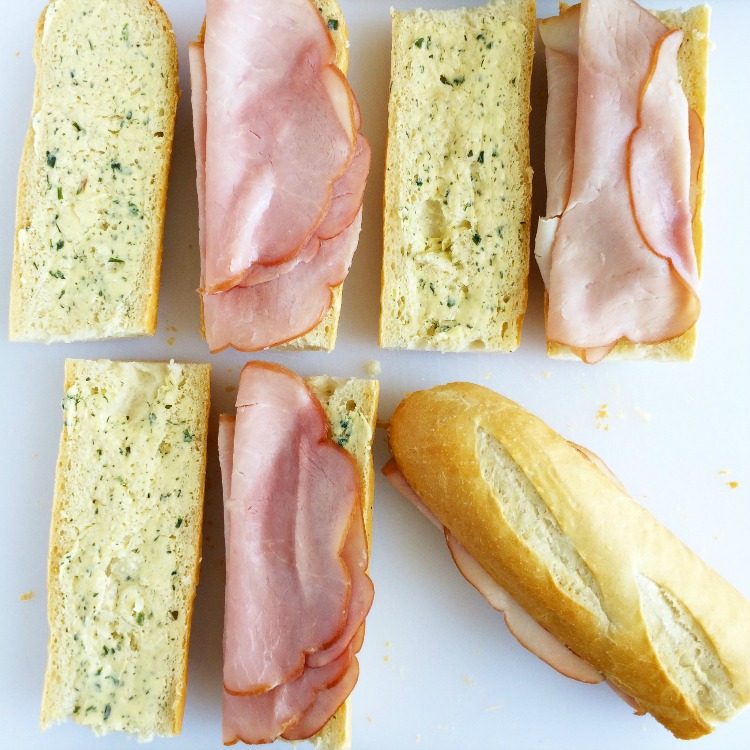 You could use packaged lunch meat ham, but better yet is to ask the deli counter man to slice ham very thin and delicate for you.
I often use a thin slice of cheese. This is optional Please use real cheese, not American cheese sandwich slices. Go ahead and spring for the good stuff!
What else goes in the picnic?
What goes with your sandwich? How about some cornichons, those tiny little French gherkin pickles, in keeping with our French theme? How about some carrots and radishes for crunch, and a simple little cookie for dessert. I suggest the Brown Sugar Shortbread, or the Scotch Tea Cookies. Both are extremely easy and fit our theme of simple elegance.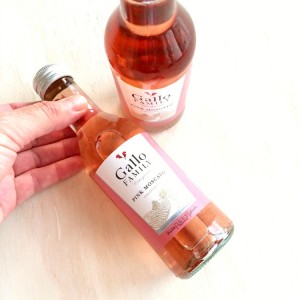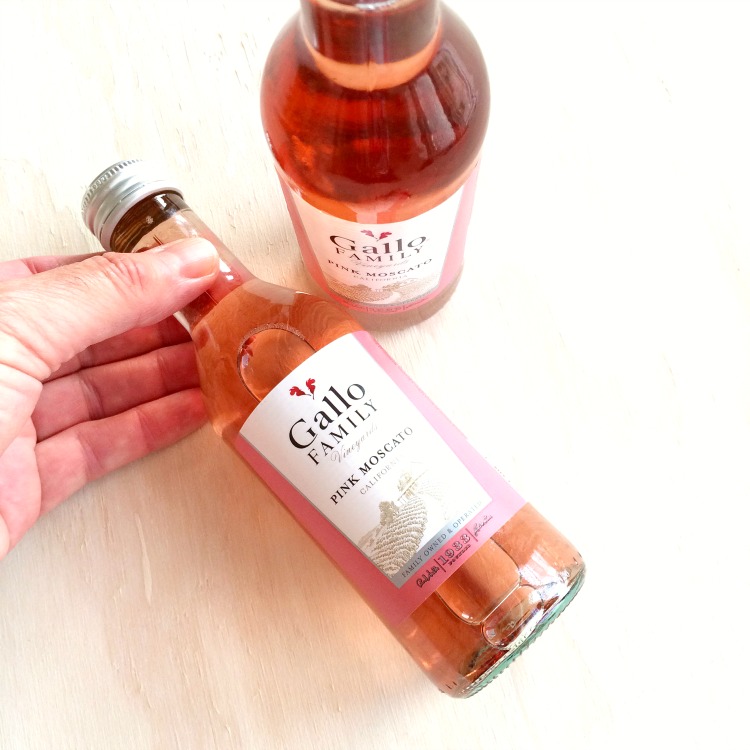 Pair your sandwich with a nice, crisp Gallo Family Vineyards Pinot Grigio, my favorite white variety. It's dry (not sweet), and a sip hints of green apple, peach and a whiff of citrus, for a perfect pairing with your classic sandwich. If you like a sweeter wine on your picnic outings, Gallo Family Vineyards Pink Moscato will do nicely, with a gorgeous color, a slightly sweet taste hinting of peach, berries and orange blossoms, and a light body. You can find Gallo wines widely available in your grocery store (or use their store locator here).
Bring sparkling waters, fruit-infused water, or homemade lemonade for younger people.
So simple, so perfect. Your Sunday picnic just got a whole lot better.
French Ham and Butter Sandwich (Jambon Buerre)
Simple ham and butter sandwich is a French classic. Throw caution to the wind and add a small slice of cheese if you dare.
Ingredients
1 skinny French bread baguette
Room temperature unsalted butter (or use a garlic and herb compound butter)
Thinly sliced ham (jambon)
Thinly sliced cheese (optional)
Directions
Slice the baguette in half vertically, and then in quarters, so you will have 4 long sandwiches. Spread each side with a thin layer of butter. Lay ham slices over the butter. Lay a single slice of cheese over the ham (if you are using cheese), and close up the sandwich.
Make ahead: If you make it ahead of time, you may wrap it tightly in Saran wrap to keep it from drying out, and keep the sandwich in the refrigerator. I find these are even better if made a day ahead.
Serves 4.
Notes
Note: Amounts of butter, ham and cheese are up to each sandwich-maker. Keep in mind this is a delicate sandwich, not an over-stuffed American-style 'wich.
Recipe source: Dorothy Reinhold, Shockingly Delicious
https://www.shockinglydelicious.com/french-ham-and-butter-sandwich-jambon-buerre/
Copyright Dorothy Reinhold | ShockinglyDelicious.com. All rights reserved.
Today's Sunday Supper recipes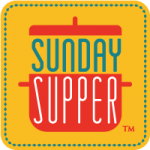 Meanwhile, check out our collection of 20 recipes we have lined up for you today from the talented Sunday Supper cooks. Try my French Ham and Butter Sandwich, or choose another recipe from the menu below to offer at your own picnic.
Picnic Appetizers:
Picnic Main Dishes:
Picnic Salads and Sides:
Picnic Sweets and Desserts: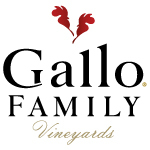 Disclosure: Compensation was provided by Gallo Family Vineyards via Sunday Supper, LLC. The opinions expressed here are those of the author, and are not indicative of the opinions or positions of Gallo Family Vineyards. Gallo would love it if you connected with them on Facebook | Twitter | Instagram | YouTube. I enjoy chatting with them on their social media about wine pairings with my recipes; they're good with an answer if you are waffling on what wine variety goes with what you are serving.