Print This Post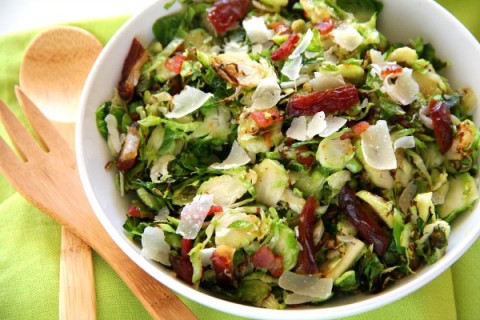 Fall is a natural time for comfort, both in the foods we eat and in our thoughts. As Thanksgiving approaches, we muse about our own lives, are grateful for all that we have, and wonder what we can do to help others.
Because of my work in the world of food, I have two natural charities that I gravitate to – the L.A. Food Bank, with a vision that no one goes hungry in L.A. County, and Meals on Wheels, which brings healthy fresh meals to homebound people. What is your favorite food-related charity?
When it comes to comfort food, some people default to the carbs. Thick slabs of home-baked bread slathered in butter, plates of creamy polenta, mashed spuds, plates heaped high with pasta…mmm…bring them on when nippy weather arrives!
Call me crazy, though, but nothing makes me happier than a big bowl of roasted or sautéed vegetables. If no one is looking, I hold it up to my face and shovel it in like I am slurping a bowl of Asian noodles. That's the definition of true comfort food to this girl.
My latest comforting vegetable obsession is Brussels Sprouts with Bacon, Parmesan and Dates — Brussels sprouts cut into thin slices, sautéed with bacon, showered with salty Parmesan and sweetened with date chunks. It's a full-on taste sensation!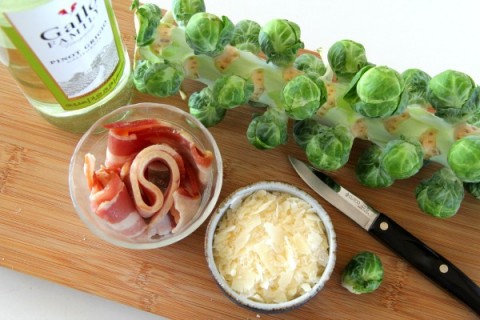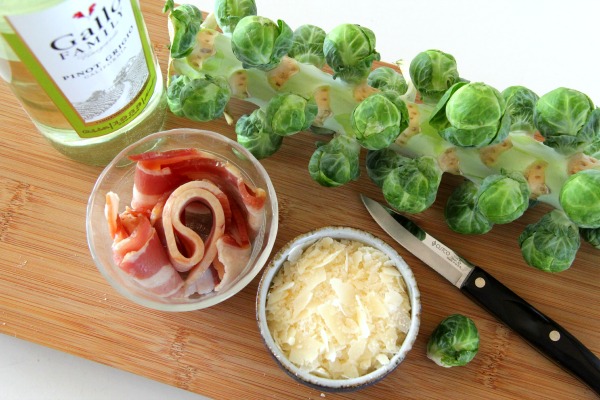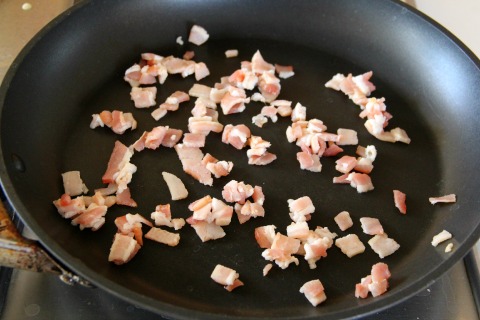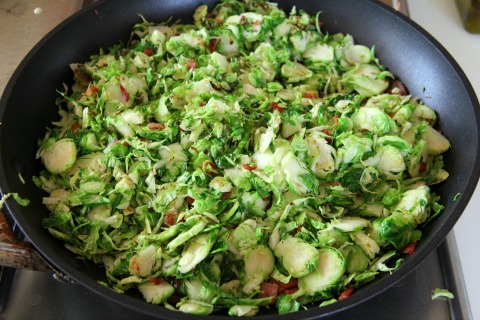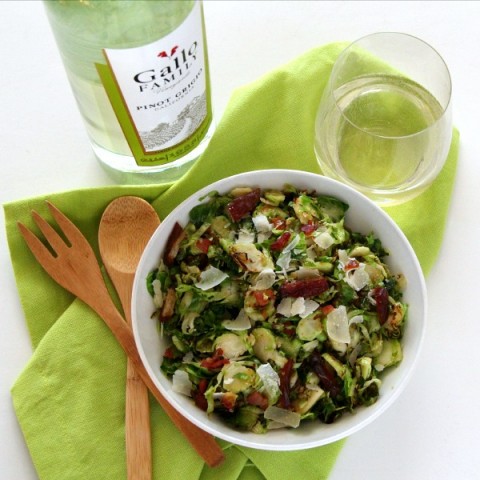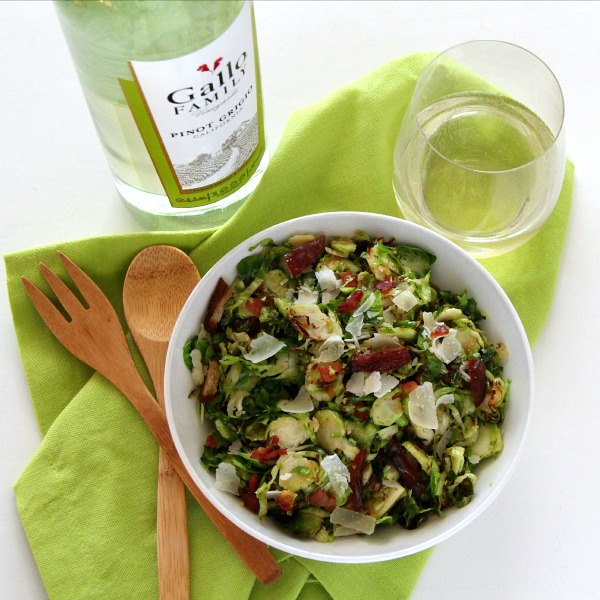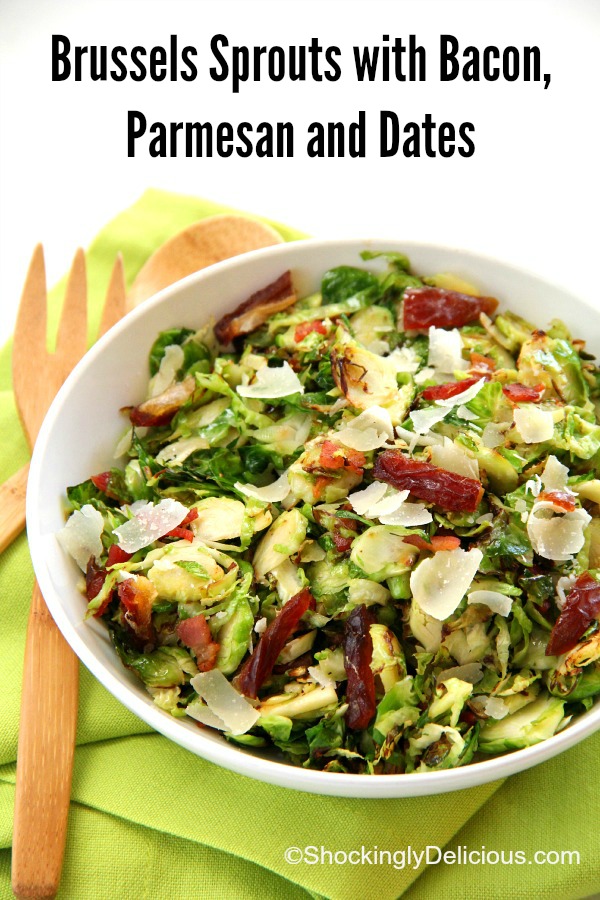 This will do you right all throughout the coming holiday season, can be served at room temperature (the better to withstand a buffet table), and pairs well with lots of different main dishes, whether poultry, salmon, beef or ham (or by itself).
To fully enjoy, I'll offer a Gallo Family Vineyards Pinot Grigio to pair with it, which will also do well with roast turkey. Sound familiar as an entree for the fourth Thursday in November?
Brussels Sprouts with Bacon, Parmesan and Dates
An easy fresh vegetable side dish that quickly coaxes the best out of Brussels sprouts, with a little bling from Parmesan and sweet dates.
Ingredients
1 pound Brussels sprouts
3 slices bacon, cut into a dice
1 tablespoon olive oil (this may or may not be needed)
Freshly ground black pepper
1/4 cup freshly grated Parmesan cheese
3 Medjool dates, pitted and sliced thinly
Directions
Slice the Brussels sprouts in a food processor with the slicing disk. To do this, with the motor running, drop the sprouts through the fed tube, without pushing with a plunger. If you don't have a food processor, use a knife to cut them across the equator into 1/8-inch slices.
In a large skillet, cook bacon over medium heat until the fat renders out (you need the fat in this dish), and the bacon cooks, about 5 minutes, stirring occasionally. Turn the heat up to medium-high and add the shredded sprouts to the skillet, stirring and tossing to distribute the bacon fat throughout. (If the sprouts seem dry and are sticking to the skillet, you may add 1 tablespoon olive oil. If your bacon rendered enough fat, you don't have to.) Cook the sprouts uncovered until they are crisp-tender, about 5-7 minutes, stirring occasionally. They should remain bright green.
Season with a few grinds of fresh black pepper, and transfer to a serving bowl. You may either top with the cheese and dates now, or wait until the sprouts cool off a bit, and then add the cheese and dates. I prefer this dish just slightly warm or at room temperature, but suit yourself.
Enjoy with a glass of wine, and savor the comfort of a bowl of healthy, delicious vegetables.
Serves 4-5.
Notes
Recipe source: Inspired by Brussels Sprouts Chiffonade with Pancetta and Parmesan from "The Big Book of Sides," by Rick Rodgers; Oct. 2014.
Sunday Supper: See this page for all the wonderful #SundaySupper dishes I have made since I joined this group, and links to all the other delicious dishes made by my fellow cooks.
https://www.shockinglydelicious.com/brussels-sprouts-with-bacon-parmesan-and-dates/
Copyright Dorothy Reinhold | ShockinglyDelicious.com. All rights reserved.
Today's Sunday Supper  recipes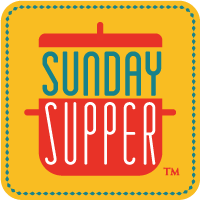 This week our #SundaySupper blogger crew is celebrating Giving Comfort, sponsored by Gallo Family Vineyards. They'd love it if you connected with them on Facebook | Twitter | Instagram | YouTube. I enjoy chatting with them on their social media about wine pairings with my recipes.
Meanwhile, check out our collection of 20 recipes we have lined up for you today from the Sunday Supper cooks, and our wine suggestions for each of them. I recommend you try my delicious Brussels Sprouts with Bacon, Parmesan and Dates with some Gallo Family Vineyards Pinot Grigio, a bright, crisp, refreshing dry white wine with the flavors of green apple, peach and citrus. If you're more a classic red person, you might like Gallo's Cabernet Sauvignon, a full-bodied dry red that tastes of blackberry and black currant with a hint of spice to contrast the earthy vegetable dish. You can find them in your grocery store (or use their store locator here).
If you don't want Brussels sprouts, choose something else from the menu below that gives you comfort, and share it with your family.
Comforting Appetizers and Beverages:
Comforting Entrees, Soups, and Stews:
Comforting Side Dishes:
Comforting Brunch, Desserts, and Sweets:
This post was originally published Nov. 9, 2014, and has been republished.
Disclosure: Compensation was provided by Gallo Family Vineyards via Sunday Supper, LLC. The opinions expressed here are those of the author, and are not indicative of the opinions or positions of Gallo Family Vineyards.