Print This Post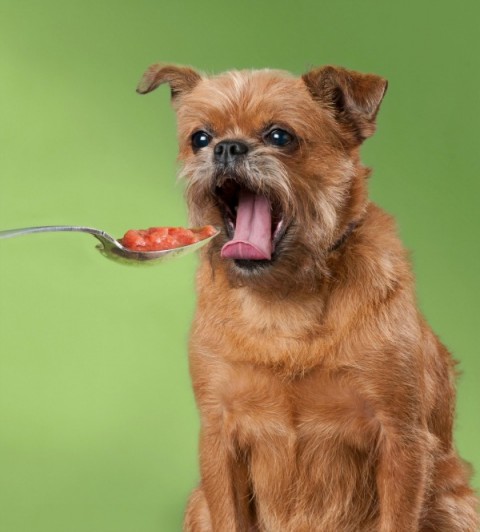 When you sit down to dinner, do you face a soulful gaze from your four-legged fur baby? Do you yearn to give your pooch just a spoonful of what you're eating, but you know people food is not generally advised for dogs?
Author Gayle Pruitt, a certified nutritionist and chef, aims to change that, with her charming cookbook "Dog-Gone Good Cuisine," (2014; St. Martin's Griffin; $21.99).
With 100+ recipes that suit both the family and Fido, Pruitt is touting nutritious cooking that is free of corn, sugar, soy and gluten — things dogs don't need.
Salmon Florentine, anyone? How about Curried Beef Sliders, Oven-Fried Chicken, Turkey Meatballs, Baked Cauliflower and Minty Fruit Roll-Ups for dessert? If the recipes don't win you over (and they will!), the photography seals the deal. The dogs in this book win the Internet, paws down.  
Food fit for man and beast needn't be bland. She helpfully lists herbs and spices that are safe for both humans and dogs (parsley, dill, basil, fennel bulb and seed, turmeric, clove, ginger, fenugreek, cinnamon, for example).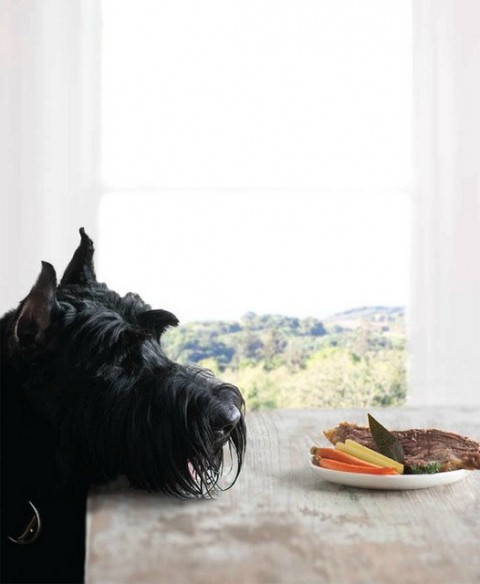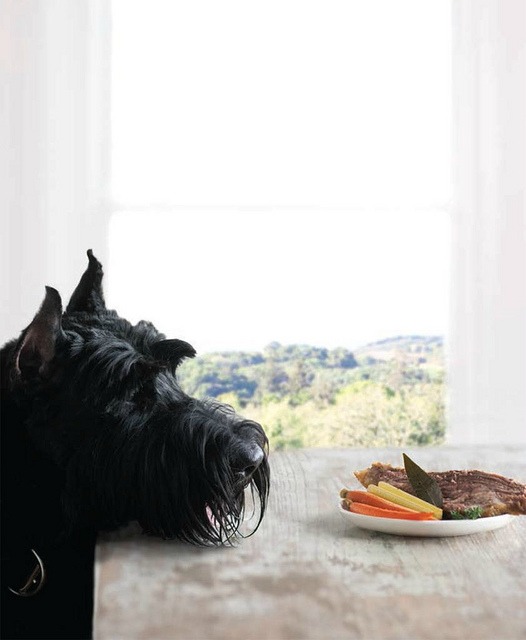 Now, when you ring the dinner gong, it won't just be your children who are drooling. 🙂
Flavorful and healthy for man AND his best friend, this is a filling meal for lunch or dinner. Two paws up for this delicious soup!
Ingredients
1 (15-ounce) can diced organic tomatoes
3 medium carrots, peeled and coarsely chopped
1 sweet potato, peeled and cut into 4 to 5 slices
1/2 cup red lentils, rinsed and drained
1 quart water or vegetable broth (no onions or garlic)
3 medium carrots cut into 1/4 x 2-inch sticks
12 grape-size tomatoes, halved
10 fresh basil leaves, chopped, plus 5 whole basil leaves, cut into chiffonade, for garnish
Dash of Celtic sea salt
1 tablespoon extra-virgin olive oil
Directions
Add the tomatoes, carrots, potato, lentils, and water to a large pot and bring to a boil over medium-high heat. Reduce the heat to simmer and cook for about 25 minutes, or until the lentils and sweet potatoes are soft.
Using a handheld immersion blender or food processor, purée the soup until silky smooth.
Blanch carrot sticks in boiling water until barely soft. Shock in ice water and reserve for garnish. Add the grape tomatoes, chopped basil, and salt, stir, and cook for 3 minutes more. Stir in the olive oil.
Cut the whole basil leaves into a chiffonade (stack the basil leaves and roll them into a tube shape, then cut across the ends of the rolled leaves to make little ribbons). Garnish the top of the soup with the blanched carrot sticks, sprinkle a few "ribbons" of basil over the carrot sticks, and serve.
Serves 4.
Notes
Recipe source: From Dog-Gone Good Cuisine by Gayle Pruitt; photographs by Joe Grisham. Copyright © 2014 by the author and reprinted by permission of St. Martin's Griffin.
Why no onions or garlic? Why no onions or garlic in the soup or the broth? Pruitt says onions, garlic, shallots and chives can cause anemia in canines.
Dorothy's note: If you would like to make this soup without serving it to any hounds, feel free to add some chopped onion and garlic to the soup at the beginning.
https://www.shockinglydelicious.com/tomato-carrot-soup-for-you-and-your-dog/
Copyright Dorothy Reinhold | ShockinglyDelicious.com. All rights reserved.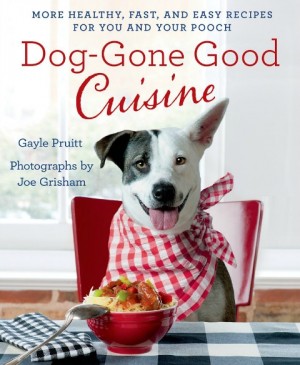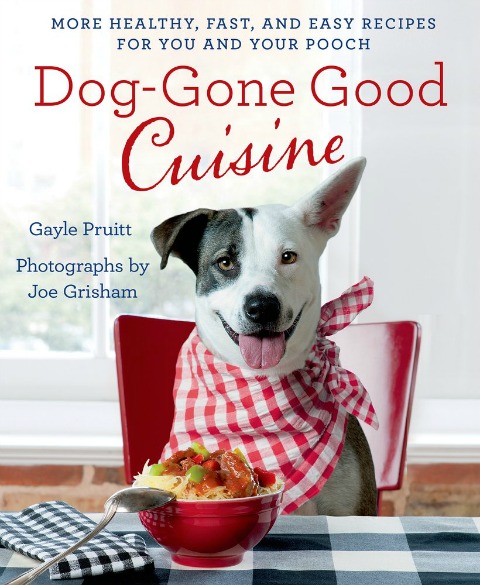 Disclosure: St. Martin's Griffin sent a copy of the book for review.