Print This Post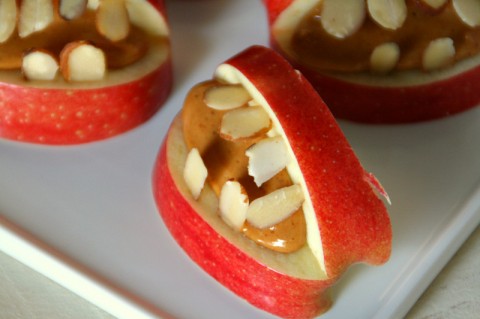 When the Food Bloggers Los Angeles group gets together for its monthly meeting, you can bet there's going to be some good eatin.'
Although it is still broiling hot in the extended summer of Southern California, we bravely turned on our ovens, fired up the stoves, and got into a Fall kind of mood to feature our favorite renditions using apples and pears.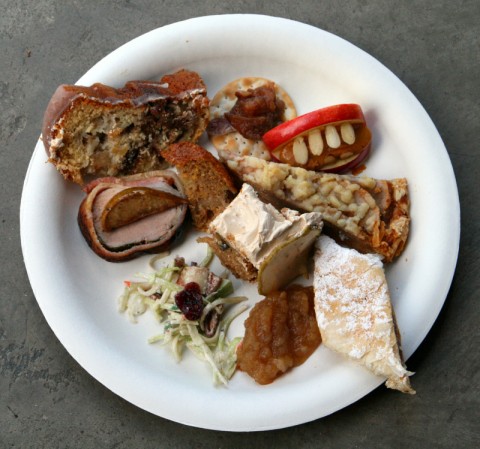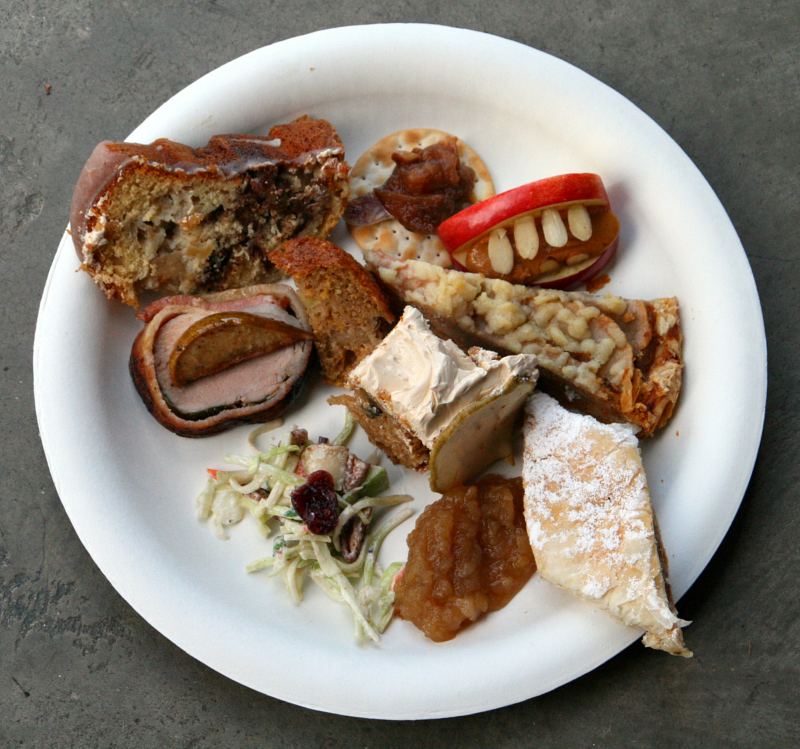 The spread on the buffet table was delectable! Surprisingly, not everything was sweet. We had a couple of savories to balance the desserts.
Shall we tour our potluck?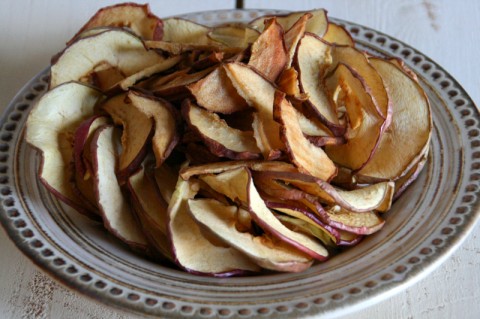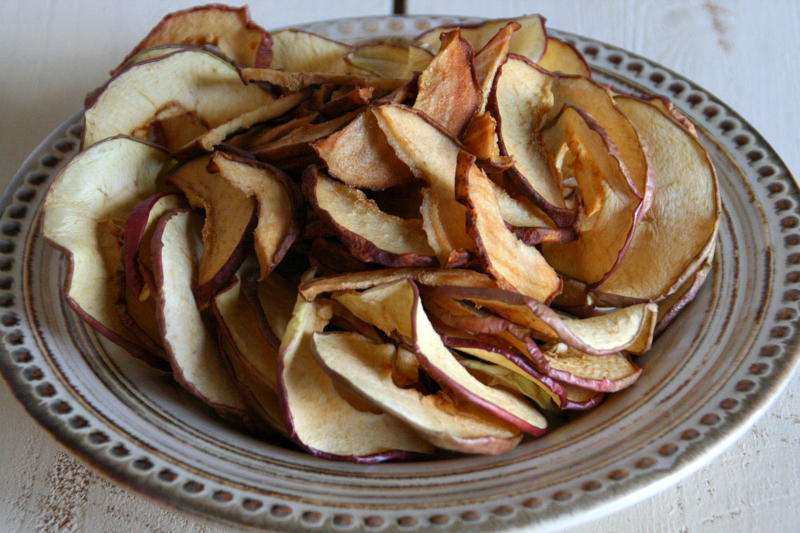 Andrew Wilder of Eating Rules grabbed his mom's old food dehydrator and treated us to Dried Apple & Pear Chips, which by design are an example of the kind of unprocessed food he is challenging us all to eat during the month of October.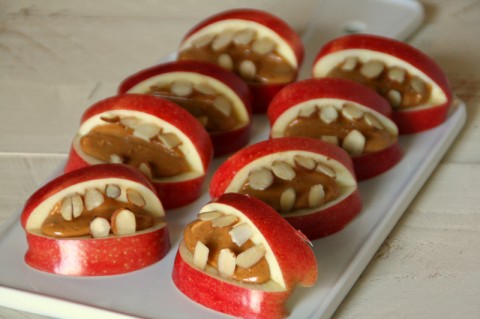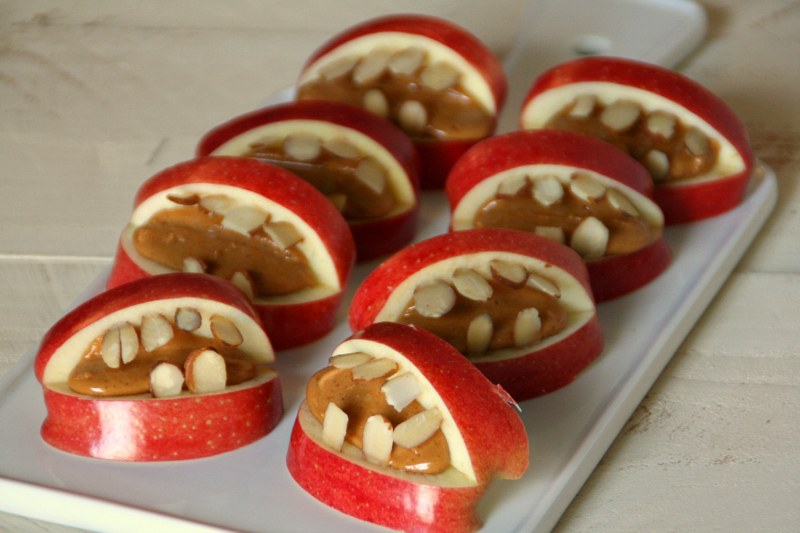 Lynne Hemer of Cook and Be Merry cracked us all up with her Apple Lips. I want THOSE at my Halloween party!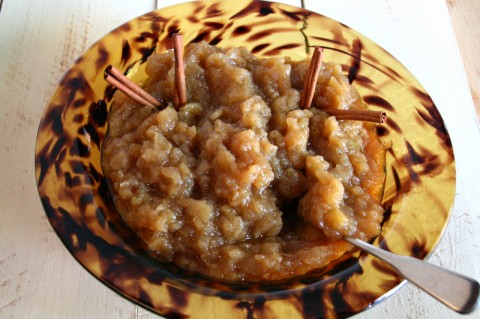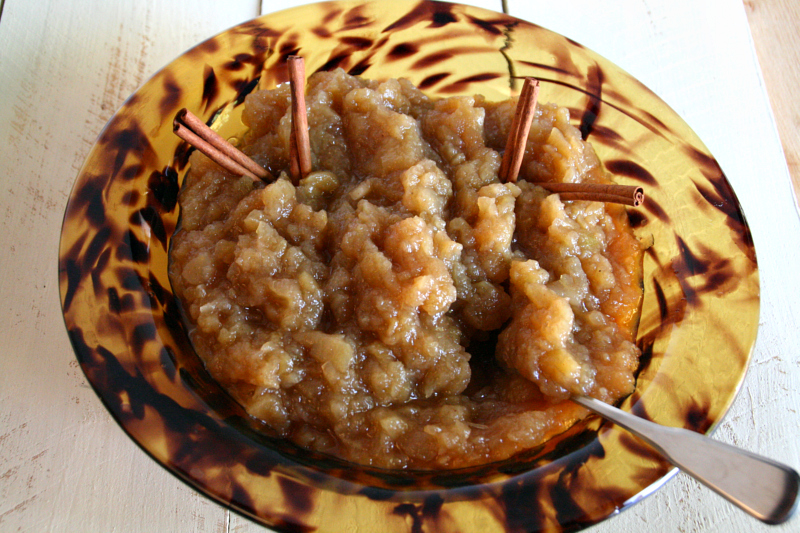 I (Shockingly Delicious) brought Rustic Chunky Applesauce, fragrant with cinnamon and my secret ingredient, which ain't so secret because you can find it in the recipe!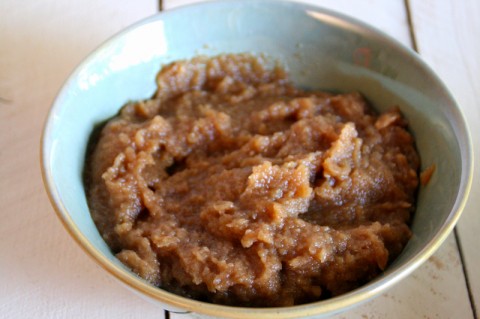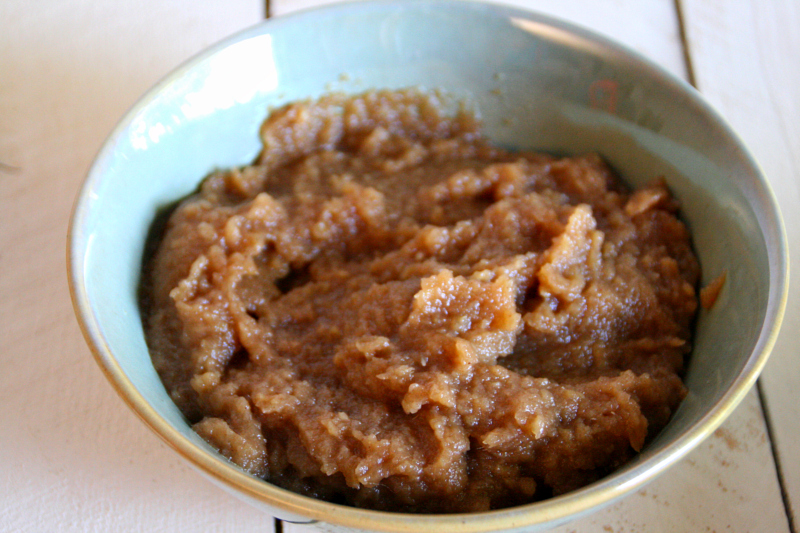 Paulette Fontanez of Girl Plus Fire treated us to Whiskey Apple Butter. You could get a little buzz on if you weren't careful and I wasn't. None for the kids!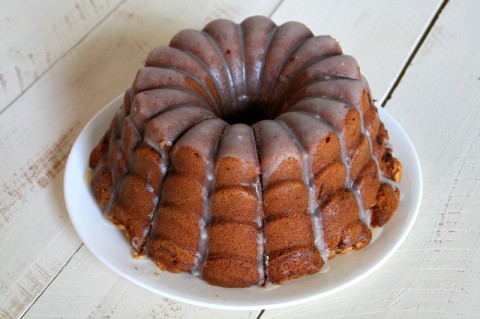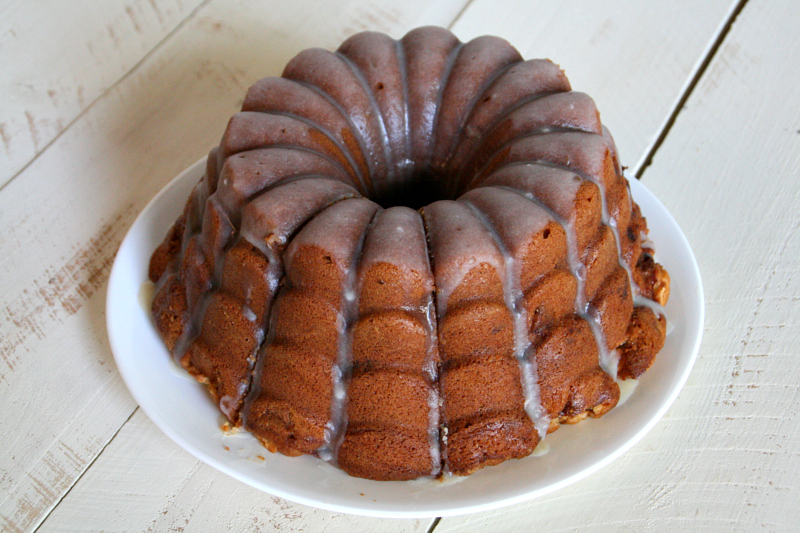 We had two lovely apple cakes, the first an Apple and Pecan Coffee Cake with Browned Butter Glaze from Neha Mathur of Much More Than a Homemaker …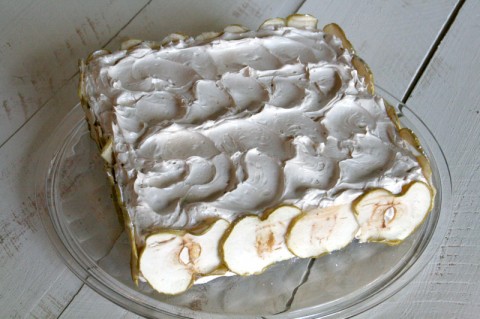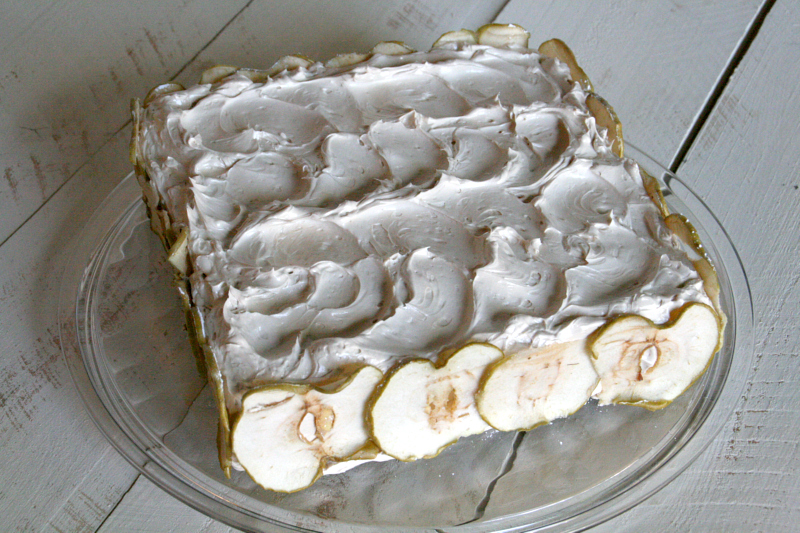 …and the second an Apple Cake with Brown Sugar Buttercream from Mary Weinberg of Sifting Focus.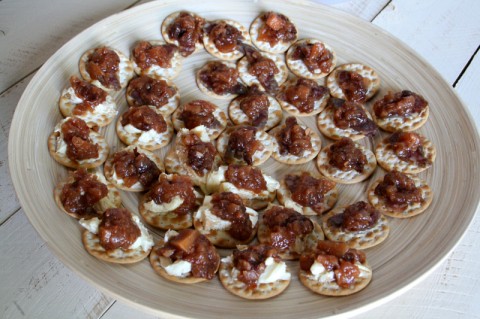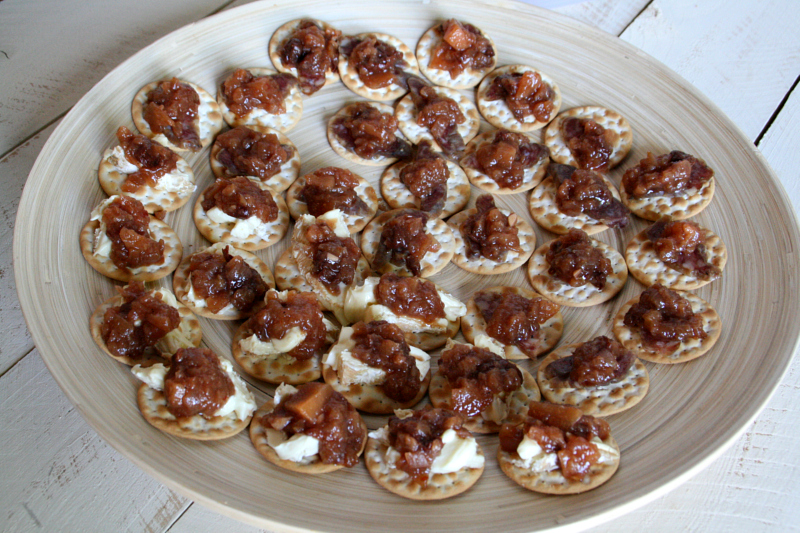 Erika Kerekes of In Erika's Kitchen treated us to an appetizer of Pear Chutney dolloped on a cracker with either sausage or brie tucked under…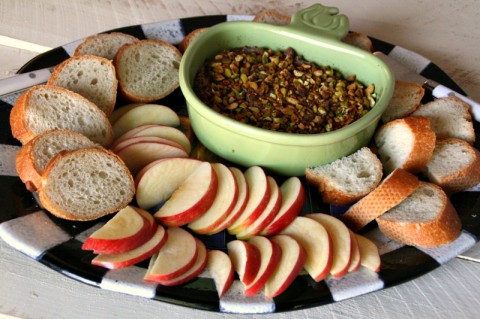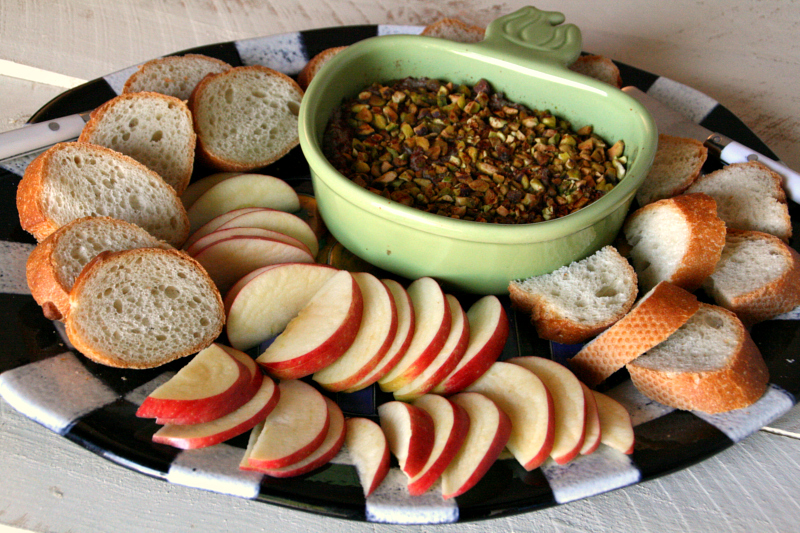 …while Priscilla Willis of She's Cookin'  brought Chicken and Apple Pate with Chopped Pistachios on top.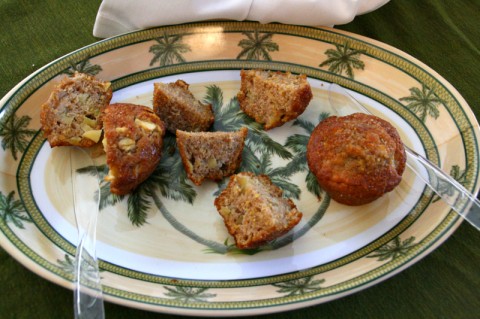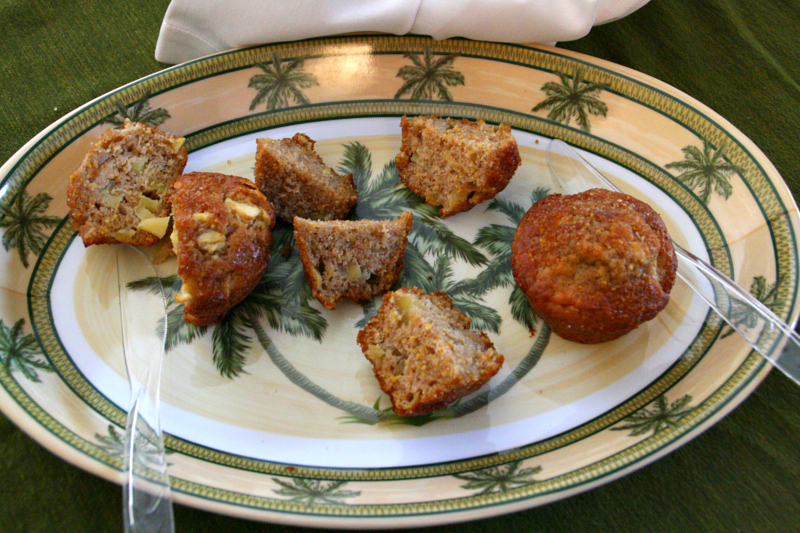 Judy Weintraub of Bumbleberry Breeze brought wonderfully gritty (in that good cornmeal way) Honey Crisp Apple Cornmeal Muffins. I'd like one for breakfast tomorrow, please.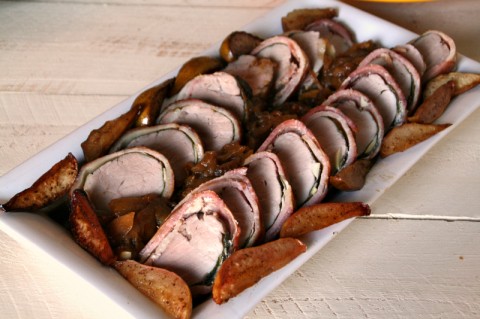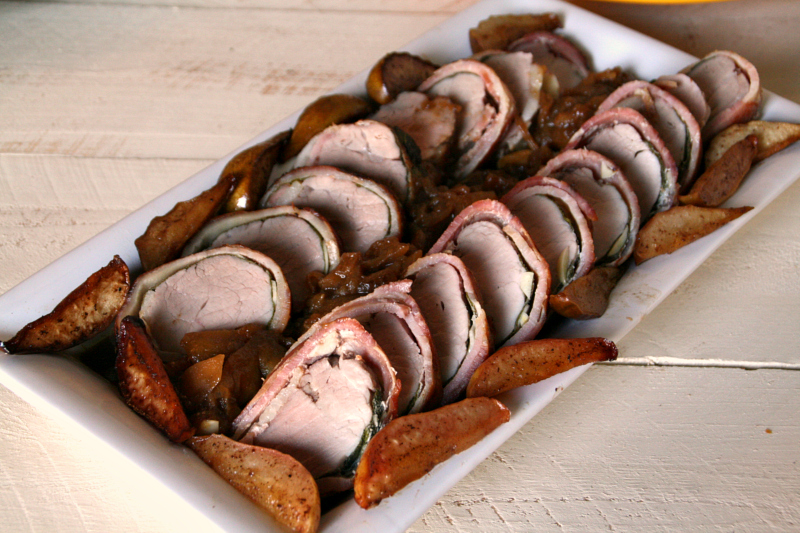 On the savory side, Judy Lyness (no, not everyone in FBLA is named Judy!), of Two Broads Abroad brought a to-die-for Pork Tenderloin Wrapped in Bacon with Apple and Pear Sherry Sauce…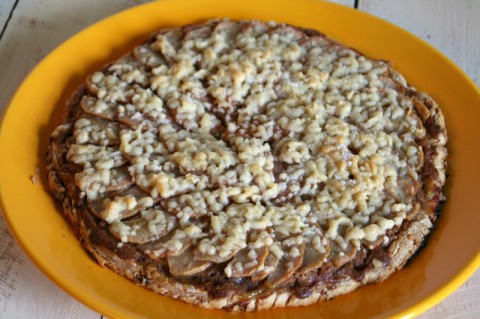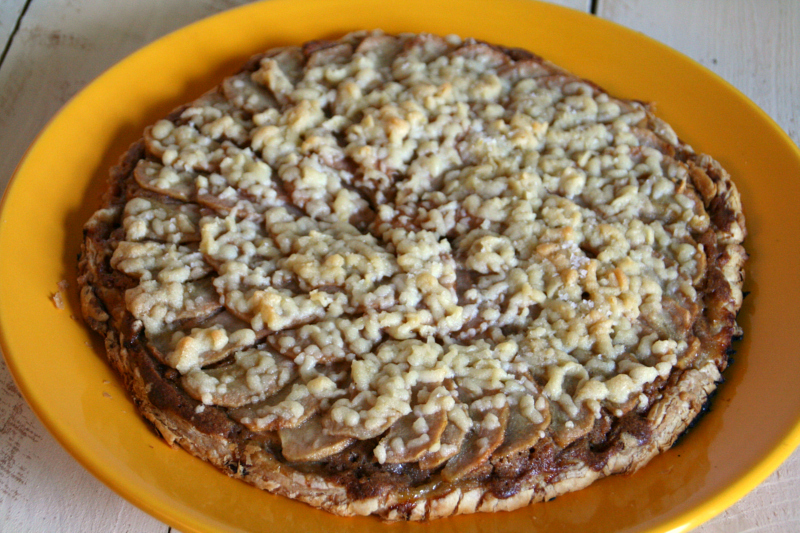 …and an Apple Pear Tart she makes for Thanksgiving.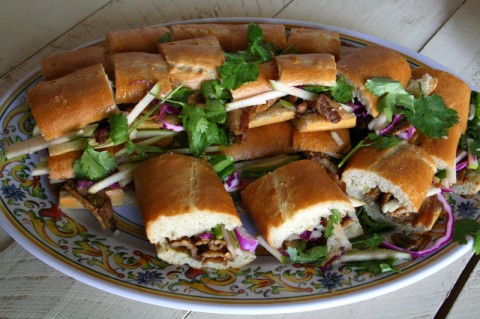 Savory as well, Kim Burnell of Rustic Garden Bistro gave us a Bahn Mi (sandwich) with Braised Pork Belly with Garlic Confit, Tart Green Apple and Crunchy Red Cabbage.  Say THAT with your mouth full!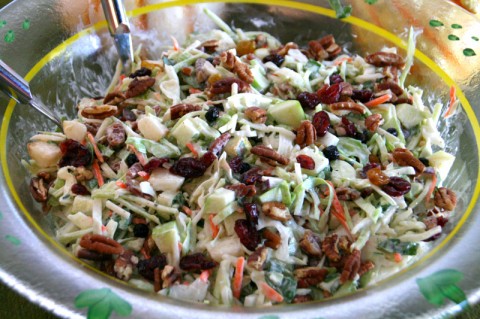 Cathy Arkle, who blogs at She Paused for Thought, had a Triple Slaw with Apples, Pears and Pecans that went well with every single thing on the plate.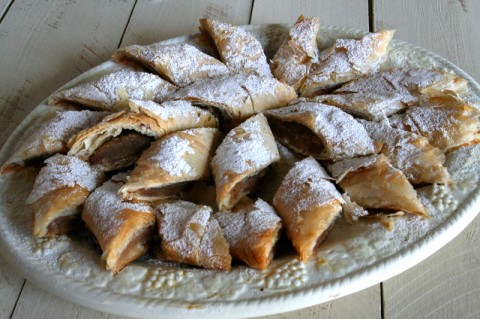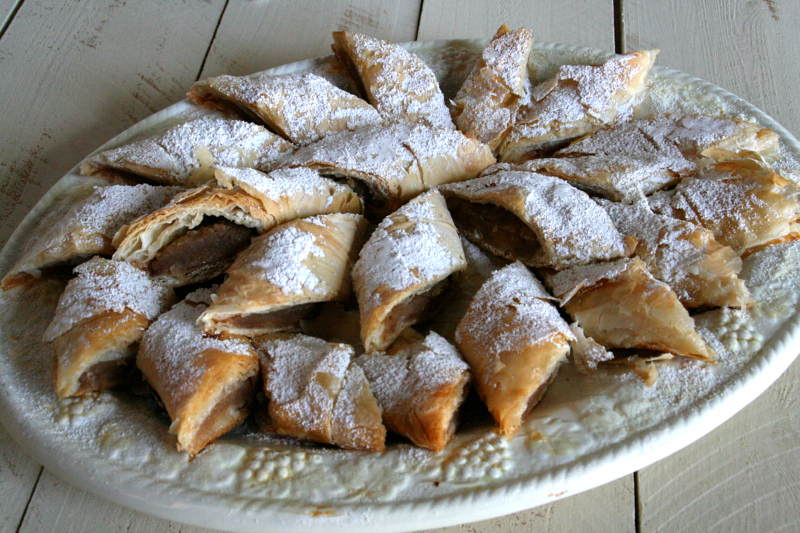 Lana Watkins, the strudel-maker extraordinaire from Bibberche, gifted us with an Apple Phylo Strudel dusted with powdered sugar. Mmmmmm.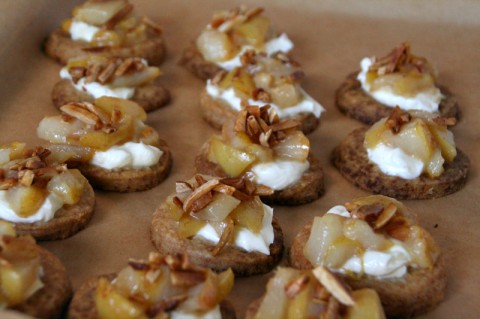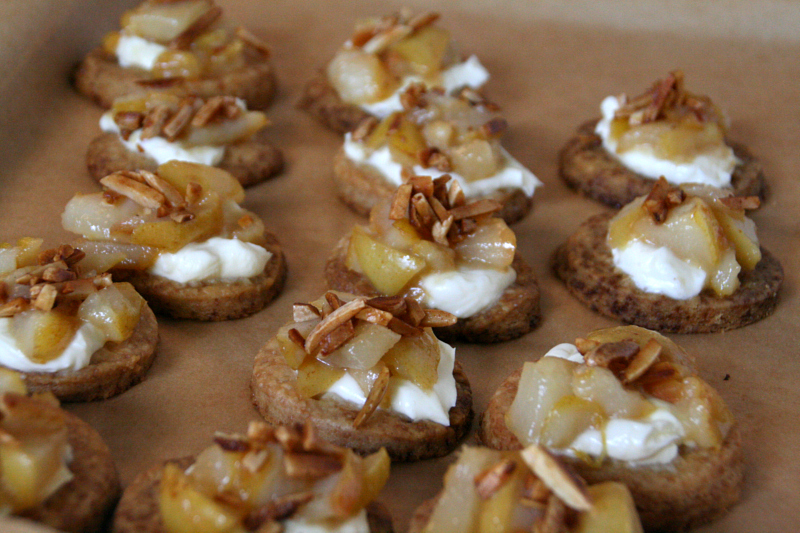 Finally, Tina Ferris of More Please Recipes brought Pear Tartlets that had us raving. She confessed she made an error while making the recipe, but we sagely advised her to ALWAYS make this mistake. That's how good they were!
What else do we do at meetings besides eat?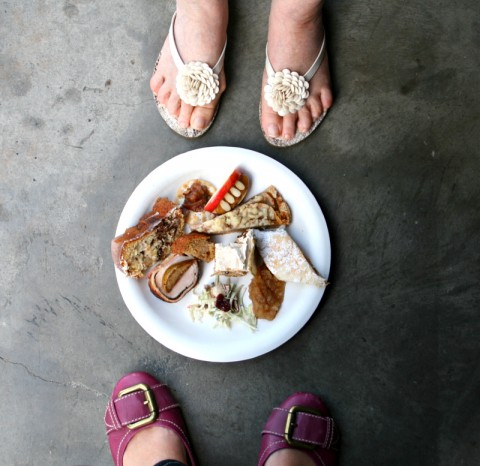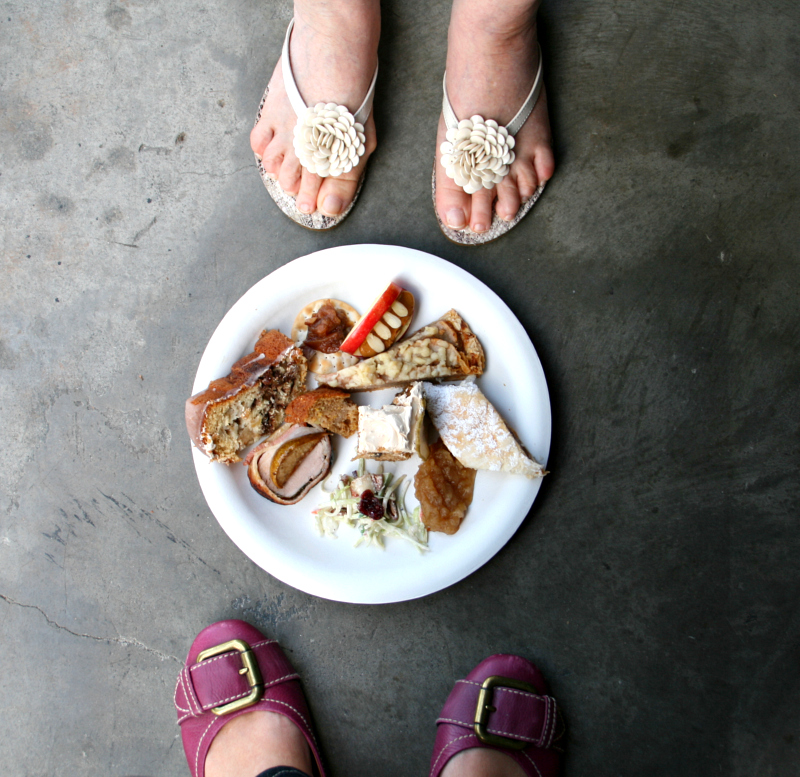 Take aerial photos of our food that sometimes include our cute magenta flats or bare toes!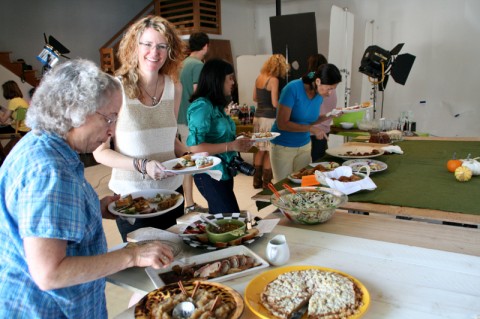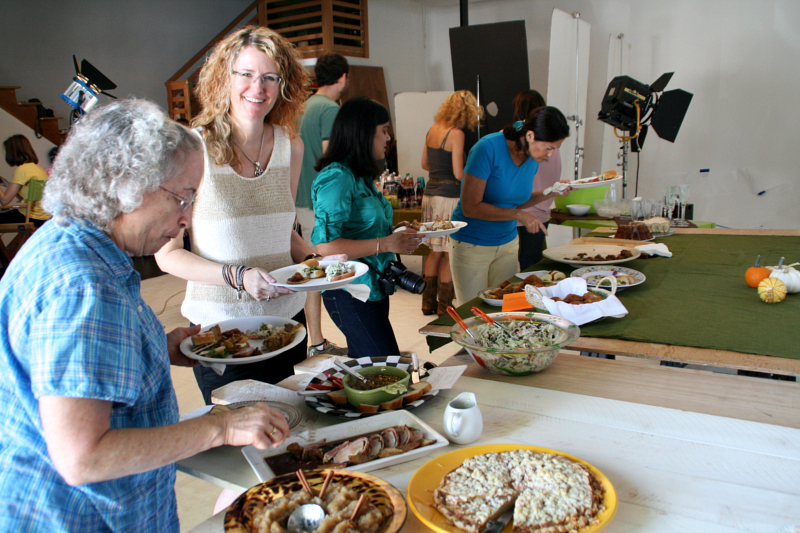 Fill our plates, at least once. Usually twice. Sometimes thrice.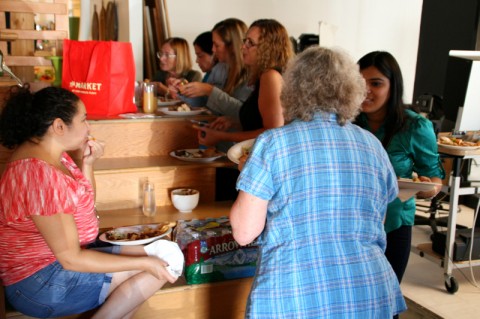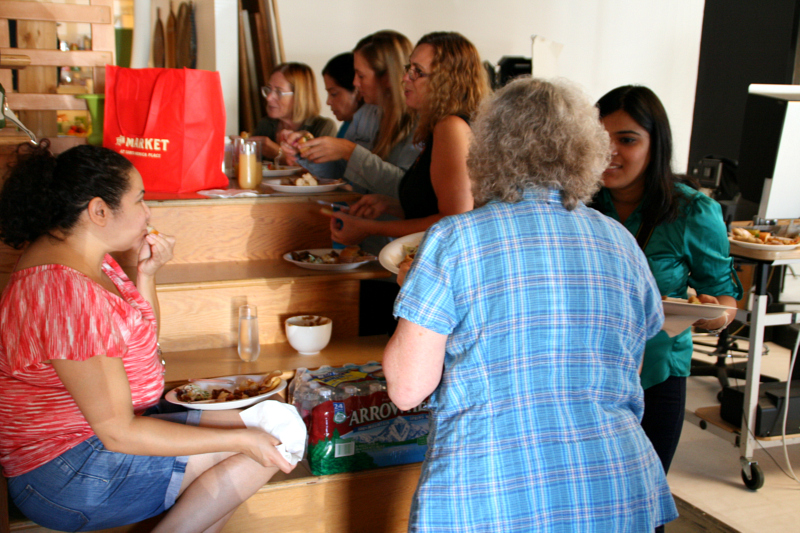 Sit anywhere we can fit, including on the steps at host MDR Photography, a wonderful photo studio in Marina del Rey.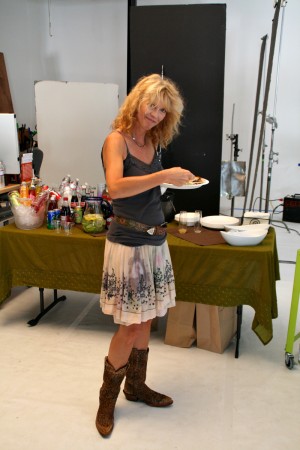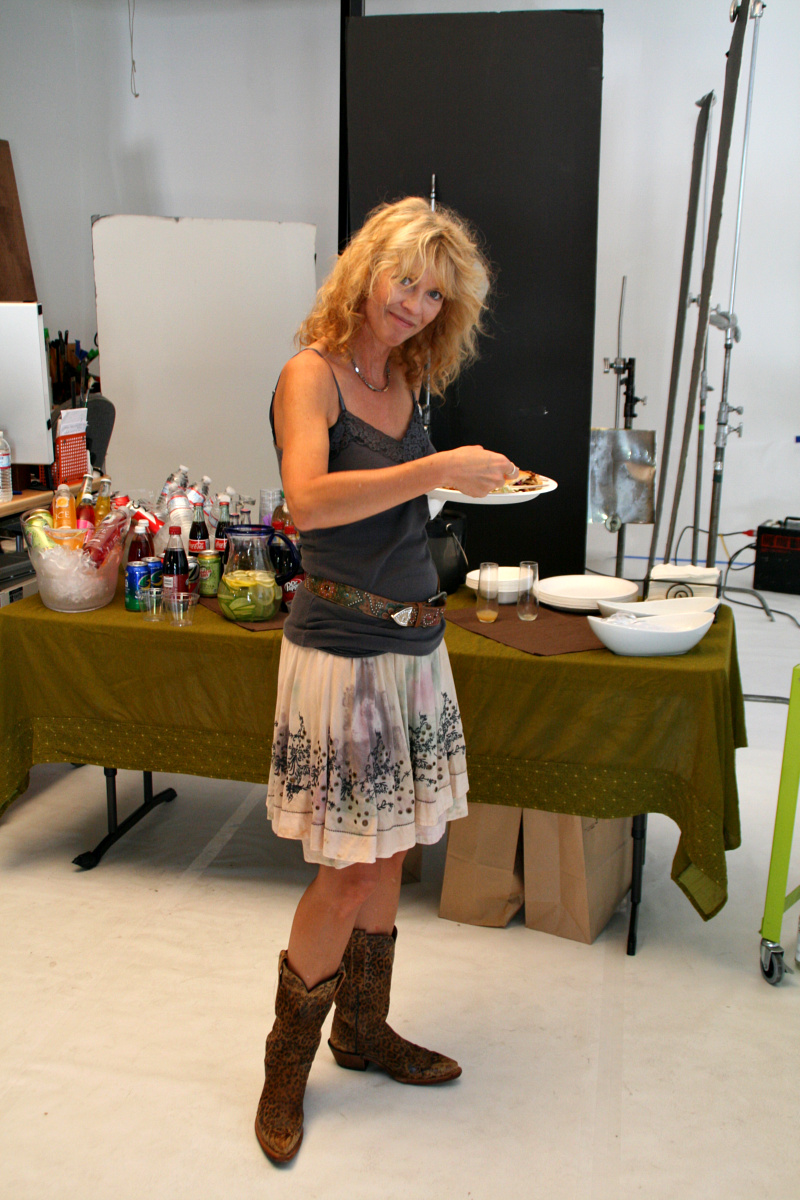 Show off our stylin' boots!
Would you like to see all the apple and pear goodness
Food Blogger Los Angeles members have to share? We thought so…