Print This Post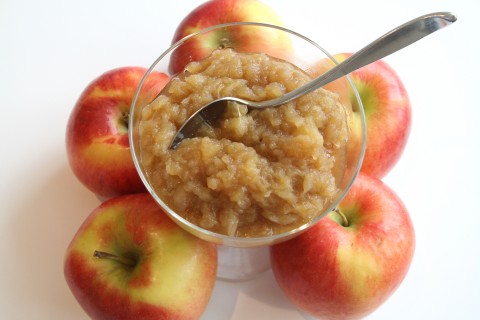 If you have apples, you are less than half an hour away from the best applesauce of your life.
Making your own applesauce is a revelation to those who have never done it. Not only is it virtually no-fail, but the flavor far exceeds anything you can find jarred.
There are two things to know to make your own applesauce:
1. You can pretty much use whatever apples you have in the fruit basket, especially if you have a mix of varieties. If they have seen better days, that's dandy. Just peel off the little brown spots or a bruise here or there, and you're good to go. In fact, when apples have been hanging around my fruit basket too long, and they're looking a tad shriveled, bruised, long in the tooth or just wan and no one is choosing them to eat fresh, applesauce is my go-to solution to give them an afterlife. (The concept is the same as with banana bread – you take the worst-looking, old, blackened bananas and it makes the best bread.)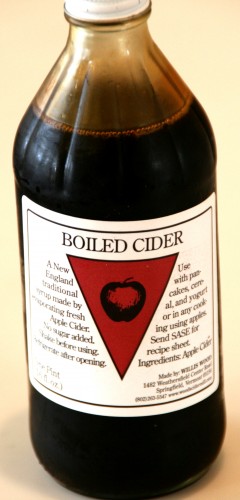 2. Two words: Boiled Cider. This jarred syrup is made by evaporating fresh apple cider to concentrate it 7 or 8 times, with no sugar or preservatives added. It is a home cook's secret ingredient. Use it whenever you use apples, to give an appletastic flavor boost. It is made by Willis Wood in Springfield, Vermont (www.woodcidermill.com), but widely available at specialty grocery stores or foodie emporiums like Surfas (in Culver City, Calif.), and I've seen it at Sur la Table and other shrines to gustatory delight. I use it in apple pies, applesauce, apple crisp, etc. Don't worry, if won't go to waste after you buy it. You will find yourself mixing it with maple syrup for your pancakes, or drizzling it on oatmeal, or even on ice cream.
But I digress. Back to applesauce.
Homemade applesauce is one of those dishes whose flavor payoff far, far exceeds the minimal effort to make it.
Rustic Chunky Applesauce
2 pounds apples, peeled, cored, sliced in thick wedges
1/2 cup water
2 tablespoons boiled apple cider
1/4 teaspoon cinnamon
Tiny pinch salt
1 teaspoon vanilla extract
1-2 tablespoons brown sugar (optional)
Put prepared apples in a medium pot that has a lid. Add water, cider concentrate and the tiniest pinch or sprinkle of salt. Bring to a boil, turn heat down to low-med, cover and cook, 10-15 minutes, until apples are soft. Check at the 10-minute point to see if they are soft enough; if not, give it another 5 minutes.
Turn heat off, and, using a potato masher, give the apples a few mashes, until they are broken up and chunky. Stir in vanilla extract. Taste, and if the applesauce is too tart for you, add 1 tablespoon brown sugar, stirring until combined. Taste again, and if needed, add 1 more tablespoon brown sugar. It is better to err on the side of too tart than too sweet, especially if you are serving this alongside a savory roast meat. Most of the time, I don't add any sugar, but apples differ in tartness, and individuals differ in their preference for sweet applesauce.
Makes about 2 1/2 cups applesauce.
What to serve it with:
roast pork, chicken, turkey or duck
grilled sausages
anytime you need a little dollop of something special on your plate