Print This Post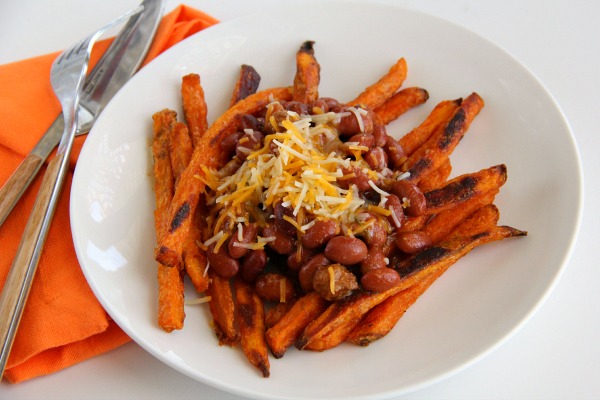 Sweet Potato Fries with Chili and Cheese feature melted cheese and meaty chili atop sweet potato fries, for the best Chili Cheese Fries lunch or dinner around.
Children can inspire the best culinary creations!
My son adores chili-cheese fries, especially when he is on vacation skiing. There's something about spuds and chili that just hits the spot for lunch or dinner when you've worked up an appetite. And he discovered that they also make a great lunch after a "surf sesh." So for him, they make the perfect meal, from the mountains to the sea.
And my daughter and I love sweet potato fries, and will often order them as a side dish if we go out for lunch in our beachside city. No ski trip required. So inspiration struck and I merged the two ideas to make a new favorite around here – Sweet Potato Fries with Chili and Cheese.
How to make Sweet Potato Fries with Chili and Cheese
I use shortcuts for both the fries and the chili, although you are welcome to make them from scratch yourself.
1. I use frozen ready-to-bake sweet potato fries. Put them on a baking sheet and pop into the oven following the directions on the bag. I think you can also do these in the air fryer, if you have one.
2. My favorite canned chili is Stagg Chili Laredo, but use your own favorite, or certainly use leftover homemade chili if you are lucky enough to have some. Heat it on the stove.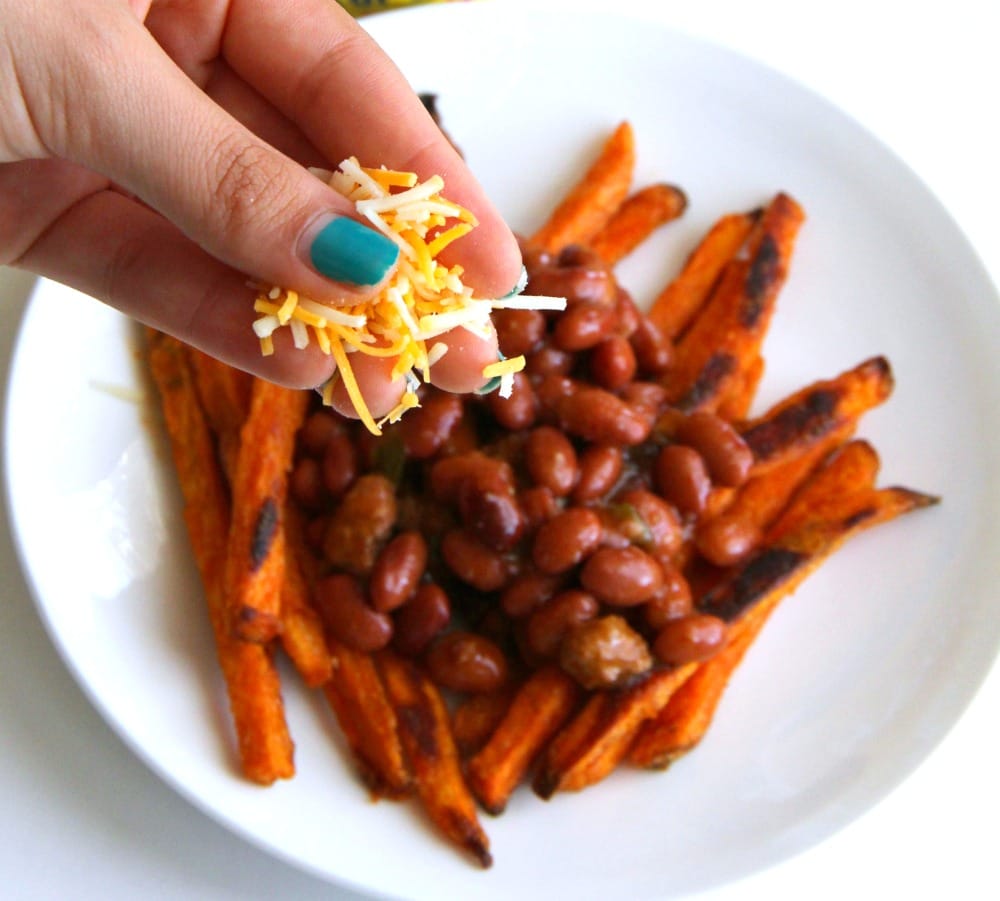 3. When the fries are done, put them on a plate or in a wide bowl, top with chili, and a few pinches of shredded cheese. The heat from the fries and chili will naturally melt the cheese.
4. You can make this with either sweet potato fries, or regular fries from white or yellow potatoes. Suit yourself!
5. To make this an even more complete meal for dinner, add some cooked broccoli to the side, or a fresh green salad!
Easy and cheesy. That's the way we like our chili fries.
Sweet Potato Fries with Chili and Cheese
Melted cheese and meaty chili top sweet potato fries, for the best Chili Cheese Fries from the mountains to the sea.
Ingredients
4 portions frozen sweet potato fries
1 (15-ounce) can Stagg Chili Laredo (or your favorite variety of chili)
4-6 big pinches finely shredded Cheddar cheese
Directions
Bake fries as shown on package directions. (I am calling for 4 portions of fries because our experience is that each person will want 2 portions if you are making a meal out of it. Your mileage may vary.)
While fries are baking, heat chili in a small pot on the stove.
When fries are done, place them on 2 plates or in wide, shallow bowls. Top with hot chili and 2-3 big pinches of cheese each. The hot fries and hot chili will melt the cheese.
Serves 2.
Notes
Recipe source: Dorothy Reinhold | Shockingly Delicious
https://www.shockinglydelicious.com/sweet-potato-fries-with-chili-and-cheese/
Copyright Dorothy Reinhold | ShockinglyDelicious.com. All rights reserved.
Pin the image below to your Pinterest board to save this recipe.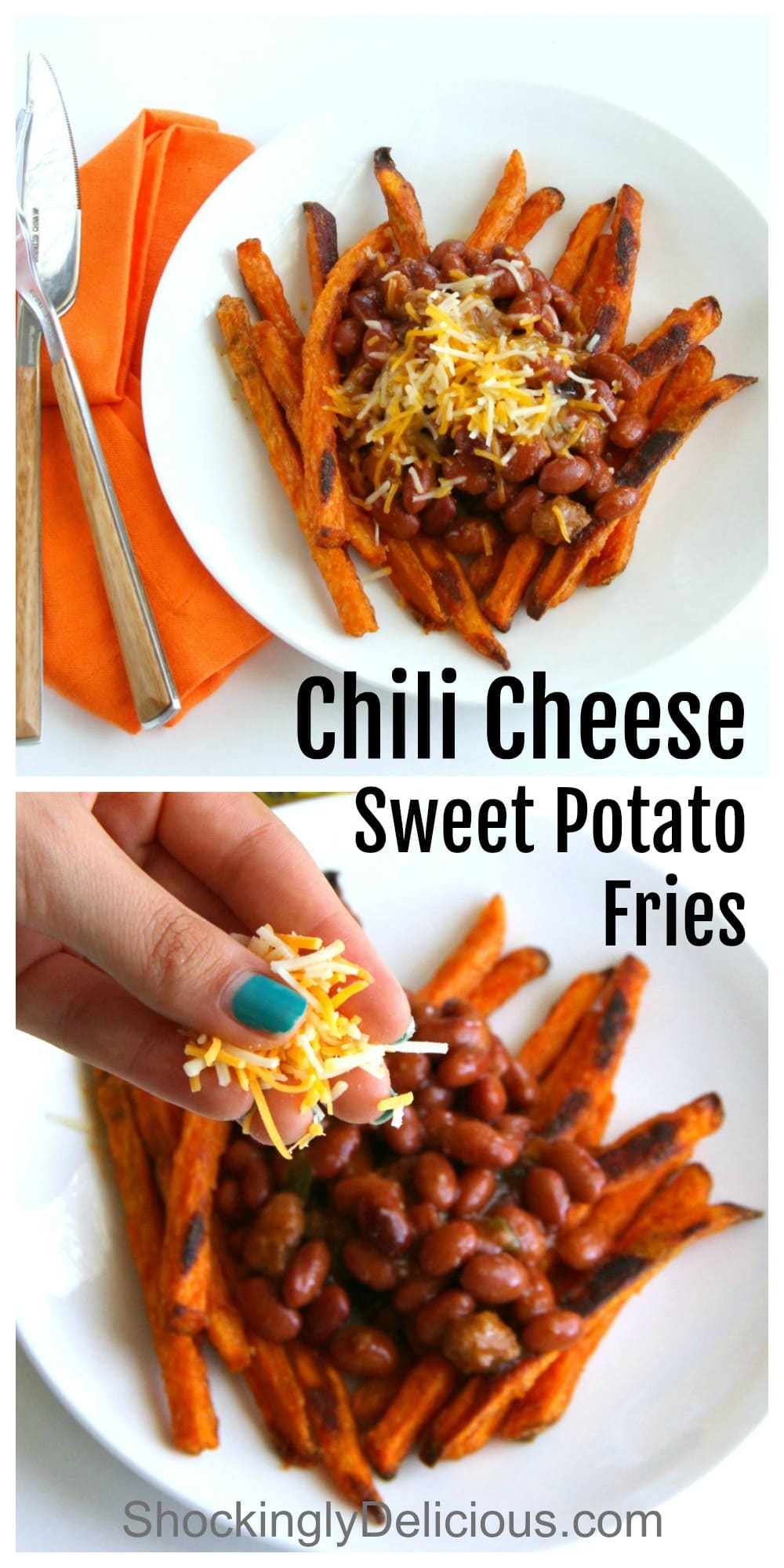 If you like French Fries, try this recipe below!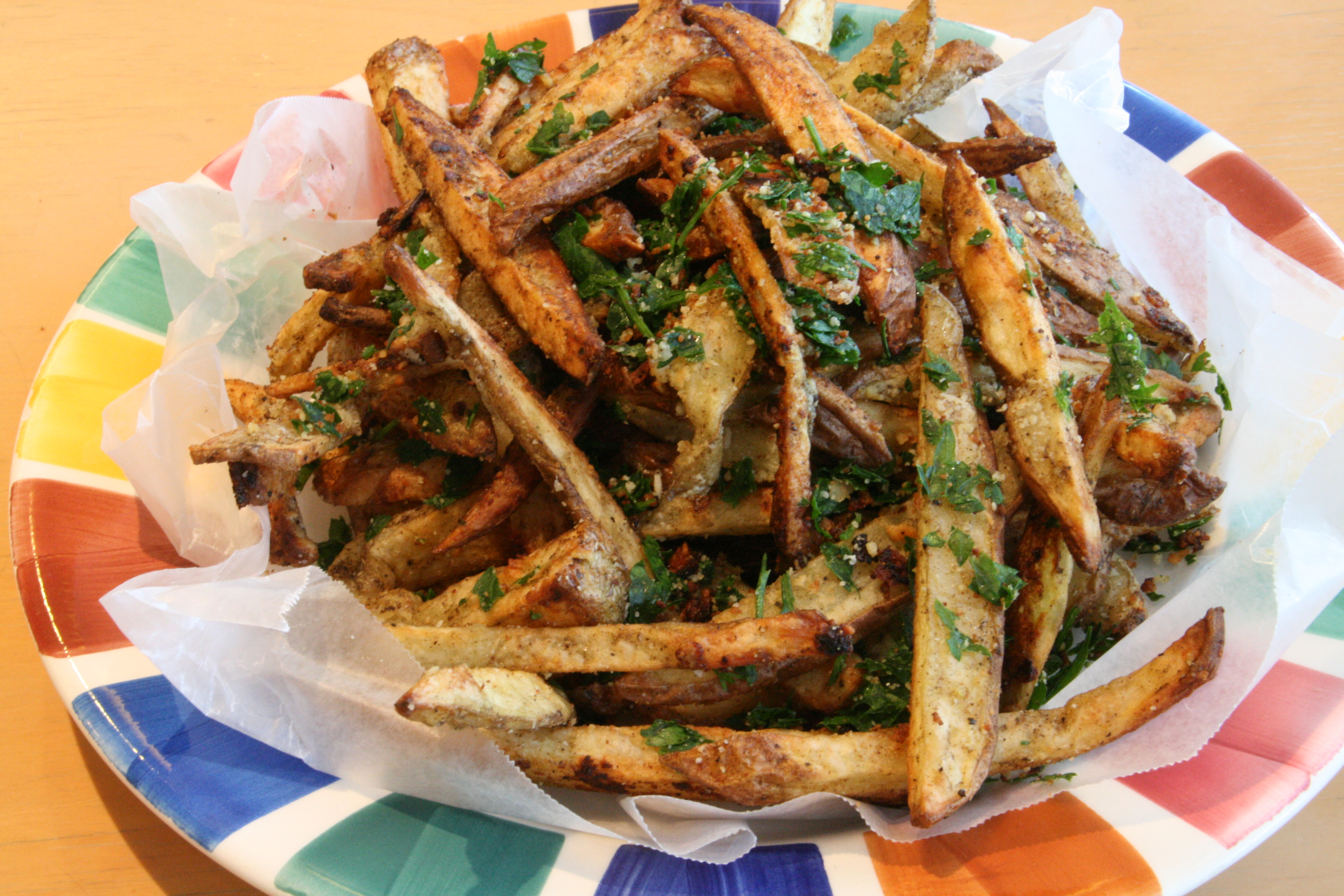 Best Ever Oven Parmesan Fries (it won a national award!)
This recipe was originally published June 21, 2014, and has been refreshed and republished today.
Thanks for visiting…are you hungry for more? Follow Shockingly Delicious on…
FACEBOOK | PINTEREST | INSTAGRAM | TWITTER
…for all the latest recipes, ideas and updates!
This post may contain affiliate/referral links. It is a way for this site to earn advertising fees (at no cost to you) by advertising or linking to certain products and/or services that I approve and prefer.