Print This Post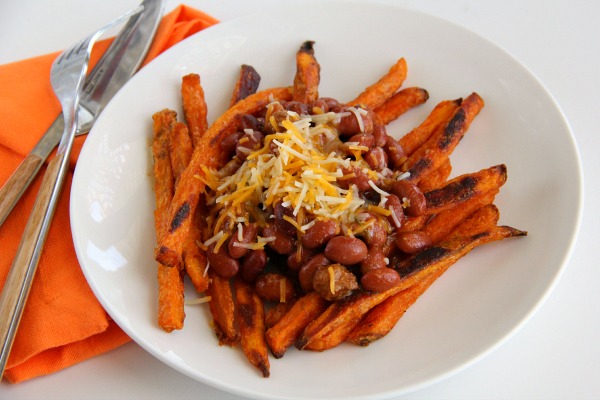 This is a sponsored post written by me on behalf of KRAFT Natural Shredded Cheese and Safeway. All opinions are 100% mine.
Children can inspire the best culinary creations!
My son adores chili-cheese fries, especially when he is on vacation skiing. There's something about spuds and chili that just hits the spot for lunch or dinner when you've worked up an appetite.
My daughter and I love sweet potato fries, and will often order them as a side dish if we go out for lunch in our beachside city. No ski trip required. So inspiration struck and I merged the two ideas to make a new favorite around here – Sweet Potato Fries with Chili and Cheese.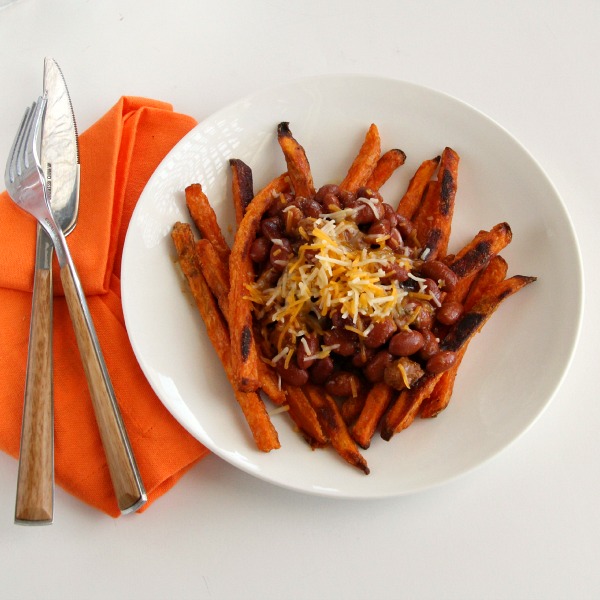 I headed to Safeway Just For You (called Vons where I live) and decided to rely on some shortcuts – frozen ready-to-bake sweet potato fries, my favorite canned chili (Stagg Chili Laredo), and KRAFT Natural Shredded Cheese.
For this dish, I chose KRAFT finely shredded Triple Cheddar in the new stand-up pouch. This new package has the same amount of cheese as the flat package, but with less packaging and a handy stand-up feature that makes it easy to grab or pour directly from the pouch. They're calling it #StandUpCheese, because everything — even cheese! — needs its own hashtag in this day and age, eh?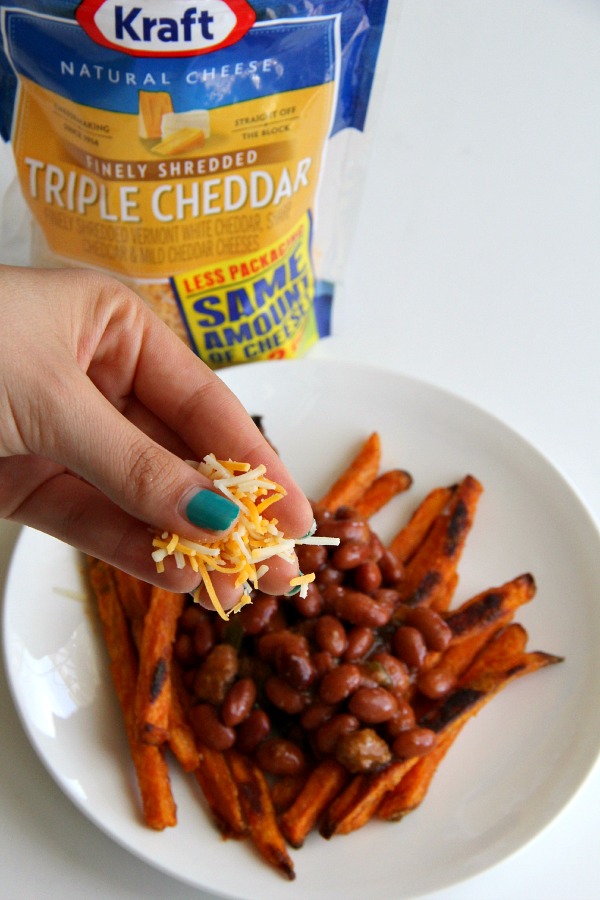 Easy and cheesy. That's the way we like our chili fries. 
Recipe: Sweet Potato Fries with Chili and Cheese
Summary: Melted cheese and meaty chili top sweet potato fries, for the best Chili Cheese Fries from the mountains to the sea.
Ingredients
Instructions
Bake fries as shown on package directions. (I am calling for 4 portions of fries because our experience is that each person will want 2 portions. Your mileage may vary.)
While fries are baking, heat chili in a small pot on the stove.
When fries are done, place them on 2 plates or in wide, shallow bowls. Top with hot chili and 2-3 big pinches of cheese each. The hot fries and chili will melt the cheese.
Serves 2.
Recipe source
Dorothy Reinhold | Shockingly Delicious
Preparation time: 5 minutes Cooking time: 25 minutes Number of servings (yield): 2 Culinary tradition: USA (General)