Print This Post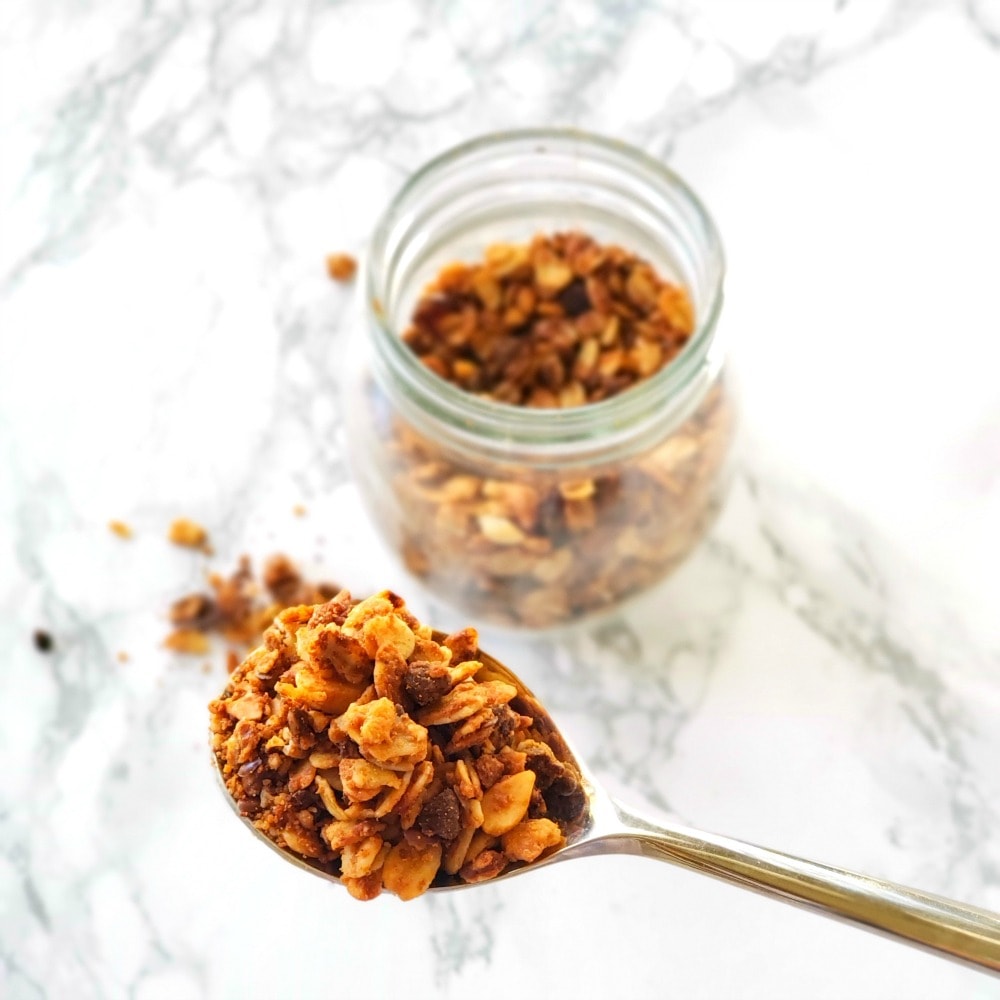 Honey Nut Granola is simple to make, with a peanut butter and honey base coating oats, flax, dried fruit, almonds and chocolate. It's perfect for breakfast over yogurt or as a snack straight from the jar.
When you're lucky enough to have a friend/neighbor who just graduated from the Culinary Institute of America at Greystone, you jump for joy when he brings you something to try from his kitchen. I mean, you secretly scream like you're in the audience at Ellen's Christmas show, but on the outside, you're cool, man, it's all cool.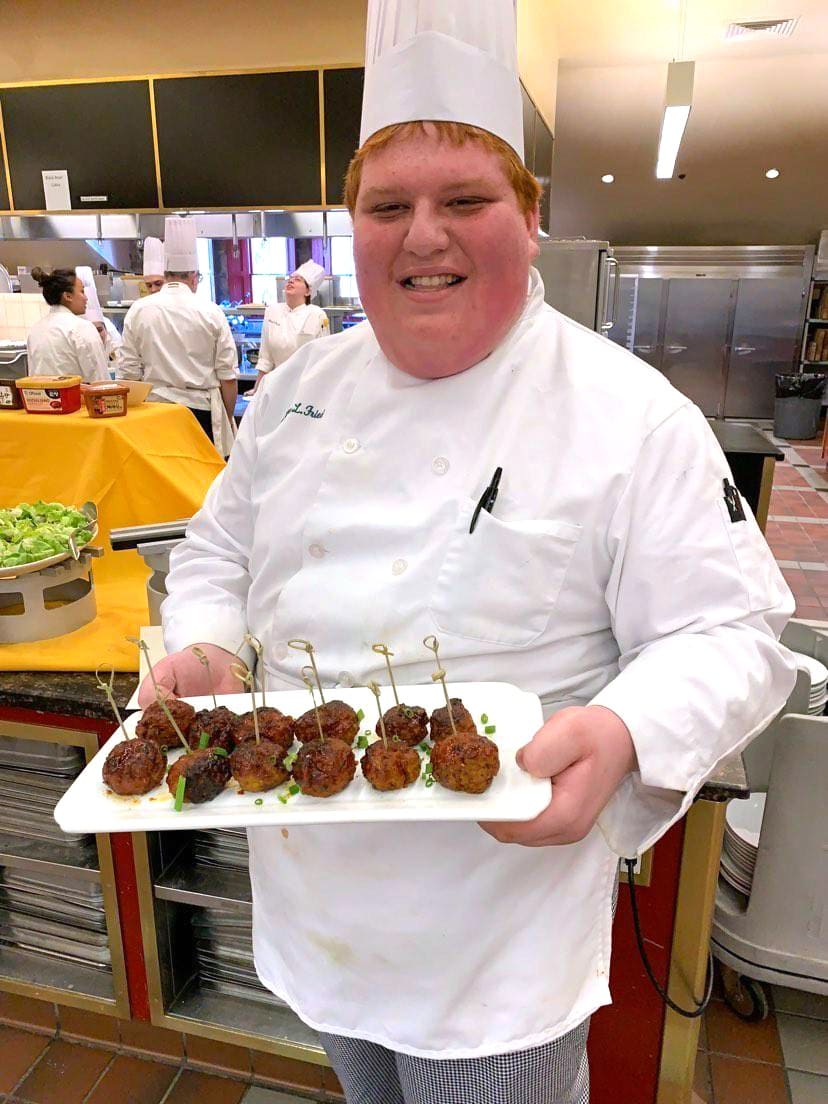 Josh Fried, who I've known for 20 years as a neighbor, emerged in May from that private culinary college located in St. Helena, Calif. with a degree in Delicious Food. Well, technically his degree is in Culinary Arts, but I think my degree designation for him is more accurate.
Right now he's home, socially distancing until he leaves to pursue his bachelor's degree from the CIA campus in Hyde Park, New York. But while he's home, he's cooking up a storm in his parents' Pacific Palisades, Calif. kitchen. There's a steady stream of food snapshots from his family's Instagram accounts…it's enough to cause hunger and jealousy.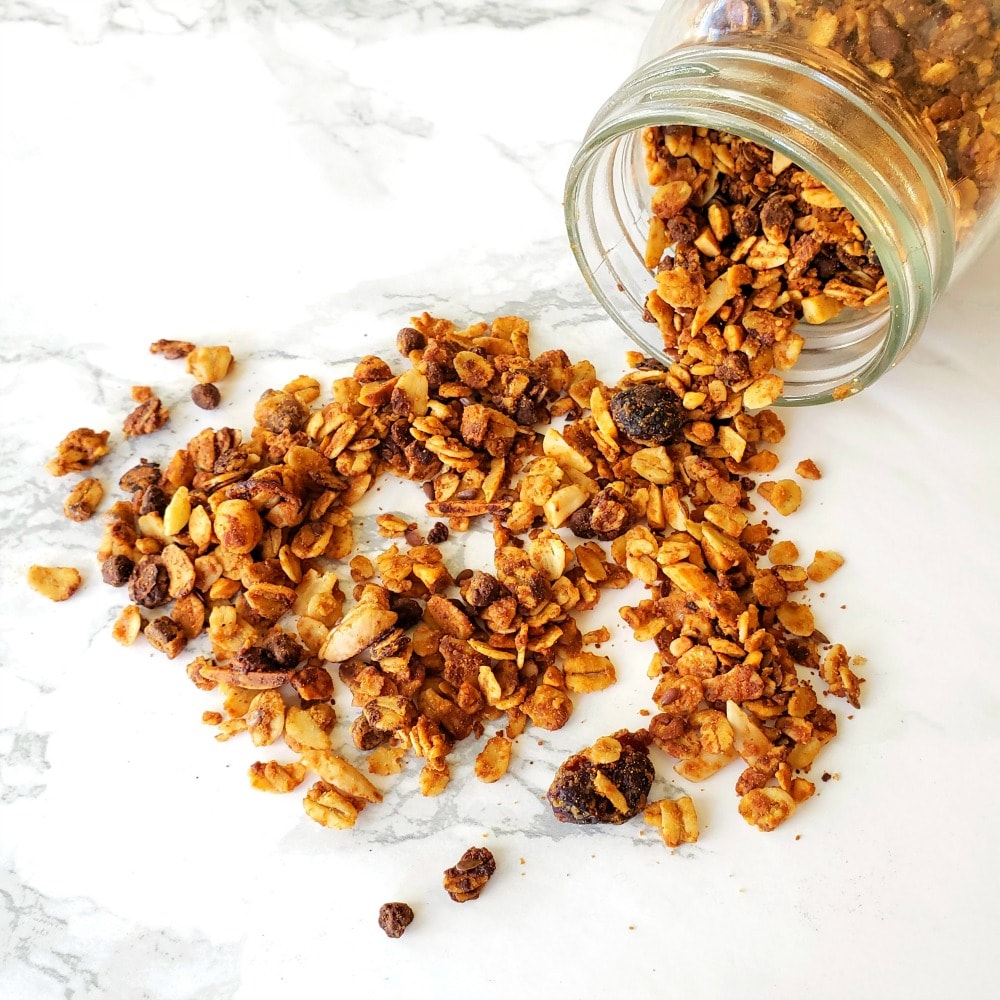 The latest treasure he created is a Honey Nut Granola that is perfectly flavor balanced, crunchy, with an elegant appeal. For such a rustic thing, this is a very sophisticated tasting granola!
He was kind enough to share his recipe with us, and it makes a perfect, easy kitchen project especially while we're all hunkering down at home. After you make it once, you realize you never need to buy overpriced granola again.
Substitutions in Honey Nut Granola
Another benefit of making your own granola is you can tweak the recipe to suit yourself and your own preferences, or what you have available in the pantry.
1. Would you prefer pecans instead of almonds? Do it.
2. Agave or maple syrup instead of honey? Do it.
3. A different nut butter rather than peanut butter? Do it.
4. You don't want chocolate in your granola…leave it out! Josh actually prefers it without chocolate.
Go for the combo of ingredients that floats your boat.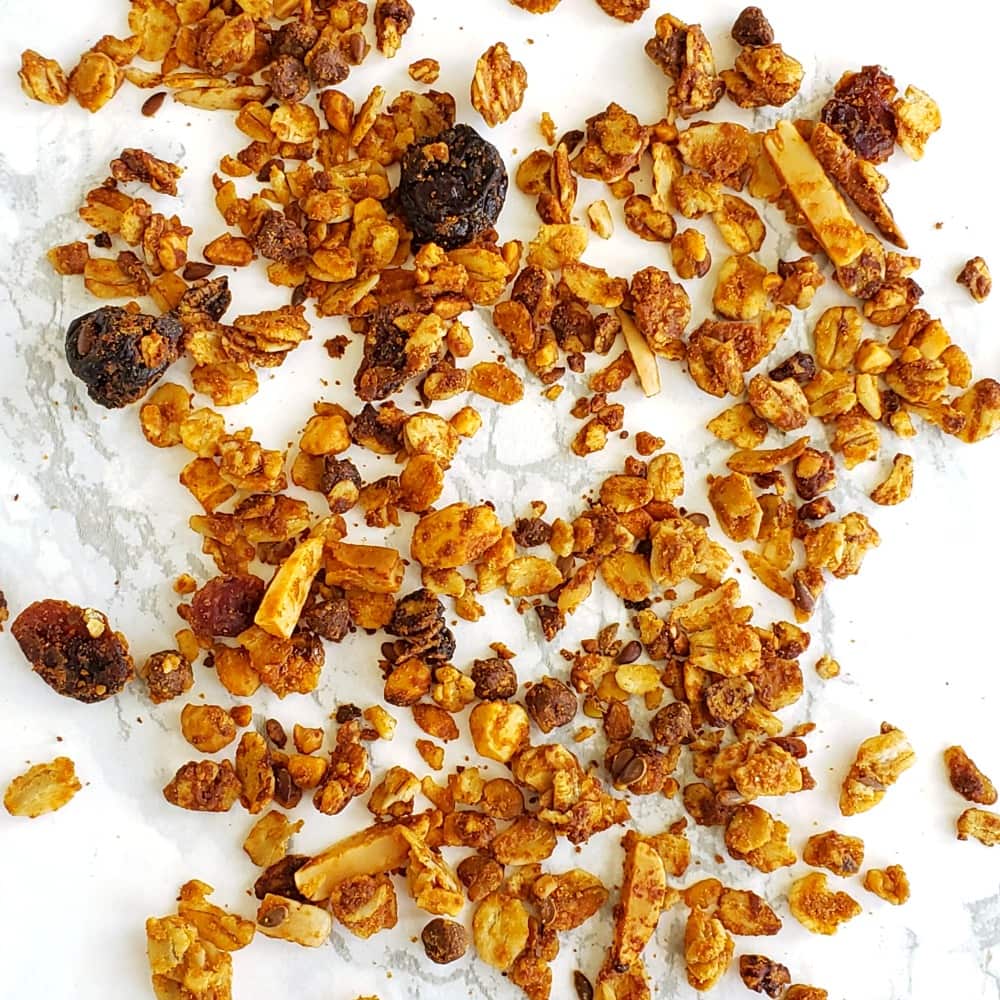 Try it!
Honey Nut Granola is simple to make, with a peanut butter and honey base coating oats, flax, dried fruit, almonds and chocolate. It's perfect for breakfast over yogurt or as a snack straight from the jar.
Ingredients
1 to 2 cups creamy peanut butter
1/2 cup honey
1/3 cup neutral cooking oil (such as canola or Grapeseed oil)
1/4 cup brown sugar
2 teaspoons vanilla extract
4 cups oats (Josh used Bob's Red Mill, but any brand of regular oats will work)
1/2 cup whole flax seeds
1 cup dried cherries and cranberries (or any dried fruit you prefer)
1/2 cup chocolate chips (optional; Josh actually prefers this with no chocolate so suit yourself)
1/2 cup slivered almonds
A pinch kosher salt
Directions
Heat oven to 325F degrees. Line a baking sheet with parchment paper and set pan aside.
In a mixing bowl, stir together peanut butter, honey, oil, brown sugar and vanilla extract. Mix until ingredients look dissolved and homogeneous, about 1 minute or so. Toss in oats, flax, fruit, chocolate, almonds and salt and mix until well combined.
Spread the mixture on the parchment-lined baking sheet, and bake for 30 minutes. Remove from oven, place pan on a heat-resistant surface, and allow granola to cool. When it is completely cool, break it into chunks and store in an airtight lidded container or a zipper-top plastic bag. It will keep well for a few weeks in the pantry, if it lasts that long.
Eat as a snack out of hand, for breakfast over yogurt or as a dessert over a bowl of berries.
Notes
Recipe source: Chef Josh Fried of Pacific Palisades, Calif.
https://www.shockinglydelicious.com/honey-nut-granola/
Copyright Dorothy Reinhold | ShockinglyDelicious.com. All rights reserved.
Pin the image below to your Pinterest board to save this recipe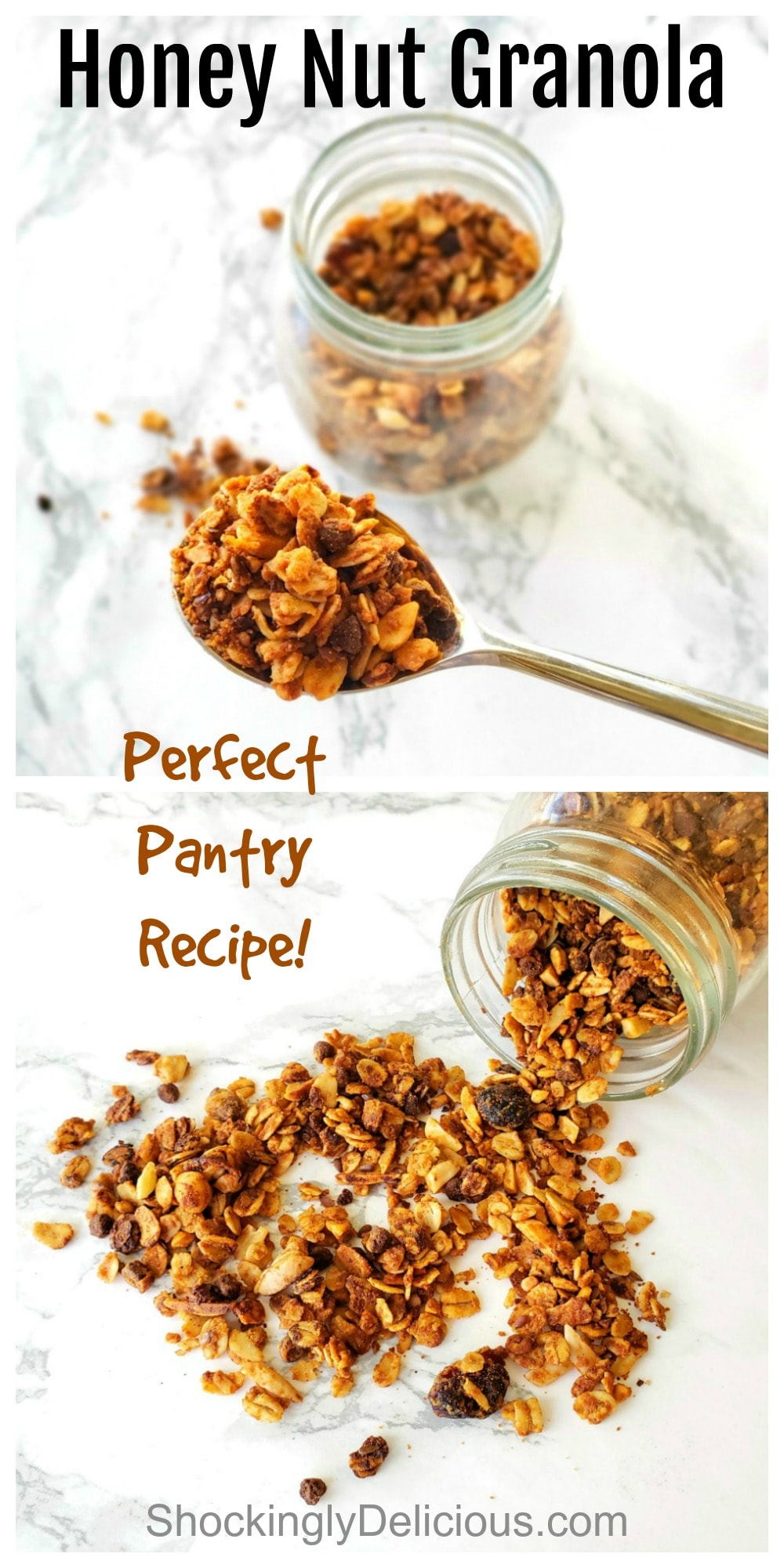 Other easy breakfast recipes: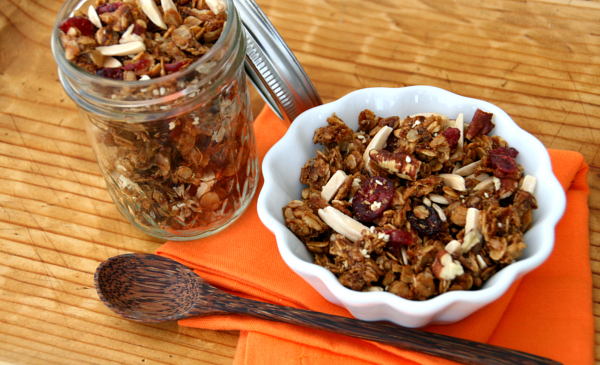 Skillet Granola (you don't heat the oven for this version)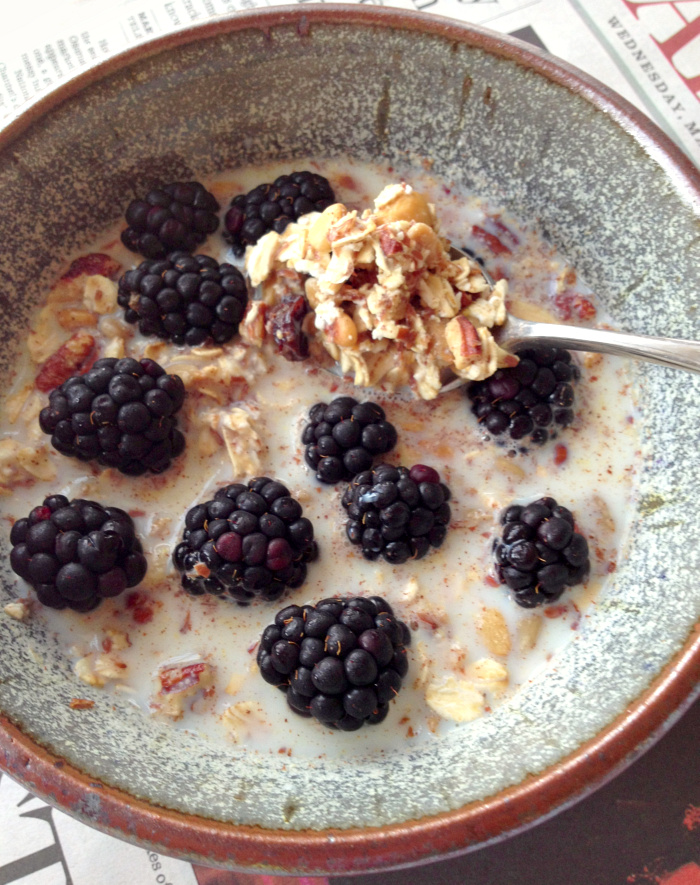 Homemade Nutty Oat Cold Cereal No added sugar in this one.
Granola photos by Dorothy Reinhold. Chef photos courtesy of Josh Fried.
Thanks for visiting…are you hungry for more? Follow Shockingly Delicious on…
FACEBOOK | PINTEREST | INSTAGRAM | TWITTER
…for all the latest recipes, ideas and updates!
This post may contain affiliate/referral links. It is a way for this site to earn advertising fees (at no cost to you) by advertising or linking to certain products and/or services that I approve and prefer.