Print This Post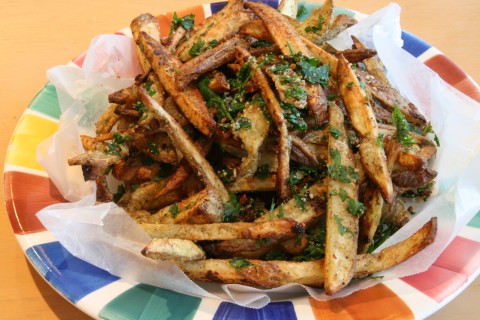 French Fries!
Do I need to say more?
How about "not fried?"
How about "easy?"
How about "you will make these 5 nights in a row?"
Don't say I didn't warn you.
These were born from three inspirations – one was a little recipe in People Magazine from boy pop tart Jesse McCartney ("Cooking is a really nice way of saying, 'I'm going to care for you.' ").  Awwww…but still, there's his recipe for Parmesan Fries staring at me from the page. And it looks good!
Secondly, my tween daughter and I went to the Music Center to see a matinee of "South Pacific," and we grabbed a quick lunch at Kendall's Brasserie nearby. Their Pomme Frites Maison ("house French fries," $7) were a revelation – garlicky, herby with chopped parsley, and just so good we barely breathed while eating them. If we had asked for two orders, we would have eaten them all. Glad, for our sake, we stopped at one.
Thirdly, in 2005, I won a national "Peak Rewards" recipe contest sponsored by the Colorado Potato Administrative Committee, with a recipe for Oven Parmesan Fries in which I used dried oregano and grated Parmesan. Yowza, were they ever good, I remembered!
So with my 2005 recipe as a start, Jesse's recipe as a prod, and the Kendall's flavors as a goal, we made a recipe mashup and now have the scary good Best Ever Oven Parmesan Fries. (Because I don't speak French, I can't honestly call them Pomme Frites.)
Here's a quick tutorial to get you in the mood for fries. As if you needed any prodding whatsoever.
Best Ever Oven Parmesan Fries
4 large potatoes, keep skin on (about 2 pounds)
1-2 tablespoons olive oil
1 1/2 teaspoons ground thyme (or use poultry seasoning or dried oregano)
A few grinds of fresh black pepper
1/2 teaspoon salt
1/4 cup grated Parmesan cheese
1/2 teaspoon crushed fresh garlic
1/4 cup finely minced fresh Italian parsley
Heat oven to 425 degrees.
Wash and dry potatoes, and cut them into French fry-size strips*. Place in large bowl and drizzle oil over. Toss until coated. Sprinkle with thyme and pepper and toss well until evenly coated.
Place on ungreased baking sheet in a single layer and bake for 30 minutes. While potatoes are baking, rinse out bowl and dry. In same bowl, stir together salt, cheese and garlic. Set aside.
Remove potatoes from oven and scrape into bowl with cheese. Using two spoons, toss potatoes until garlicky cheese coats them. Scrape potatoes back onto baking sheet in a single layer, and bake another 10 minutes. Make sure all cheese mixture is on potatoes. (Do not wash bowl yet.)
Remove from oven and return to same bowl. Add parsley and toss until hot fries are coated with parsley.
Makes 4 servings. (Oh, who are we kidding? Makes 1 serving if no one else is around!)
*How to cut potatoes into French fry strips:
First way: Cut each potato into 3 flat "rafts." Stack rafts and cut lengthwise into strips the size of fries.
Second way: For shorter fries, cut potato in half lengthwise, and then in half widthwise. Cut each potato quarter into 5 or 6 slices.