Print This Post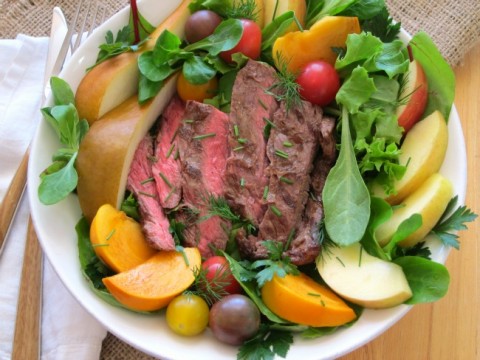 When I think about what's for dinner, I like to imagine the major food groups that would be on the plate — a protein, some green vegetable, perhaps a grain, and very often some fruit, too.
What form those take — how they are combined, cooked or not, prepared and presented — is where the magic happens.
Several times a month that magic happens because of my favorite beef — flap steak (or perhaps flank or shirt steak), grilled quickly and then sliced against the grain. Lately I like to put it on top of a heap o' salad greens, with some fruit slices tucked in between. It's my idea of a nearly perfect meal, coming together quickly on even the busiest evening.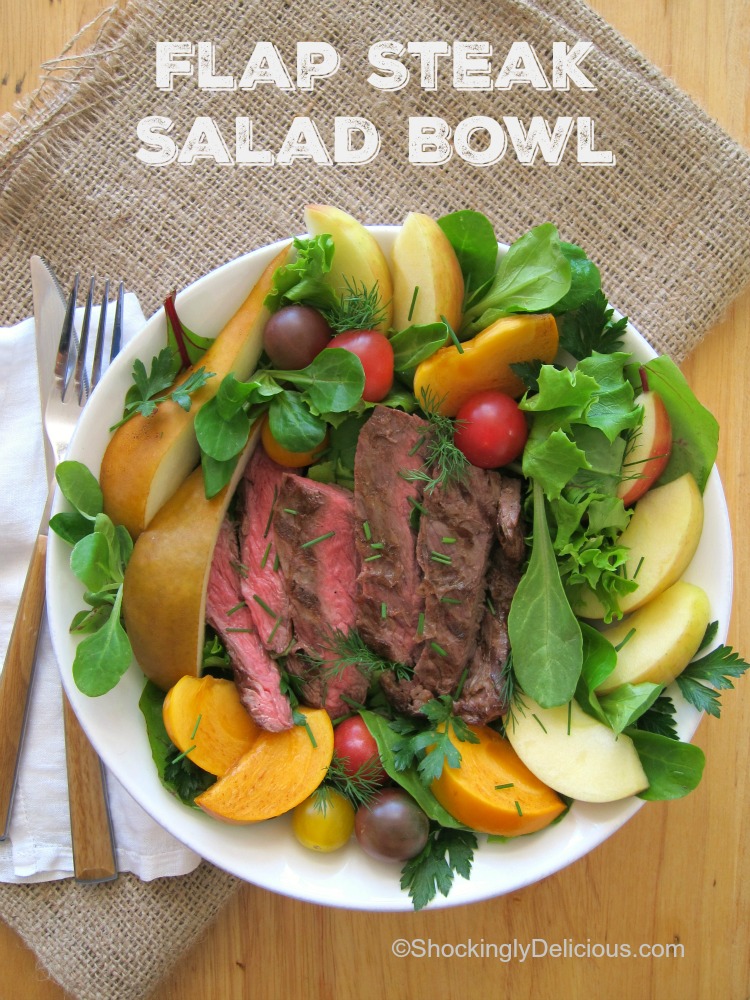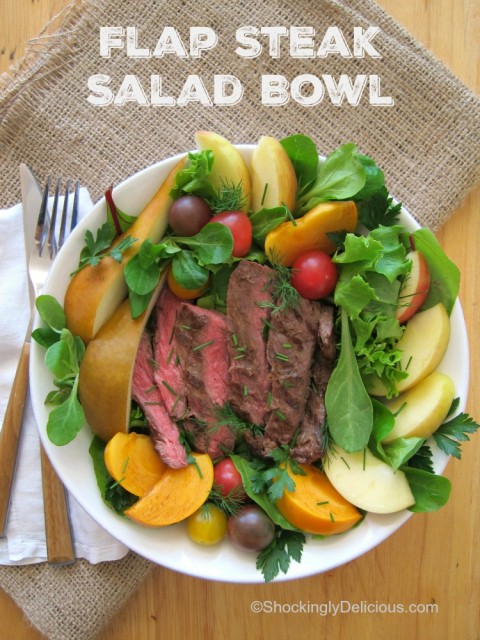 Doesn't that look good? I'm hungry right now, just looking at it.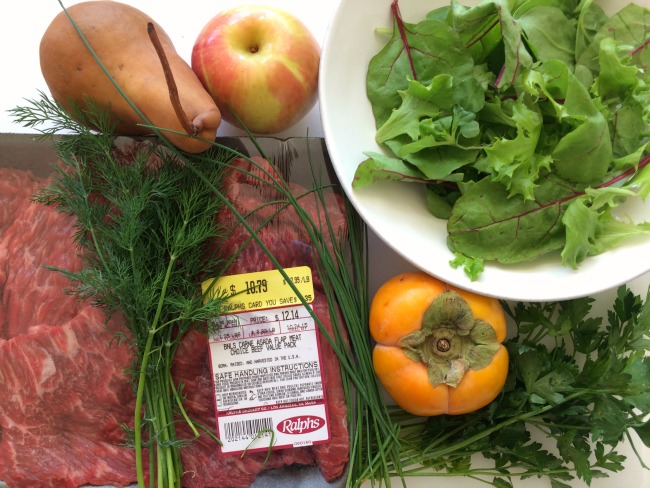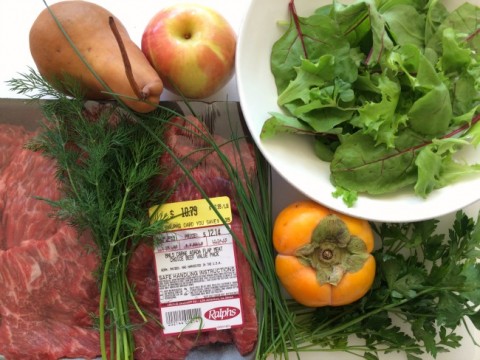 To make it weeknight-easy, I recommend buying ready-to-use salad greens. Toss some seasonal fruit in, as well. Right now apples and crisp Fuyu persimmons look fantastic in the store; crisp Bosc pears as well. Let your whim guide you and don't be afraid to try a new fruit.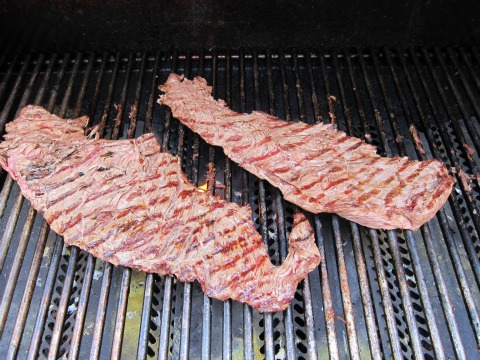 Then you'll simply grill the steak (or pan cook it in a hot skillet if you prefer)…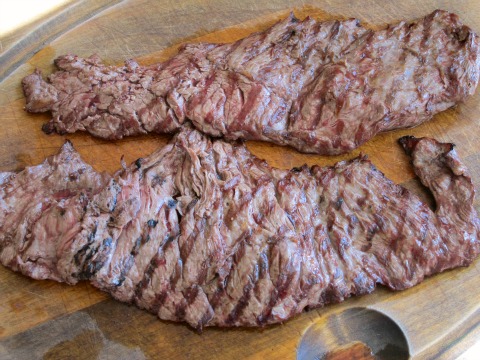 …let it rest for 5-7ish minutes…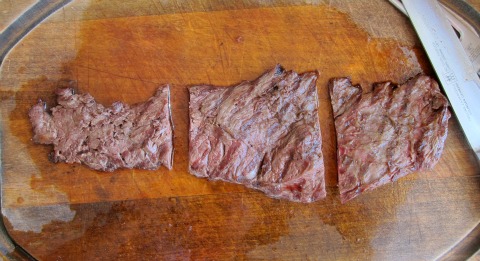 …cut it into big sections…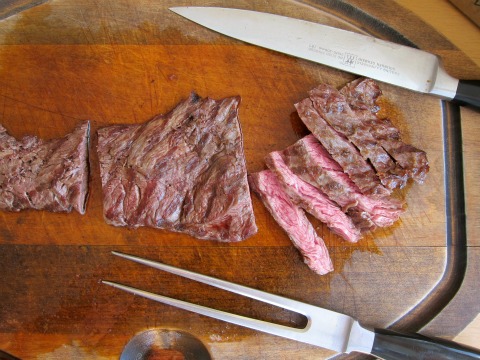 …and then slice thinly across the grain. This helps to make it tender and easy to chew, since flap, flank and skirt steak can have a bit of a chew to them (perhaps this is why I like them so much!).
I bought flap steak, which comes from a bottom sirloin butt cut of beef, because it generally comes very thin (super fast cooking!) and it is an underdog of the butcher case and therefore inexpensive. Fast and cheap…that's my motto. Flap is similar to skirt and flank in that it comes from the less tender regions of the animal, and all of these varieties have a great meaty flavor.
Dress your greens lightly, and add in some fresh herbs if they are available. I used Italian parsley, dill and chives today, because I had them. As with any culinary creation, feel free to omit something if you don't have it or don't like it. Fresh herbs, though, can really pump up the flavor in a simple dish like tonight's dinner.
Besides flavor, there are other reasons to turn to beef for a healthy dinner. It's a nutritional powerhouse, providing more essential nutrients in a smaller package than some other proteins. For example, did you know it takes 8 ounces of cooked chicken breast to give you the same amount of iron you get in 3 ounces of beef, and nearly 20 ounces of chicken to get the same amount of zinc in a serving of beef?
I don't know about you, but if I don't get enough protein in a meal, I find myself scouring the refrig or pantry after I push away from the table, looking for something…anything…I don't know even know what. It's times like that I make poor eating choices. A 3-ounce serving of lean beef provides 25 grams of protein, about half your daily requirement. So I find a healthy salad starring beef a very satisfying meal.
Partner it up with whatever fruits and other vegetables you like, and you're set, both nutritionally and flavor-wise.
That's dinner magic.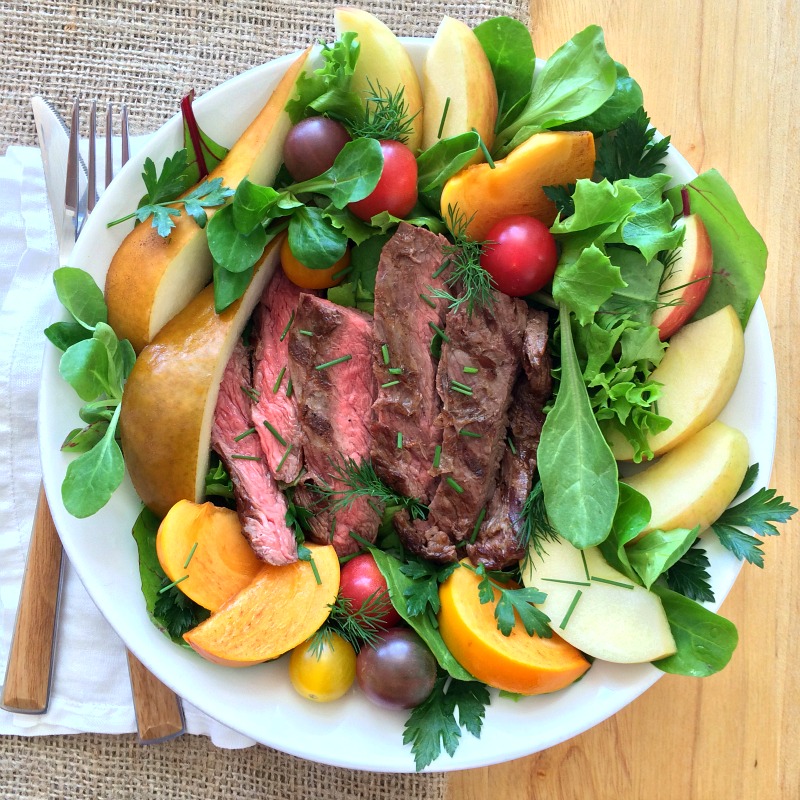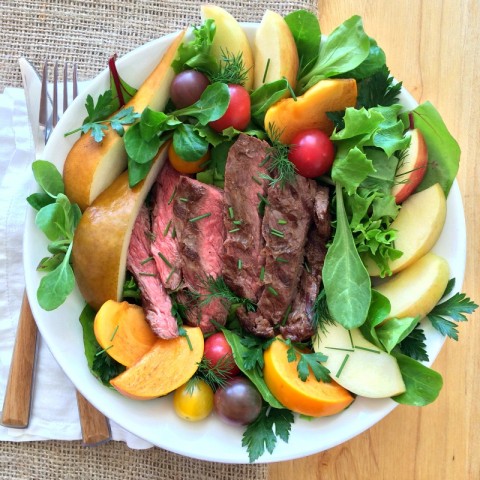 Quick-grilling flap steak tops mixed herby greens for an easy, lively weekday supper that will bring everyone to the table. Tuck some seasonal fruit slices in like little dinner jewels.
Ingredients
1-1 1/4 pounds flap steak (also called flap meat; or use skirt steak or flank steak)
10-12 ounces or so mixed salad greens
Fresh herbs such as Italian parsley, dill, and basil leaves
2 tablespoons Mustard Jar Vinaigrette dressing (or use extra virgin olive oil and white balsamic vinegar)
1 firm Bosc pear, cored and sliced
1 apple, cored and sliced
1 firm Fuyu persimmon, stemmed and sliced

Garnish:

Snipped fresh chives, heirloom cherry tomatoes, or perhaps sliced colored mini bell peppers
Directions
Grease grates and heat grill on high. When hot, place steak on grill, turn heat down to medium-high and grill about 1 1/2-2 minutes per side. This is a very thin cut of meat and will cook quickly, in 4-5 minutes or so. Remove from heat and allow to rest undisturbed on a cutting board, for 5-10 minutes.
Meanwhile, toss salad greens and fresh herbs in a large bowl. Dress very lightly and mound salad in 4 wide, shallow bowls.
Slice steak against the grain, in thin strips, and add strips to tops of salads. Tuck pear, apple and persimmon slices into the salad, as you like. Garnish with snipped chives and tuck in some cherry tomatoes or colored bell pepper slices for color.
Serves 4.
Notes
Recipe source: Dorothy Reinhold | Shockingly Delicious
https://www.shockinglydelicious.com/flap-steak-salad-bowl-for-weekdaysupper/
Copyright Dorothy Reinhold | ShockinglyDelicious.com. All rights reserved.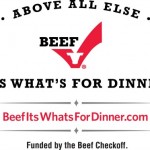 This whole month our Weekday Supper cooks are celebrating beef, and showing you how quick and easy it is to build a healthy plate with this versatile protein. We're sponsored by The Beef Checkoff. For more healthy, time-efficient dinner ideas, see our 20 delicious recipes, and follow our Healthy Meals with Beef Pinterest board, where we solve YOUR dinner problems. And please join me in following The Beef Checkoff on social media: Website | Twitter | Facebook | Pinterest. I don't know about you, but I enjoy being at the top of the food chain. 😉
Now let's hit the kitchen. Do you know what
YOU'RE

having for dinner?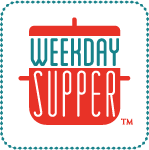 Monday: Thai Steak Salad by Flavor Mosaic
Tuesday: Pan-Seared Steak with Chimichurri by Life Tastes Good
Wednesday: Naanwich Steak Wrap by Recipe for Perfection
Thursday: Flap Steak Salad Bowl from Shockingly Delicious
Friday: Easy Basil Beef & Bell Pepper Noodle Stir-Fry by I'm Not the Nanny
Disclosure: This post is sponsored by The Beef Checkoff in conjunction with a social media campaign through Sunday Supper LLC. All opinions are my own.