Print This Post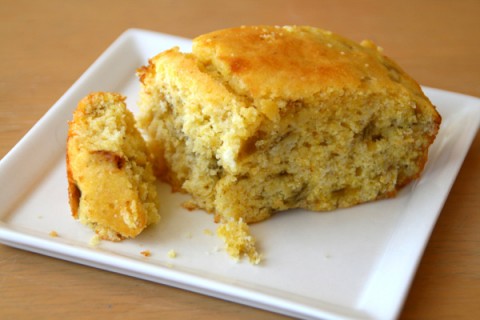 I like Jiffy Corn Muffin Mix. I've used it for 25 years.
There…I said it out loud in the foodie community. I am loud and proud!
It's easy, it's quick, it can be doctored up in a…uh…jiffy! Cracked myself up there just a little bit. But seriously, I have stirred in…
–leftover grilled corn
–or blue cheese crumbles
–or bacon
–or chopped sun-dried tomatoes
–or chopped broccoli and cheddar
–or whatever my imagination can invent…
…and it has always been good.
We all have our little cheats that we rely upon when time is short and mouths are open. This is mine. Chile, some cornbread, and I am that night's hero.
And why should cornbread escape my infatuation with Hatch chiles? It shouldn't, so in they go, for a match made in cornbread heaven.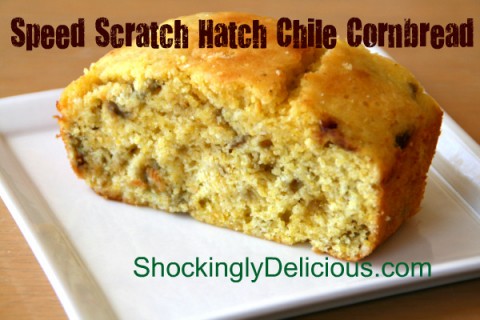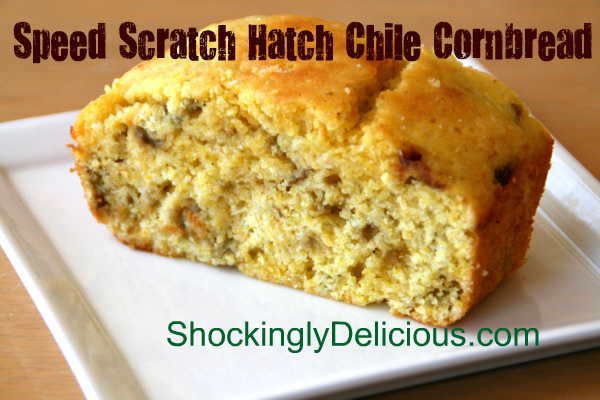 Recipe: Speed Scratch Hatch Chile Cornbread
Summary: Lightly sweet, a hint of Hatch chile and a fine crumb make this perfect for dinner or even for breakfast with eggs.
Ingredients
1/3 cup milk
1 egg
2 Hatch chiles, roasted, peeled, seeded and chopped
1 (8.5-ounce) box Jiffy Corn Muffin Mix
Instructions
Heat oven to 400F degrees. Spray a 9- by 5-inch loaf pan with nonstick spray and set aside.
In a 4-cup measure, add milk. Add egg and whisk well with a fork to combine. Stir in chiles. Stir in corn muffin mix, just until moist. Do not overmix. Allow to rest undisturbed for 4 minutes for maximum crown.
Restir slightly and scrape into prepared loaf pan. Bake for 20 minutes. Remove from oven, allow to cool for a couple of minutes, and serve warm.
Serves 4.
Quick notes
Jiffy Corn Muffin Mix looks like this:
If you are super lucky, you can find it on sale 3 for $1. Or 2 for $1. To me, it is the perfect blend of corny and a bit of sweet.
Preparation time: 8 minutes
Cooking time: 20 minutes
Number of servings (yield): 4
Culinary tradition: USA (Southwestern)
Melissa's Produce sent the Hatch chiles for recipe development.