Print This Post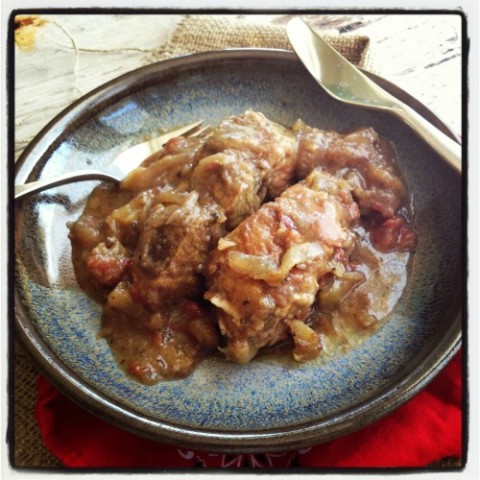 This bread girl isn't sure what to make of all this Paleo Diet stuff. What, no bread? No potatoes? No carbs? Hmmm…
I dunno. But I do know that I'm game for a great recipe, wherever it comes from.
"The 163 Best Paleo Slow Cooker Recipes" cookbook, by Judith Finlayson (2013; Robert Rose publishing; $24.95) crossed my desk, and I have to admit I bookmarked a dozen recipes immediately, even through my carb haze.
One that made the must-make-now list is this Ribs in Tablecloth Stainer Sauce. The name made me laugh, and I am a big fan of (cheap) country-style pork ribs. Plus, I had dead-black bananas on the counter, so it was a fait accompli.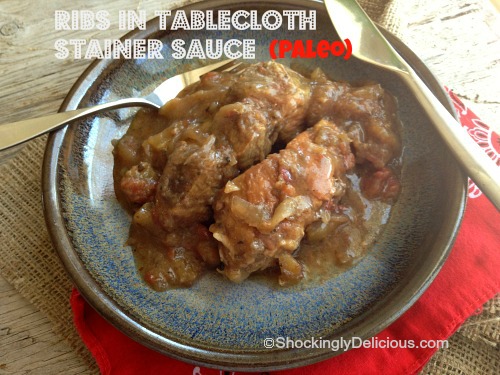 I made some alterations in the recipe only to suit what I had on had. My motto is "use what you have," so do not misconstrue that I think the recipe is lacking in some way. I present her original, with my "use what I have" tweaks.
Make it either way, and you're golden at dinnertime.
Recipe: Slow Cooker Paleo Ribs in Tablecloth Stainer Sauce
Summary: The colorful name, which comes from the city of Oaxaca, Mexico, is a literal translation from the Spanish. These Paleo Ribs are distinguished by the addition of fruit, such as pineapple and bananas.
Ingredients
4 pounds country-style pork ribs
1 tablespoon clarified butter or pure lard

(I used bacon fat and olive oil)

2 onions, thinly sliced on the vertical
4 cloves garlic, minced
1 tablespoon dried oregano
1 (2-inch) piece cinnamon stick

(I used a whole stick)

1 teaspoon salt

(I used ½ teaspoon kosher salt)

½ teaspoon cracked black peppercorns

(I used 30 turns of the peppermill)

6 whole allspice

(I used 1 teaspoon ground allspice)

2 apples, peeled, cored and sliced

(I used 3 apples)

1 (14-ounce) can diced tomatoes in juice
1 cup chicken broth, divided
3 dried ancho chiles (I used 3 roasted hot Hatch chiles from Frieda's Produce)
2 cups boiling water
1 jalapeno pepper, coarsely chopped

(I left this out)

2 bananas, peeled and sliced (I used dead-black bananas)
1 tablespoon cider vinegar
1 cup pineapple chunks, drained if canned

(I left this out)
Instructions
Position broiler rack 6 inches from heat source. Broil ribs on both sides, until lightly browned, about 7 minutes per side. Drain on paper towels and transfer to stoneware.
In a skillet, heat clarified butter over medium heat. Add onions and cook, stirring, until softened, about 3 minutes. Add garlic, oregano, cinnamon stick, salt, peppercorns and allspice and cook, stirring, for 1 minute. Add apples, tomatoes with juice and ½ cup of the chicken broth and bring to a boil.
Pour sauce over ribs. Cover and cook on LOW for 6 hours or on HIGH for 3 hours, until ribs are tender and falling off the bone.

(I needed to cook it 7-8 hours on LOW for doneness.)

About an hour before the end of cooking, in a heatproof bowl, soak ancho chiles in boiling water for 30 minutes, weighing down with a cup to ensure they remain submerged. Drain, discarding soaking liquid and stems and chop coarsely. Transfer to a blender. Add jalapeno, bananas, vinegar and remaining ½ cup of the chicken broth. Puree.
Add pureed chile mixture to the crock, along with pineapple, and stir well. Cover and cook 30 minutes, until hot and bubbly and flavors meld.

(I cooked it an additional 1 hour after adding the chile-banana sauce.)

Discard allspice and cinnamon stick.
Serves 6.
Source
"The 163 Best Paleo Slow Cooker Recipes" cookbook, by Judith Finlayson (Robert Rose publishing).
Preparation time: 25 minutes
Cooking time: 9 hours
Diet type: Paleo
Diet tags: High protein
Number of servings (yield): 6
Culinary tradition: USA (General)
My rating: 5 Stars
Disclosure: Robert Rose publishing sent a copy of the book for review. Frieda's Specialty Produce sent the Hatch chiles for recipe testing.