Print This Post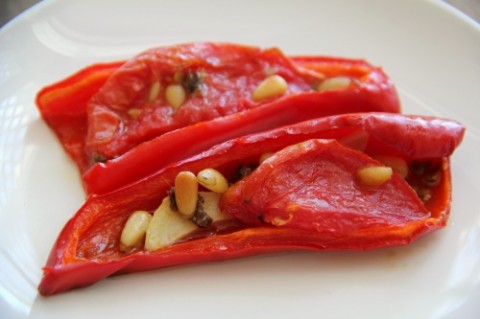 Impossibly sophisticated as a stand-alone elegant appetizer, or mind-blowing alongside a simple piece of fish and pile of wilted greens, this recipe is a winner any way you employ it.
Fall's perfectly in-season red peppers are wonderful here, and the new Sweet Kapia peppers – the pepper responsible for Hungarian paprika – is an absolute star in this dish.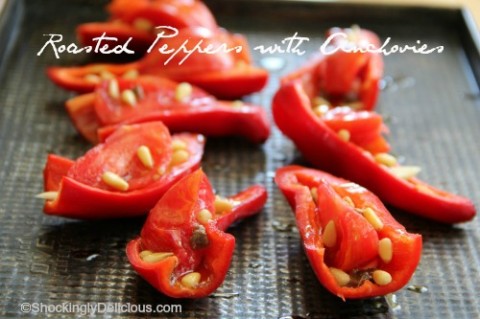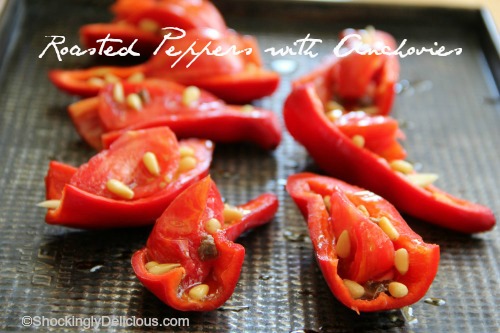 Recipe: Roasted Peppers with Anchovies
Summary: Simple, stunning and utterly delicious, these Roasted Peppers with Anchovies are perfect for entertaining because they're easy and served at room temperature.
Ingredients
4 Sweet Red Kapia Peppers
3 fat garlic cloves
1 large heirloom tomato
2 anchovy fillets
2 tablespoons pine nuts
Extra-virgin olive oil
Kosher salt or sea salt
Garnish (optional): chopped fresh parsley or basil
Instructions
Heat the oven to 350 degrees.
Cut peppers in half, lengthwise, and remove stem, seeds and any large membranes or veins. Place pepper halves on a baking sheet.
Slice garlic very thinly and arrange slices within pepper halves. Cut tomato into eighths and place one tomato piece in each pepper half. Finely chop anchovies and scatter the bits into peppers. Sprinkle with pine nuts. Drizzle peppers lightly with olive oil and toss on a pinch of salt.
Bake for 25 minutes. They will be cooked but should still hold their shape. Remove from oven and allow to cool to room temperature. Serve at room temperature.
Serves 4.
Source
This is a slight adaptation of an old recipe from Elizabeth David's "Italian Food."
Preparation time: 10 minutes
Cooking time: 25 minutes
Number of servings (yield): 4
Culinary tradition: Italian
My rating 5 stars:  ★★★★★ 
Disclosure: Melissa's Produce sent the peppers for recipe testing.  The heirloom tomato came from Tutti Frutti Farms in Lompoc.