Print This Post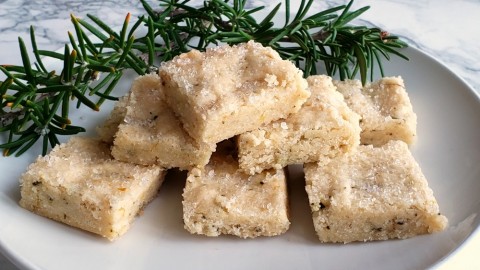 Rosemary Shortbread, a simple sweet cookie with savory undertones from the rosemary, surprises on a holiday cookie tray, or any time of the year when you want a unique sweet.
Each year I feel some angst over what cookies to bring to this or that gathering, what to add to a sweets plate to make it unique, or simply what to offer food-crazed restaurant maven friends with impossibly jaded palates.
What can you bring or offer that sets you apart from the holiday horde-bearing sweets?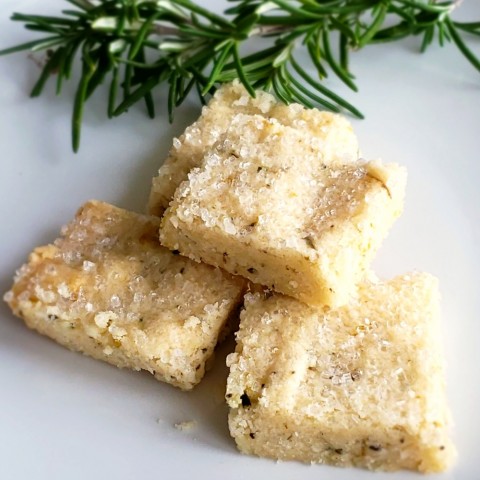 Rosemary Shortbread is the answer. A simple savory sweet, this easy bar cookie will delight anyone who has seen too many thickly frosted snowmen on the cookie plate.
[2019 UPDATE: My husband won 2 prizes in Dec. 2019 in his work cookie contest with this recipe — "Most Original" and "Best Represents Holiday in L.A." He made them himself; trust me, they are so very simple to do.]
In other regions of the country, climatically challenged gardeners have to bring their potted herbs inside as soon as it is fall, and often by December they are over-dried from heated air and they've simply had it from being cooped up. Not ours, though. In our temperate clime in Southern California, rosemary grows out back all year long as part of the landscaping, so much so that we pretty much ignore it until a recipe calls for it and we go scurrying outside with a kitchen shears.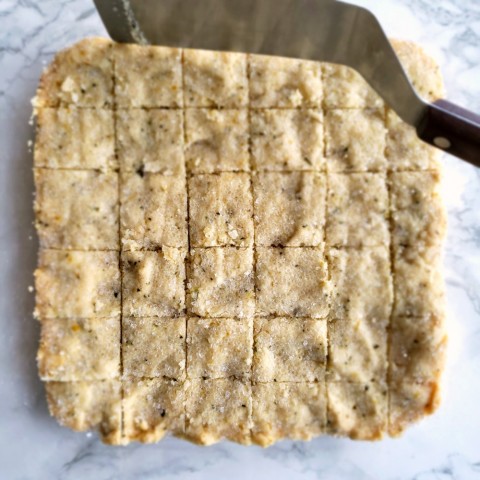 So if you're a lucky gardener with a fresh rosemary plant, let's use it for this memorable cookie.
Rosemary Shortbread, a simple sweet cookie with savory undertones from the rosemary, surprises on a holiday cookie tray, or any time of the year when you want a unique sweet.
Ingredients
1/2 cup butter, at room temperature (this is 1 stick = 4 ounces = 8 tablespoons)
1/4 cup granulated sugar
2-2 1/2 teaspoons finely minced fresh rosemary (I always use the larger amount)
Zest of 1 lemon, grated (yellow part only)
1 1/4 cups all-purpose flour
Finishing: 1 to 2 tablespoons coarse sugar crystals (or extra granulated sugar)
Directions
Heat oven to 300F degrees. Using electric mixer, cream the butter with 1/4 cup sugar, rosemary and lemon zest until light and fluffy, a minute or two [NOTE: If you are using unsalted butter, please add 1/4 teaspoon salt to this recipe; if you are using salted butter, no need to add more salt.] Mix in flour until blended; it will look like loose sand for a minute, but continue mixing and it will come together into big clumps.
Press into an ungreased 8-inch square baking dish (you can use your fingers or an offset spatula, whatever you prefer). Sprinkle with the coarse sugar to cover dough evenly. Bake for 35 minutes; shortbread should not brown or it is considered over baked.
Remove pan from oven and set on heatproof surface. Cool 10-15 minutes, and then cut cookies into 6 rows vertically and 6 rows horizontally. The edge of a sharp spatula works well for this, or a small knife. Cool completely and store in an airtight container. Cookies can be frozen.
Makes 36 cookies.
For a lovely presentation, serve cookies with another sprig or two of fresh rosemary adorning the plate.
Notes
Recipe source: Based on a recipe from a 1970 Better Homes & Gardens Cookbook.
https://www.shockinglydelicious.com/rosemary-shortbread/
Copyright Dorothy Reinhold | ShockinglyDelicious.com. All rights reserved.
If you like this recipe and want to save it, pin the image below to your Pinterest board.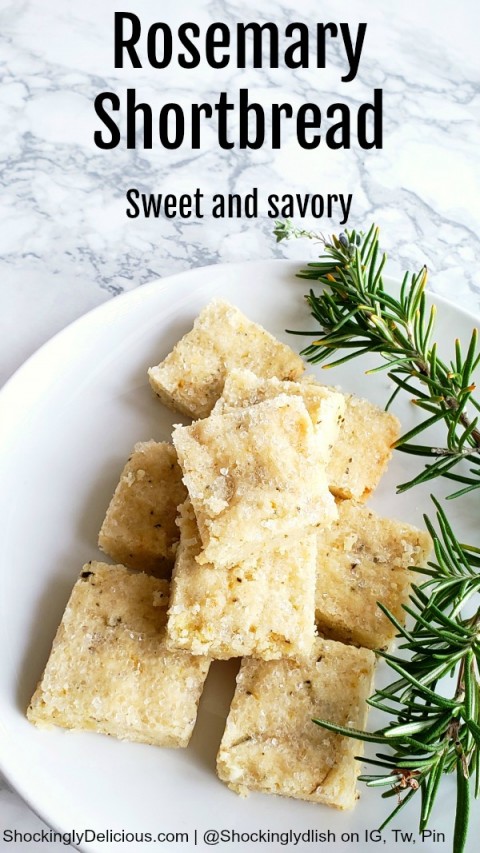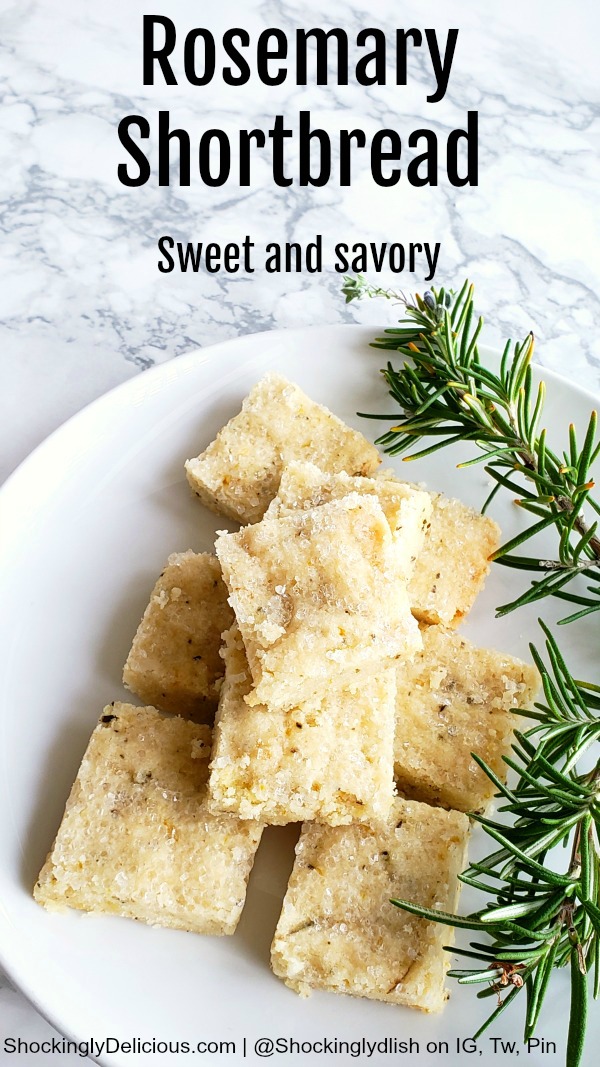 Do you like rosemary and want more cookie ideas?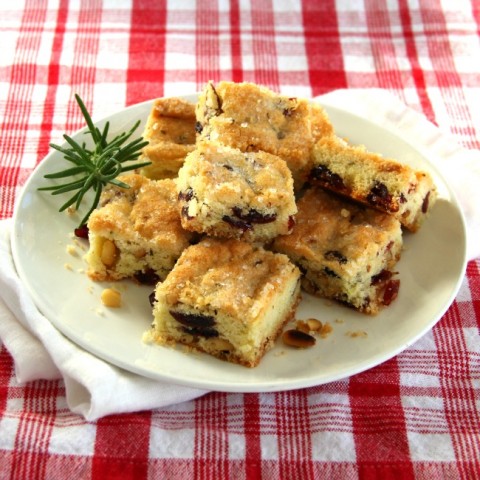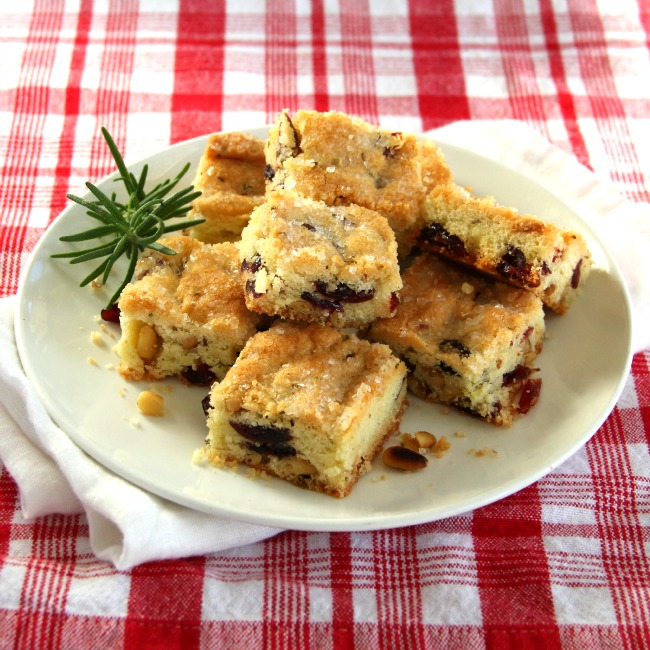 Cranberry Rosemary Pine Nut Shortbread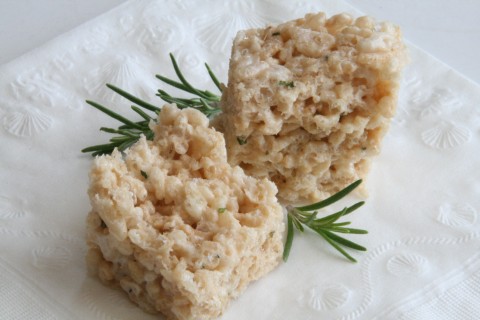 Rosemary Rice Krispies Treats
Thanks for visiting…are you hungry for more? Follow Shockingly Delicious on…
FACEBOOK | PINTEREST | INSTAGRAM | TWITTER
…for all the latest recipes, ideas and updates!
This post was first published here Dec. 14, 2018, and has been refreshed and republished today.
This post may contain affiliate/referral links. It is a way for this site to earn advertising fees (at no cost to you) by advertising or linking to certain products and/or services that I approve and prefer.