Print This Post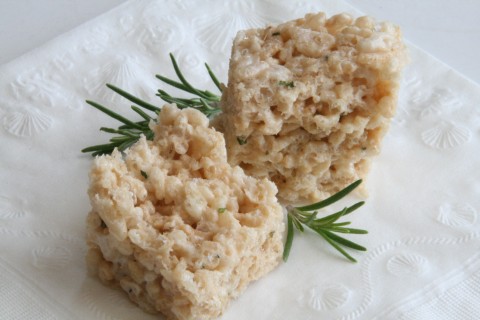 Really, is there anything else to say, except that if you (like 99.9% of the population) love Rice Krispies Treats, you MUST try these?
Rosemary pairs so well with sweet things that this is a natural. See the tiny little green flecks in the cookies? That's the rosemary.
After you make and cut them, bring them somewhere, because oh Lord, you had better not keep them at home or you'll eat them all yourself.
Recipe: Rosemary Rice Krispies Treats
Summary: Fresh rosemary gives these sweets a wonderful fragrance and flavor. It will be a new classic at your house!
Ingredients
4 ounces (1 stick) unsalted butter
Heaping 1/4 teaspoon coarse sea salt
1 (10-ounce) bag marshmallows
2 teaspoons finely minced fresh rosemary
6 cups Rice Krispies cereal
Instructions
Lightly mist an 8-inch square pan (with 2-inch sides) with nonstick spray. Set aside.
In a large, heavy pot, melt butter over medium-low heat. It will first melt, then foam, then become clear golden and finally start to turn brown and smell nutty. As this transformation occurs, add salt and stir frequently, scraping up any tiny brown bits from the pot bottom. Don't walk away from the pot because once the butter begins to take on color, it browns quickly. Once the process begins, it may burn in as little as a minute, so watch carefully.
As soon as the butter becomes nutty brown, turn the heat off and stir in the marshmallows and rosemary. The residual heat from the butter should melt the mallows, but if not, turn the heat back on low and stir until the marshmallows are smooth and glossy. (Then turn heat off if you have turned it back on to melt the mallows.)
Quickly stir in the cereal and scrape sticky contents out into prepared pan. Use your greased hand, an offset spatula or the back of a spoon to gently press the mixture evenly into the pan.
Cool completely and cut into squares.
Makes 16, 25 or 32 pieces, depending on how piggy you are.
Recipe source
Dorothy Reinhold | Shockingly Delicious
Preparation time: 5 minutes
Cooking time: 5 minutes
Diet type: Vegetarian
Number of servings (yield): 25
Culinary tradition: USA (Nouveau)
My rating 5 stars:  ★★★★★  
If you really, really like rosemary, as I do, you might also like to try these: