Print This Post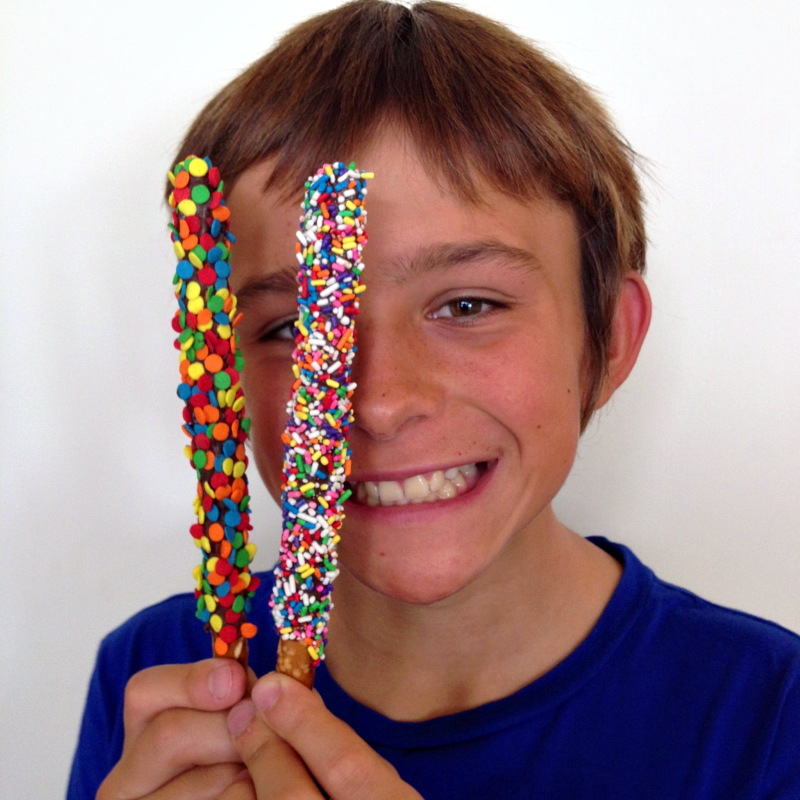 Festive Pretzel Rods are the no-bake sweet you want on your Christmas cookie tray. Dipped in chocolate and smothered in sprinkles, they're also great for a bake sale or a kid kitchen project. Change out the sprinkles assortment for different holidays!
I'd love to call these Funfetti Pretzels, but I don't want to confuse anyone because they don't have cake batter in them.
However, they do have a prodigious amount of sprinkles – always the hallmark of a good seasonal treat! Don't you agree?
I made these for a bake sale to raise money for our high school theater program. They disappeared rather quickly, to my glee. The last thing you want at a bake sale is for your item to sit there forlornly, unloved, unsold, unmunched. Sprinkles guarantee good sales.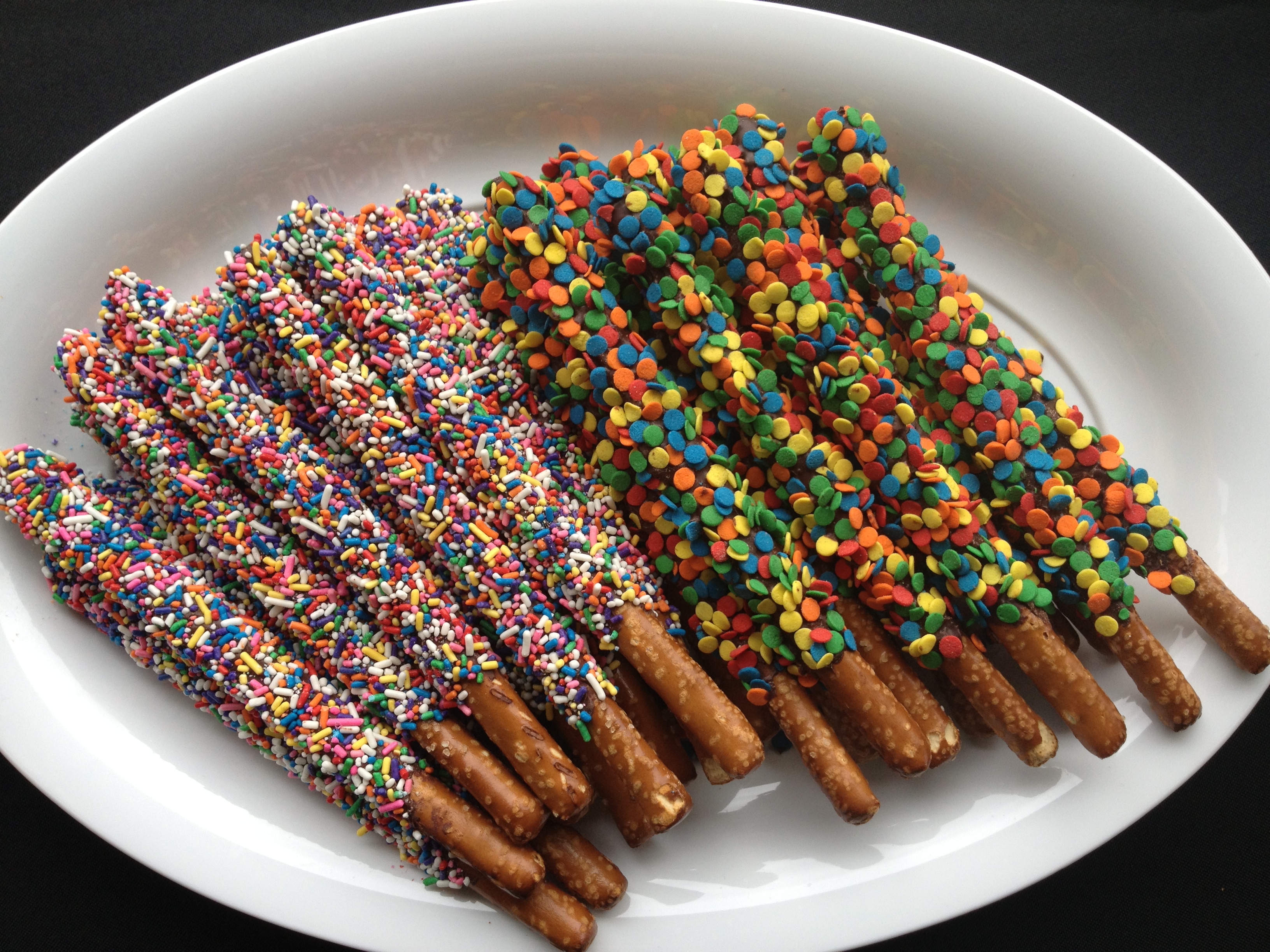 They would also make a great addition to a Christmas cookie plate given as a gift, and let's not forget their appeal to kids. They're so easy to make that kids with any ability in the kitchen will be able to do it themselves. Or, you melt the chocolate and let the kids do everything else.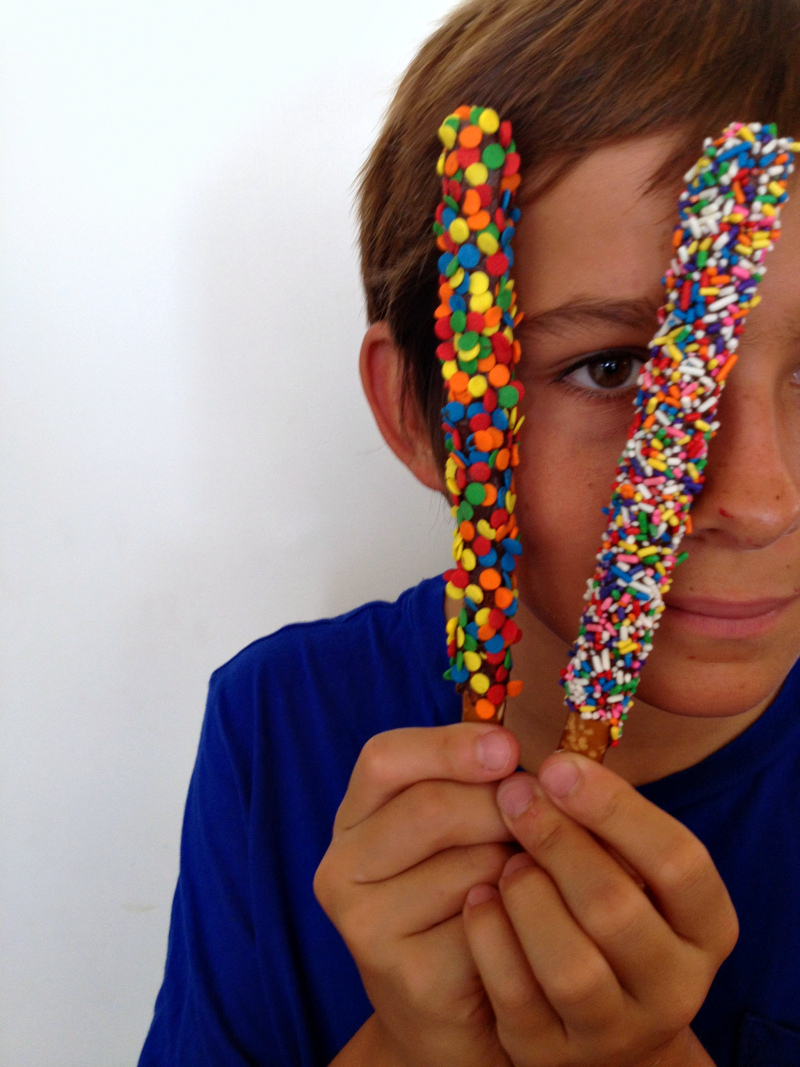 Now THAT'S a true gift, what with winter break looming!
Dipped in chocolate and smothered in sprinkles, these Festive Pretzel Rods are perfect for a Christmas cookie tray, bake sale or a kid kitchen project. Simply change out the sprinkles colors or mixture for different holidays!
Ingredients
1 cup colored sprinkles or jimmies
1 (12-ounce) bag semi-sweet chocolate chips (can use milk chocolate if you prefer)
Pretzel rods (I used Snyder's of Hanover Pretzel Rods, but use what you like)
Directions
Line a baking sheet or large platter with waxed paper. Set aside. Pour sprinkles into a 9-inch square baking dish.
Pour half the bag of chocolate chips into a glass bowl, and microwave for 33 seconds. Stir, and microwave another 20 seconds if not melted. Stir again and microwave another 9 seconds if not melted. Repeat another 9 seconds if needed. (Chocolate chips keep their shape even when melted, so you must stir to check. It is better to continue heating at 9-second intervals than to scorch them.)
Hold a pretzel rod with one hand, and, using a small offset spatula or a spoon or butter knife in the other hand, scoop and spread the chocolate up the rod, leaving a portion uncovered for the "handle' area. You want a light coating – just enough to adhere the sprinkles. Scrape the excess chocolate back into the bowl.
Immediately roll the pretzel rod in the sprinkles, using your hand to sprinkle additional sprinkles until all chocolate is coated. Set rod on the waxed paper sheet.
Continue making rods until you have as many as you want, laying them side by side when done, not touching. A half bag of chocolate chips will cover 15ish (maybe more) rods, depending on how heavily you apply the chocolate. If you need more chocolate, simply add more chips to the bowl and heat as you did before, in small increments, until melted, stirring as you go.
Allow coated rods to dry for at least 1 hour. When they are dry, the chocolate will have hardened again, and the sprinkles will be firmly stuck. Once they are dry, the rods can be carefully stacked for storage if needed.
Store in a covered container at room temperature.
For serving, count on 1 rod per person.
Notes
Recipe source: Dorothy Reinhold | ShockinglyDelicious.com
https://www.shockinglydelicious.com/festive-pretzel-rods/
Copyright Dorothy Reinhold | ShockinglyDelicious.com. All rights reserved.
Pin the image below for Festive Pretzel Rods to your Pinterest board to save this!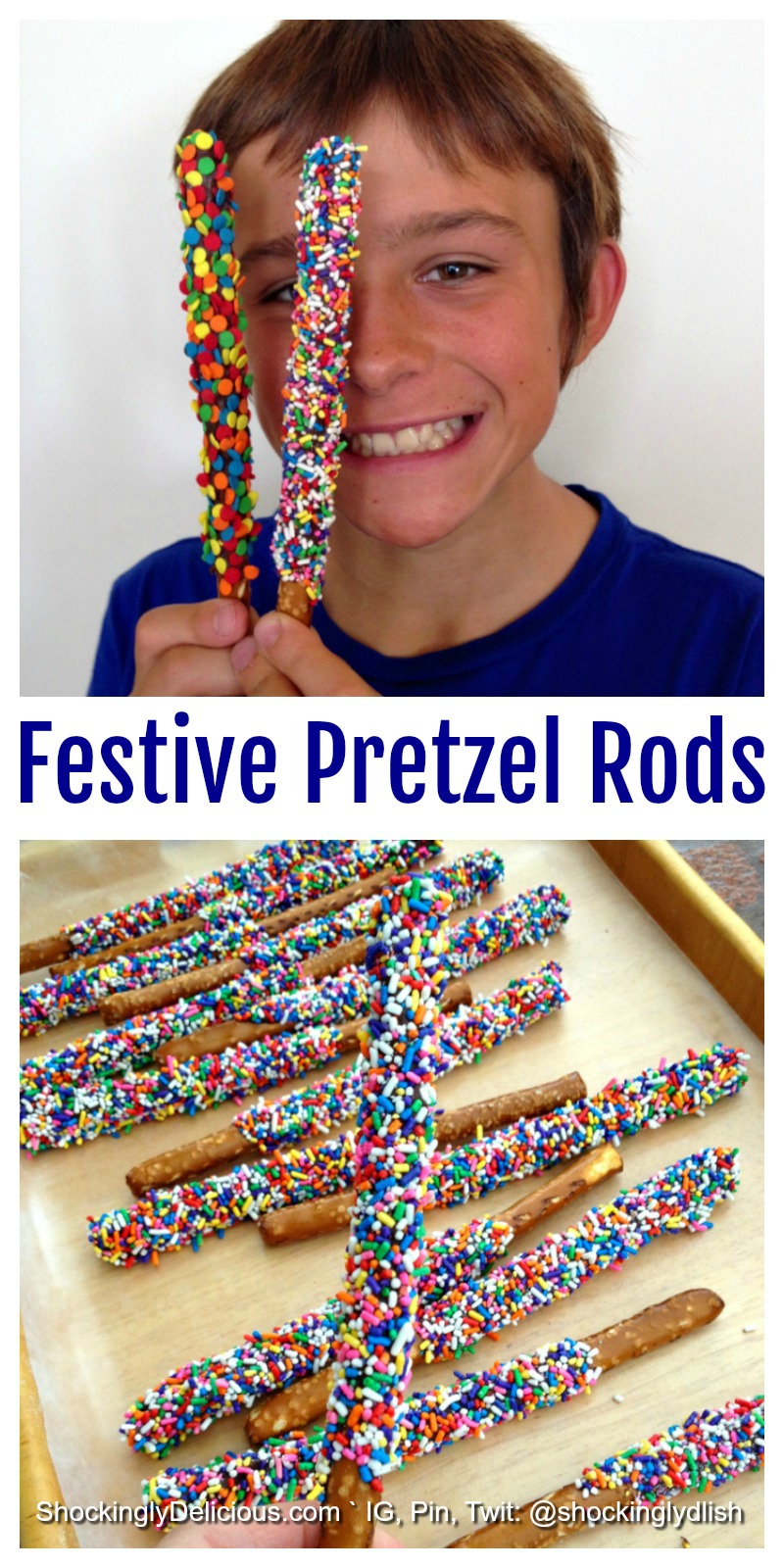 More sprinkle cookies from Shockingly Delicious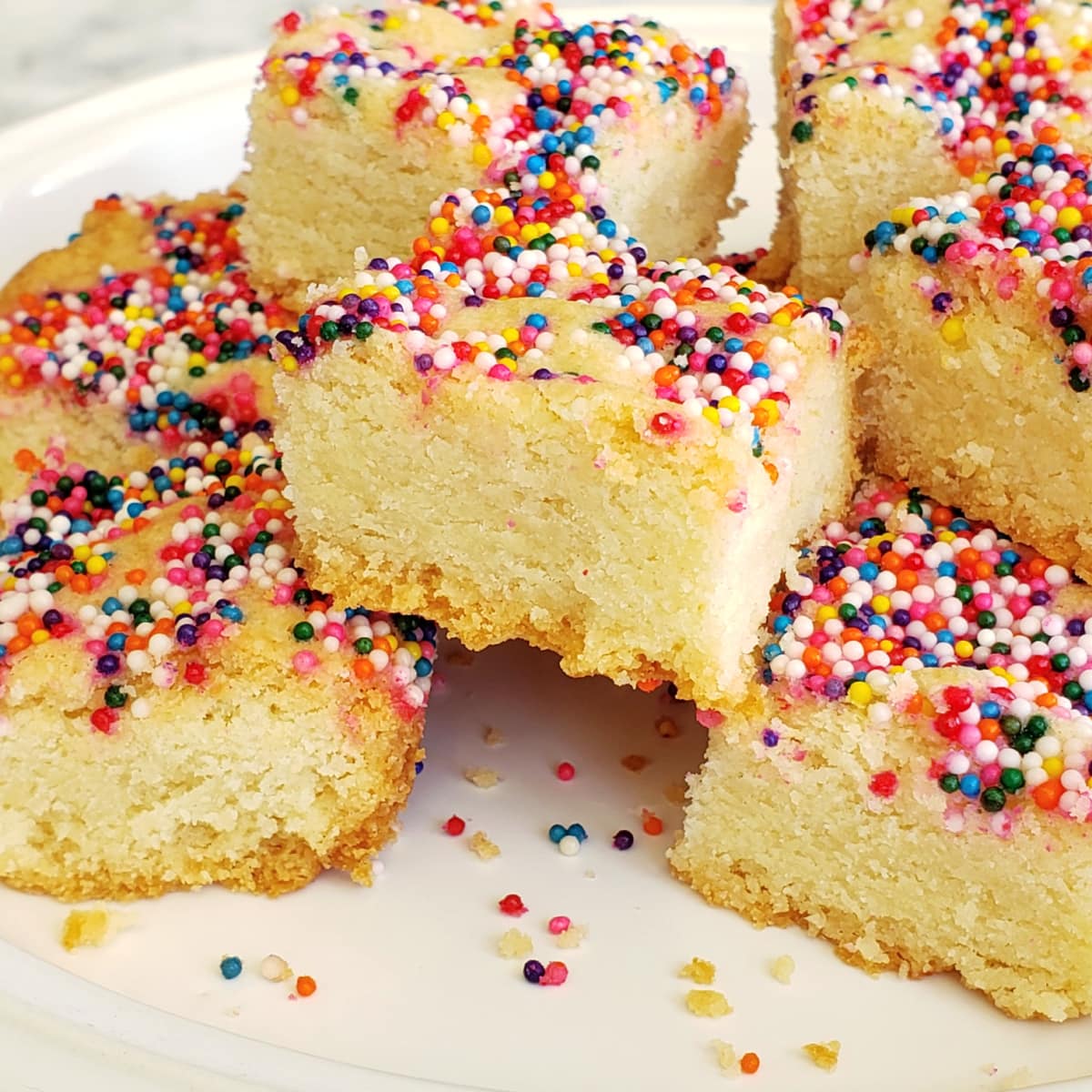 Lemon Shortbread with Sprinkles (Small Batch)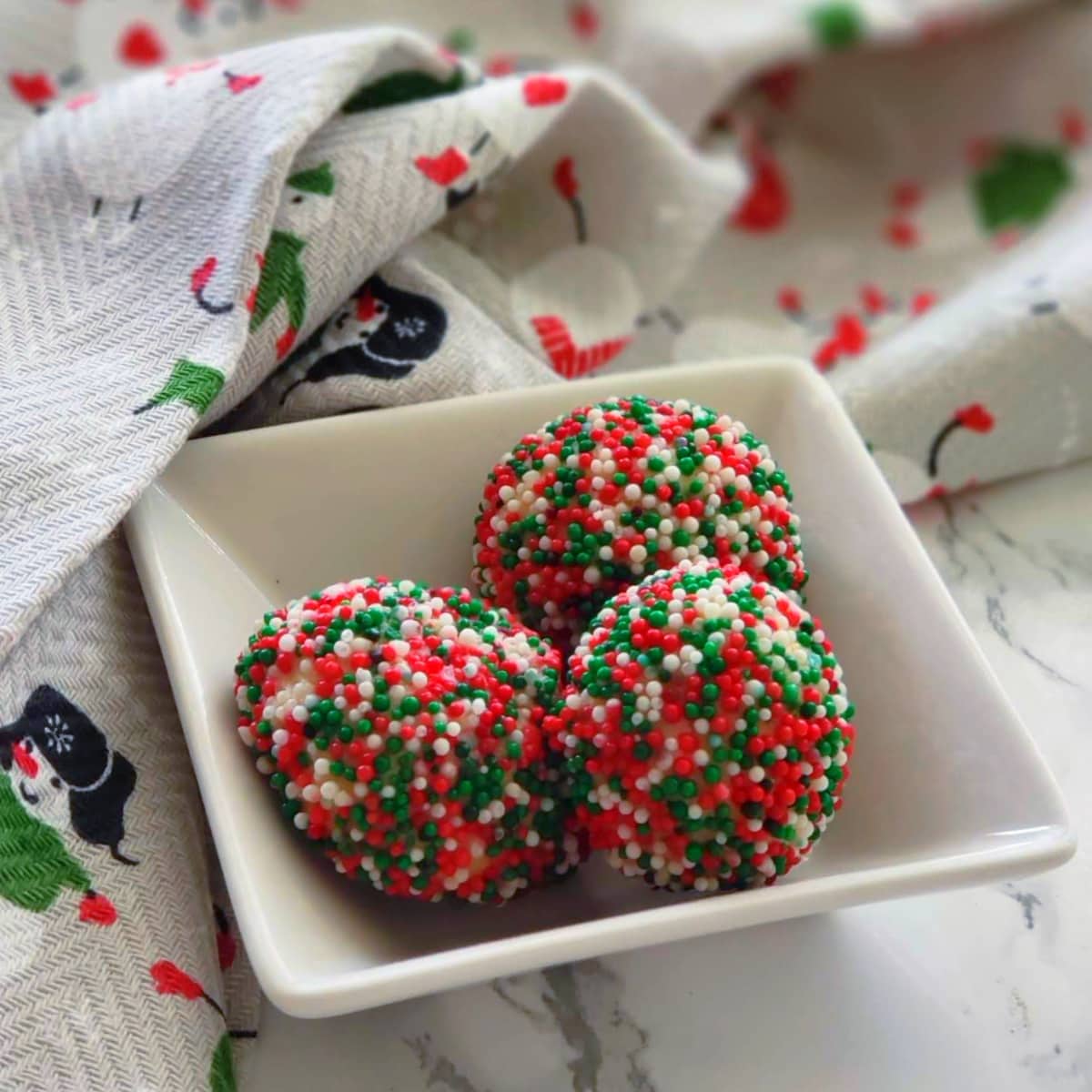 Cream Cheese Sprinkle Cookies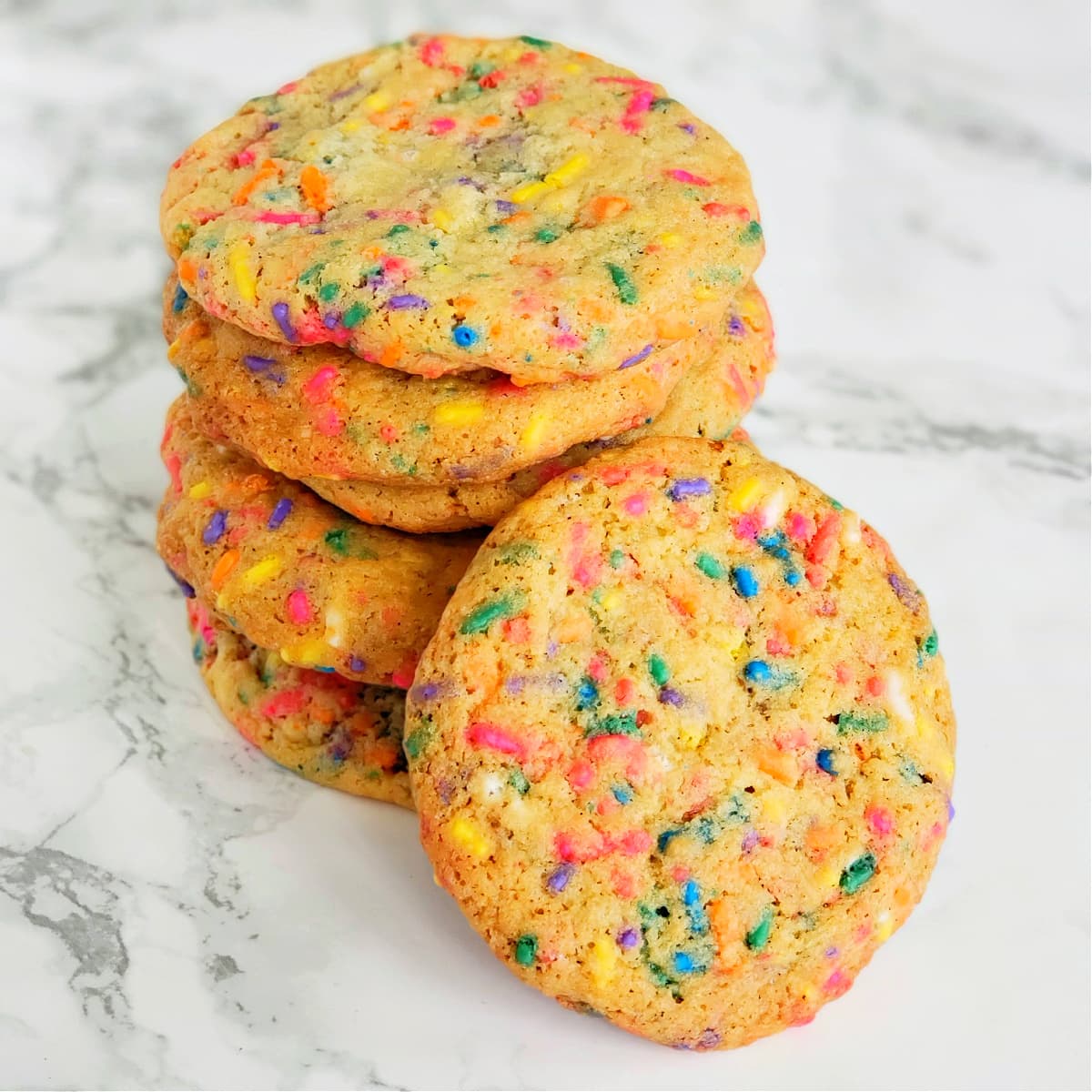 Confetti Sprinkle Cookies
This post was originally published Dec. 6, 2012 and has been refreshed, improved and republished today.
Thanks for visiting…are you hungry for more? Follow Shockingly Delicious on…
FACEBOOK | PINTEREST | INSTAGRAM | TWITTER
…for all the latest recipes, ideas and updates!
This post may contain affiliate/referral links. It is a way for this site to earn advertising fees (at no cost to you) by advertising or linking to certain products and/or services that I approve and prefer. Thank you for using my affiliate link to shop, so I can continue to bring you shockingly delicious recipes!