Print This Post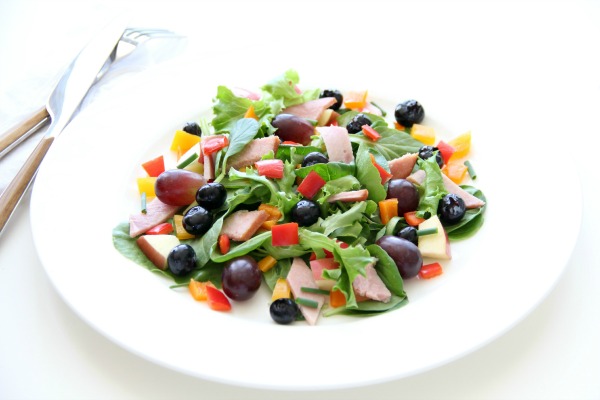 I know I'm not supposed to jump the gun and eat ham until Easter, but I couldn't help myself now that I see Smithfield has quarter hams sliced, packaged and ready to eat. This makes it easy to have a ham dinner anytime you like, with some left over for lunches later in the week.
They call it Anytime Favorites, and it is available in 20 different cuts and flavors, including sliced, cubed and steak, which makes it much easier to incorporate smaller portions of ham into your favorite recipes. So you more easily can use Anytime Favorites to enhance your breakfast scrambled eggs, add to a soup or sandwich for lunch (April is Grilled Cheese Month, by the way!), or simply to add to your dinner (anyone up for some sautéed Brussels sprouts with ham?).
But it's the lunches and salads that thrill this leftover queen.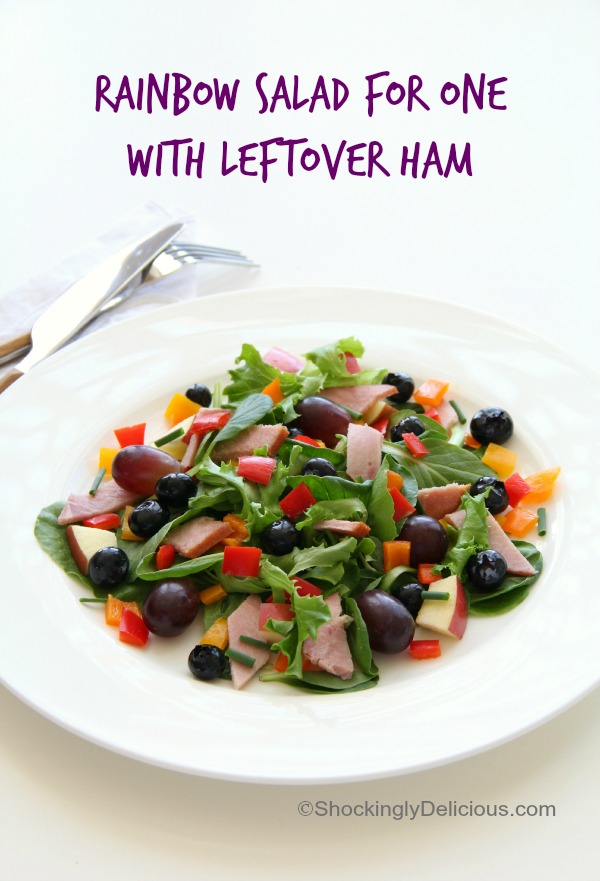 With my leftover ham, I envisioned a colorful salad. I built it on a rainbow foundation, with apples and peppers for red, peppers for orange and yellow, a bok choy salad mix for green, blueberries for blue and grapes for purple. Ham added a nice pink hue, because every rainbow needs a little pink, eh?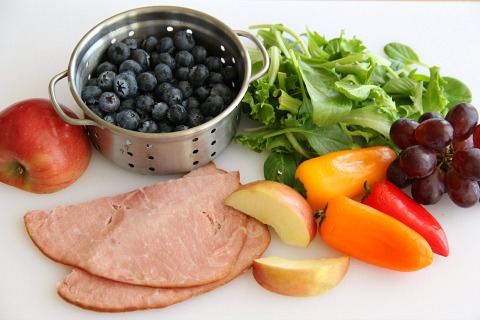 The quantities of each ingredient are relatively flexible. Build this as small or as large as your appetite requires; the amounts I call for in this recipe make a good-sized salad. This is substantial enough for a main dish for either lunch or dinner.
Call me when it's ready! 
Recipe: Rainbow Salad for One with Leftover Ham
Summary: Eat a rainbow in one bowl with this main dish colorful salad stuffed with fruits, vegetables and ham chunks.
Ingredients
2 handfuls bok choy-type salad mix (or use a head or 2 of baby bok choy. chopped)
1 apple (I used a crisp Fuji)
1 bunch purple grapes
1.5-3 ounces (1 to 2 slices) Smithfield Hickory Smoked Premium Quarter Boneless Sliced Ham, cut into chunks
3 mini peppers (1 red, 1 orange, 1 yellow)
1 handful fresh blueberries
1 tablespoon Vanilla-Infused Olive Oil (or use blood orange olive oil or regular EVOO)
1-2 teaspoons white balsamic vinegar
Garnish: snipped fresh chives
Instructions
In a large bowl or on a dinner plate, create your salad by starting with the greens. Cut the apple into quarters, remove core, and cut it into chunks onto the salad. Add grapes to salad. Cut 1 or 2 slices of ham into strips and add to salad.
Cut mini peppers in half, remove stem and any seeds, and cut into small chunks; sprinkle pieces on salad. Sprinkle blueberries on salad. Drizzle olive oil on salad, followed by vinegar. Using a kitchen shears, snip chives in tiny pieces atop salad.
Serve with your best fork, and enjoy!
Serves 1. Easy to double, triple or quadruple.
Recipe source
Dorothy Reinhold | Shockingly Delicious
4 more things to make with leftover ham
Preparation time: 10 minutes
Diet tags: Gluten free
Number of servings (yield): 1
Culinary tradition: USA (Nouveau)
My rating 5 stars:  ★★★★★ 
Disclosure: Smithfield Foods compensated me for this post, and sent the ham for recipe development. All writing, photography and opinions are entirely my own, and the recipe is a Shockingly Delicious original.