Recipe: Rainbow Salad for One with Leftover Ham
Summary: Eat a rainbow in one bowl with this main dish colorful salad stuffed with fruits, vegetables and ham chunks.
Ingredients
2 handfuls bok choy-type salad mix (or use a head or 2 of baby bok choy. chopped)
1 apple (I used a crisp Fuji)
[1]1 bunch purple grapes
1.5-3 ounces (1 to 2 slices) Smithfield Hickory Smoked Premium Quarter Boneless Sliced Ham [2], cut into chunks
3 mini peppers (1 red, 1 orange, 1 yellow)
1 handful fresh blueberries
1 tablespoon Vanilla-Infused Olive Oil [3] (or use blood orange olive oil or regular EVOO)
1-2 teaspoons white balsamic vinegar
Garnish: snipped fresh chives
Instructions
In a large bowl or on a dinner plate, create your salad by starting with the greens. Cut the apple into quarters, remove core, and cut it into chunks onto the salad. Add grapes to salad. Cut 1 or 2 slices of ham into strips and add to salad.
Cut mini peppers in half, remove stem and any seeds, and cut into small chunks; sprinkle pieces on salad. Sprinkle blueberries on salad. Drizzle olive oil on salad, followed by vinegar. Using a kitchen shears, snip chives in tiny pieces atop salad.
Serve with your best fork, and enjoy!
Serves 1. Easy to double, triple or quadruple. [4]
Recipe source
Dorothy Reinhold | Shockingly Delicious
4 more things to make with leftover ham [5]
Preparation time: 10 minutes
Diet tags: Gluten free
Number of servings (yield): 1
Culinary tradition: USA (Nouveau)
My rating 5 stars:  ★★★★★ 
Disclosure: Smithfield Foods compensated me for this post, and sent the ham for recipe development. All writing, photography and opinions are entirely my own, and the recipe is a Shockingly Delicious original.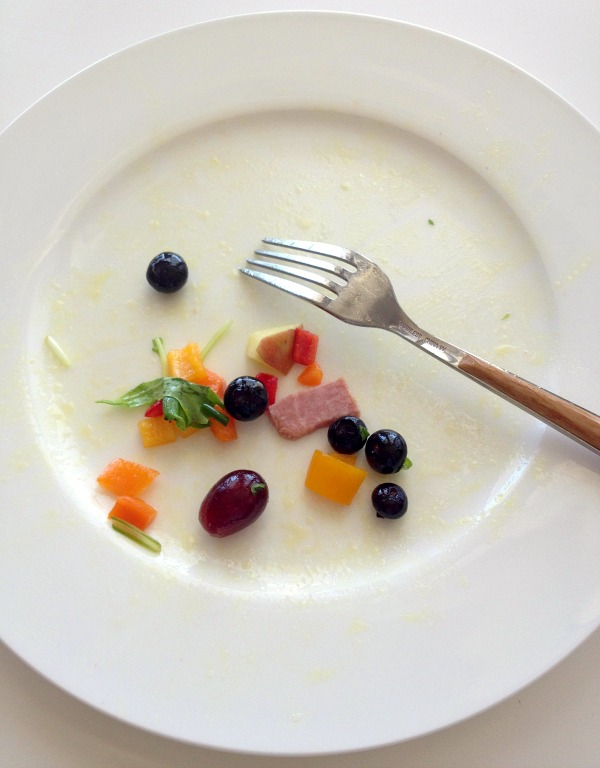 [10]