Print This Post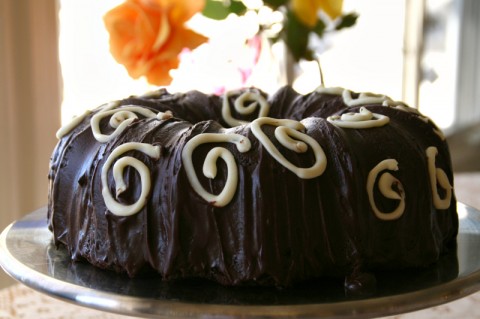 I'm going to do you all a big favor right now and give you the recipe you'll make half a dozen times during the upcoming year. So just hunker down and hit the print button.
Every time you see a potluck list posted on your work bulletin board, just sign up for dessert and write down this cake. Need a Valentine's Day dessert for the family? This is it. Neighbors call with an invitation for an impromptu get-together buffet? Say, "No prob," and bring this cake. Sister-in-law wants you to bring one of the desserts for a family Easter meal? Don't even bother going through your recipe files. Just bring this cake. Church or spiritual group needs a sugar fix? Just bring the cake.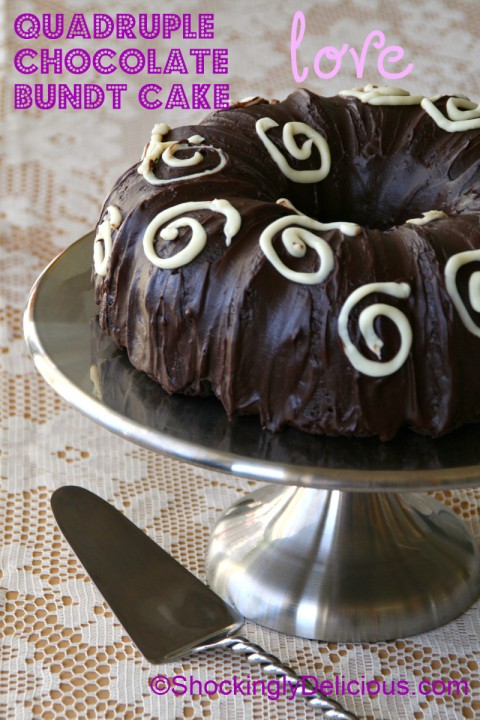 Since you now know, don't you, that it's no sin to use a boxed mix, there should be no guilt involved here at all. You will be doctoring it up quite nicely with several add-ins, making a rich, deeply flavored, decadently chocolate confection.
And besides, when has anyone ever complained about a chocolate cake they didn't have to bake themselves?
Recipe: Quadruple Chocolate Bundt Cake
Summary: Rich, deeply flavored, decadent speed-scratch Chocolate Bundt Cake. It's a perfect dessert!
Ingredients
1 (16.5-ounce) Duncan Hines Devil's Food cake mix (or your favorite brand)
1 (3.9-ounce) package chocolate fudge instant pudding mix (the small box)
1 cup buttermilk (I used 1 cup water and 4 tablespoons King Arthur Flour Dried Buttermilk Powder)
1/3 cup light-flavored olive oil (or use vegetable oil)
1/2 cup Hershey's Chocolate Syrup
4 eggs
1 cup semi-sweet chocolate chips (I used Ghirardelli Premium Baking Chips with 60% Cacao Bittersweet Chocolate)
Chocolate Glaze
3/4-1 cup semi-sweet chocolate chips
1 tablespoon half and half
2 tablespoons butter
Optional White Chocolate Finishing Drizzle
¼ cup white chocolate chips
1 teaspoon half and half
Instructions
Heat oven to 325 degrees. Mist a non-stick 12-cup capacity Bundt cake pan with a flour-and-oil baking spray (such as Baker's Joy) and set aside.
In electric mixer bowl, combine cake mix, pudding mix, buttermilk, oil, syrup and eggs. Beat on low speed to blend, and then beat on medium speed for 2-3 minutes. By hand, gently stir in chocolate chips. Pour batter into prepared pan.
Bake for 60 minutes, or until cake tester comes out clean. Remove from oven and let cake cool in pan for 20 minutes. Run a thin knife around the inside top edge to loosen it from the pan, and then invert cake onto a cooling rack.
When cool, sprinkle with powdered sugar for a simple garnish, or drizzle with Chocolate Glaze.
To make Chocolate Glaze: Combine all ingredients in a small saucepan. Cook on low heat until chocolate is melted, stirring to combine. Drizzle and drip or spread the glaze over the cake. Allow to sit out, uncovered, until glaze is cool and set up.
To make White Chocolate Drizzle: To make it look extra special, drizzle melted white chocolate over the dark chocolate glaze, which adds a professional-looking touch. Simply melt 1/4 cup white chocolate baking chips and 1 teaspoon half and half (45 seconds at 1100 watts in the microwave). For a quick and easy way to drizzle the glaze, put the melted white chocolate in a plastic bag (like a sandwich bag) and snip off a tiny corner. Then squeeze the bag gently to drizzle the chocolate
Bundt cakes I have baked for #Bundtamonth: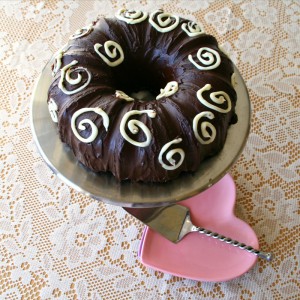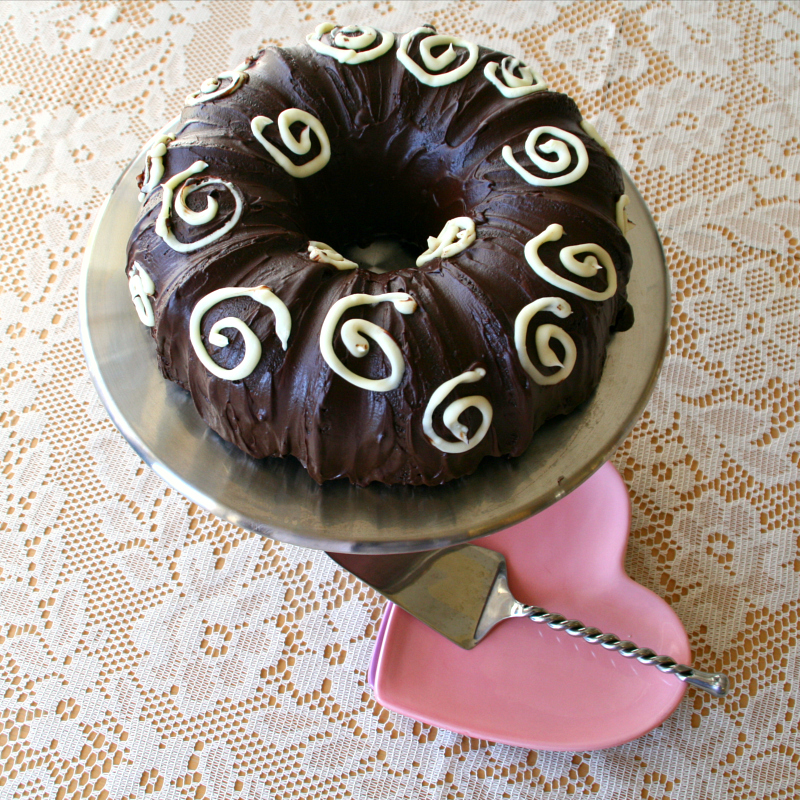 Feb. 2013: Quadruple Chocolate Bundt Cake
Jan. 2013: Soaked and Glazed Lemon Cake
Dec. 2012: Eggnog Rum Pound Cake
Nov. 2012: Nutmeg Bundt Cake
Oct. 2012: Pumpkin Pecan Bundt Cake with Maple Glaze
Sept. 2012: Zucchini Cookie Butter Bundt Cake
Preparation time: 10 minutes
Cooking time: 1 hour
Diet type: Vegetarian
Number of servings (yield): 12-16
Culinary tradition: USA (General)
My rating 5 stars:  ★★★★★
I made this cake as part of the #BundtaMonth February baking party, hosted by Lora from Cake Duchess and Anuradha from Baker Street. This month our #Bundtamonth party bakers are:
Would YOU like to bake along with #BundtaMonth this month? Here's how:
1. Simple rule: Use chocolate (any kind) and bake us a Bundt for February
2. Post it before Feb. 28, 2013.
3.  Use the #BundtAMonth hashtag in your title. (Ex: title should read #BundtAMonth: Chocolate Cinnamon Bundt)
4. Add your entry to the Linky tool below.
5. Link back to our announcement posts.
Follow Bundt-a-Month on Facebook where we feature all our gorgeous bundt cakes. Or head over to our Pinterest board for inspiration and choose from more than 350 Bundt cake recipes.
Here are the Bundt cakes for February. Want to add yours?