Print This Post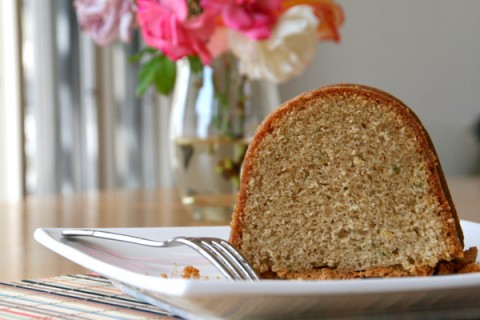 Zucchini from the garden married Cookie Butter from the pantry and the resulting love child is this Zucchini Cookie Butter Bundt Cake.
Light tan colored and mildly spiced with cinnamon and nutmeg, this is just sweet enough for dessert, but not so sweet you couldn't have it for breakfast if you were so inclined. A cup of tea or hot coffee is its best friend.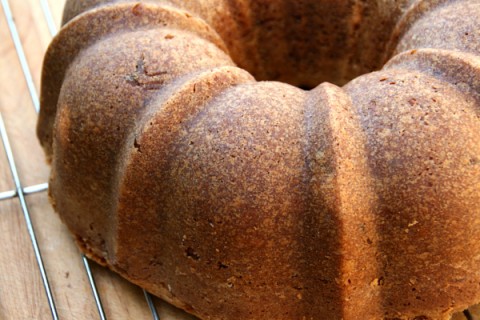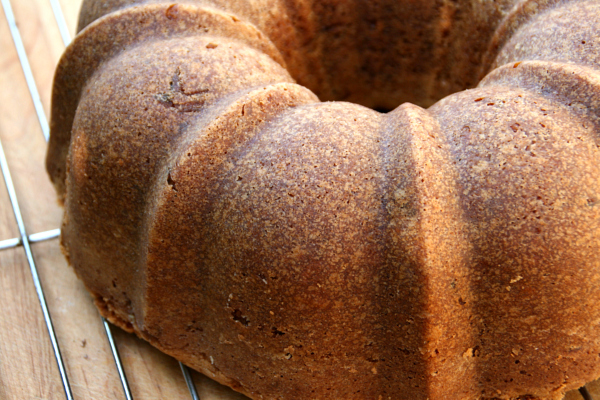 If you haven't yet discovered Cookie Butter (aka Biscoff or Speculoos), throw caution to the wind and get some next time you see it. Just don't blame me if you like it a little too much.
Recipe: Zucchini Cookie Butter Bundt Cake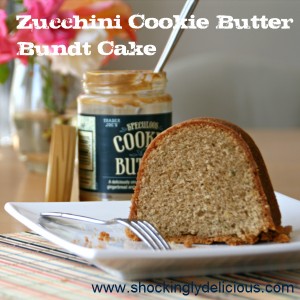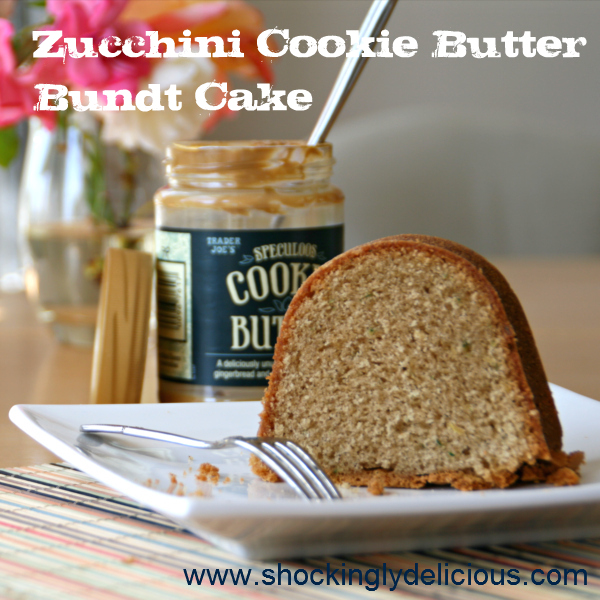 Summary: Lightly spiced with Biscoff (aka Speculoos or Cookie Butter), this cake is just sweet enough for dessert, or would be a great snack or breakfast cake if you were so inclined.
Ingredients
2 sticks (8 ounces total) unsalted butter, at room temperature
2 cups granulated sugar
½ cup low-fat sour cream
½ cup Cookie Butter spread (aka Biscoff or Speculoos)
1 (6-ounce) zucchini, shredded and squeezed dry

(*see note below)

1 teaspoon vanilla extract
2 7/8 cups all purpose flour
1 teaspoon cinnamon
1 teaspoon grated nutmeg
½ teaspoon baking soda
½ teaspoon salt
4 eggs
Instructions
Heat oven to 325 degrees. Spray a Bundt cake pan with nonstick spray and dust with flour, tapping out the excess. Set pan aside.
In the large bowl of an electric mixer, add the butter and sugar and cream together for several minutes, until light and fluffy. Add sour cream and Cookie Butter and mix until combined. Add zucchini

* (see note below)

and vanilla and mix well.
In a separate mixing bowl, add the flour, cinnamon, nutmeg, baking soda and salt and stir to combine well.
While mixer is on low speed, add the dry ingredients to the butter/sugar mixture, alternating with the eggs (add ¼ of flour mixture and mix in, then 1 egg and mix in, etc.). Be sure to beat each egg in one at a time.
Batter will be thick. Scrape batter into the prepared Bundt pan and lightly smooth out the top with an offset spatula.
Bake for 80 minutes, or until a cake tester comes out clean when you insert it into the center of the cake. Remove from oven, allow to cool in pan for 45 minutes or so, then invert cake pan onto a rack. Allow cake to cool completely.
Serves 12-16
Quick notes
*To make sure zucchini doesn't weigh your cake down with excess liquid, after it is shredded, gather the shreds together and place on paper towel or on a light tea towel. Roll up to enclose, and wring/squeeze over the sink. If the zucchini is fresh, there should be considerable liquid drained off. Unroll the towel and measure the zucchini; you should have about ½ cup of packed shreds for this recipe.
Source
Inspiration came from Nicole's Pumpkin Biscoff Cake over at The Daily Dish Recipes.
This is linked up to #BundtaMonth over at Baker Street  and Cake Duchess. Check those links out for a bunch of other delicious Bundt cakes using zucchini!
Preparation time: 15 minutes
Cooking time: 1 hour 20 minutes
Diet type: Vegetarian
Number of servings (yield): 12-16