Print This Post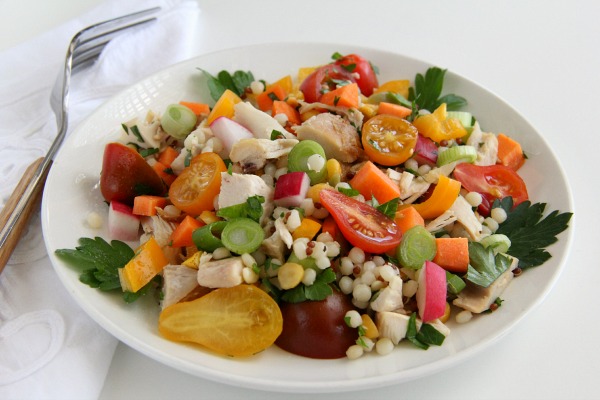 What do you do with the remnants of a rotisserie chicken, some random stuff that needs using from the vegetable drawer (radishes, a carrot, mini bell peppers, flat-leaf parsley), and some grape tomatoes the kids haven't found yet?
This quickie salad, for one. It makes a nice light weeknight dinner; do as my husband did and dibs the leftovers for lunch.  I make it in the morning and store it in the refrigerator all day, for a lightning-fast dinner that night.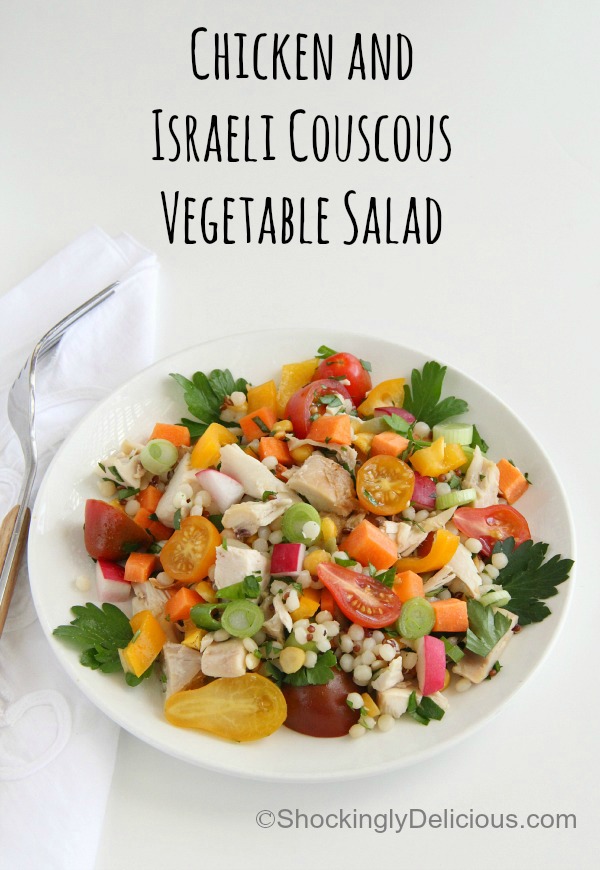 I am a grains hoarder, with an abundant variety of grains and grain mixes in my pantry, so I chose Trader Joe's Harvest Grains Blend – a mix of Israeli couscous, orzo, baby garbanzos and red quinoa. It cooks in 10-ish minutes, has a wonderful chew, and is my new favorite thing. I recommend it. I often make the grains the night before, and store them in the refrigerator.
Dressing: I used a few squirts of a homemade mustardy vinaigrette, and a few squirts of a bottled Italian I had on hand. For homemade, you could mix a quick dressing of olive oil, balsamic vinegar, lemon zest or a squirt of juice, and call it a day.  This is supposed to be quick, so don't fuss too much! Leave out whatever veggie you don't like, or sub something else in its place.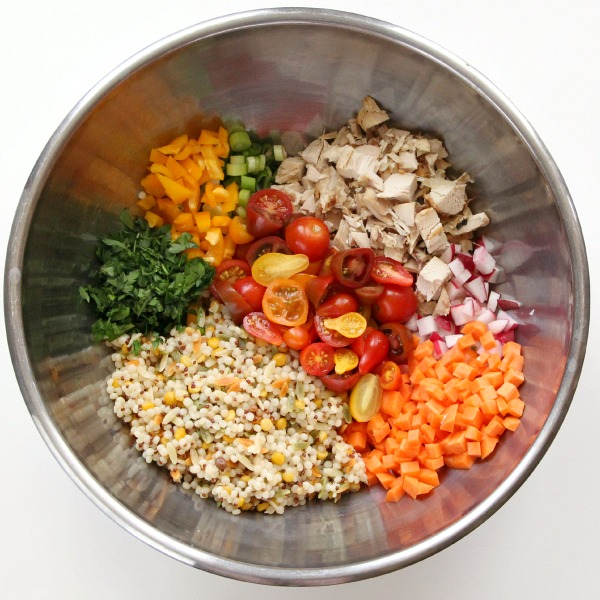 It's easy to make this salad your own.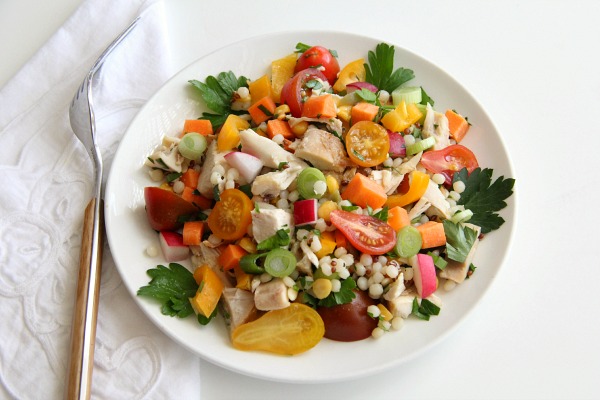 Recipe: Chicken and Israeli Couscous Vegetable Salad
Summary: Fast and easy vegetable-centric grains salad enriched with rotisserie chicken makes a great weeknight meal.
Ingredients
3 cups cooked Trader Joe's Harvest Grains Blend (or Israeli couscous), cooled (*see note below) [this is 1 1/4 cups dry grains blend, cooked to package directions]
2 cups diced cooked chicken
2-3 thinly sliced green onions
4 diced radishes
1 carrot, peeled and diced

4 mini yellow bell peppers, seeded and diced

25 grape tomatoes, halved
1/3 cup chopped fresh flat-leaf parsley
1 teaspoon ground cumin
Bottled salad dressing

Garnish

: Chopped fresh basil
Instructions
In a large bowl, add cooked grains or couscous, chicken, onions, radishes, carrot, bell pepper, tomatoes and parsley. Mix gently.
Sprinkle lightly with ground cumin, drizzle some dressing over the salad and mix again to combine. Taste and add additional dressing or cumin, if needed. Refrigerate.
To serve, portion into 4 wide bowls and garnish with basil shreds if you like.
Serves 4 for a main dish, or more as a side dish.
Quick notes
*If you don't want to use the TJ's grains blend, use cooked rice, barley, wheat berries, couscous, orzo or anything similar. Use what you have hanging around!
Preparation time: 15 minutes
Number of servings (yield): 4
Culinary tradition: USA (General)
My rating 5 stars:  ★★★★★ 
Throughout the week, you can find the #SundaySupper food blogger team also sharing 
#WeekdaySupper meals
. Getting families back to the dinner table is our mission, and I hope we inspire you to try some of our delicious recipes. You can find them on our 
Pinterest Boards
, too. Please join us there and try something!
This week's easy Weekday Supper recipes are: