Print This Post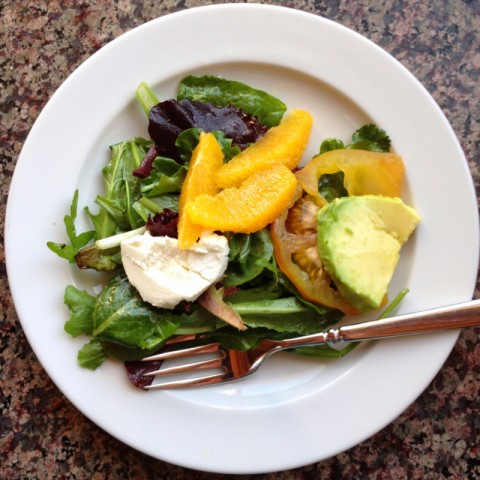 Watching a trained chef make a simple salad is a joy, especially when that chef is Johnny Prep, who hails from Detroit but would be right at home in Southern California putting our abundant vegetables and fruits to good use.
He thinks of himself as "the cooking coach," whose mission is to help the home cook find simple recipes that replicate the flavors found in top restaurants. A handful of L.A. food bloggers had the pleasure yesterday of watching him make this salad while he offered tips.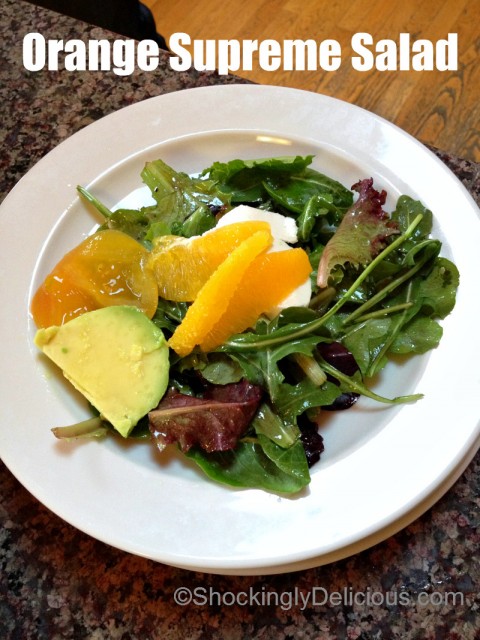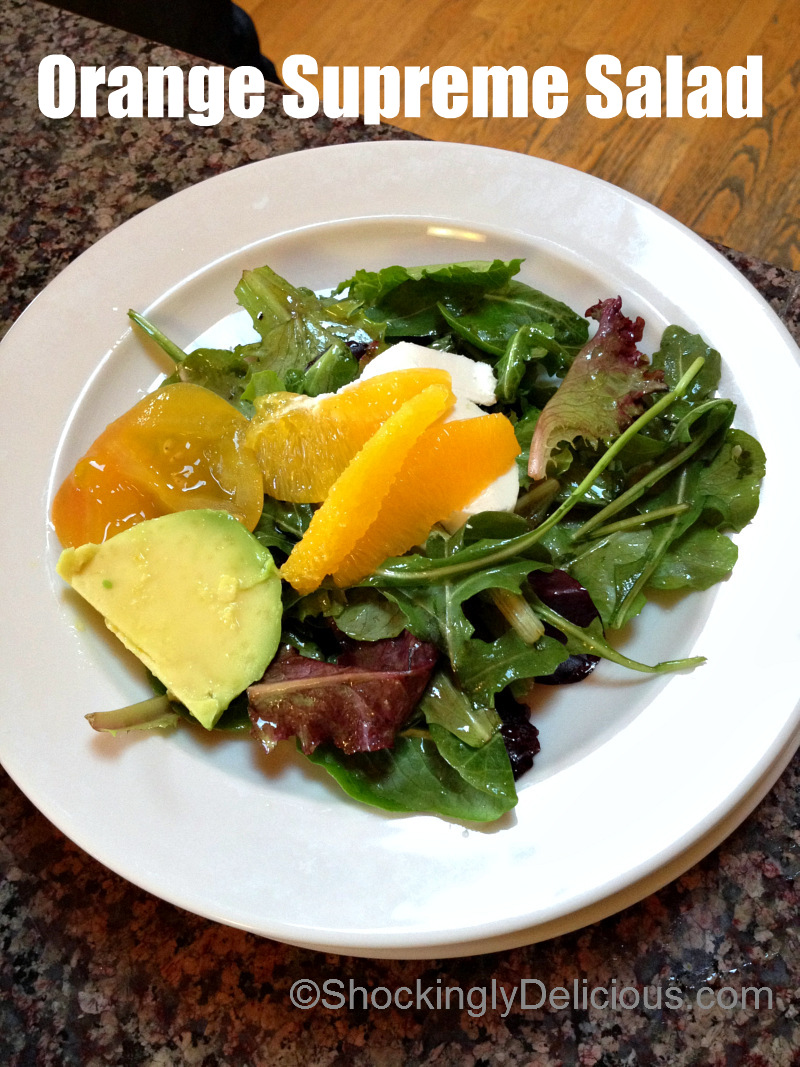 Did you know, for example, that if you use seasoned rice vinegar, which has about 4% acid, you can use less oil in your dressing? Standard vinegar has 7%-8%, and since the oil balances the acid, using a lower acid vinegar requires less oil (and fewer calories).
His breezy salad is an example of a restaurant quality dish easily replicated by a home cook using the right strategy – the delicate orange dressing plays against the slightly bitter arugula, with a counterpoint of tangy goat cheese, creamy avocado and a tomato slice for color and acid.
It makes a lovely lunch or light dinner, with a cup of soup and maybe some homemade bread.
Recipe: Orange Supreme Salad
Summary: Light, lovely and fresh, this simple salad relies on a delicate orange dressing and contrasting flavors.
Ingredients
Spring mix lettuce
Baby arugula
1/2 cup chopped fresh basil
2 large navel oranges
3 tablespoons olive oil
1 teaspoon roasted sesame oil
2 teaspoons sugar
2 tablespoons seasoned rice wine vinegar
Salt and freshly ground black pepper
4 ounces goat cheese
Tomato slices
Avocado slices
Instructions
Clean and thoroughly dry the lettuce and arugula and toss with chopped basil in a big salad bowl.
Supreme the oranges: Slice the top and bottom of the oranges off so you can clearly see the spoke pattern of the segments inside. Moving your knife in the same direction as the segments, complete the peeling of the orange. While holding the orange over a bowl to catch the juices, remove each segment with any of the pith attached. Squeeze the remaining orange pith to extract as much juice as you can into the bowl. Move the supremes or segments into another bowl, leaving the juice to continue making the dressing.
Whisk in the olive oil, sesame oil, sugar, seasoned rice wine vinegar, and season lightly with salt and pepper.
Toss the dressing with the lettuce. Start with half the dressing and add more to taste.
Place lettuce servings on plates. Garnish with goat cheese slices, orange slices, and tomato and avocado slices.
Serves 4.
Source
Preparation time: 20 minutes
Diet type: Vegetarian
Diet tags: Gluten free
Number of servings (yield): 4
Culinary tradition: USA (Nouveau)