Print This Post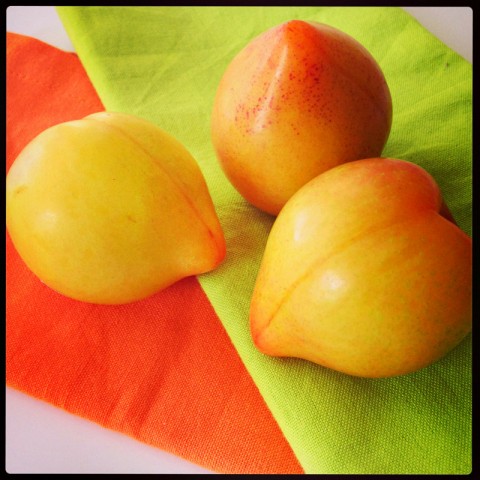 1. Lemon Plums: A lemon plum is a relatively rare fruit from Chile (only available for a few short weeks here), sweet and juicy like a plum with a delicate flavor, but shaped a bit like a lemon with one round end and one nippled end — a teardrop. They are bright yellow when unripe, and they gradually change to golden orange and then to a darker red as they ripen. They're sold unripe, so be sure to take your time and let them ripen; don't eat them unripe or you will be treated to tart fruit. It's a bit of a surprise each day as you watch them do a slo-mo blush in the fruit bowl. They're in the stores rightnow, so get them rightnow! They're fragrant and floral, and if you see them, snatch them up!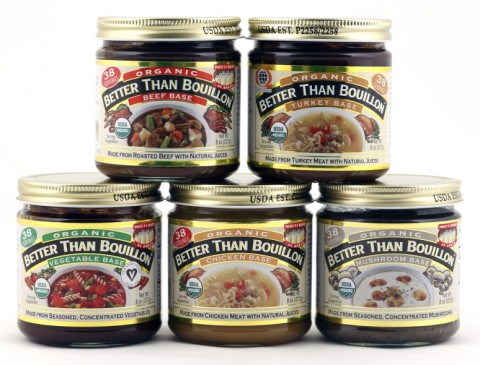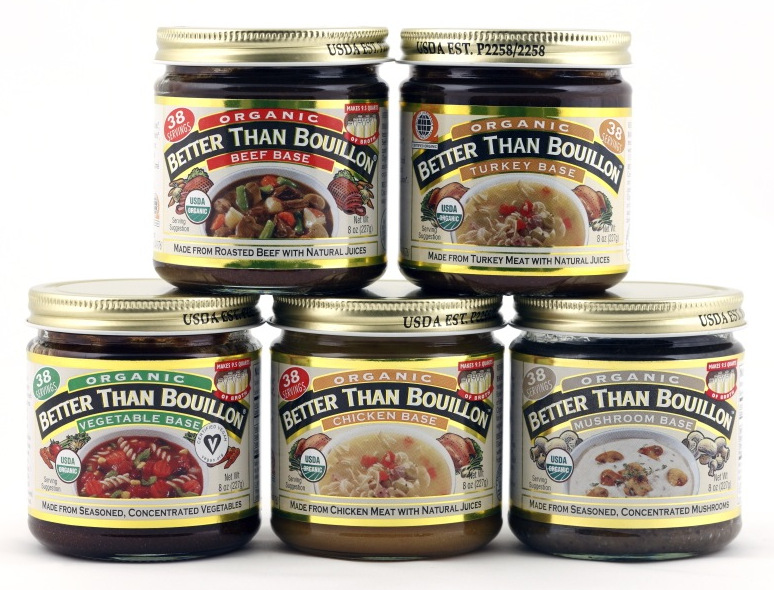 2. Organic Better Than Bouillon:  Better Than Bouillon is my new not-so-secret ingredient for soups. While I often make my own stock when I have leftover chicken or turkey bones, sometimes I just need to get the soup cooking NOW, so I use a shortcut of either canned or commercially made stock. My new discovery is the organic line of Better Than Bouillon — concentrated stock made with real vegetables and natural ingredients. They're USDA certified organic, and have 95% certified organic ingredients by Quality Assurance International, are fat free, and non-irradiated. Organic Better Than Bouillon comes in beef, chicken, mushroom, turkey and vegetable flavors, and at a price of about $7.95 per jar, it's a good value since each jar makes about 9 ½ quarts (84 cents a quart, a price I can't match with any stock in a can or carton). To me, the flavors are clean and pure. I recommend it! Get your soup on!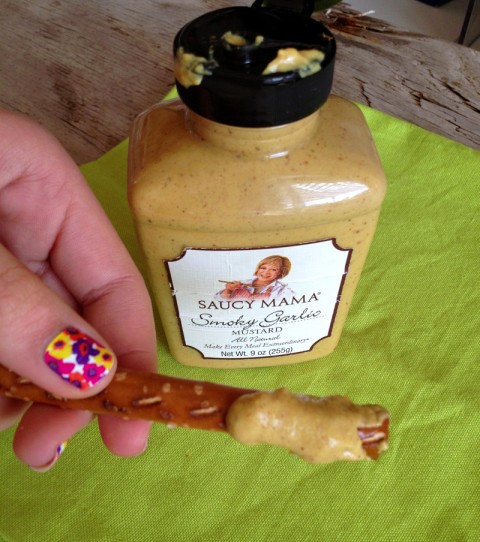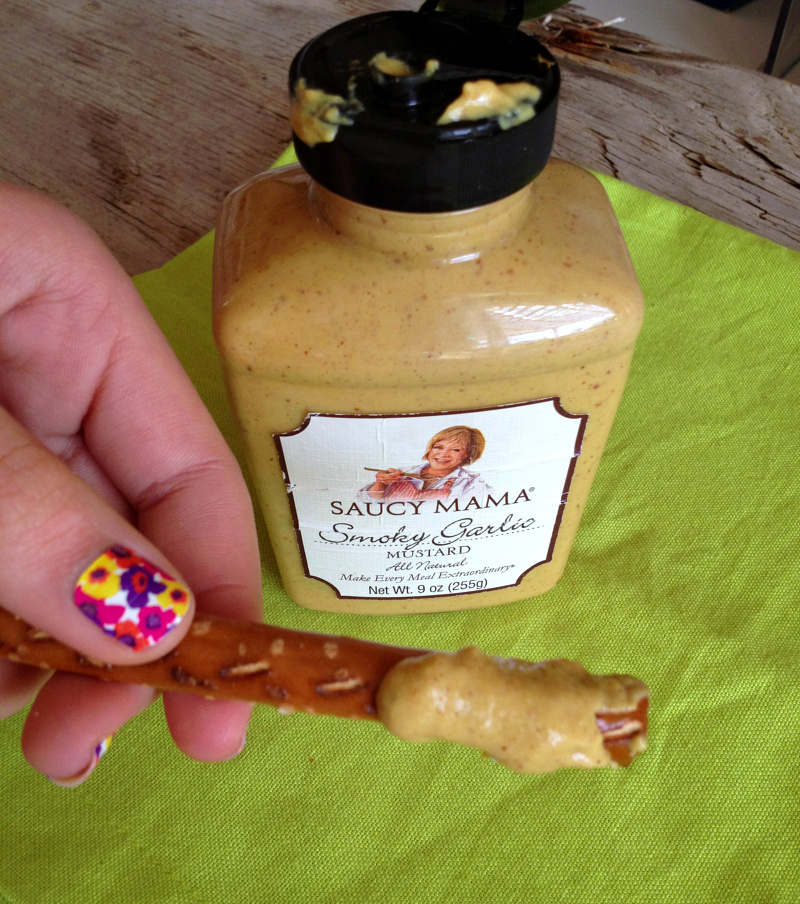 3. Saucy Mama Smoky Garlic Mustard: My new snack of choice is to grab a Snyder's Pretzel Rod and a squirt bottle of Saucy Mama Smoky Garlic Mustard, stand over the sink, and munch. And repeat. There's something about mustard with pretzels that's just so right, and this mustard flavor floats my boat! I was not surprised to read that it won a Silver Medal at the 2012 World-Wide Mustard Competition. The company also has a Chipotle Mustard and an Apricot Ginger Mustard, which I particularly enjoy on a hard-cooked egg. It's available nationwide ($5 for a 9-ounce container) in specialty and grocery stores, as well as on Amazon and the company website, Barhyte.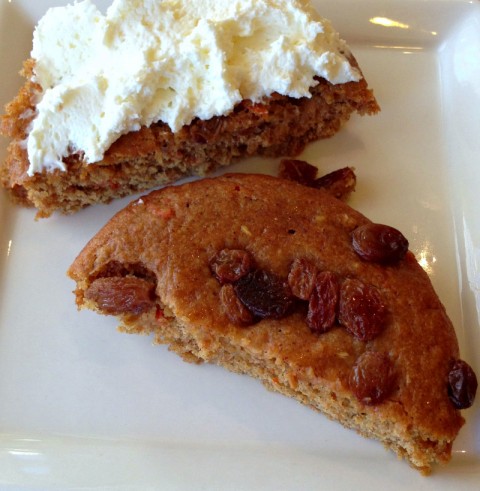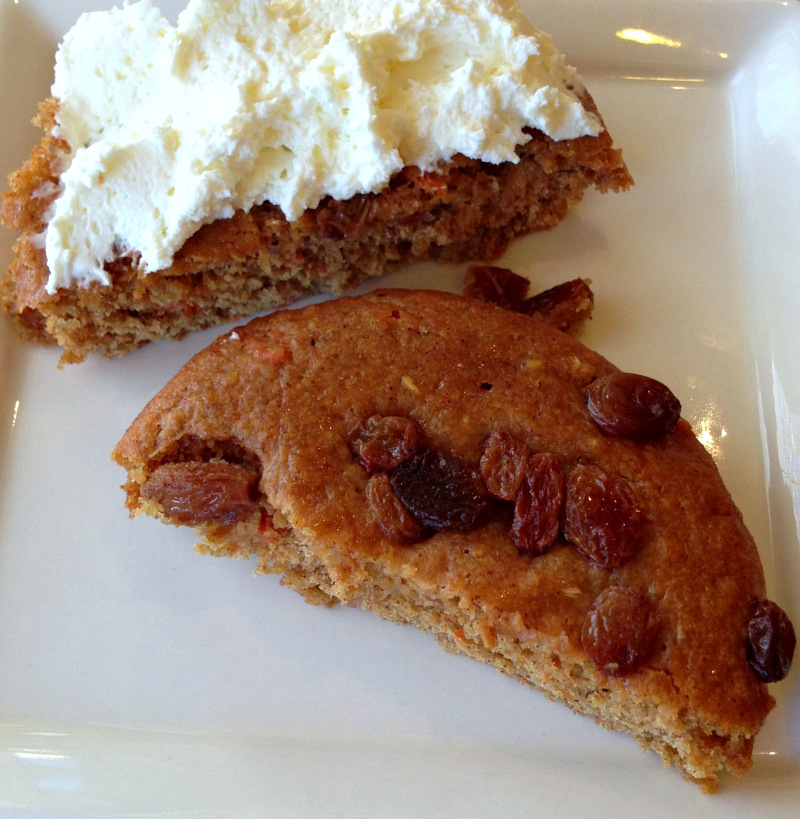 4. VitaTops Carrot Cake Muffin: I've been eating this 100-calorie nutritional powerhouse for breakfast, smeared with cream cheese. It would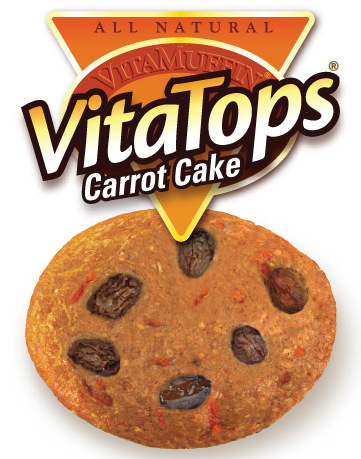 also be great with nonfat cottage cheese on top, or a mild goat cheese. Each muffin top has 9 grams of fiber, 4 grams of protein, at least 8 grams of whole grain, and a mere 1 gram of fat. They're Kosher, have no artificial colorings or preservatives, and my kids liked them, too! A great breakfast, after-school snack or post-workout nosh, these muffin tops are carrot cake with all the lovely carrot shreds and warm spices, but without the guilt.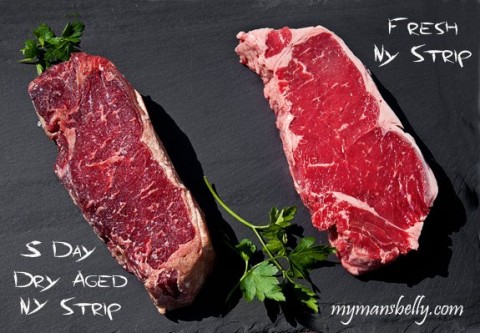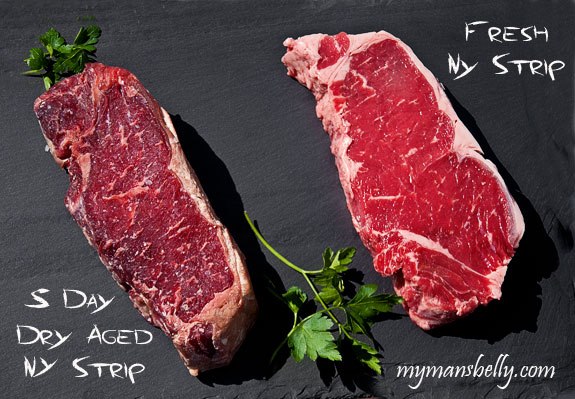 5. Dry age your own beef: Pamela from My Man's Belly tells how to dry age your own steak. This is brilliant, easy, a duh-slap-yourself-upside-the-head-moment, and I intend to do it this week. Dry aged steaks are one of the pleasures of fine restaurant food. Now we can do it ourselves. Thank you, Pamela!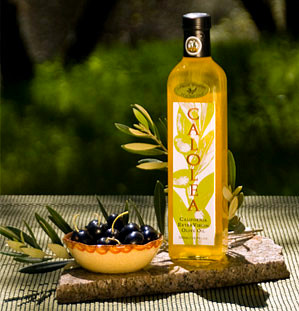 6. Fresh Pressed Olive Oil: One of my favorite California premium olive oil producers is Calolea. The olives on their 100-year-old Mission and Manzanillo trees are hand picked, stone crushed and cold pressed within 24 hours to create the highest quality extra virgin oil possible. It's always a joy to see what they come up with, from my favorite flavored oils like Meyer Lemon Olive Oil and Blood Orange Olive Oil, to their latest offering, the fruity, peppery Olio Nuovo Fresh Pressed. This is less than 3 months old, very green in both color and taste, fresher than fresh, with a zingy flavor. These olives are picked early in the harvest season when they are green. They posses very high polyphenols at this time and will create the most robust flavor profile of the oil's life. As olive oil ages it becomes less pungent and flavorful , so this early harvest is exciting to enjoy and drizzle on hot soups, pastas, vegetables, tapenades and just to dip your bread in. Bake a potato and drizzle this liquid gold on it. Then close your eyes and savor. The Olio Nuovo is a wonderful finishing oil, vibrant and full of verve. It will add new life to your dishes!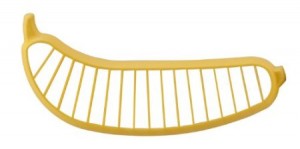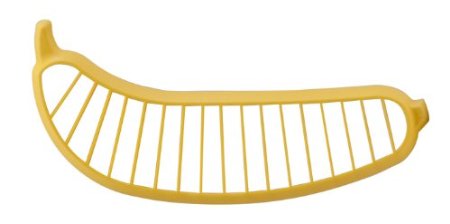 7. The Banana Slicer: If you're feeling cranky and grumpy, I recommend you open this Amazon page for the Hutzler 571 Banana Slicer. First, marvel at just what it is, and the fact that someone felt the need to invent it and market it. Then read deeply into the hilarious comments. Some of them are snort-out-loud funny! Seriously, take 10 minutes and just enjoy the comments. People are so, so clever.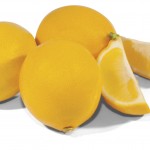 8. Lemon Sugar Scrub: Grab a lemon and make some of this Lemon Sugar Scrub from the blog Add a Pinch. I made some for my teenage daughter in December, and she has fallen in love with it. It smells like a lemon cookie (especially since I used my homemade vanilla sugar with it.)  It exfoliates like a dream!


9. New Ezekiel bread: This new spin on their classic whole grainy bread loaf  is, hands down, my new favorite bread. I eat 1 piece of it (80 calories) each morning, topped with something delicious, like a slice of cheddar cheese, or a half an avocado, or some nonfat cottage cheese. Made by the company Food For Life, this Ezekiel 4:9 Flax Sprouted Whole Grain Bread is made with freshly-sprouted, certified organic live grains and sprouted flax seeds throughout,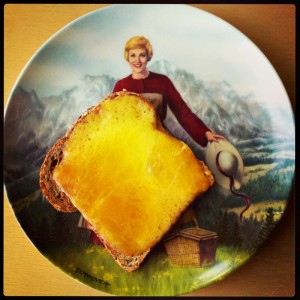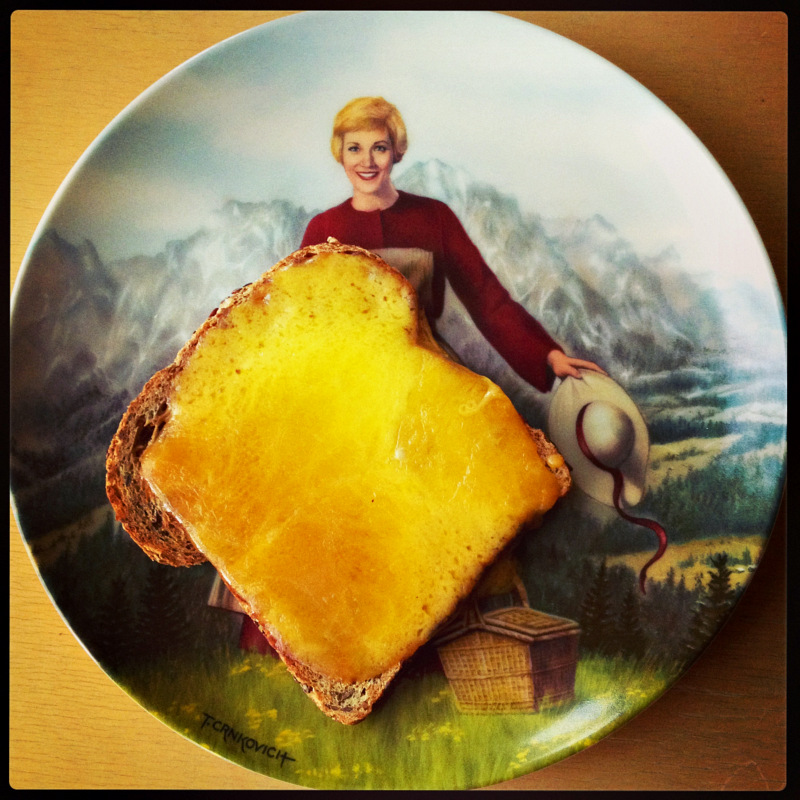 which provides an excellent source of Omega 3 and 6 essential fatty acids (EFAs), the "good" fats. It is 100% flourless (although not wheat-free) and has no conditioners, additives, artificial flavors, colors or preservatives. It is also made with filtered water and no added fat and is low-glycemic, diabetic-friendly, pH-balanced and kosher-certified. Each slice contains 90mg of Omega 3, 5g of protein, 4g of dietary fiber and 18 amino acids from vegetable sources. In addition to all of that nutritional goodness, I love the texture (grainy, chewy, substantial) and the taste! Keep it in the refrig or freezer, as I do; since it has no preservatives, it won't last long on your kitchen counter. No matter. I pull a piece from the freezer straight into the toaster, and I'm good to go.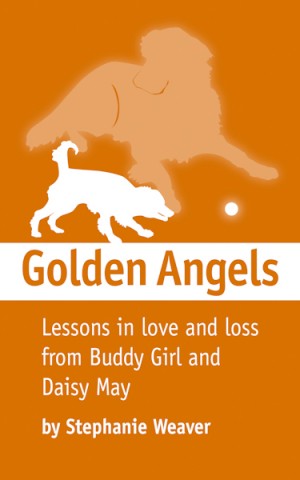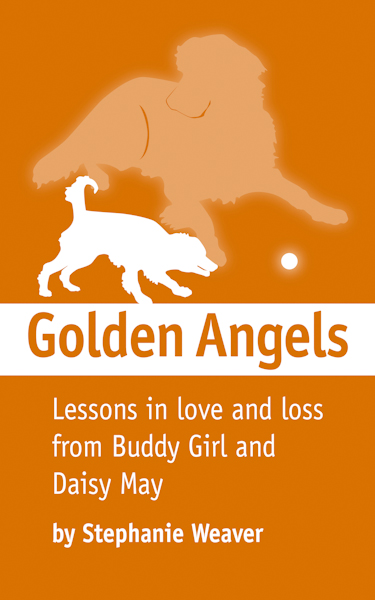 10: Golden Angels: Lessons in Love and Loss from Buddy Girl and Daisy May: This collection of 13 inspirational essays by author Stephanie Weaver is for anyone who has loved, and lost, a cherished pet. Have a tissue ready while you read her wise words and insight. She's also a food blogger at Recipe Renovator, so it will come as no surprise that each essay includes a recipe that enriches the story, from juicer pulp dog biscuits and birthday cake for dogs, to Maple-Pecan Glazed Popcorn and Peanut Butter Kiss Cookies for people — all gluten-free and plant-based. The ebook ($9.99) comes in a version for Kindle, iPad, Nook, Kobo or a PDF.
Recipe: Peanut Butter Kiss Cookies
Summary: A classic peanut butter and chocolate cookie made gluten-free.
Ingredients
1 cup (110 g) sifted gluten-free flour mix
1/2 teaspoon (1 g) baking soda
1/2 teaspoon (1 g) baking powder
1/2 teaspoon (1 g) salt
1/4 cup (60 g) vegan margarine
1/4 cup (60 g) natural peanut butter or sunflower seed butter
1/2 cup (80 g) granulated maple, coconut or organic cane sugar
1 teaspoon vanilla
1 tablespoon (5 g) flaxseed meal + 2 tablespoons filtered water (or 1 egg)
24 semi-sweet fair trade chocolate morsels or peanut butter cups
Instructions
Heat the oven to 375F/170C/gas mark 5. Line baking sheets with parchment paper.
Sift together flour, baking powder, baking soda and salt.
Put the flaxseed meal in a deep mixing bowl (or stand mixer bowl) with the water. Let stand 5 minutes. Cream the margarine, nut butter, sugar and vanilla together with the flax meal.
Add the flour mixture; mix well. Chill in the freezer for 30-45 minutes until very firm.
Take a level tablespoon of dough and roll between your palms into a round ball. Roll lightly in more of your granulated sugar. Place on the prepared cookie sheets, then flatten with your hand. Bake in heated oven 8 minutes, rotating the pans at 4 minutes so the cookies bake evenly.
While cookies are baking, unwrap the chocolates.
Pull out the warm cookies and press 1 chocolate into the center of each cookie. Return to the oven and bake 3-4 minutes more.
Remove trays from oven and cool cookies on wire racks. Store in metal cookie tins for best results.
Source
Recipe from "Golden Angels: Lessons in Love and Loss from Buddy Girl and Daisy May," by Stephanie Weaver (Braver Endeavor Press, Feb. 2013; Kindle/$9.99)
Flour
Stephanie said she uses half gluten-free oat flour and half Bob's Red Mill All-Purpose Baking Mix, which is a blend that includes bean flours.
Preparation time: 50 minutes
Cooking time: 12 minutes
Diet type: Vegetarian
Diet tags: Gluten free
Number of servings (yield): 24 cookies
Samples for review were provided by Frieda's Produce (Lemon Plums), Saucy Mama, Calolea, Stephanie Weaver, VitaTops, Better Than Bouillon, and Food for Life (Ezekiel Bread).