Print This Post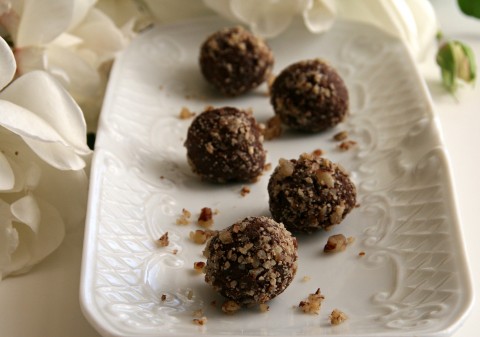 An orange-scented ball of chocolate ganache goodness, Orange Chocolate Meltaways do as their name indicates—melt delightfully in your mouth.
One after the other.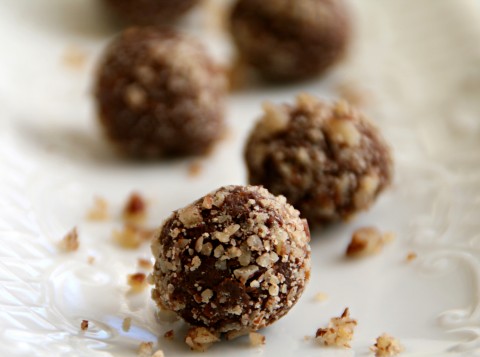 Please have someone stationed near the tray with orders to smack your hand if you go back for fourths.
These would make a fabulous Christmas sweet, or a hostess gift or an easy gift from your kitchen.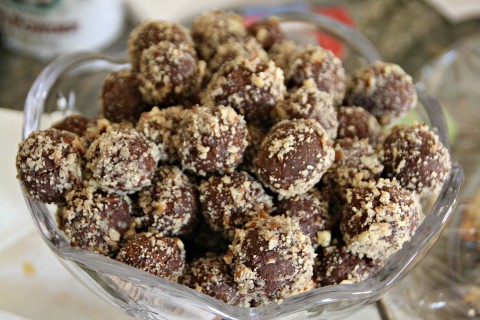 They're the creation of crazy-talented dessert maker Corinne Le, who made these beauties — and 62 other treats! — for her annual holiday dessert party for friends, neighbors and colleagues in Malibu.
You can read all about Corinne and her 2011 party in my column on Malibu Patch.
For other gift suggestions, I offer this poem:
Christmas gift suggestions:
To your enemy, forgiveness.
To an opponent, tolerance.
To a friend, your heart.
To a customer, service.
To all, charity.
To every child, a good example.
To yourself, respect.
–Novelist, journalist and humorist Oren Arnold
Recipe: Orange Chocolate Meltaways
Summary: Orange-scented balls of chocolate ganache goodness that do as their name indicates—melt delightfully in your mouth.
Ingredients
For Truffles:
1 package (11 1/2 ounces) milk chocolate chips
1 cup (6 ounces) semisweet chocolate chips
3/4 cup whipping cream
1 teaspoon grated orange peel
2 1/2 teaspoons orange extract
1 1/2 cups finely chopped toasted pecans
For Coating:
1 cup (6 ounces) milk chocolate chips
2 tablespoons shortening
Instructions
Make truffles: Place both types of chocolate chips (1 package milk chocolate chips + 1 cup semisweet chips) in a mixing bowl; set aside.
In a saucepan, bring cream and orange peel to a gentle boil; immediately pour hot cream over chips in bowl. Let stand for 1 minute; whisk until smooth. Add the extract. Cover and chill in refrigerator for 35 minutes or until mixture begins to thicken.
Remove from refrigerator and beat for 10-15 seconds or just until mixture lightens in color (do not overbeat). Spoon rounded teaspoonfuls of truffle onto waxed paper-lined baking sheets (you can use a melon-baller tool for this if you like). Cover and chill for 5 minutes. Gently shape into balls; roll half of the balls in pecans (we do only half because some people don't like or eat nuts).
Make coating: In a microwave or double boiler, melt 1 cup milk chocolate chips and shortening; stir until smooth. Dip un-pecanned balls in chocolate. (You may sprinkle some pecans on the dipped balls if you prefer.) Place on waxed paper to harden. Store in the refrigerator.
Yield: 6 dozen.
Preparation time: 45 minutes
Cooking time: 5 minutes
Diet type: Vegetarian
Number of servings (yield): 6 dozen
My rating 5 stars:  ★★★★★
Recipe source: Corinne Le of Malibu