Print This Post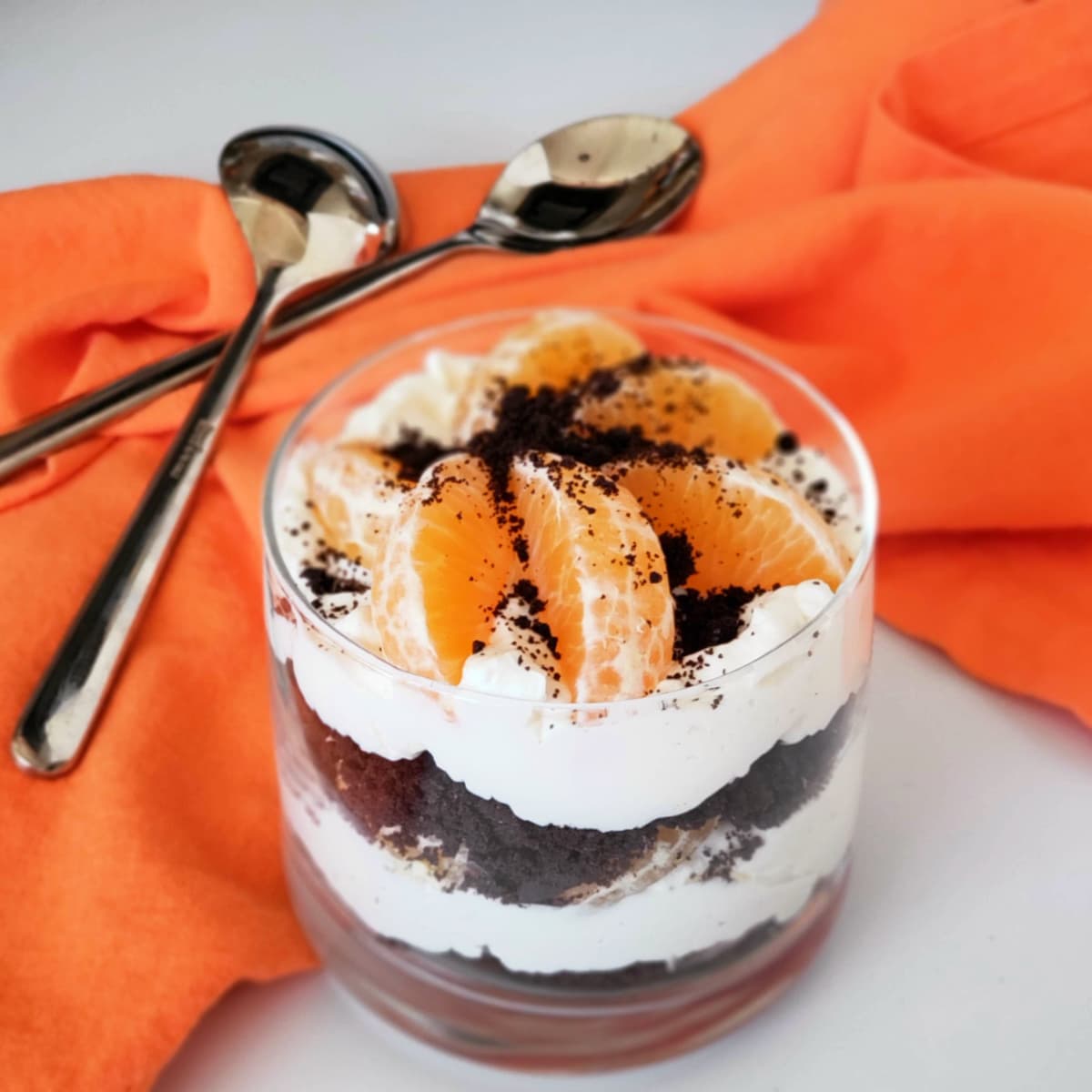 Orange Chocolate Cheesecake Pots is a layered dessert with Creamsicle vibes that's fast, fun, and feels elegant. The contrasting colors are so pretty!
I'm obsessed with this single-serving dessert that has taken my house by storm. Not only is it pretty, but it's a special no-bake dessert that you can use to show off your pretty glasses, or even your glass jars!
It feels luxurious with the creamy mascarpone cheesecake layer flavored with vanilla, has the required chocolate element in the crumb layer at the bottom, and tops it all off with fresh tangerines, which are in season! Hey…it has fruit…it's practically health food!
How to make Orange Chocolate Cheesecake Pots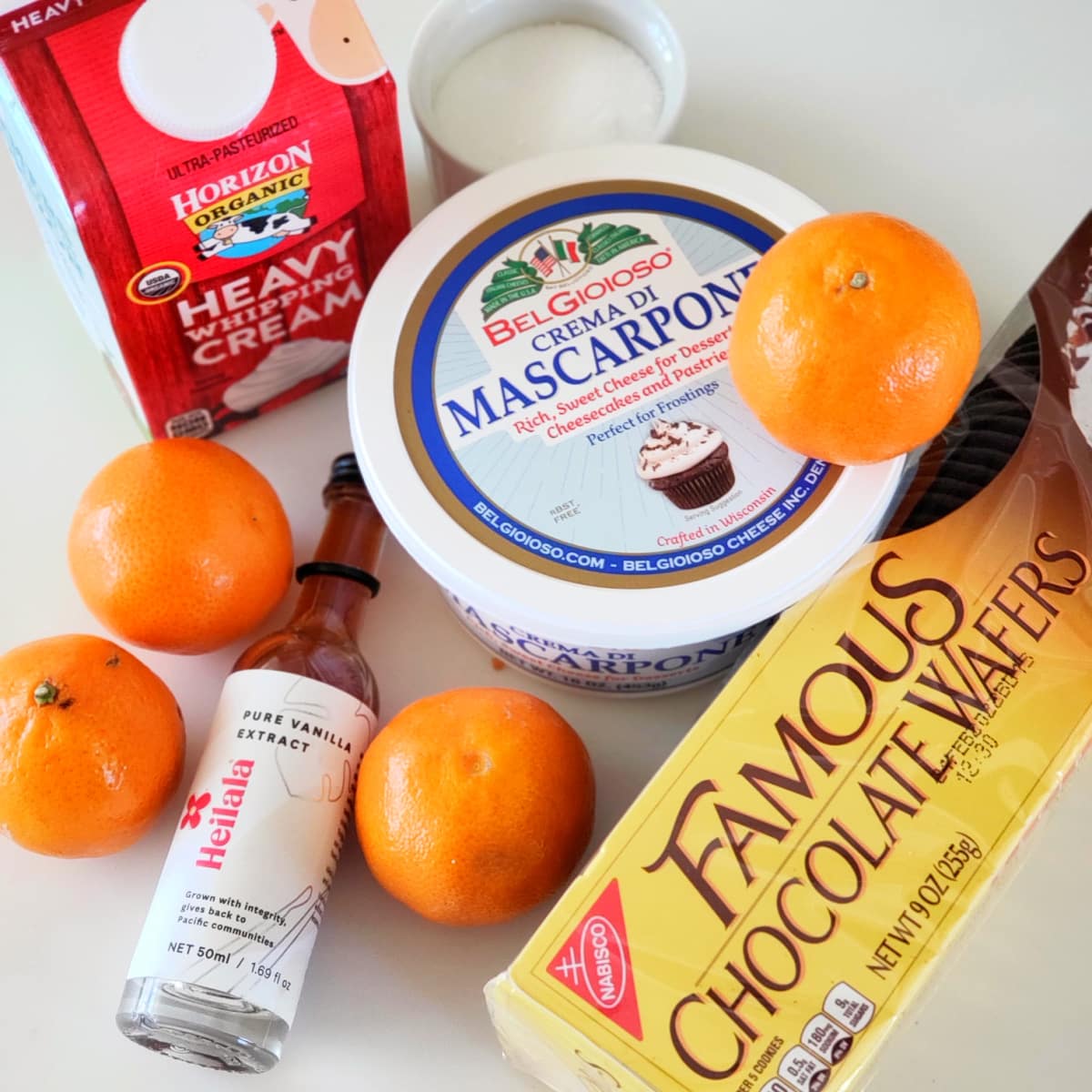 First, gather your ingredients. For this recipe, you'll need:
Chocolate wafer cookies (such as Nabisco Famous Chocolate Wafers, or Oreos if you can't find the wafers)

NOTE: Nabisco Famous Chocolate Wafers were quietly discontinued in early 2023 by the manufacturer Mondelez International, so try one of these substitutes:

Oreo Thins

Oreos with the cream scraped off

Goya Maria Cookies

Dewey's Hot Cocoa Cookies

Chocolate graham crackers

A pre-made chocolate pie crust. Keebler makes a no-bake chocolate graham crust (the flavor won't be as rich and bitter as the original cookies)

Make your own chocolate wafer cookies with the

King Arthur recipe.

4-5 tangerines or mandarin oranges
A carton of mascarpone cheese. This should be with the cream cheese and other specialty dairy at the grocery store…mascarpone is a smooth, white, spreadable Italian cream cheese that has a high percentage of butterfat. It tastes amazing and less tangy than American cream cheese.
A carton of heavy whipping cream
Sugar
Vanilla extract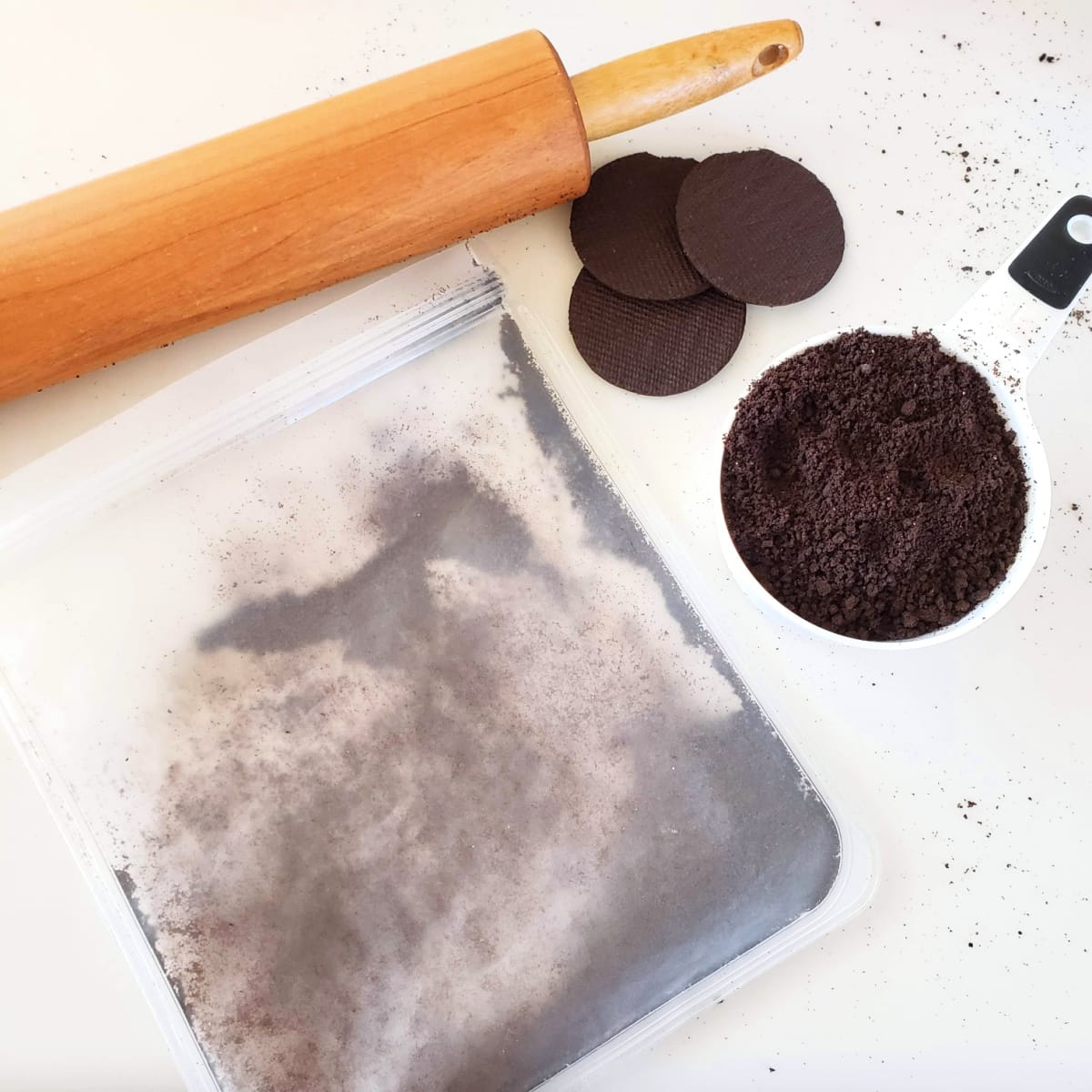 Crush some of the wafers. I like to do it in a sturdy plastic bag (this is a Stasher bag) using a rolling pin, but you could also whirl them in your blender or food processor, or even crush them using a mortar and pestle. Basically, make crumbs! If you can't find Nabisco Famous Wafers, buy Oreos and remove the filling and crush up the outer wafers, or even get chocolate graham crackers or another plain chocolate wafer-type cookie.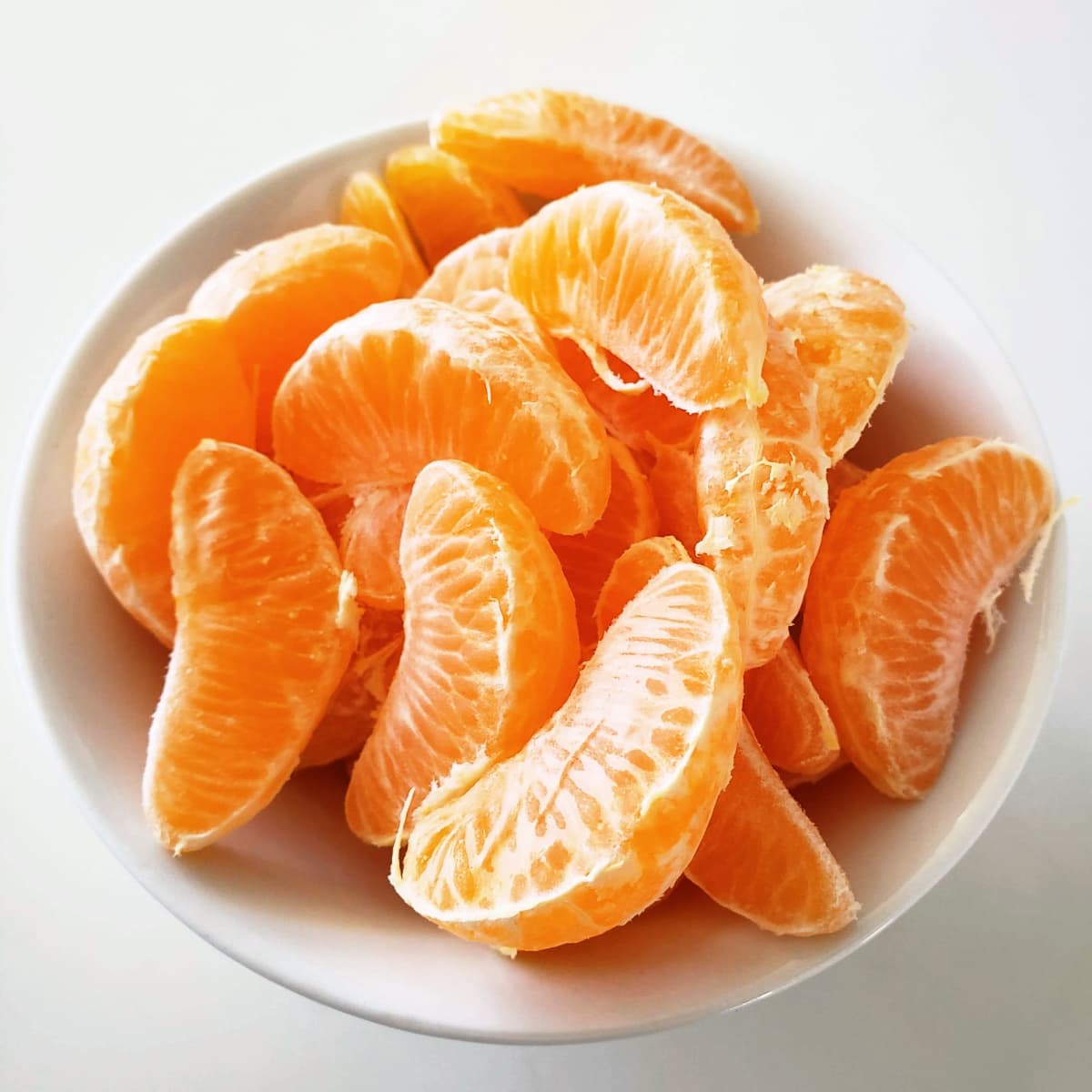 Peel the tangerines and separate them into segments.
Add the whipping cream, vanilla, sugar and mascarpone to a mixing bowl. I am always surprised at the pretty patterns ingredients in the bowl make.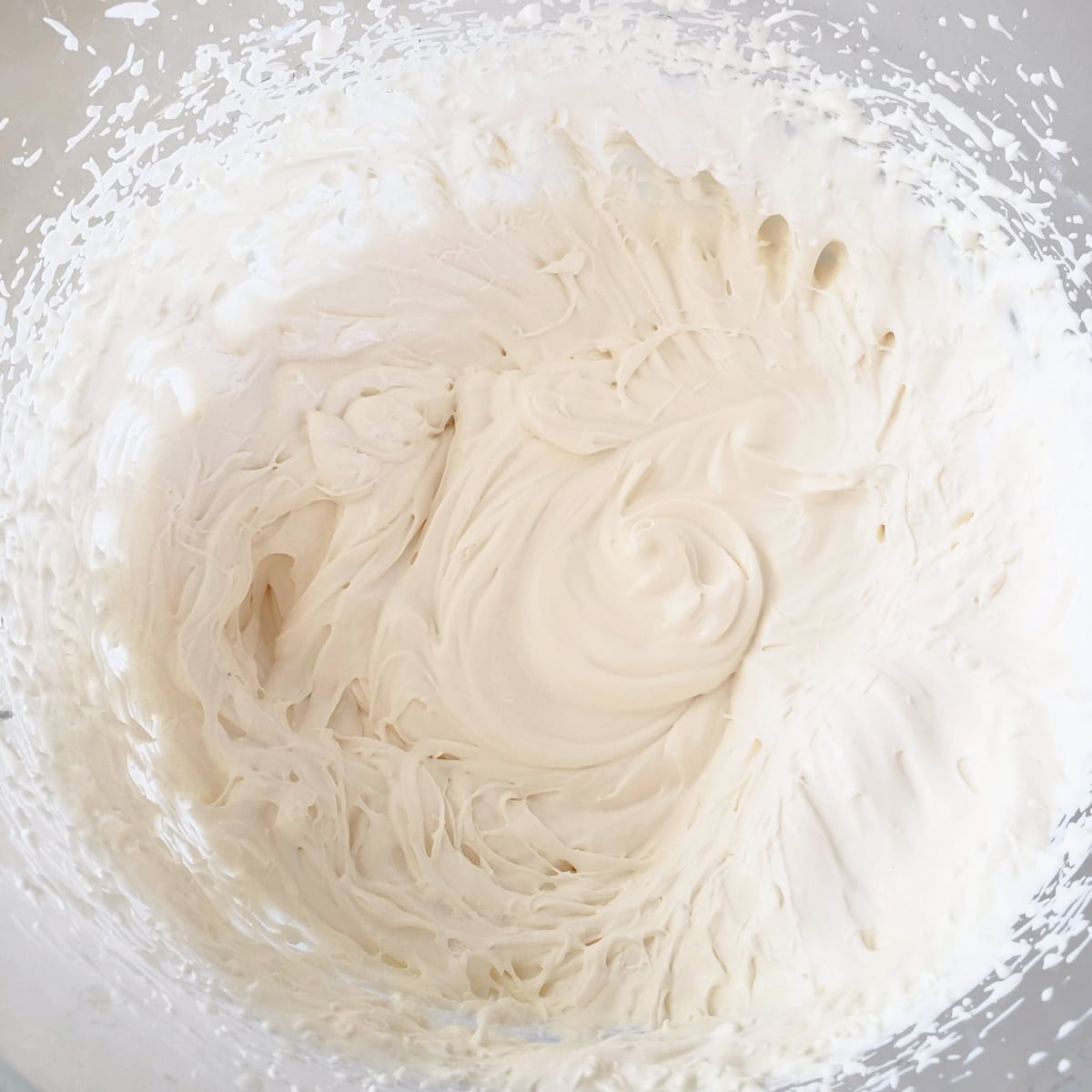 Beat for a couple of minutes until it is thick and fluffy.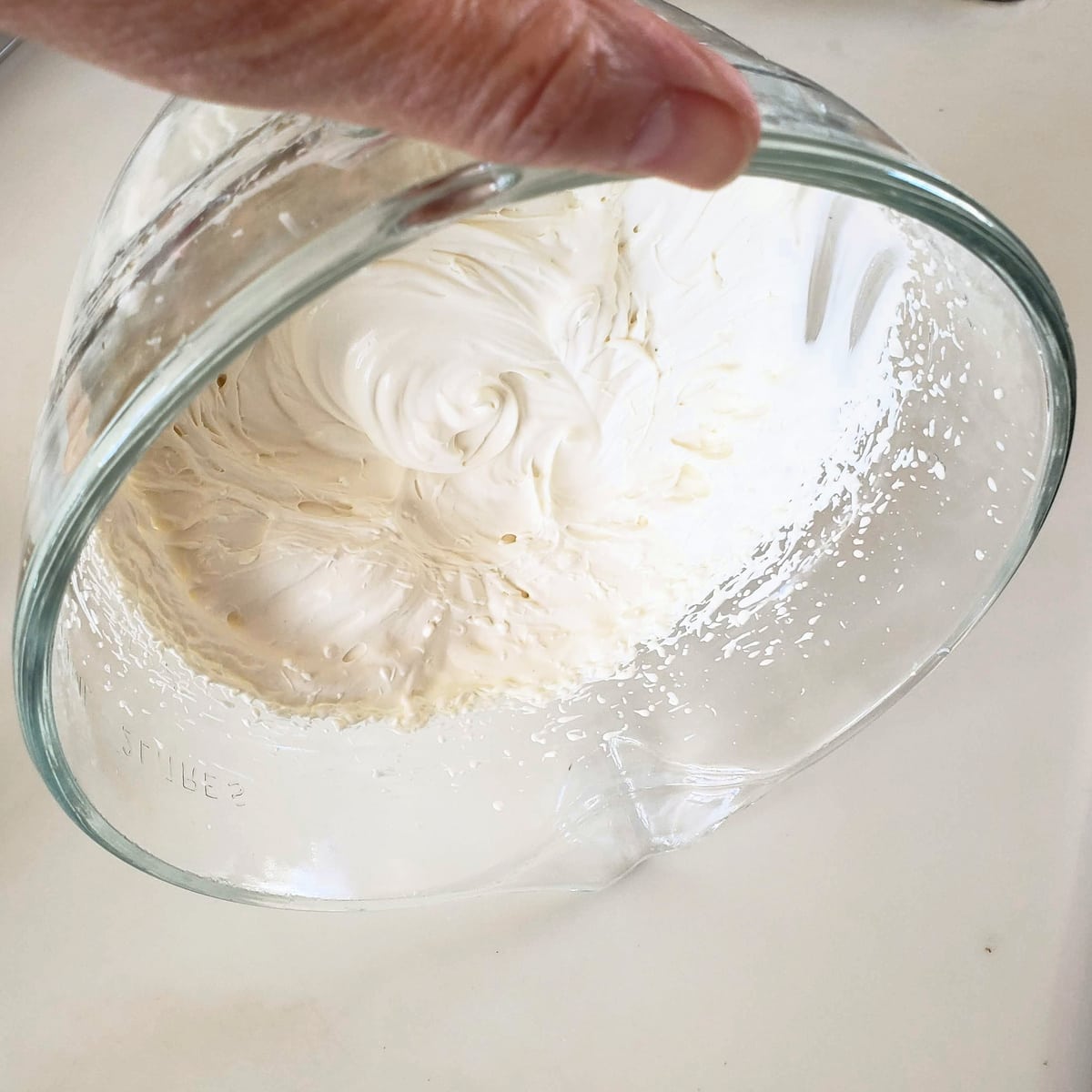 This is me holding the mixing bowl on it's side so you can see that the filling stays put in the bowl. It's sturdy!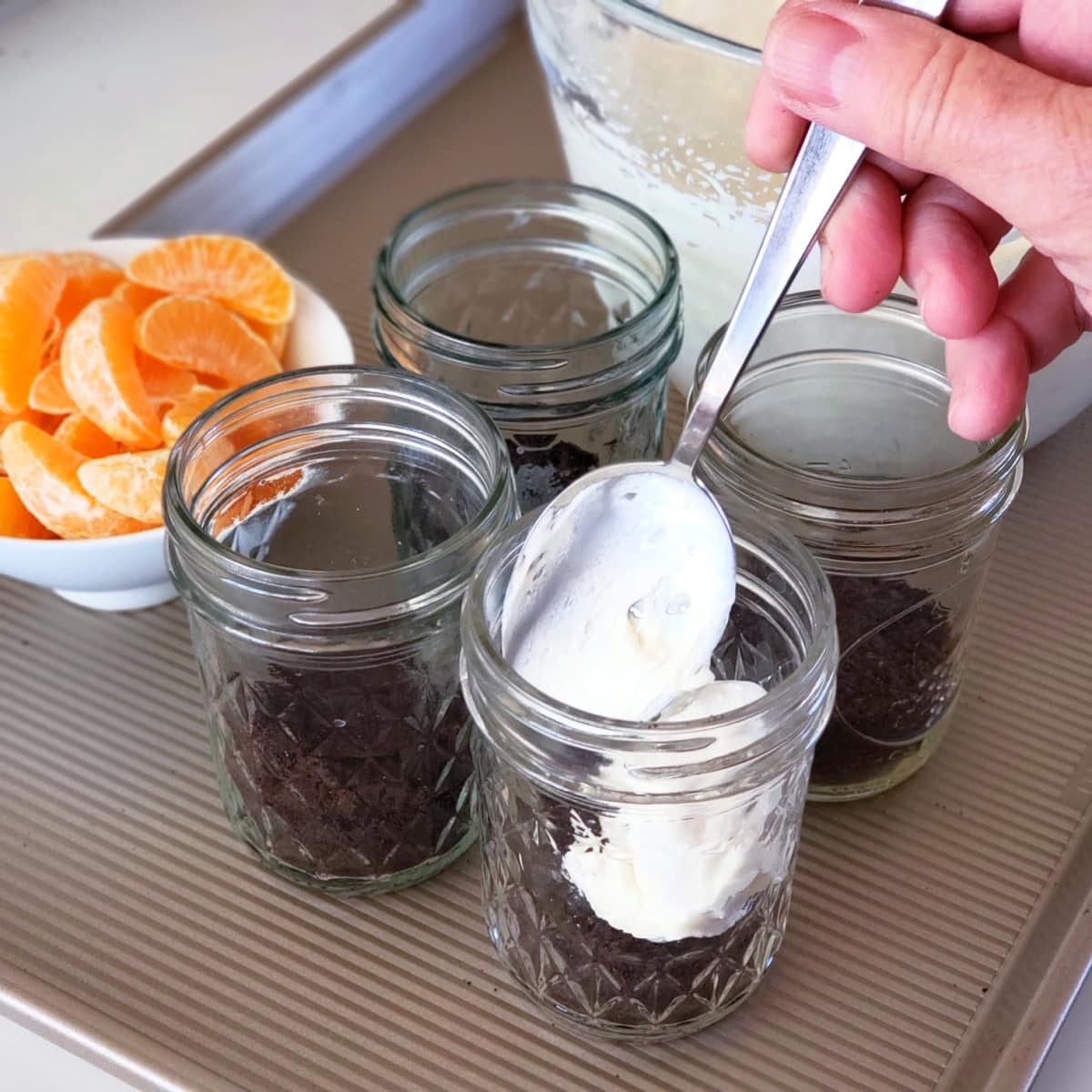 Portion the chocolate crumbs into the jars, and top with the filling.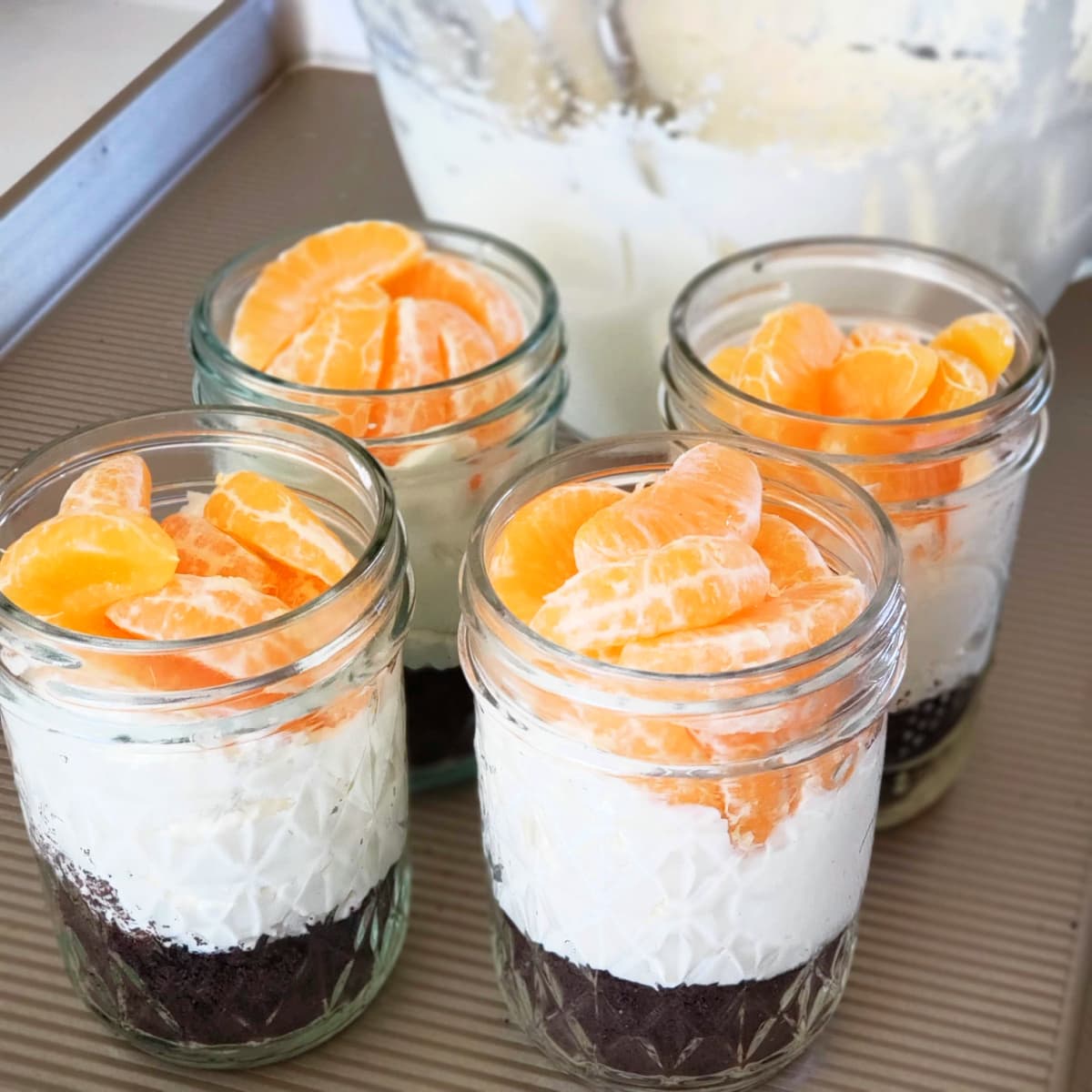 Top with tangerines.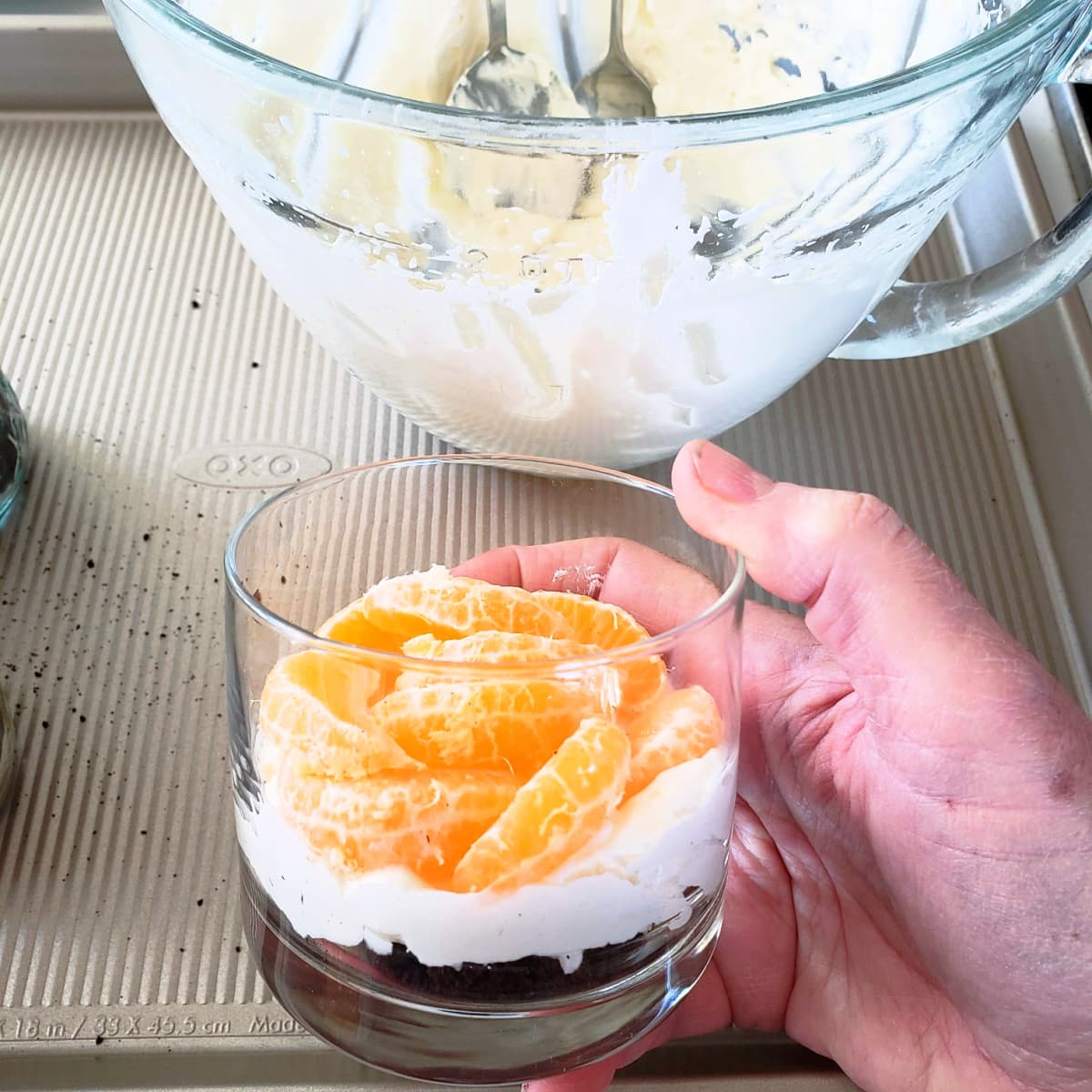 I had extra filling and crumbs, so I made an additional one is a short glass!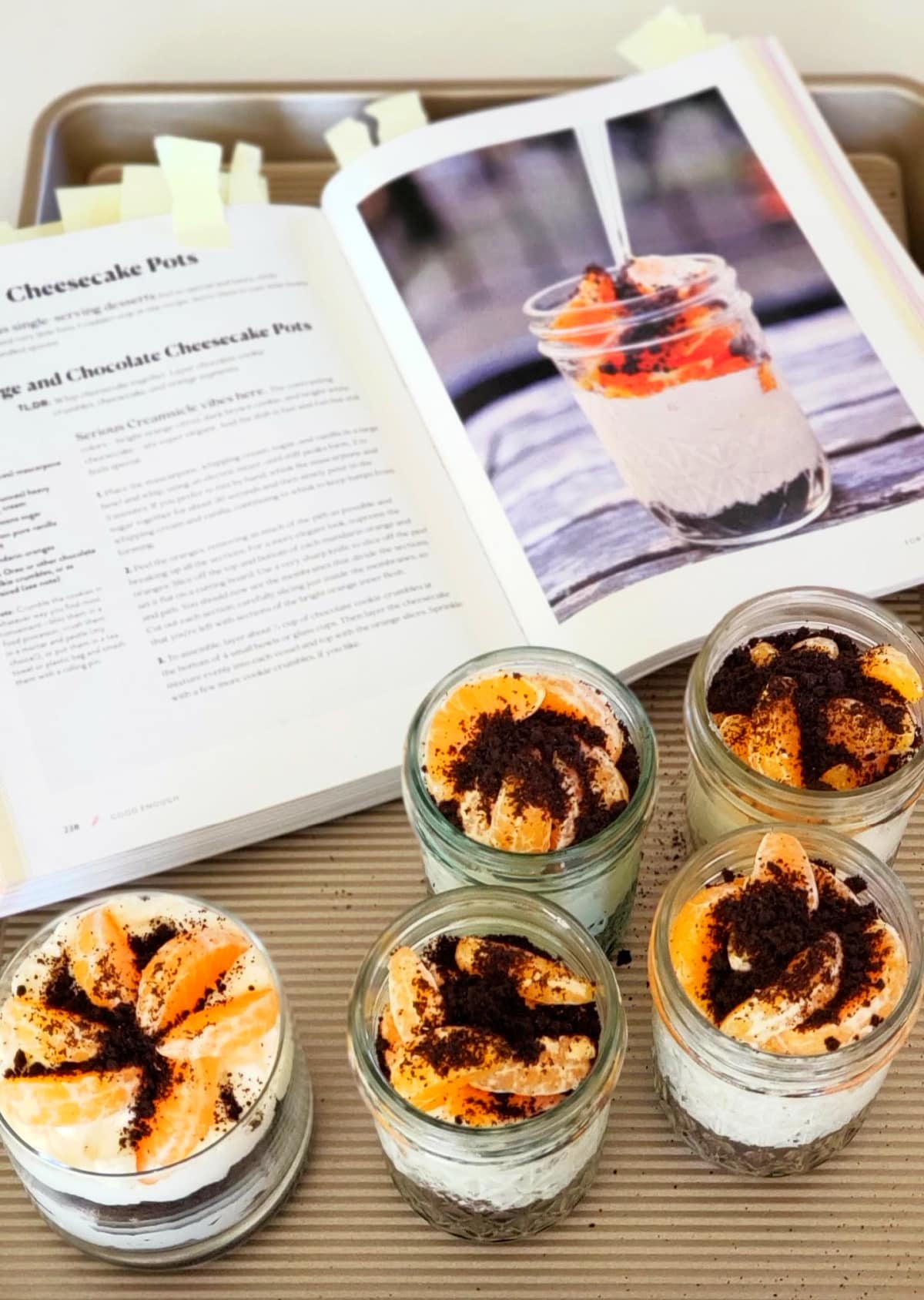 How'd I do?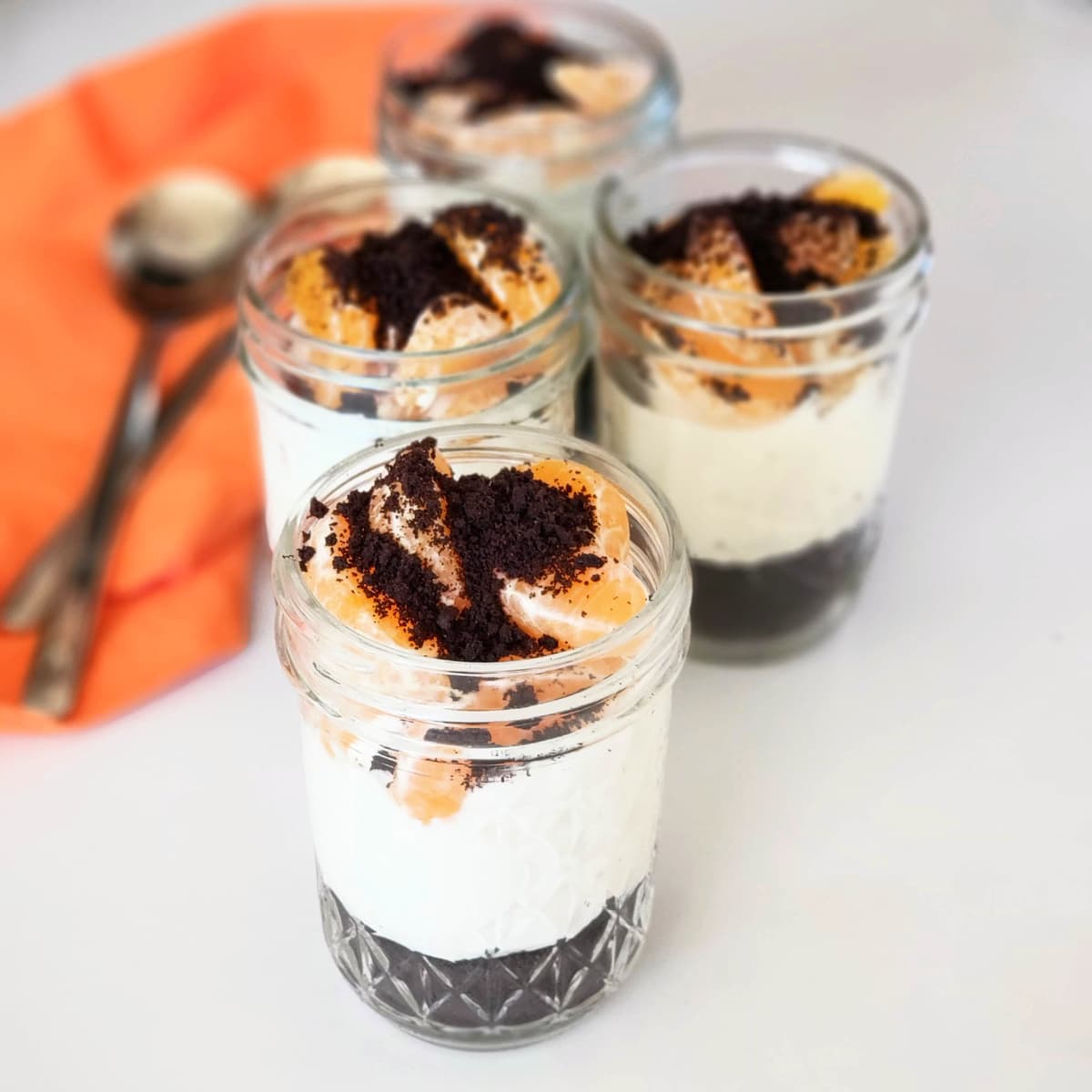 We ate these for dessert 2 nights in a row — happily! The book author says it makes 4, but I think you could easily make 5, or even 6 if you like. They're deliciously rich!
Orange Chocolate Cheesecake Pots
Orange Chocolate Cheesecake Pots is a layered dessert with Creamsicle vibes that's fast, fun and elegant. The contrasting colors are so pretty!
Ingredients
1 1/4 cup cup chocolate wafer cookie crumbs (such as Nabisco Famous Wafers or the cookie part from Oreos) (divided use)
4-5 mandarin oranges or tangerines
1 cup (8 ounces) mascarpone cheese
1/4 cup (6 ounces) heavy whipping cream
3 tablespoons sugar
1 teaspoon vanilla extract
Directions
First, crumble some chocolate wafers. You could blitz them in a food processor, crush them in a mortar and pestle, or put them in a plastic bag and roll over them with a rolling pin (Dorothy's favorite way). Keep crumbling until you have about 1 1/4 cups. Set aside.
Peel the tangerines. Separate them into segments, removing as much pitch as possible, and set aside.
Make the filling: In a large bowl, place the mascarpone, whipping cream, sugar and vanilla. Whip, using an electric mixer, until stiff peaks form, 2-3 minutes. If you prefer to mix by hand, whisk the mascarpone and sugar together for about 30 seconds and then slowly pour in the whipping cream and vanilla, continuing to whisk to keep lumps from forming.
To assemble, get out 4-5 jars, clear glasses or bowls. Layer about 1/4 cup of chocolate cookie crumbs at the bottom of each. Then layer the cheese misture evenly into each vessel, and top with the tangerine segments. Sprinkle with the rest of the cookie crumbs if you like.
Serves 4-5. The author recommends that it serves 4, but I think you can get away with 5 if you want, because it is so rich! Suit yourself.
Notes
Recipe source: From "Good Enough. A Cookbook. Embracing the Joys of Imperfection & Practicing Self-Care in the Kitchen," by Leanne Brown (Workman Publishing; 2022: $19.95). Used with permission.
https://www.shockinglydelicious.com/orange-chocolate-cheesecake-pots/
Copyright Dorothy Reinhold | ShockinglyDelicious.com. All rights reserved.
About the cookbook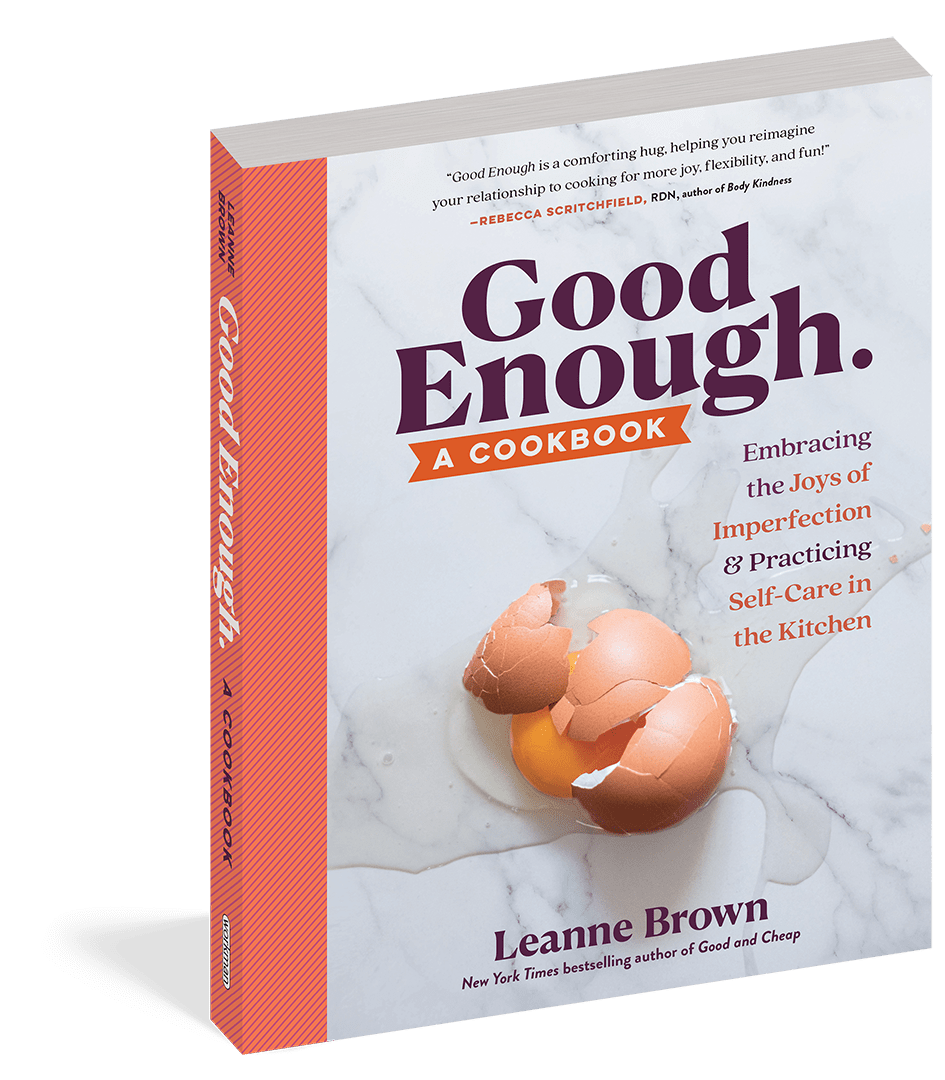 This recipe for Orange Chocolate Cheesecake Pots is from a new cookbook called "Good Enough. A Cookbook. Embracing the Joys of Imperfection & Practicing Self-Care in the Kitchen," by Leanne Brown (Workman Publishing; 2022: $19.95). You might know Brown as the New York Times bestselling author of "Good and Cheap: Eat Well on $4/Day," which showed that kitchen skill, not budget is often key to great food. That first book made a difference in the world as she helped those with limited funds (living on the U.S. food stamp allotment of $4 a day) eat whole, unprocessed foods and enjoy a home-cooked meal. This new book embraces the joys of imperfection, in and out of the kitchen.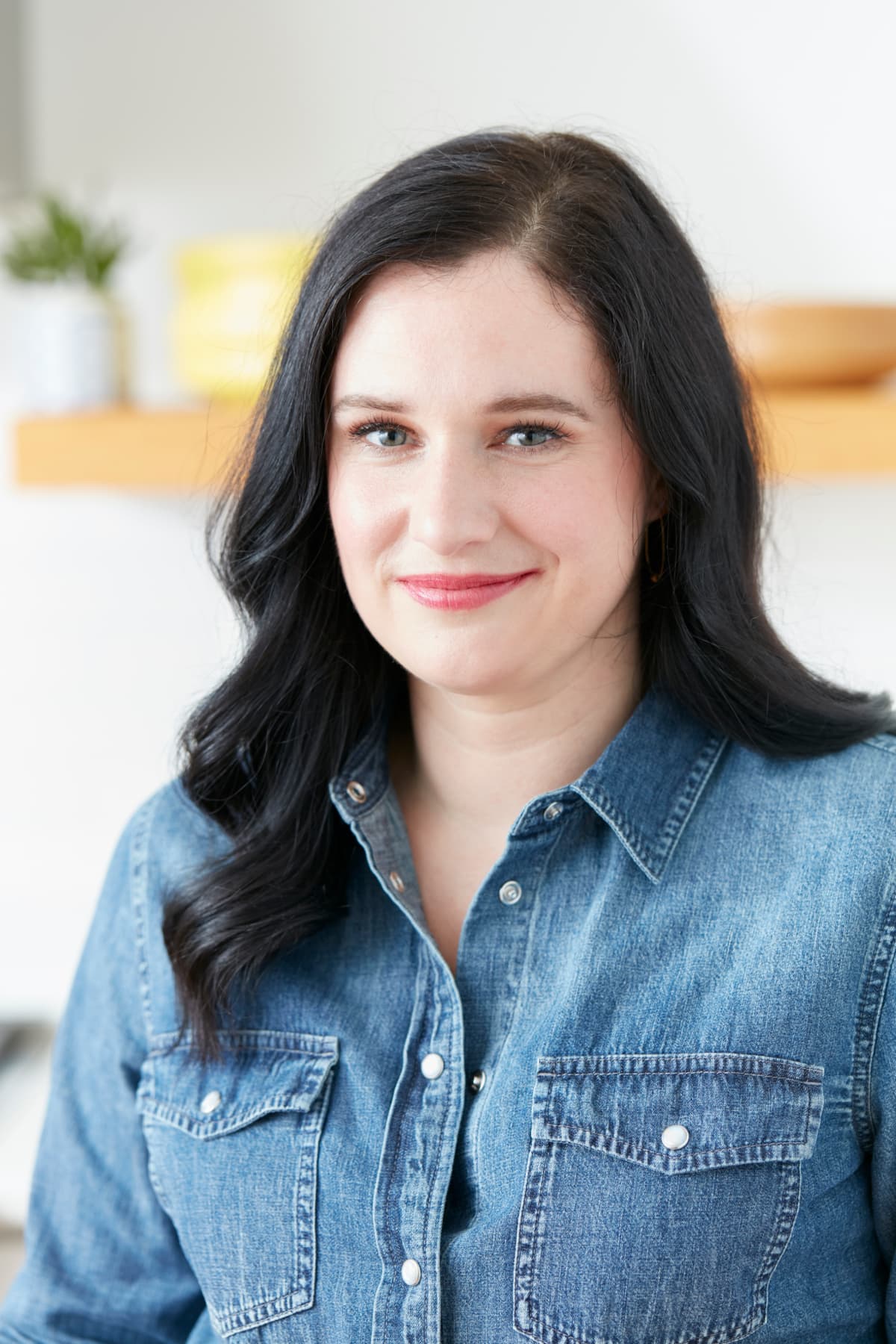 Many will be able to relate to Leanne's vulnerabilities as she talks about self-care, mental health and forgiving yourself. You'll feel like you've found a friend in her, as she tackles the emotional barriers, and shows us that we all deserve to eat well.
It's a deeply personal cookbook that delves into the feelings that surround food — anxiety, self-doubt, guilt — and leads us to what she has come to know: "If you cook with self-compassion, you can enjoy the experience, appreciate the great meals, laugh at the not-so-great ones, and generally live your cooking life with way less fear."
The 100 or so recipes in the book help you exercise culinary self-compassion AND get your meal on the table. Honestly, I am savoring this book for her personal messages as well as her recipes. She has 2 great little asides on recipes: one, "feeling adventurous?" is suggestions to offer inspiration for cooks to change things up or use ingredients they have on hand. The second is the brilliant TL;DR at the beginning of each recipe. TL;DR stands for "too long, didn't read" and her brief description of each recipe eases any anxiety you might have undertaking it.
Pin the image below for Orange Chocolate Cheesecake Pots to your Pinterest board to save this recipe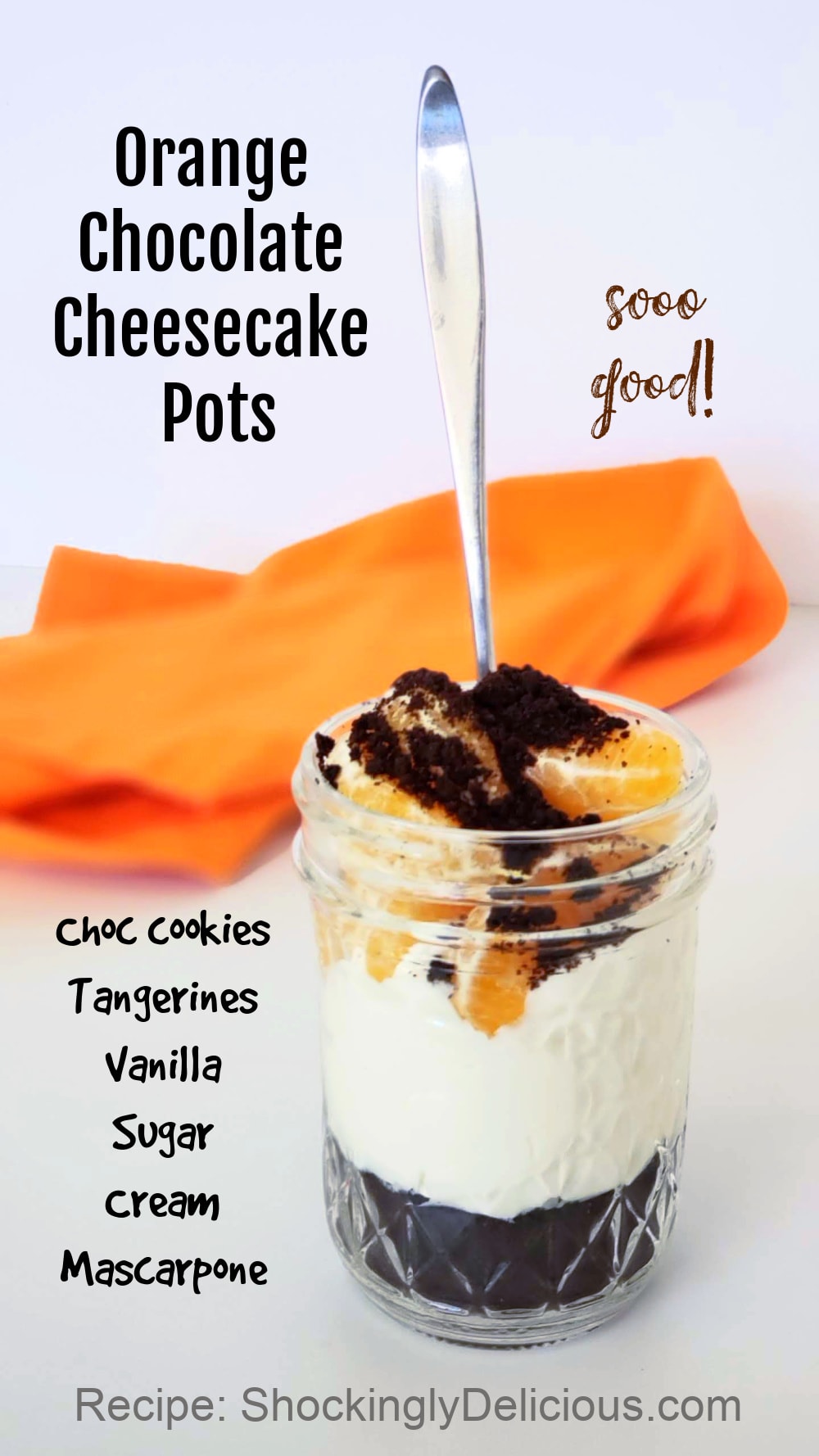 More cheesecake recipes on Shockingly Delicious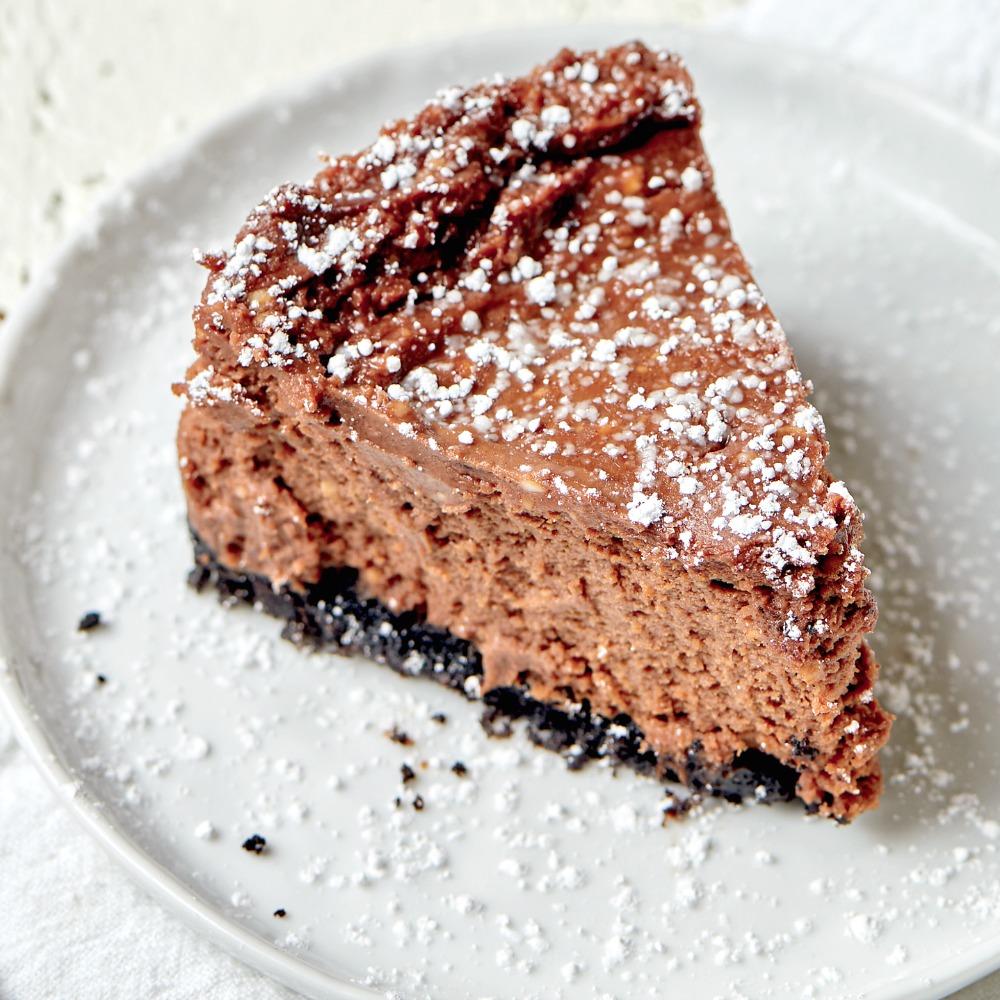 Double Chocolate Fudge Cheesecake in the Instant Pot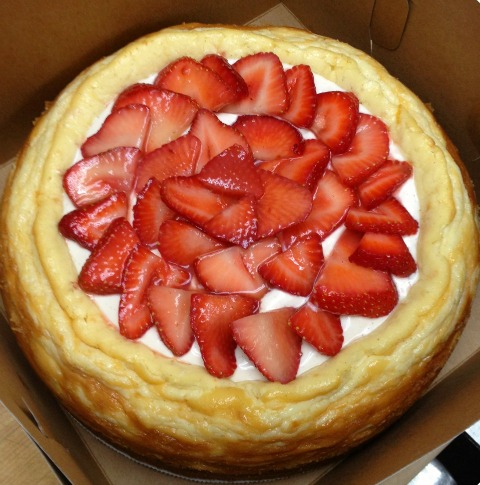 Blue Ribbon Meyer Lemon Mascarpone Cheesecake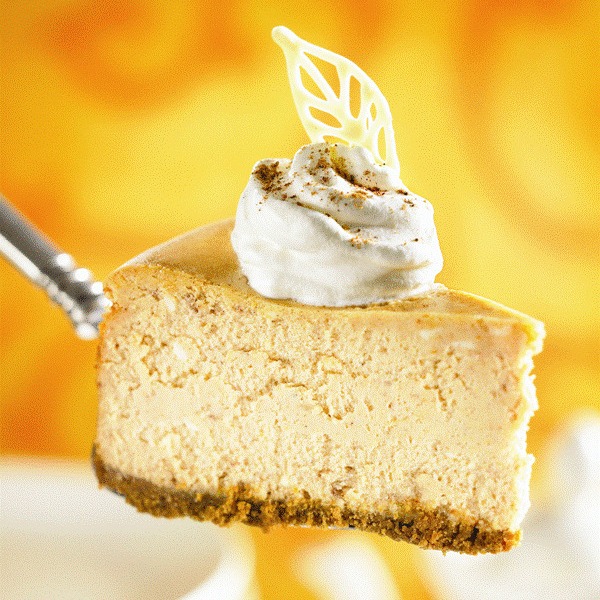 Maple Pumpkin Cheesecake
Thanks for visiting…are you hungry for more? Follow Shockingly Delicious on…
FACEBOOK | PINTEREST | INSTAGRAM | TWITTER
…for all the latest recipes, ideas and updates!
This post may contain affiliate/referral links. It is a way for this site to earn advertising fees (at no cost to you) by advertising or linking to certain products and/or services that I approve and prefer. Thank you for using my affiliate link to shop, so I can continue to bring you shockingly delicious recipes!