Print This Post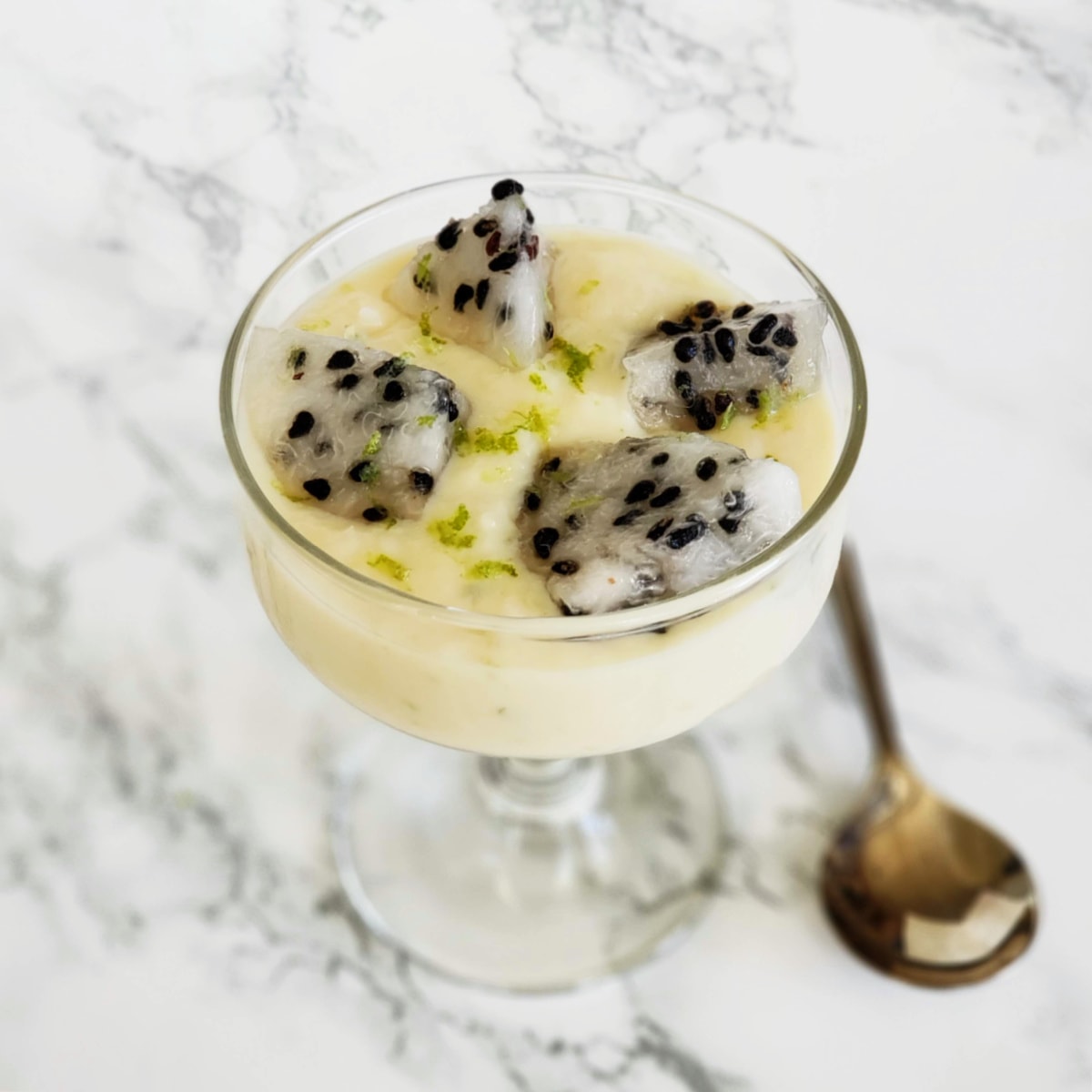 Easy Coconut Pudding is for coconut lovers. The coconutty goodness is deeply comforting and satisfying. Garnish with dragon fruit, banana, pineapple, papaya or another tropical fruit, for an island feel.
This post is sponsored in conjunction with #SpringSweetsWeek. I received product samples from sponsor companies to help in the creation of the #SpringSweetsWeek recipes. All opinions are mine alone.
Coconut seems to be one of those foods people either love or hate. I love it. Many of my relatives and friends profoundly hate it. So I have to be careful when I make dessert for them.
So I've resorted to hiding my bag of coconut and snitching pinches of it when my craving strikes. But once I made this Coconut Pudding — just for myself! — I stumbled upon the thing that transcends all coconutty goodness.
PLUS: It makes enough for 4, so even if you happen to be the only coconut lover at your house, the amount is still small enough to be manageable.
How to make Coconut Pudding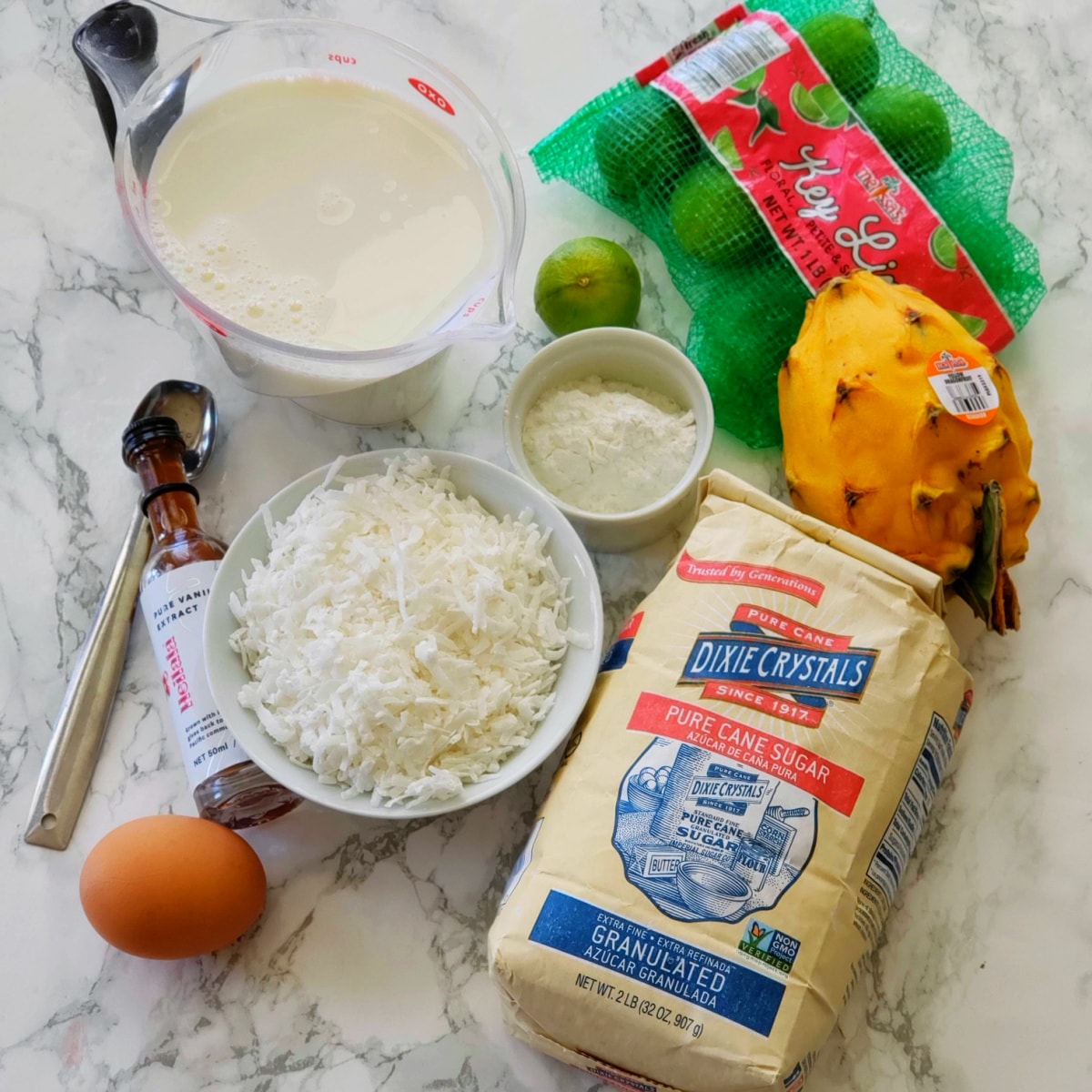 First, gather your ingredients. For this easy Coconut Pudding, you'll need
milk
coconut
sugar (I'm using Dixie Crystals, one of our sponsors this week)
cornstarch
salt
egg
vanilla extract
dragon fruit (I'm using a white dragon fruit from Melissa's Produce, one of our sponsors this week
limes, optional (I'm using key limes from Melissa's Produce, a sponsor)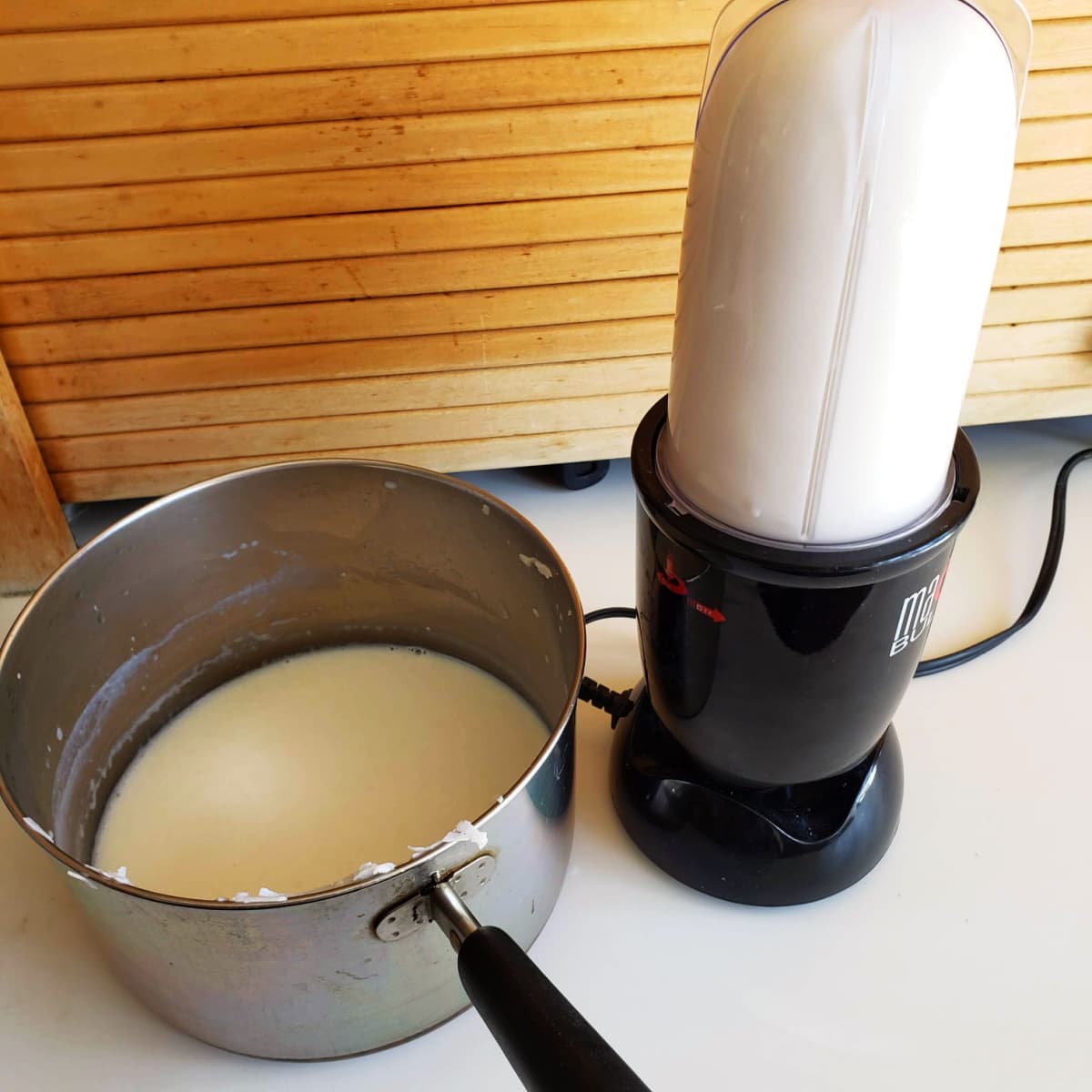 Steep the coconut in hot milk, and then puree it in a blender. I did it in several batches in my mini blender.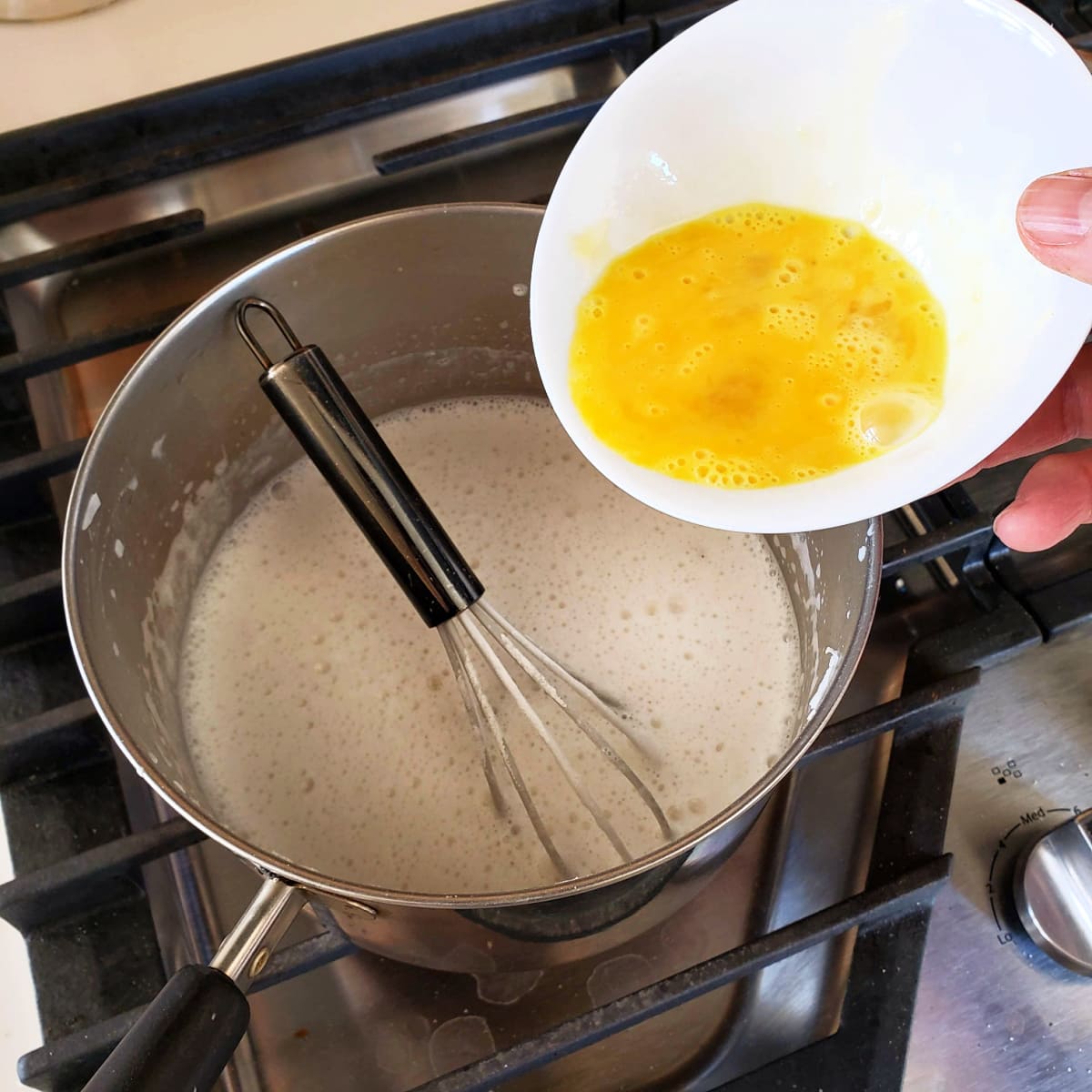 Return the coconut-milk mixture to the stove, and whisk in the sugar, cornstarch, salt, and egg.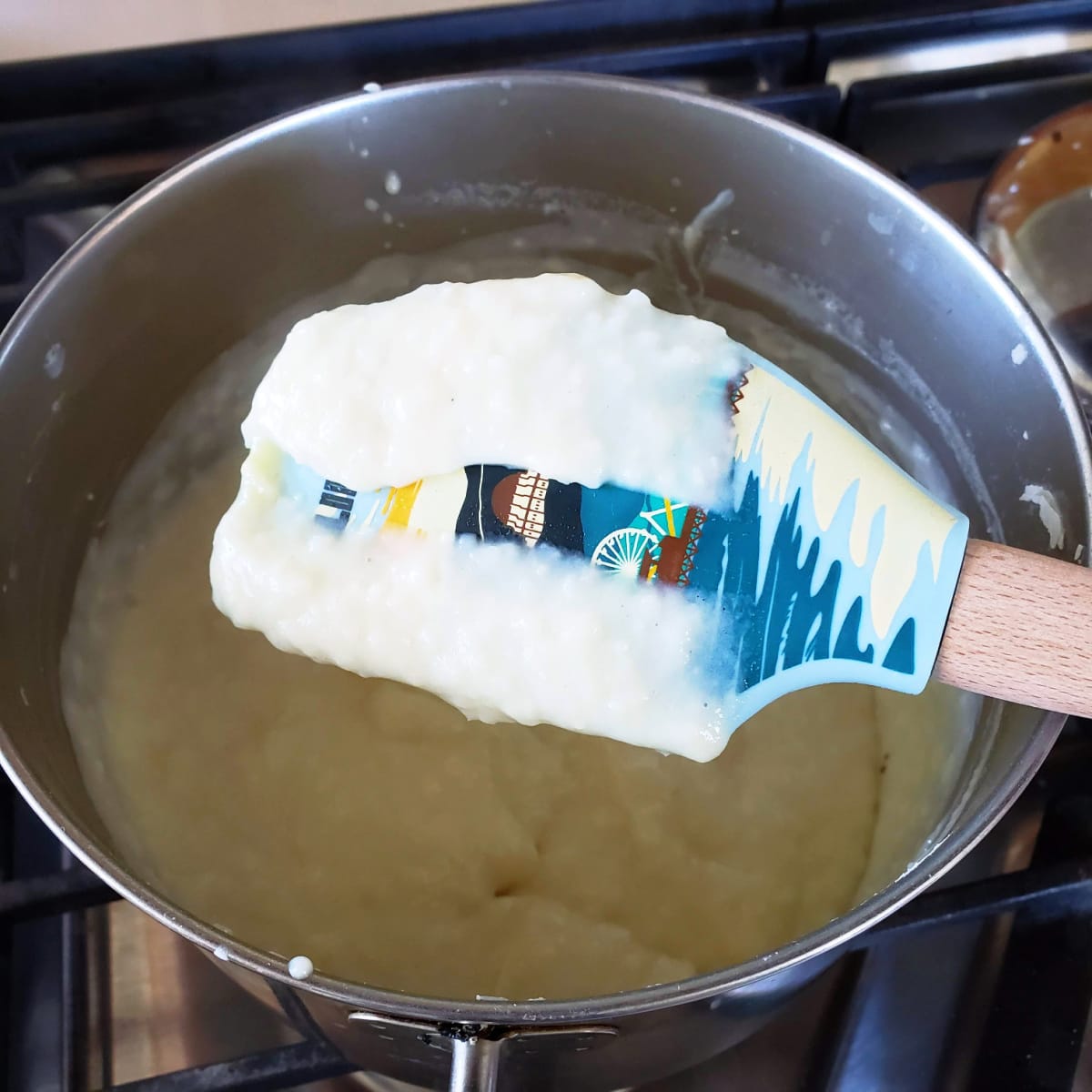 Boil until it thickens. You can draw your finger across the spoon or spatula and see how thick it is.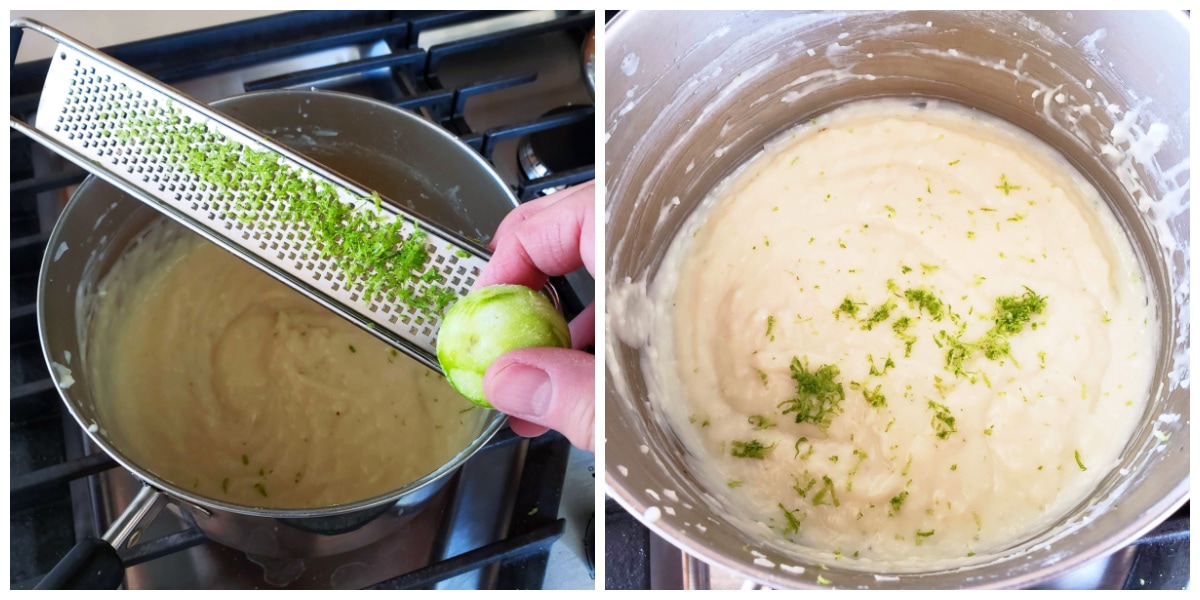 Zest a couple of key limes with a microplane zester, and stir most of it into the pudding, if you like. I like!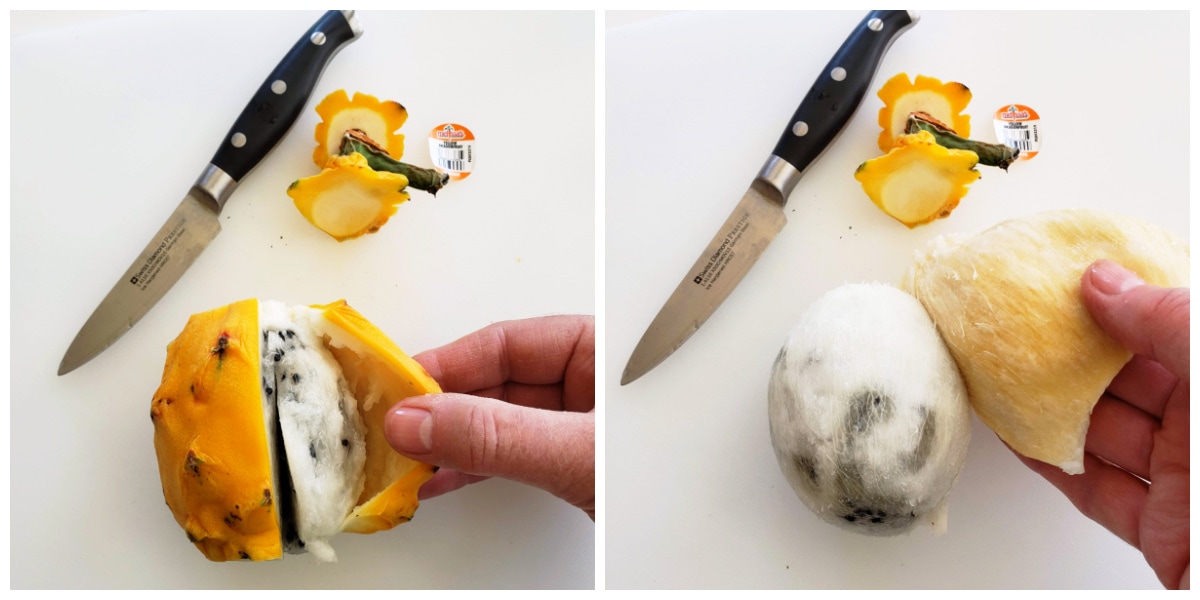 Peel the skin off the dragon fruit. Cut a slim slice off both ends, then a vertical shallow slit in the skin, and then peel off the skin in one piece.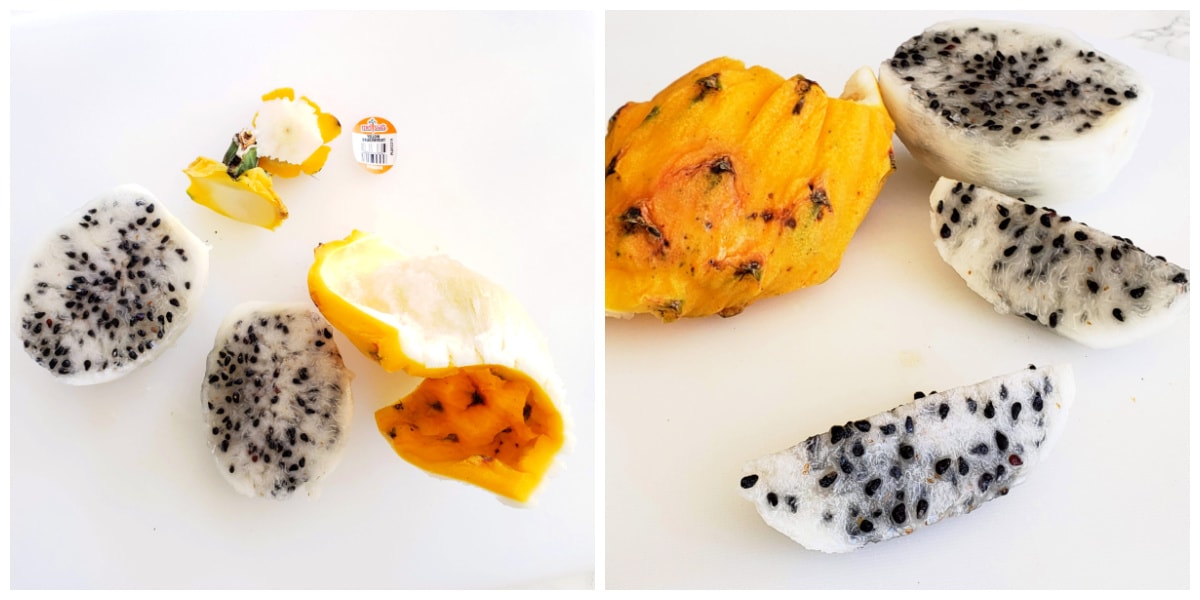 You can slice the dragon fruit in round slices, chunks, or however you want it. It's gorgeous, isn't it?I chose to cut it into cubes to top the Coconut Pudding. I didn't want it to disappear into the pudding.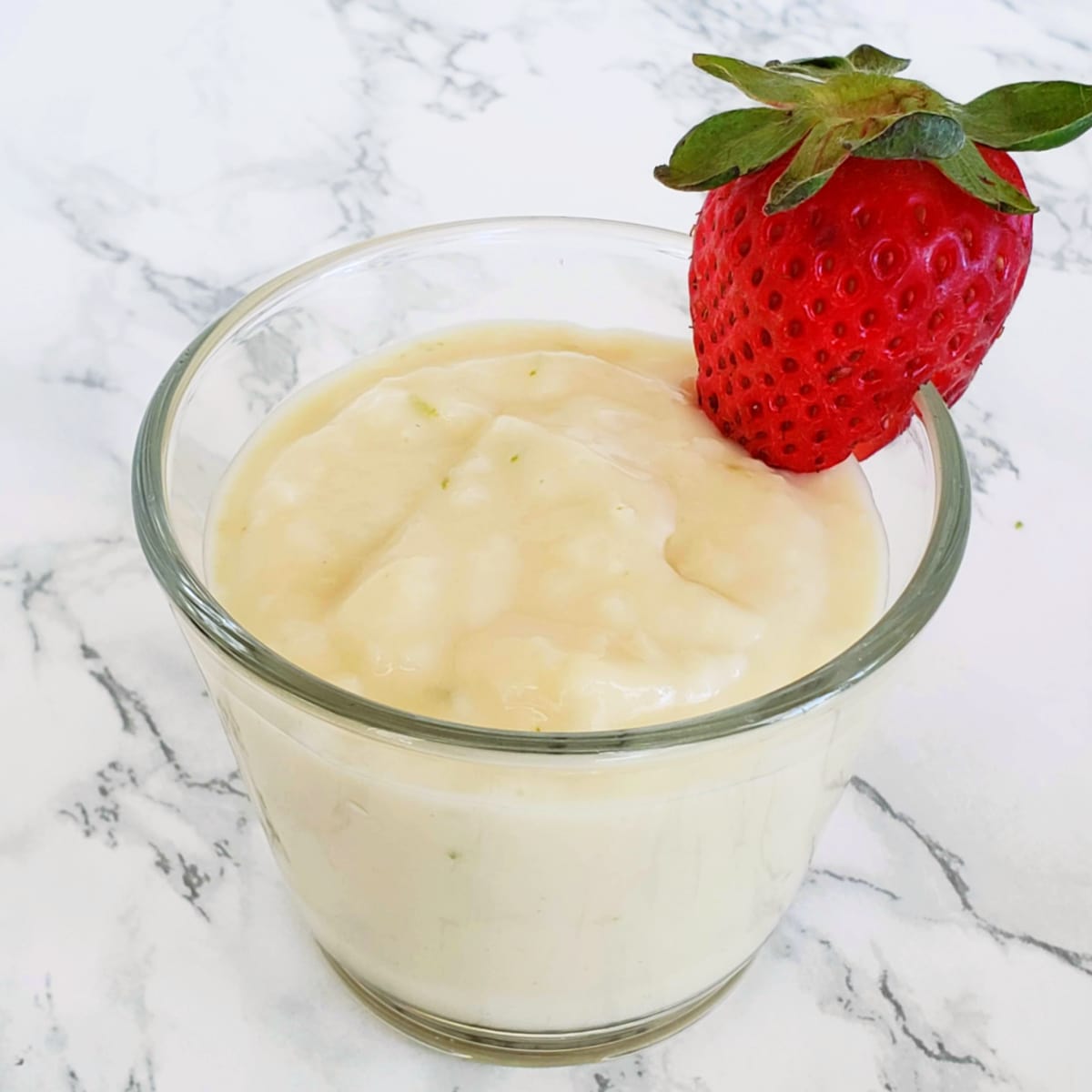 You can top the pudding with any other fruit you'd like. How about…
strawberries
sliced banana
sliced mango
sliced papaya
pineapple chunks
kiwi slices or any other fruit that appeals to you!
This isn't going to convert anyone who detests coconut, but it makes life a lot sweeter for those of us who hold the correct opinion.
Easy Coconut Pudding is for coconut lovers. The coconutty goodness is deeply comforting and satisfying. Garnish with dragon fruit, banana, pineapple, papaya or another tropical fruit, for an island feel. 
Ingredients
2 1/2 cups milk (regular, low-fat or non-fat is fine, as is plant-based milk)
1 cup sweetened coconut flakes
1/3 cup sugar
3 tablespoons cornstarch
1/4 teaspoon salt
1 large egg
2 key limes, zested (optional but recommended)
2 teaspoons vanilla extract
Garnish: Slices of dragon fruit, or other tropical fruit such as banana, pineapple or papaya
Directions
In a heavy 2-quart saucepan, bring milk to a simmer. Add coconut, remove from heat, cover pan and allow coconut to steep for 20 minutes. Puree in blender in batches, until relatively smooth, about 1-2 minutes. Do this in batches if you have a small blender. Return coconut mixture to saucepan.
In a small bowl, combine sugar, cornstarch and salt. Gradually pour sugar mixture into coconut mixture in pan, whisking constantly to combine. Whisk in egg. Turn heat on to medium and stir pudding over medium heat until the mixture boils and thickens, about 5 or so minutes. Stir in lime zest, if you are using it (save a bit to fling on the top if you like).
Remove pan from heat, cool it for 10-15 minutes and stir in vanilla. Cool pudding completely and refrigerate.
If I know I am making it for a dinner, I will pour the pudding into individual little bowls or glasses, for a pretty serving idea. Or leave it in one bigger bowl for family-style serving. Refrigerate.
When it is time to serve the pudding, garnish with slices or chunks of dragon fruit (or your choice of topping). This is the time to fling on extra lime zest if you want.
To cut a dragon fruit, slice each end off (horizontally), then make a shallow cut vertically. Peel off the skin in one piece, and slice or chunk the dragon fruit as you like.
Notes
Recipe source: Dorothy Reinhold | Shockingly Delicious
https://www.shockinglydelicious.com/coconut-pudding/
Copyright Dorothy Reinhold | ShockinglyDelicious.com. All rights reserved.
Pin the Coconut Pudding image below to your Pinterest board to save this recipe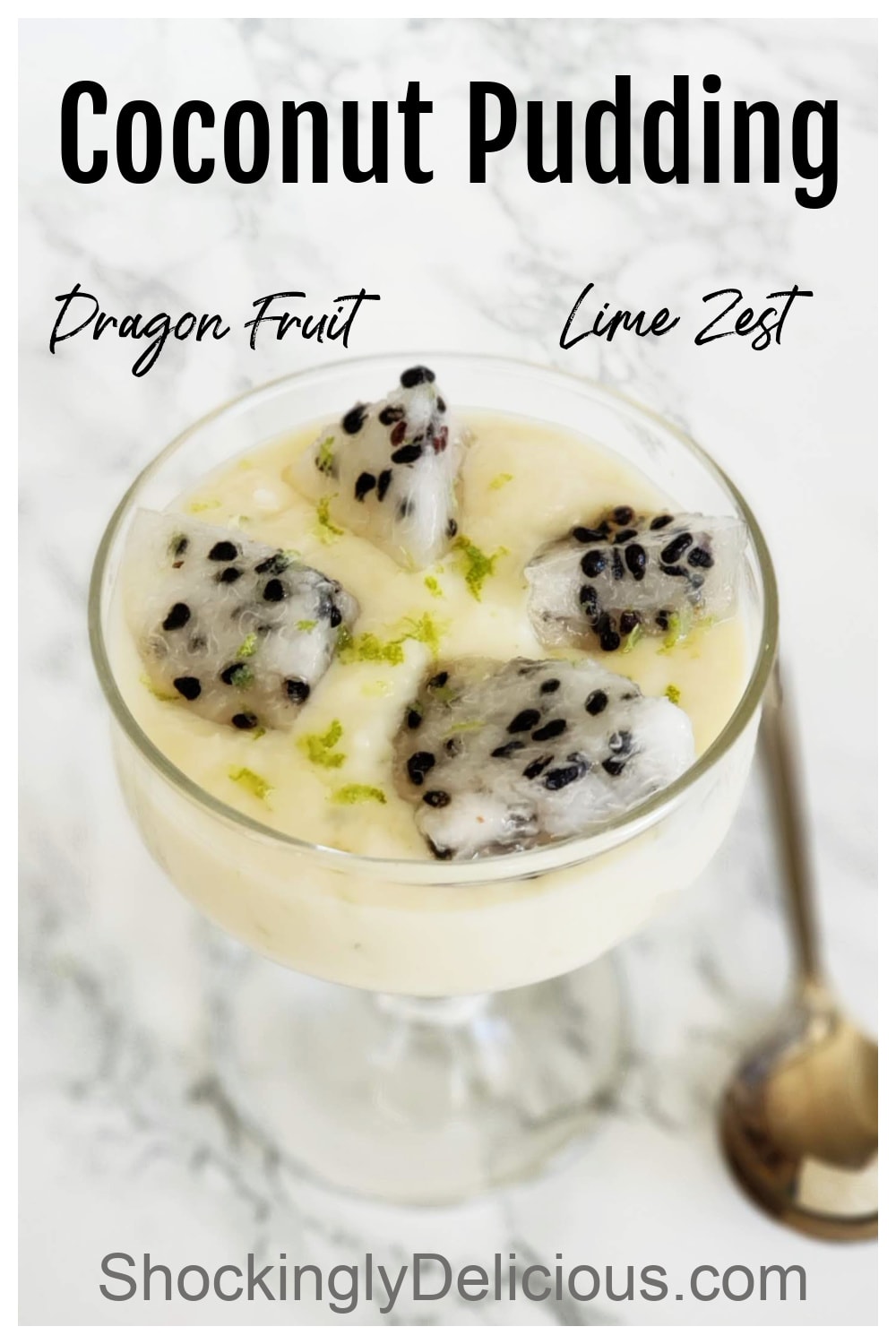 It's Spring Sweets Week!
Welcome to #SpringSweetsWeek 2022 hosted by Heather from Hezzi-D's Books and Cooks! Flowers are starting to bloom, the weather is getting warmer, and we're celebrating with spring sweets and a fun giveaway! This year 22 food bloggers from around the country are sharing over 75 sweet recipes that are perfect for spring. So get ready to enjoy amazing spring treats like cupcakes, cookies, pies, dessert boards, and even a few beverages! Our #SpringSweetsWeek sponsors are helping us give away some great prizes. Thank you to Dixie Crystals, Melissa's Produce, Anolon, Sweets & Treats, Taylor and Colledge, and Nairn's for your generosity. We have an incredible giveaway with six amazing prizes and would love if you would take a moment to read about it and the prizes that you can win!
Prize #1: A $100 gift card to Melissa's Produce and a 3 month produce subscription.
One winner will receive a $100 gift card to buy the freshest produce around! Melissa's has everything from common apples and oranges to exotic passion fruit and rambutans. The winner will also receive a stunning selection of the most delicious produce around once a month for 3 months. At Melissa's Produce, the produce is selected at their peak perfection and packed by hand to ensure a safe arrival. A $224 value.
Prize #2: A candy making kit from Dixie Crystals
Perfect for the candy making novice or even the most advanced candy maker! Dixie Crystals is providing one winner with everything they need to make candy. The winner will receive a waterproof candy thermometer, silicone candy molds, and stainless steel double boiler. A $50 value.
Prize #3: A 5 piece Bakeware set from Anolon
Create dozens of bakeshop treats from gooey bar cookies to peanut butter and chocolate brownies to banana nut bread and more with all of the essentials in an expertly curated nonstick bakeware set. This bakeware is designed to stand up to the rigors of everyday baking with the convenience craved by creative bakers. This 5 piece baking set includes Two 9-Inch Round Cake Pans, a 9-Inch Square Cake Pan, a 14-Inch x 16-Inch Cookie Sheet, and a 11-Inch x 14-Inch Cooling Rack. A $65 value.
Prize #4: An assorted box of baking supplies from Sweets & Treats
Sweets & Treats will provide one winner with an assorted box of baking supplies including liners, sprinkles, toppers, and other fun baking supplies. Sweets & Treats has the best selection of cupcake liners, cupcake topper, paper straws, and molds.
Prize #5: A Selection of three extract pastes from Taylor and Colledge.
One winner will receive a selection of extracts to include almond, lemon, and lavender. In 1897, Taylor & Colledge won its first award for excellence in vanilla. Since then, the Taylor & Colledge commitment for unsurpassed quality has earned its reputation as one of the world's finest producers of vanilla.
Prize #6: A selection of three flavors of Gluten-Free Grahams from Nairn's.
One winner will receive a box of each Nairn's Original, Chocolate Chip, Stem Ginger Oat Grahams. Nairn's has been baking oats since 1896. They use simple, natural, and wholesome ingredients in their products.
Enter giveaway here!
Monday #SpringSweetsWeek Recipes
We share recipes from #SpringSweetsWeek on Pinterest! Make sure you follow the board to see all the delicious recipes shared this week.
Disclosure: Thank you #SpringSweetsWeek Sponsors: Dixie Crystals, Anolon, Sweets & Treats, Melissa's Produce, Taylor and Colledge, and Nairn's for providing the prizes free of charge. These companies also provided the bloggers with samples and product to use for #SpringSweetsWeek recipes. All opinions are my own. The #SpringSweetsWeek giveaway is open to residents of the United States who are 18 years of age or older. All entries for the winner will be checked and verified. By entering you give the right to use your name and likeness. The number of entries received determines the odds of winning. Six (6) winners will be selected. The prize packages will be sent directly from the giveaway sponsors. The #SpringSweetsWeek Bloggers are not responsible for the fulfillment or delivery of the prize packages. Bloggers hosting this giveaway and their immediate family members in their household cannot enter or win the giveaway. No purchase necessary. Void where prohibited by law. This promotion is in no way sponsored, endorsed or administered by, or associated with Facebook, Instagram, Pinterest, Twitter or any other social channel mentioned in the #SpringSweetsWeek posts or entry.
Thanks for visiting…are you hungry for more? Follow Shockingly Delicious on…
FACEBOOK | PINTEREST | INSTAGRAM | TWITTER
…for all the latest recipes, ideas and updates!
This post may contain affiliate/referral links. It is a way for this site to earn advertising fees (at no cost to you) by advertising or linking to certain products and/or services that I approve and prefer. Thank you for using my affiliate link to shop, so I can continue to bring you shockingly delicious recipes!