Print This Post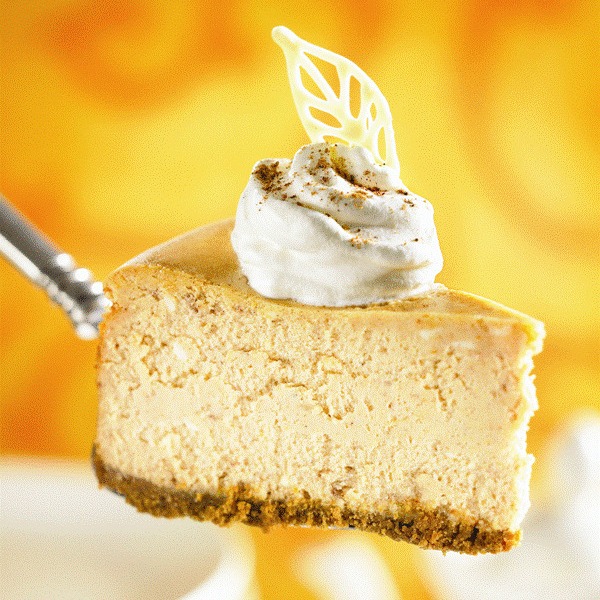 Two favorite fall flavors combine in a smooth, creamy Maple Pumpkin Cheesecake to star at your holiday table, or anytime you want a surefire crowd pleaser.
I wouldn't be so cheeky as to suggest you do away with pumpkin pie this holiday season, but I will suggest you add this Maple Pumpkin Cheesecake to your dessert repertoire. Maybe even offer it alongside the pie, and see which one goes first. Or Maybe you'll discover a favorite new recipe for your family and friends.
It's a winning recipe from chef and author George Geary. He made cheesecake crave-worthy to all of us by making the luscious cheesecakes eaten by "The Golden Girls" each night they appeared on TV. George also was the first award-winning pastry chef for the Walt Disney Company at Disneyland. Unforgettable cheesecakes became his culinary calling card.
I've met George a few times at various events, and he is so nice and has such a good sense of humor; if you have a chance to take one of his classes sometime, do it! He freely shares tips and hints so you'll have success with his recipes.
George let us in on the secret of his cheesecakes in his first cookbook, "125 Best Cheesecake Recipes" in 2002, and that was such a hit he followed up with the bestselling "The Cheesecake Bible" in 2008. He added 90 more recipes to his latest, "The Cheesecake Bible Second Edition" and included vegan, gluten-free, savory cheesecakes, holiday favorites like this Maple Pumpkin Cheesecake, bars, cheese pies and breakfast items. If you're a cheesecake lover, this is your book, and George is your new best friend.
As we head into the holiday season, sign up with confidence for the potluck list. Write Maple Pumpkin Cheesecake under the dessert category. And then claim your best-baker prize once everyone has tasted it.
Two favorite fall flavors combine in a smooth, creamy Maple Pumpkin Cheesecake to star at your holiday table, or anytime you want a surefire crowd pleaser.
Ingredients
Crust

2 ½ cups (625 ml) graham cracker crumbs
1 teaspoon (5 ml) ground ginger
1/3 cup (75 ml) unsalted butter, melted
.

Filling

2 ¼ pounds (1.124 kg) cream cheese, softened to room temperature
1 cup (250 ml) sour cream
2 ¼ cups (550 ml) granulated sugar
6 large eggs, at room temperature
1 cup (250 ml) pumpkin puree (puree, not pie filling)
½ cup (125 ml) all-purpose flour
½ cup (125 ml) pure maple syrup
1 tablespoon (15 ml) ground cinnamon
½ teaspoon (2 ml) freshly grated nutmeg
¼ teaspoon (1 ml) ground allspice
3 tablespoons (45 ml) freshly squeezed lemon juice
1 tablespoon (15 ml) vanilla extract
.

Decoration

Whipped Cream Topping (see recipe below in instructions)
Directions
Heat oven to 350F degrees.

Make the crust:

In a bowl, combine graham cracker crumbs, ginger and butter. Press into bottom of a 10-inch (25 cm) cheesecake pan or springform pan with 3-inch (7.5 cm) sides. Put in the freezer.

Make the filling:

In a mixer bowl fitted with paddle attachment, beat cream cheese, sour cream and sugar on medium-high speed until very smooth. Add eggs, one at a time, beating after each addition. Fold in pumpkin, flour, maple syrup, cinnamon, nutmeg, allspice, lemon juice and vanilla by hand.
Pour over frozen crust, smoothing out to sides of pan. Bake in heated oven until top is light brown and center has a slight jiggle to it, 60-75 minutes. Let cool in pan on a wire rack for 2 hours. Cover with plastic wrap and refrigerate for at least 6 hours before decorating or serving.

Decoration:

Ice top of cake with Classic Whipped Cream Topping or pipe a ribbon of it around border, if you like. To make Classic Whipped Cream Topping, you'll need ½ cup heavy or whipping cream and 2 tablespoons granulated sugar. In a well-chilled mixer bowl fitted with whip attachment, whip cream on medium-high speed until soft peaks form. With mixer running, sprinkle with sugar and whip until firm peaks form. (If you want Chocolate Whipped Cream, stir in 3 ounces (90 g) melted semisweet chocolate.)
Serves 18-20.

Variation:

Fold 1 cup (250 ml) chopped hazelnuts into the filling for a crunchy top.
Notes
Recipe source: "The Cheesecake Bible Second Edition): 300 Sweet & Savory Recipes for Cakes and More" by George Geary (2018, Robert Rose Inc.). Used with permission.
https://www.shockinglydelicious.com/maple-pumpkin-cheesecake/
Copyright Dorothy Reinhold | ShockinglyDelicious.com. All rights reserved.
Pin the image below to your Pinterest board to save this recipe for Maple Pumpkin Cheesecake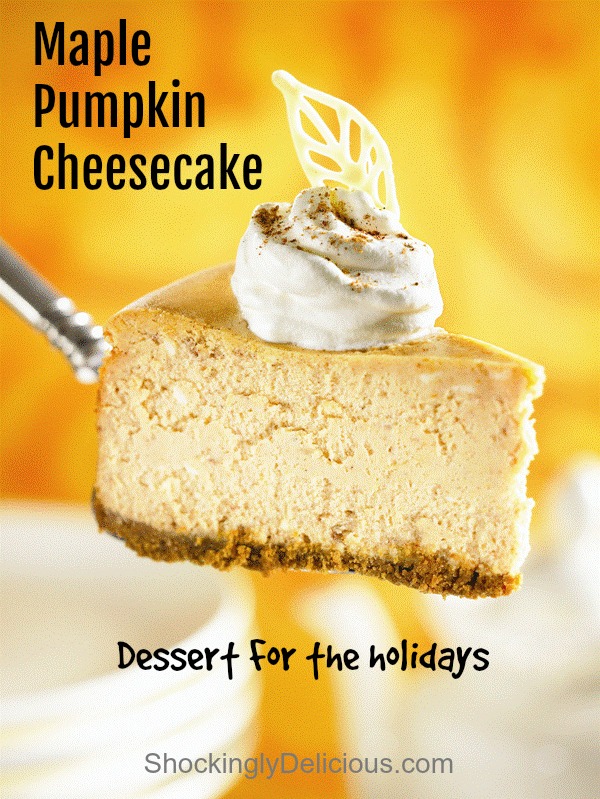 Last year I made these 3 recipes for Pumpkin Week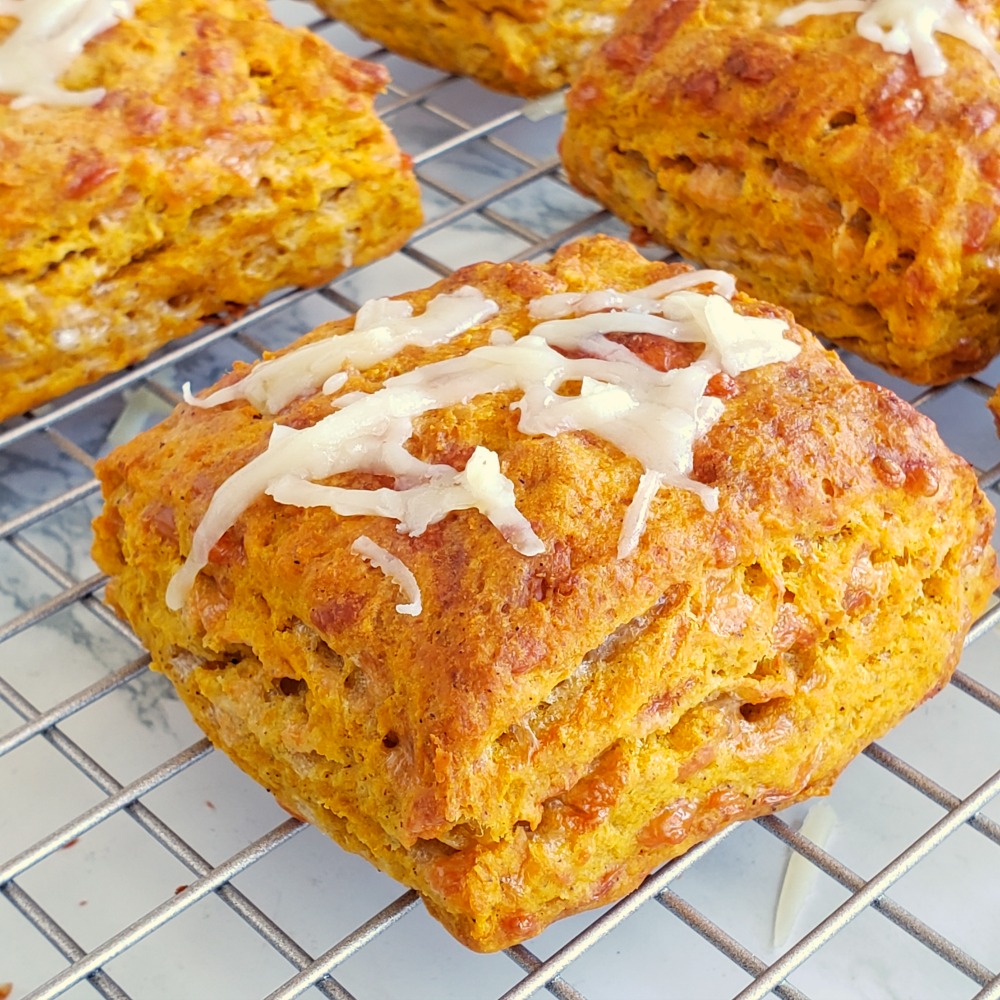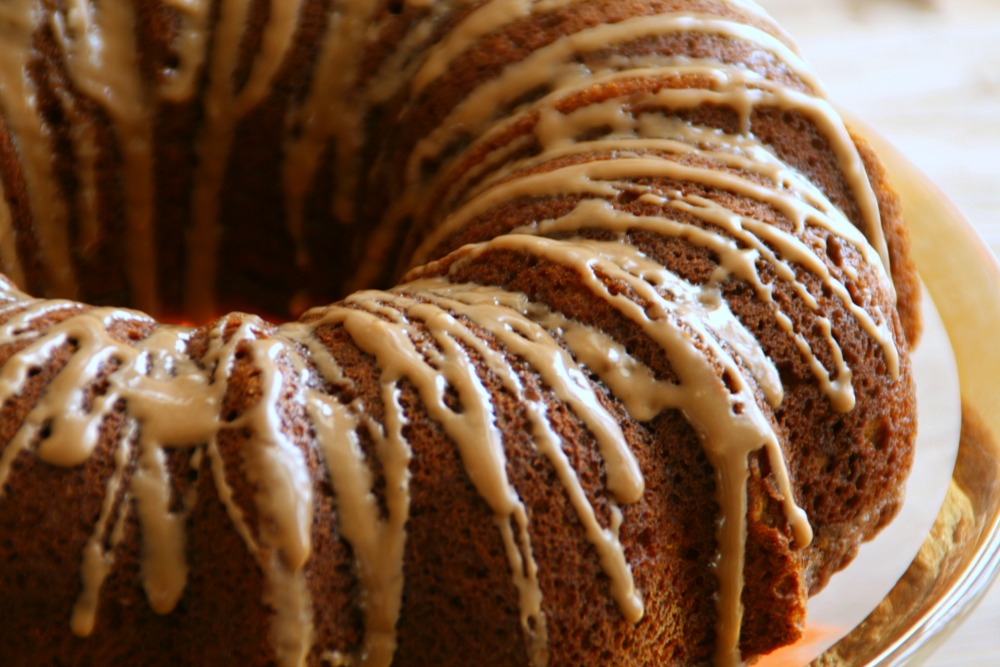 Spiced Pumpkin Pecan Bundt Cake with Maple Glaze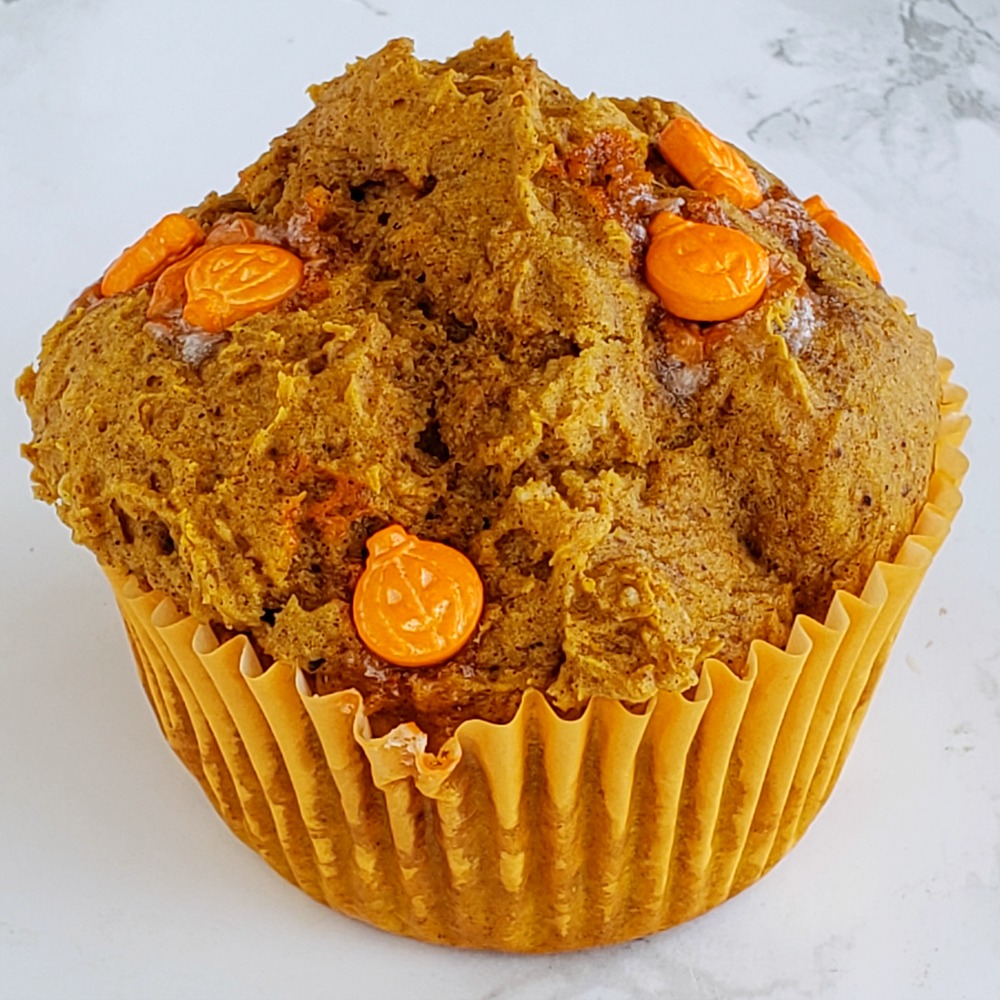 Super Easy Cheater Pumpkin Muffins
Thanks for visiting…are you hungry for more? Follow Shockingly Delicious on…
FACEBOOK | PINTEREST | INSTAGRAM | TWITTER
…for all the latest recipes, ideas and updates!
This post may contain affiliate/referral links. It is a way for this site to earn advertising fees (at no cost to you) by advertising or linking to certain products and/or services that I approve and prefer.