Print This Post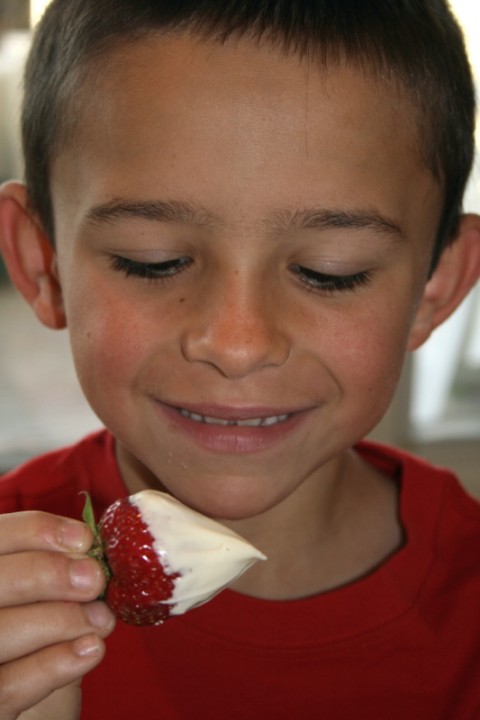 A little light and lemony whipped cream dip is a good thing when you have an orgy of strawberries straight from the fields of Camarillo. Make your Sunday brunch or holiday dessert super simple by buying some fresh strawberries at the farmer's market. Then wash, pat dry and serve them with green caps on — think of the caps as handles to grab for dipping.
This deceptively easy dip has only two ingredients, and is so good you will no doubt find many other uses for it, such as spooned on top of gingerbread or muffins, or even spread on pancakes. I'll bet you could even frost a cake with it!
Or stand there and eat it with a spoon.
But. That. Would. Be. Wrong.
Lemon Whip
This is also good spooned on top of gingerbread, pound cake, or with muffins or even pancakes!
3-4 ounces prepared lemon curd (or lime curd)
1/2 cup heavy whipping cream
1 pound whole strawberries, green caps intact
Place curd in bowl and beat it with an electric mixer (using the whisk attachment if you have one). Pour in cream and continue whipping for a couple of minutes until it gets soft and airy.  (You may do this without an electric mixer by simply whipping in a bowl with a whisk, using your own arm power!)
Transfer Lemon Whip into a serving bowl and surround with berries. People can hold the berry by the stem, dip it into the Lemon Whip, and munch!
Alternatively, you may serve individual bowls of sliced strawberries (or other whole berries such as blueberries, raspberries and blackberries), and dollop Lemon Whip on top to serve.
Doubles easily. Store remainder in the refrigerator in a tightly covered container.
Other flavors: Use jarred lime curd for a different approach to the same idea.
Another technique: You may also whip the cream first, and then whip in the curd. This results in a more airy concoction. If you choose to do this, make sure you whip the cream only until it barely has soft peaks, or it may be over whipped by the time you finish combining it with the curd.
Serves 3-4.