Print This Post
One of the pleasures of being a food writer is meeting up with other like-minded bloggers at conferences.
We're all in the same tribe — obsessed with food, delicious flavors and inventive combinations, while we keep an eye out for nutrition, the best of the season and new trends.
My favorite food conference, by far, is Camp Blogaway, a bootcamp for food and recipe bloggers, held yearly in the San Bernardino mountains at a charming place called Camp de Benneville Pines. The bloggers who go there are among the nicest people I've met –routinely smart, clever, ambitious and exactly the kind of folks you'd want to hang around with in a gorgeous mountain setting.
While there, we learn about  photography, food styling, SEO, working with corporations and PR pros, we share success stories, ideas for self marketing, and best practices for writing, editing and publishing. We also share s'mores, good food and wine, because hey, we're food bloggers and we're not going anywhere without good grub.
I just returned from my fourth Camp Blogaway, and — surprise! — I got the coveted Golden Pine Cone award!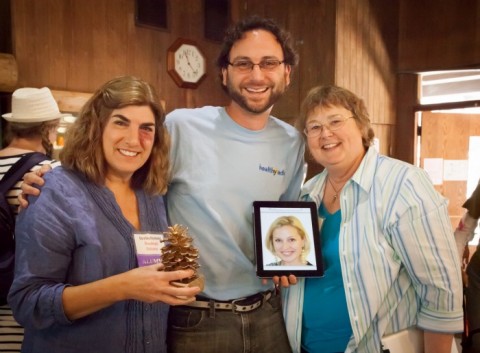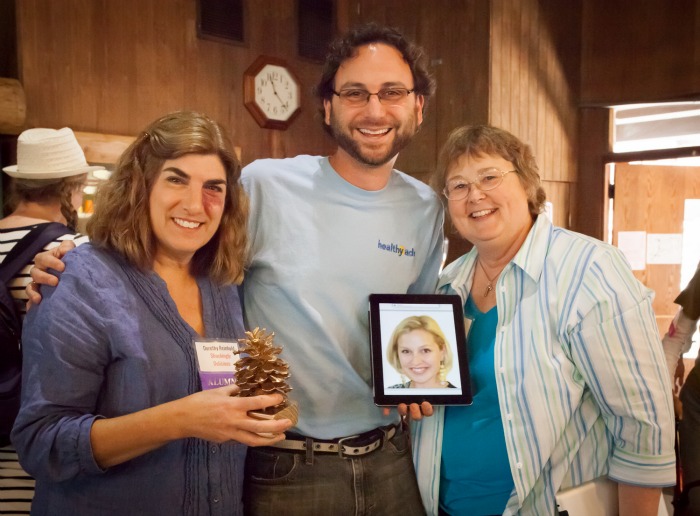 I am flattered and honored to be the fourth recipient of this homespun award for the attendee who most exemplifies the spirit of Camp Blogaway. Pictured above are all of us — from left, moi, Andrew Wilder, Mimi "Avocado" Holtz, and Rachael Hutchings shown in absentia on the ipad.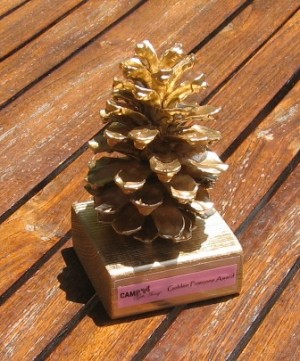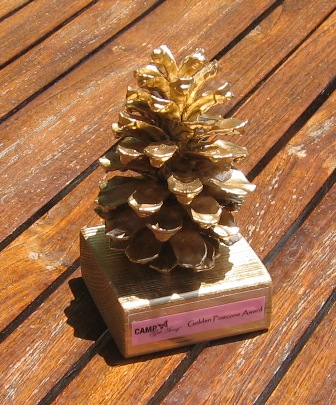 The Golden Pine Cone has been placed on my mantel, where all can admire it. I also appreciate the $50 gift card from Bob's Red Mill that came with it.
Cheers to everyone who made camp so great this year, and I raise a toast to Fearless Leader Patti Londre for creating such a warm, welcoming, productive atmosphere conducive to learning and clarity.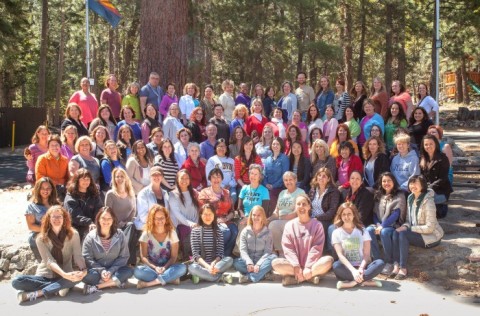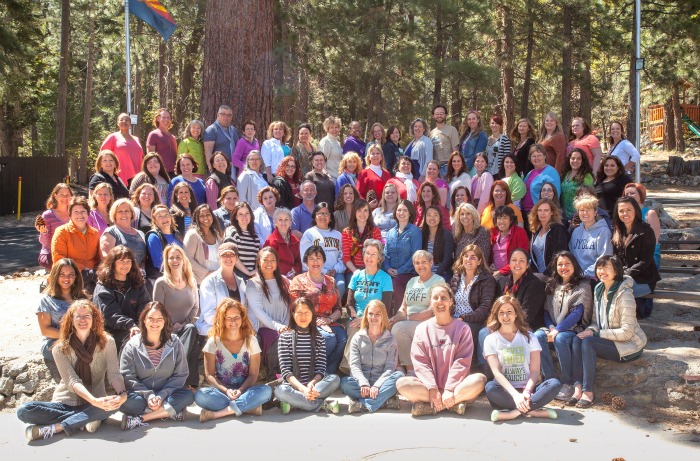 Next year's camp is May 16-18. Mark your calendar right now, and get on the emailing list to get notified when sign-ups open in January. You won't want to miss this!