Print This Post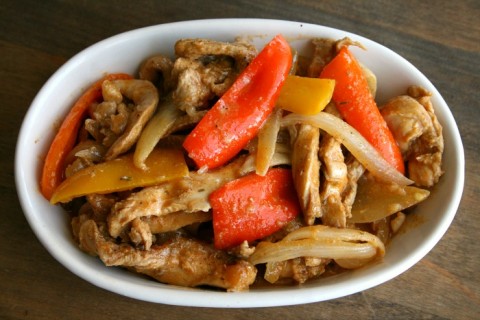 When food needs to be used up, that's when things get creative.
Such is the case with today's Slow Cooker Mexican Chicken Fajitas. I probably should put the word fajitas in quotation marks, because this isn't your usual sizzling, sputtering meat brought to the table in a superheated skillet. Faux fajitas, anyone?
This one is low and slow. I had chicken thighs that needed to be used, and I got to wondering if I could use some traditional fajita seasonings, pair it with the onions and peppers that are used, and emerge with something credible.
Turns out, yes! I ate this faux fajitas on a bed of shredded greens (the hot mixture wilted the greens slightly). Other family members preferred it over rice, or in a tortilla, like a burrito. Each person can suit himself or herself with this plan.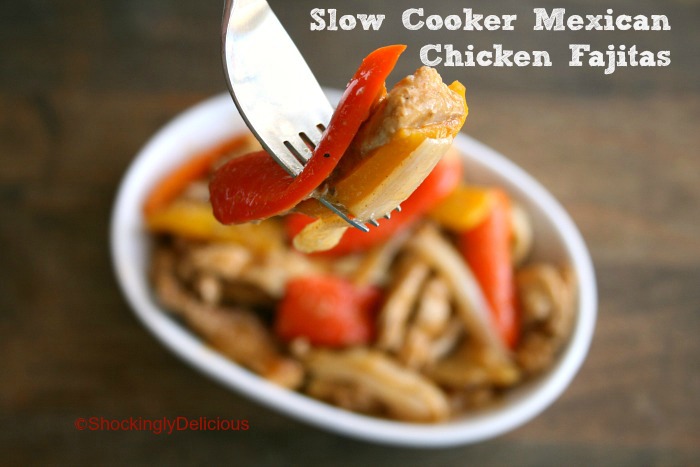 Self-serve, all delicious.
Recipe: Slow Cooker Mexican Chicken Fajitas
Summary: A slow-cooker, Mexican seasoned chicken faux fajitas recipe that can be used in a rice bowl or as burrito filling.
Ingredients
1 onion, peeled and sliced
8 multicolored mini sweet bell peppers, stemmed, seeded and cut into strips (or use 2 full-size peppers)
1 tablespoon Minute Tapioca
1-1 ¼ pounds boneless, skinless chicken thighs, cut into strips
1 ½ tablespoons olive oil
1 ½ tablespoons Meyer lemon juice (or lime juice)
3 garlic cloves, minced or pressed
2 teaspoons ground cumin
2 teaspoons medium chili powder (I used Don Enrique Mild Hatch Chili Powder)
1 teaspoon dried oregano
3 pinches kosher salt
Possible finishers or garnishes:

Salsa or pico de gallo
shredded cheese
chopped fresh cilantro
avocado cut into chunks
Instructions
Mist inside of slow cooker insert with nonstick spray. Add onions, peppers and sprinkle with tapioca. (This will thicken the juices as it cooks.)
In a bowl, add chicken, olive oil, lemon juice, garlic, cumin, chili powder, oregano and salt. Stir well to coat chicken with seasonings. Scrape into slow cooker on top of onions and peppers.
Cover and cook for 3 hours on low. (Do not lift lid to check on it or stir; you will let out too much heat and delay your cooking time.)
To serve, you have options:

Serve over brown rice for a fajita rice bowl, with whatever toppings you like (suggestions in recipe)
Spoon into a tortilla along with heated pinto beans and toppings and eat like a burrito
Instead of rice, serve over shredded lettuce or dark leafy greens, with toppings, for a low-carb fajita bowl.

Serves 4-6, depending on appetites.
Thighs
Thighs rule. They are so much better and more flavorful than chicken breasts that it isn't even a discussion. Sure, you can sub chicken breasts in here, but they are drier, and if they turn to shredded cardboard, don't come crying to me.  😎
Minute Tapioca
This is a great little trick I picked up along the way for slow cooker cooking. If you think the resulting juices will be too juicy, throw in 1 tablespoon of Minute Tapioca at the beginning, and by the time your dish is done hours later, the sauce will most likely be sufficiently thick so it won't need thickening on the stove. Voila!
Preparation time: 15 minutes
Cooking time: 3 hours
Diet tags: Reduced carbohydrate
Number of servings (yield): 6
Culinary tradition: USA (Southwestern)