Print This Post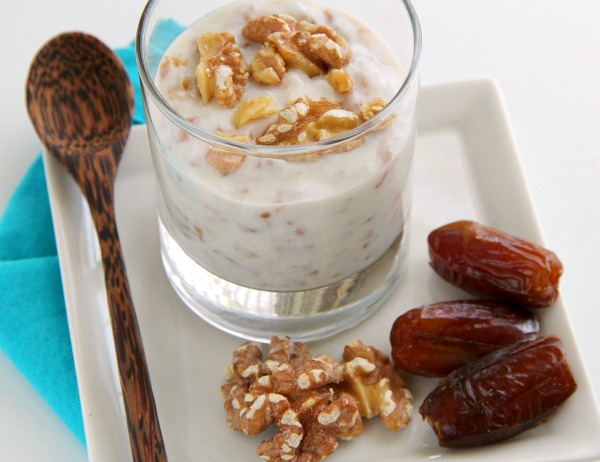 If happy goats make happy yogurt and cheese, then the goats at Redwood Hill Farm must be giddy with glee.
I just made a wonderful new yogurt flavor based on their goat yogurt and I'm shouting from the hilltops about how much better this is than the usual overly sweetened breakfast yogurts.
Let's back up though. The folks at Redwood Hill Farm, a goat dairy and creamery in Sebastapol, Calif. asked me to create a new flavor of yogurt using either their Goat Milk Yogurt or their Green Valley Organics lactose-free cow milk yogurt.
I was happy to accept the challenge, since I have fallen in love with their raw goat feta . And if I open a container of their Chile Chevre to stuff some dates, I might as well kiss it goodbye. Ditto for their Smoked Goat Milk Cheddar. Package opened = gone. When I go to girls' night, the hostess says, "Are you bringing that smoked cheddar?"   
Their plain goat yogurt is ultra smooth and creamy, with a subtle earthy flavor that just hints of cabra. It's the perfect palette onto which you might mix any number of artistic flavors – fresh fruit (peaches! blueberries!), or maybe some aromatic herbs like rosemary (with orange segments?) or lavender.
I took my imagination on a giant side trip to Morocco, though, and stirred in dates and preserved lemon, for a frisky, naturally sweet and tangy combo.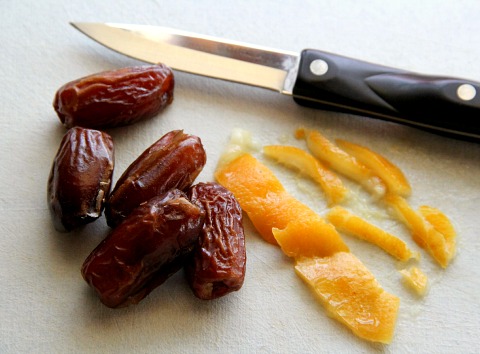 Toasted walnuts finished it off with some crunch, for an elegant, sophisticated lunch or snack.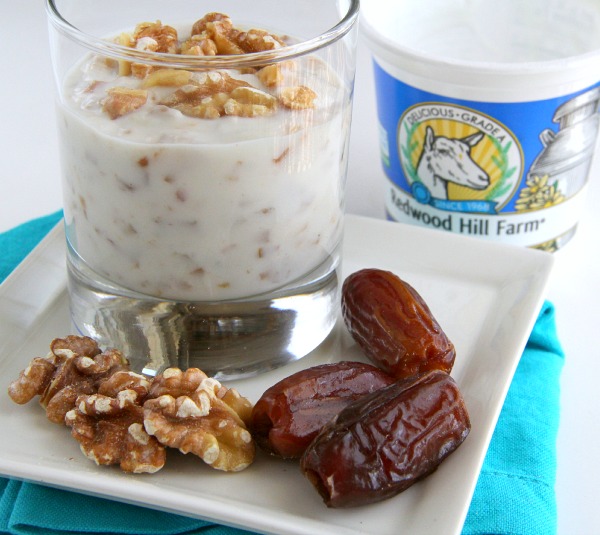 I invite you to grab a spoon, some goat yogurt and let your creative culinary ideas loose. Whisk yourself away from your usual tedious yogurt. Try my new flavor, or create one of your own!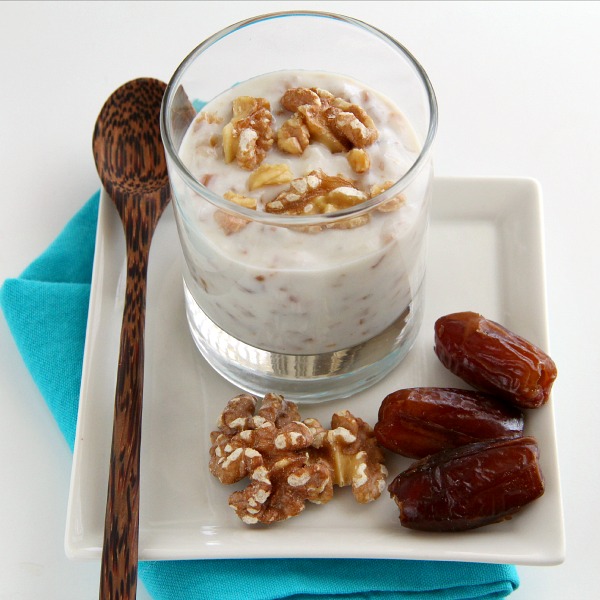 Giveaway: Lucky you! Tell me your own flavor creation and you will be eligible to win products from Redwood Hill Farm. You can see the giveaway below the recipe.

Recipe: Moroccan Goat Yogurt with Dates and Preserved Lemon
Summary: Earthy, sweet-tart flavor makes a surprising breakfast, elegant lunch or snack that strays far from the usual over-sweetened yogurt path.
Ingredients
1 teaspoon extremely finely minced preserved lemon rind (purchased or made yourself; see first direction in recipe)
1 (6-ounce) container Redwood Hill Farm Plain Goat Milk Yogurt
6-7 pitted dates, finely minced (Deglet Noor work well, or Medjool)
Handful of toasted walnuts
Instructions
Make sure the preserved lemon rind is rinsed well before you mince it. Mince enough to make 1 teaspoon. Add to a small bowl.
Add yogurt and 6 minced dates to the bowl, and stir well. Taste, and add the final date if you want it sweeter. Scrape yogurt into a serving dish or pretty glass, and top with toasted walnuts.
Serves 1.
Recipe source
Recipe by Dorothy Reinhold | Shockingly Delicious
Variation
For an amusing presentation, slice a date lengthwise and add the spears to the top as a fun garnish.
Preparation time: 5 minutes
Diet type: Vegetarian
Diet tags: Gluten free
Number of servings (yield): 1
My rating 5 stars:  ★★★★★ 

Redwood Hill Farm
Each goat and cow dairy product made at Redwood Hill Farm & Creamery Inc.'s solar-powered creamery is gluten-free, kosher certified and Certified Humane Raised and Handled®. The products contain no artificial flavors, refined sweeteners, artificial coloring or preservatives.
All Redwood Hill Farm and Green Valley Organics contributing dairies are Certified Humane Raised & Handled, which is considered the gold standard in third-party certification for humane animal treatment.
In 2013, Redwood Hill Farm & Creamery was recognized as a Sonoma County Green Business environmental leader; it is in compliance with all environmental regulations and meets program standards for conserving resources, preventing pollution and minimizing waste while demonstrating goodwill in the community.
Follow Redwood Hill Farm on:
Twitter | Facebook | Website
Where to buy:
Redwood Hill Farm and Green Valley Organics products are available at Whole Foods Market and other grocery, specialty and natural food retailers nationwide.
Disclosure: Compensation and samples for this post were sent by Redwood Hill Farm. All opinions are mine, and the recipe and photos are Shockingly Delicious originals.
Giveaway!

Enter using the Rafflecopter widget below, and good luck!
Deadline: Contest ends June 14, 2014.
Sweepstakes open only to U.S. residents 18 and over, with mailing addresses in the U.S. (Redwood Hill Farm will be mailing out the prize.)
Read the legal fine print here.