Print This Post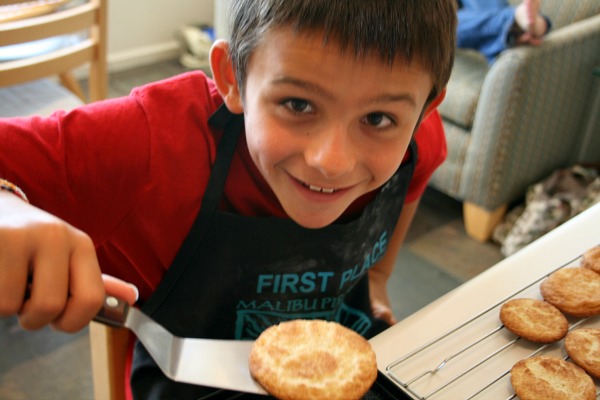 There is nothing more fun than spending time in the kitchen with your children, teaching how to measure flour, how to crack an egg (and fish out the shells), how to stir and fold and whip and beat, how to slice and dice and mince and chop.
I have happy memories of many hours of my own childhood kitchen capers, and I would like do the same for my own children.
Both my daughter and my son are growing up to be capable in the kitchen, and my son, in particular, loves to announce his wishes.
"Let's make cookies," he yelled one afternoon. (Everything comes out of his mouth at a high volume.)
Why not? One of my favorite activities with children – my own or anyone else's! – is to make cookies.
First off, it's just plain fun. At the end, it yields a delicious result. And in the middle, there is lots of learning and teaching and experiences you don't get any other way in life.
For example, recipes involve measuring, using different measuring tools (measuring spoons, measuring cups), they often involve exciting gadgets like an electric mixer (a favorite of my son), and they involve stealth math.
Stealth math is when you need to use your noggin to figure out how many balls of dough to roll, or if you are making a bar cookie, how many rows to cut vertically and horizontally to get your expected number of cookies.
Stealth math can also factor in when you are figuring out how many cookies are for you and how many are for your sister.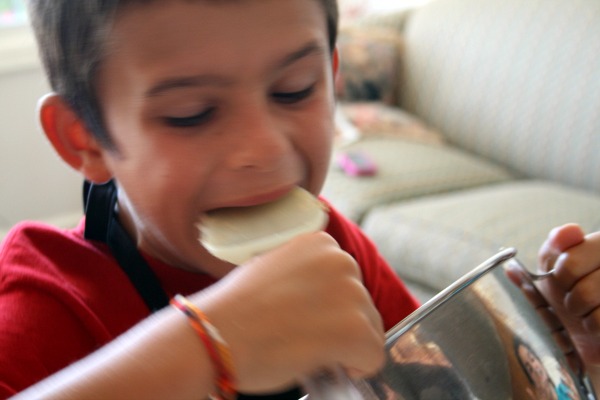 So we grabbed a cookbook and paged through various delectable offerings, finally settling on the picture of Snickerdoodles.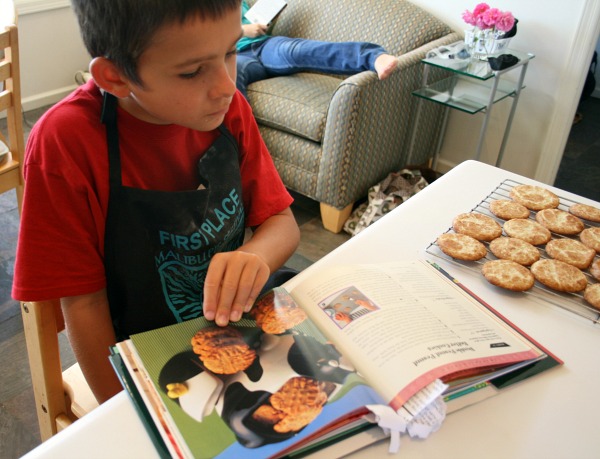 We immediately set to work, and soon his sister heard the commotion and joined in the project.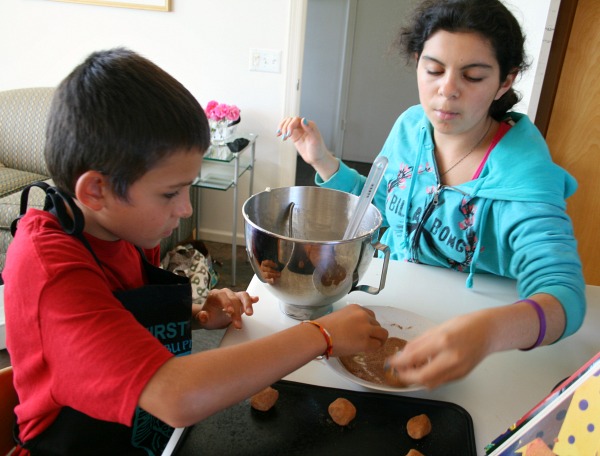 This involved a bit of teamwork, especially when it came time to sample. (Another lesson in baking with kids.) 
Everyone probably has their own recipe for Snickerdoodles, which are a classic cookie, but we hope you'll  try our version because we've used a few more spices than simply cinnamon in the sugar coating.
They're Snicker-delicious!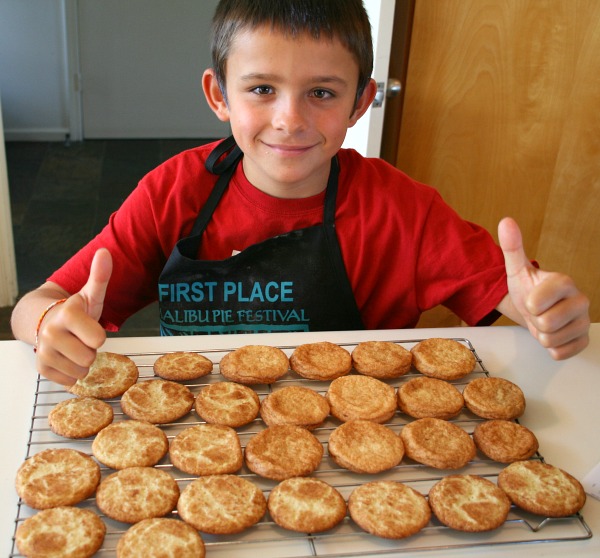 Recipe: Spiced Snickerdoodles
Summary: Familiar childhood favorite Snickerdoodle cookies get a few more warm spices to keep it interesting!
Ingredients
Cookie dough
Spiced Sugar for rolling
Instructions
Heat oven to 400F degrees. Get out a baking sheet or cookie sheet, read through this recipe and get out all the ingredients you need. Kids, wash your hands with soap and water!
Make the dough: Put the butter, ¾ cup sugar, egg, vanilla and salt in the bowl of an electric mixer. Beat on medium until the mixture is well blended, about a minute. Turn mixer to low speed and mix in flour, cream of tartar and baking soda until everything is well combined.
Make the Spiced Sugar: In a separate wide, flat bowl using a little spoon, mix the cinnamon, nutmeg, allspice and cloves until well combined. Set this bowl near your cookie sheet.
Remove dough bowl from mixer and, using your hands, roll about 1 rounded teaspoon of the dough in the palms of your hands so it rolls into a ball. (Math lesson: You will be making 24 cookies, so to figure out how much dough to use for each cookie, you might want to divide the dough into half, then divide each of those into half again. That way you know that you will get 6 cookies out of each portion of dough. 4 portions of dough times 6 cookies for each portion will give you 24 cookies. See, math can be delicious!)
Roll them: Roll each ball into the Spiced Sugar mixture to coat it. Place ball on an ungreased baking sheet (cookie sheet). Leave a bit of room between each cookie because they will spread while baking.
Bake: Place baking sheet in hot oven and bake until the cookies are flat and light golden brown, about 8-10 minutes.
Using oven mitts, remove the baking sheet from the oven and put it on another hot pad or surface that is OK for hot pans. Let the cookies cool for about 2 minutes, and then use a spatula to remove each cookie from the baking sheet onto a cooling rack. Let the cookies cool completely.
Makes 24 cookies.
Recipe source
Inspired by and adapted from a recipe in "Kids Cookies: Scrumptious Recipes for Bakers Ages 9-13," by Williams-Sonoma Kitchen Library.
Variations
If you don't have the extra spices, you may simply use the 2 teaspoons cinnamon in the Spiced Sugar, but the additional spices really do make the difference in creating a more interesting cookie! We recommend them!
Preparation time: 20 minutes
Cooking time: 10 minutes
Diet type: Vegetarian
Number of servings (yield): 12
Culinary tradition: USA (General)
My rating 5 stars:  ★★★★★ 
This is a special dish for our family. What recipe or dish is your family's favorite? What is the story behind it? I am partnering with McCormick, the company whose spices I used liberally in this recipe, to encourage you to share your family favorites. I hope you'll share in the comments below, and visit the McCormick American Homemade hub to share, too.
Also, McCormick has a new tool on their website called FlavorPrint. It provides recipes and recipe ideas based on a series of questions you answer about your tastes and flavor preferences. The more you use FlavorPrint, the more familiar it becomes with your preferences, and the better the recipes it suggests will fit your personal flavor profile. I created my FlavorPrint profile, and I encourage you to create your own to find more recipes you'll love. I am always in search of new, interesting recipes, aren't you?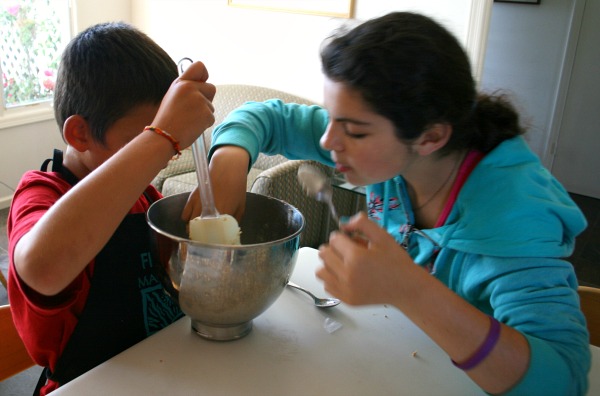 Disclosure: McCormick compensated me for this post in partnership with Kitchen PLAY. All opinions, writing and photography are my own.