Print This Post
Believe it or not, this crazy looking plate full of stuff the size of a man's head is actually a "knot" of cheese!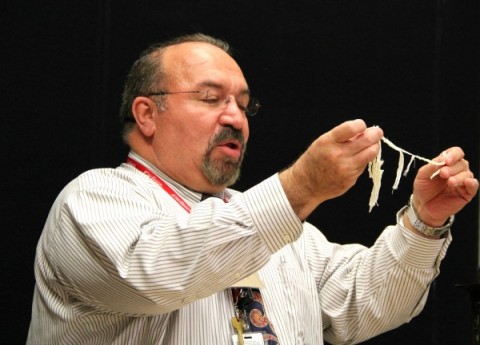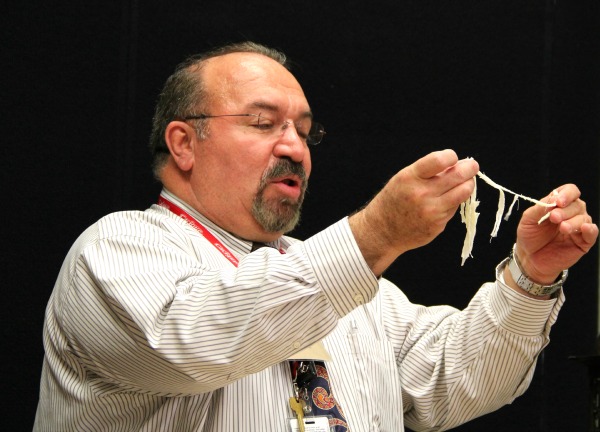 It's called Queso Oaxaca (say it wuh-HAH-kuh), hails from Oaxaca, Mexico, and is similar to mozzarella. While being made by hand, it is formed into a long rope that is then coiled into a ball. As you eat it, you uncoil, and if you pull it apart further, you'll create strings, much like you find with string cheese.
That's just one of the fascinating things I learned while visiting the Cacique Mexican cheese plant in La Puente, on the outskirts of Los Angeles. Here, in a huge factory, some of the finest Mexican cheeses in the country are made, packaged and sent on their way to grocery stores everywhere. In fact, Cacique is the largest fresh cheese company in the U.S., with facilities and distribution centers throughout the country.
It wasn't always this way. When Gilbert de Cardenas came here from Latin America with his young family, seeking a better life in America, he  began small. Although he worked as a handyman, he knew how to make high quality, authentic, fresh cheese, called queso fresco, which at that time wasn't sold in stores. So he and his wife took their $1,500 life savings and began selling the cheese out of the back seat of his teal green Pontiac. He went store to store, selling his cheeses a few here, a few there.
He named his first cheese Queso Fresco Ranchero, after a restaurant in Pasadena that used it, and Cacique was born. The term cacique, in Latin America, means "the chief" or the head of the tribe; the very best or the pinnacle.
The de Cardenas family has been living up to that name since the beginning.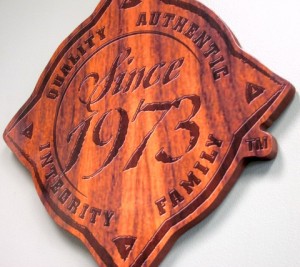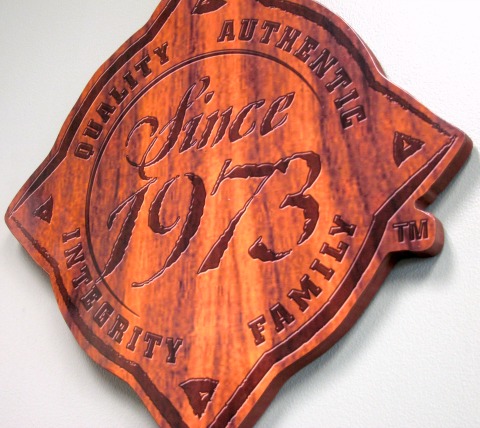 Today, the children of the elder Gil run the company. Gilbert B. de Cardenas, Ana de Cardenas-Raptis, Maria de Cardenas-Krakovic and Antonio de Cardenas carry on their parents' vision and ideals, built upon the pillars of  family, quality, integrity and authenticity. It is these guiding principles that they refer to daily as they guide and grow the company. 
A single statistic might give you a good idea of this growth. In earlier days, Cacique used 600 pounds of milk a day. Now they process 1.2 million pounds of hormone-free, Kosher-certified milk per day. These days, Queso Fresco takes only 2-4 days from cow to store. "Nothing can be fresher than that," says Enrique Botello, Cacique's director of marketing, who is pictured above with the Oaxaca cheese the size of his head. "We have quality you can taste."
All that milk makes for a lot of cheese, and their product line has expanded quite a bit beyond that first Queso Fresco Ranchero.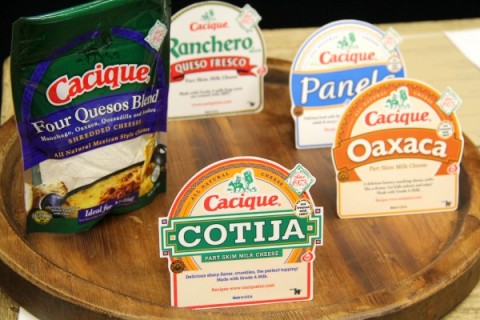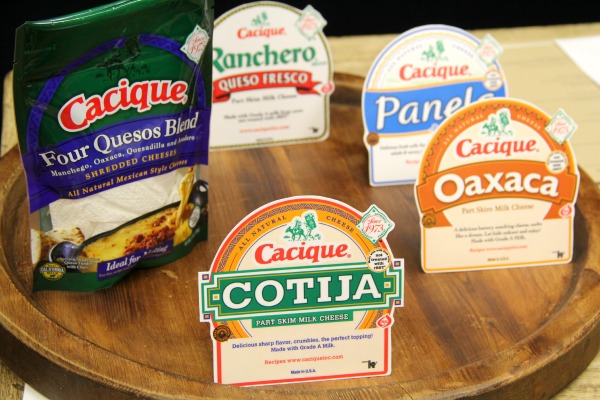 Here are a few of the cheeses and their characteristics:
Panela: Crumbly curd style, all-natural fresh cheese, has a mild, milky flavor. When heated it will soften but not get stringy, and it has the magical ability to be seared into a golden slab without getting runny. It crumbles easily and is great to stuff jalapenos.
Cotija: A robust flavored artisan cheese with a dry, crumbly texture, much like Parmesan cheese. It's used as a topping and can be subbed for Parmesan.
Ranchero Queso Fresco: This signature cheese is mild and buttery, with a fresh milky flavor. It will soften when you heat it, but won't get stringy, and goes well with spicy flavors and ingredients. Crumble it in your salad!
Four Quesos Blend: In response to consumer demand, Cacique has introduced shredded cheese blends in bags. This blend combines four authentic, Mexican-style cheeses: Manchego, Oaxaca, Quesadilla and Asadero. I found it so much more flavorful than other cheese blends in the market. It's smooth, buttery, rich and goes well in all sorts of dishes, from enchiladas to omelets, from soups to salads.
Cacique also makes a few fresh creams, called cremas, that home cooks will find useful.
Crema Savadorena: Sour cream that has a hint of cheesy flavor, to be used as a flavor booster
Crema Mexican Agria: Mexican tangy, pourable sour cream that isn't quite like gelatinous American sour cream
Crema Mexicana: Pourable table cream for both sweet and savory dishes, or in your coffee!
Ranchero Crema Natural: Unsalted sour cream, can be used in any recipe that calls for sour cream.
Ranchero Crema Con Sal: Cultured sour cream with salt; try it on your baked spud.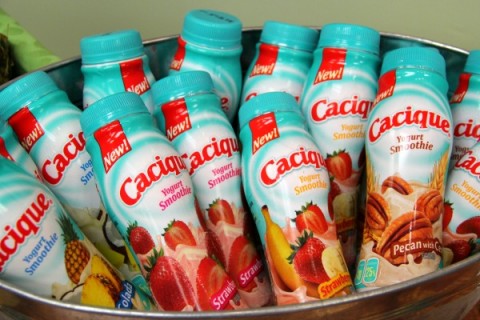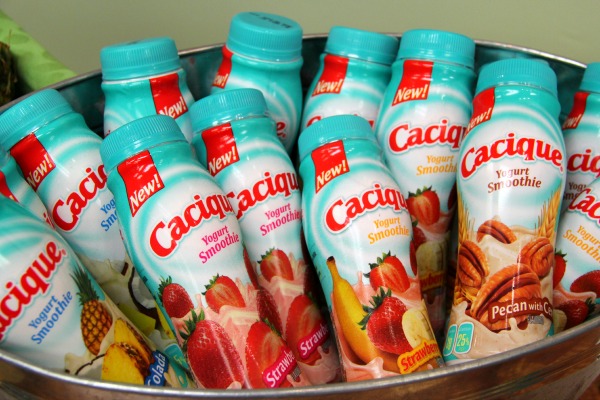 And then there are the yogurt smoothie drinks. All I can say is get your hands on that Pecan flavor. Pronto!
What can you do with Mexican cheeses and Cacique products?
I used Queso Fresco, Cotija and Mexican Crema in my recipe for Cornbread Waffles with Chicken, Avocado and Sweet and Spicy Crema. You can also take a look at the delicious recipes created by my fellow food bloggers over at the Cacique blog.
And take a peek at the feast Cacique served visiting food writers to show off their wares…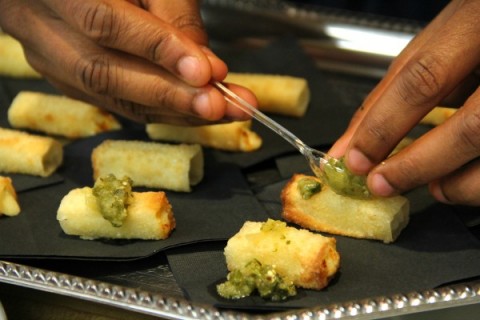 Wonton Wrapped Queso Fresco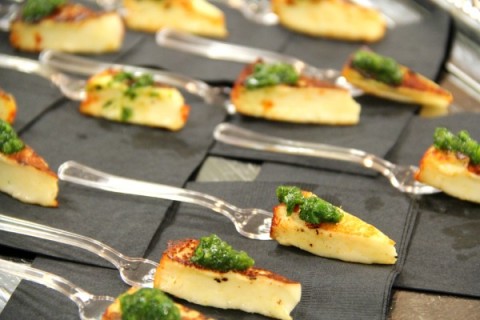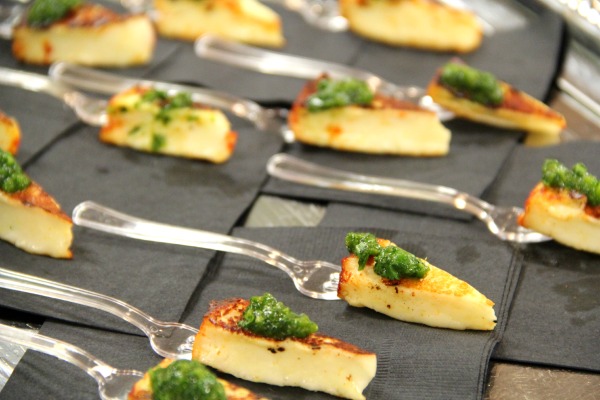 Pan Fried Cotija with Cilantro Chutney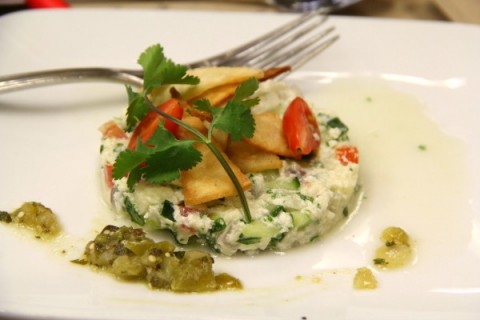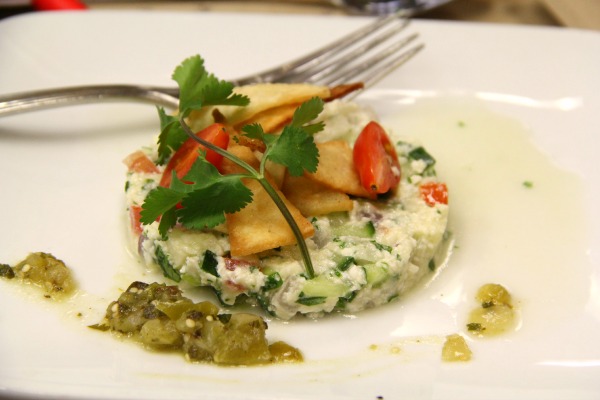 Citrus Salad with Queso Fresco, Panela and Cotija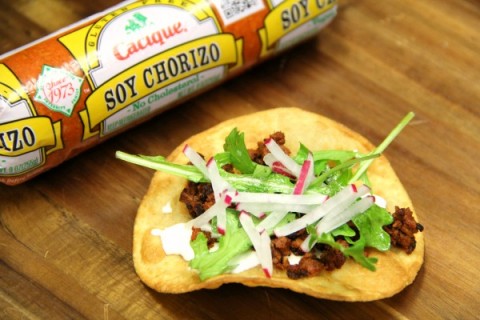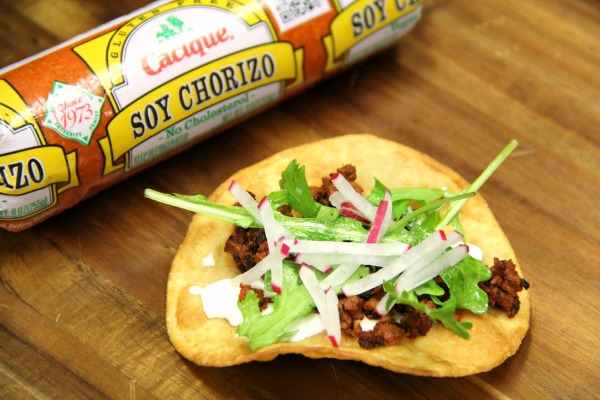 Tostadas with Chorizo, Cotija and Crema Agria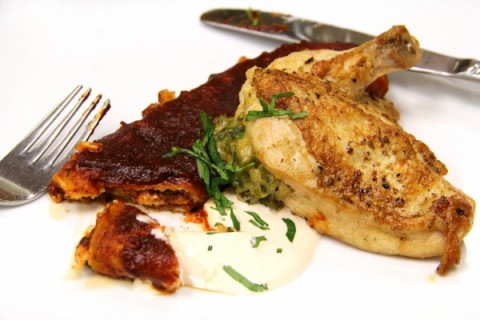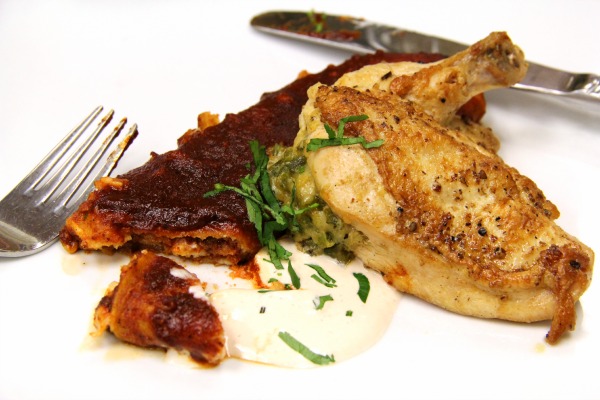 Enchilado and Pasilla Stuffed Chicken Breast with Crema Enchiladas and Chipotle Crema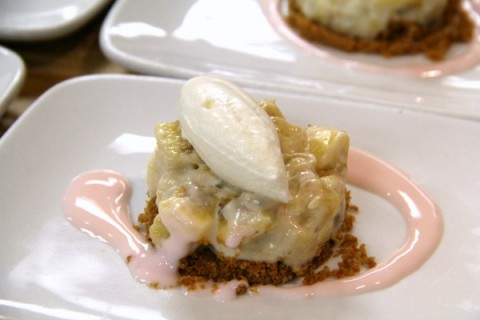 Banana Creme Pie with Crema Salvadorena
I look forward to showing you so much more about how to put Cacique cheeses and cremas to delicious use. Stay tuned for more recipes! I found my products at the supermarket, but if you can't find Cacique products at your market, try their store locator.
Disclosure: This is a sponsored post by Cacique Inc. and Society Culinaria. All opinions are my own. Thank you for supporting the brands I work with and love, which keeps the lights on here at Shockingly Delicious.