Print This Post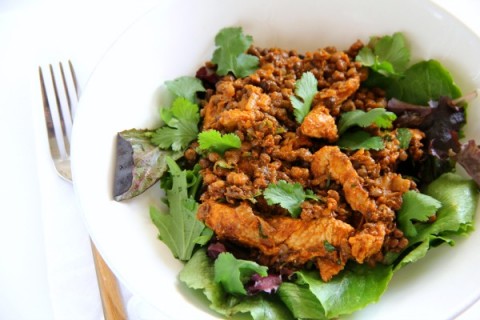 Is it too much to ask that weeknight dinners be relatively fast, healthy AND simple enough that they don't further drain your brain after a long workday?
Nope, not too much to ask! It's quite do-able with a skillet meal and some dark leafy greens. Throw in some taco flavors and you have a winner that will appeal to the entire family.
You really don't need a recipe for this one, but I'll share it with you anyway, in case you feel like following directions. What? You? Follow directions? I know, crazy, right?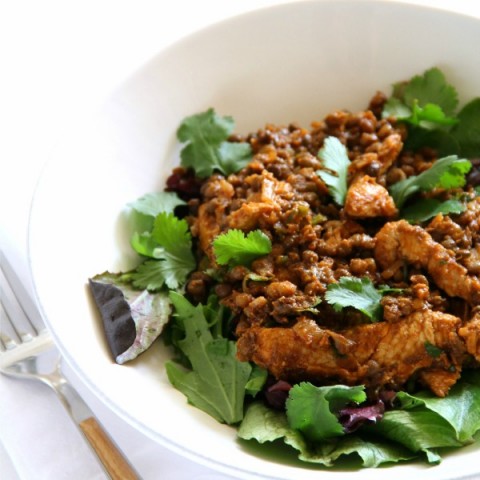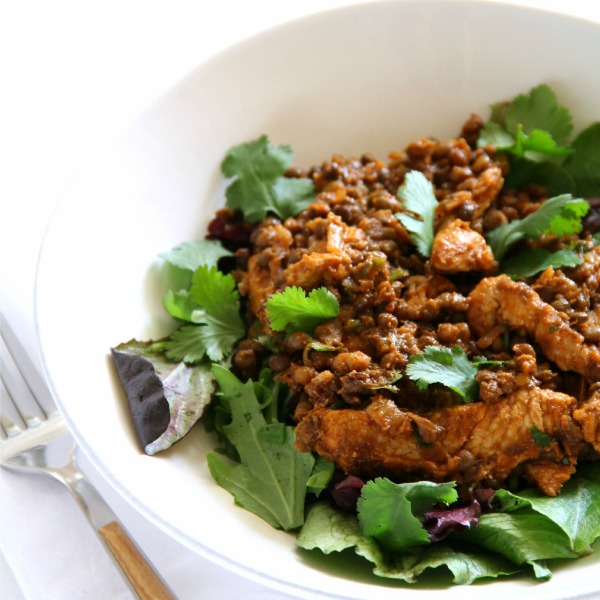 And if you're a rugged individualist, sub in your own ingredients, tweak as you like, and make it to suit your own family and what you need to use up from the fridge or pantry.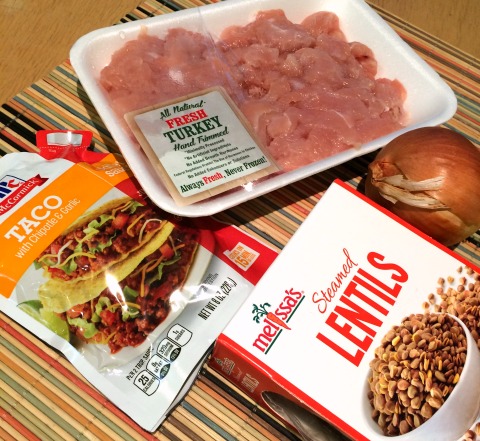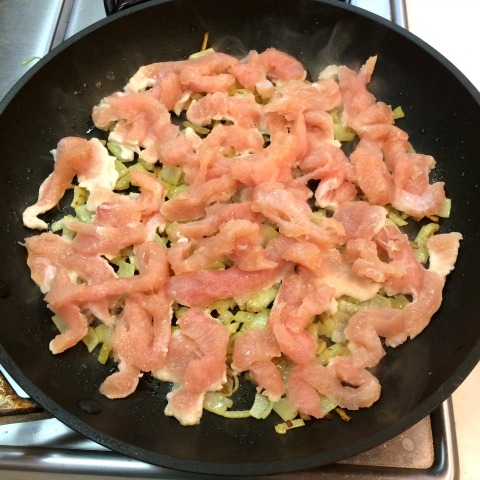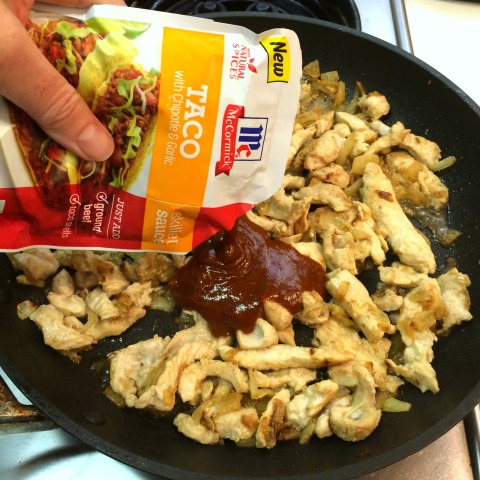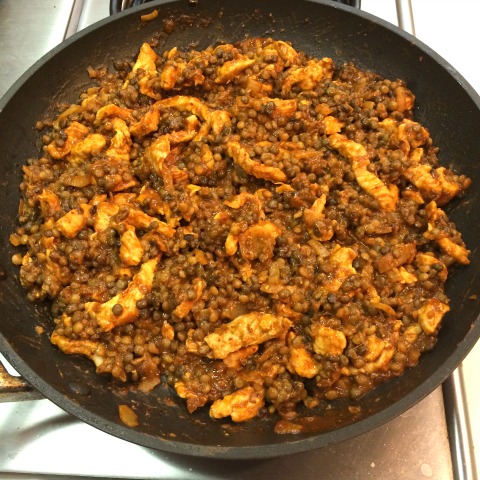 Just don't forget the greens. You always need greens.
Lots of flavor in this easy, protein-packed salad. Serve over your favorite greens for a nutritious weeknight dinner.
Ingredients
1 tablespoon olive oil
1 onion, chopped
1 pound turkey strips (or use ground turkey)
1 (8-ounce) package McCormick Taco with Chipotle & Garlic Skillet Sauce
1 1/4-1 1/2 cups (about 9 ounces) cooked lentils
Greens of your choice

Garnish:

shredded cheese, chopped fresh cilantro, sliced olives (optional)
Directions
Heat oil in a 12-inch nonstick skillet. Add onion and sauté for 5-7 minutes, until tender. Add turkey and sauté, stirring frequently, until cooked through, about 5 minutes. Add skillet sauce and lentils, stir, cover and allow to simmer for about 5 minutes so flavors blend.
Place greens in bowls or on plates, spoon turkey taco mixture over top and sprinkle with whatever taco garnishes you like.
Serves 4-5.
Notes
Recipe source: Dorothy Reinhold | Shockingly Delicious
https://www.shockinglydelicious.com/turkey-lentil-taco-salad/
Copyright Dorothy Reinhold | ShockinglyDelicious.com. All rights reserved.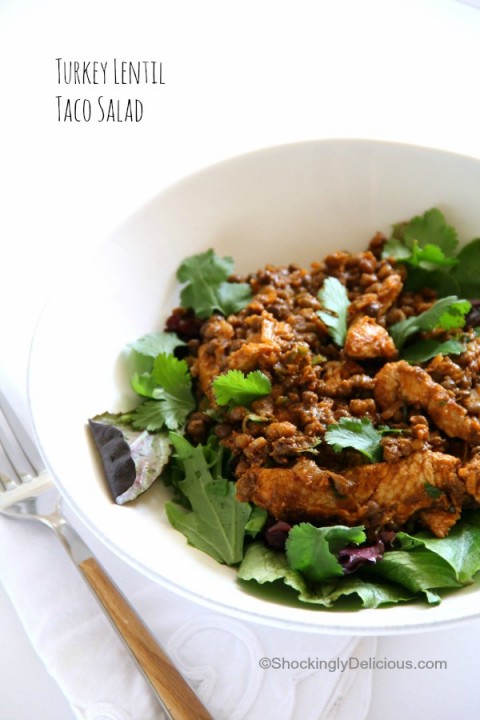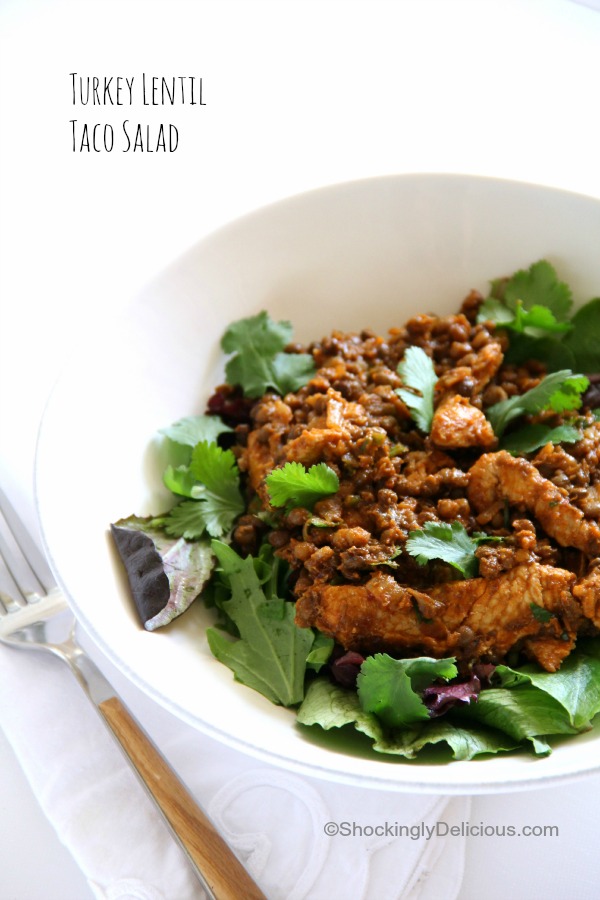 Our Weekday Supper cooks have lots of good suggestions for helping you get a healthy dinner on the table in a reasonable amount of time. See below for the week's menu, and choose something new to try out on your family or friends!
This week's easy Weekday Supper recipes are: