Print This Post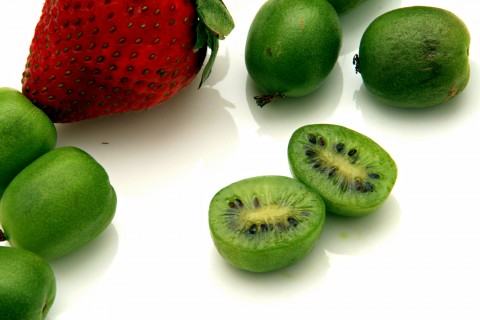 This is the "it" fruit of the moment!
I've been a kiwi fruit fan since I met them back in the dark ages (the early 1980s, if you must know, and thank you California Cuisine and chef Jeremiah Tower).
Beautiful, sweet and tart at the same time, artistic and fanciful, they charmed in many a fruit salad or applied to the top of a fresh fruit tart. (They perhaps went a little astray when chefs began to pair them with meat, but that's another story.)
But that was then, and this is now.
Now, my fruit-loving friends, we have an abundance of fruity options and the now-ubiquitous kiwi is often overlooked. These days want something newer, flashier, with more bling!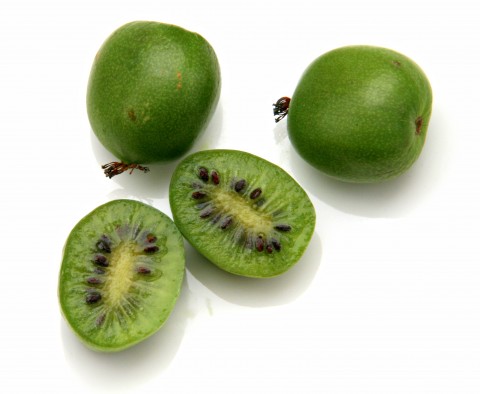 We can have both, actually, with the Baby Kiwi, also known as a Kiwi Berry, a tot-sized version of the larger fruit. (They are actual size here, on the right. Yes, I held one up to the screen to check!)
Baby kiwis are a cousin of the larger kiwi, and are about the size of a grape, or a grape tomato. (More on this pairing later.) They're grown in California, Oregon and New Zealand, and you'll find these in the produce section, in a 6-ounce clamshell package, for about $5.
They're super sweet, tender, more delicate than a full-size kiwi and without that fuzzy skin the large version sports. You eat the whole berry, skin and all!
What to do with Baby Kiwi
Eat out of hand. Pop the whole thing in your mouth, and chomp.
Use them in this 4-Ingredient Kiwi Lemon Mousse
Deploy in this Yogurt, Farro and Fruit Breakfast Parfait.  This is non your grandma's bowl o' oatmeal.
Use instead of cherry tomatoes to decorate the top of your salad.
Skewer for a cute appetizer or dessert, perhaps with a strawberry, other berries like a blueberry or blackberry, etc.
Skewer them for a different sort of Caprese appetizer with grape tomatoes, baby kiwi,  bocconcini (tiny fresh mozzarella balls), and a fresh basil leaf.
Cut in half and use them as edible decoration for nearly anything – pancakes, in fruit salad, on a cracker with some goat cheese…let your food imagination soar!
Cut them in half to decorate the top of your pie (virtually any pie!). See the photo here. Did they help me win a blue ribbon for this pie? I like to think so. 
Look for these babies in your produce section, and enjoy!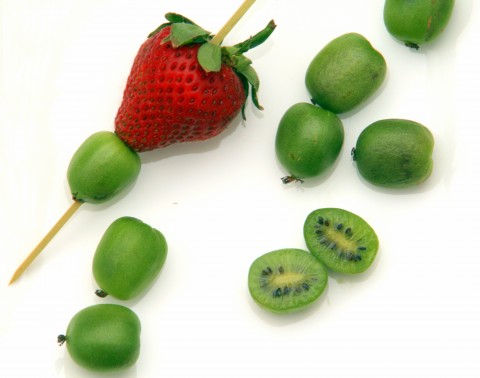 Pin this image below to your Pinterest board to save the inspiration!

Disclosure: Melissa's Produce provided samples of the fruit. There was no requirement of endorsement. My opinions, as always, are my own.