Print This Post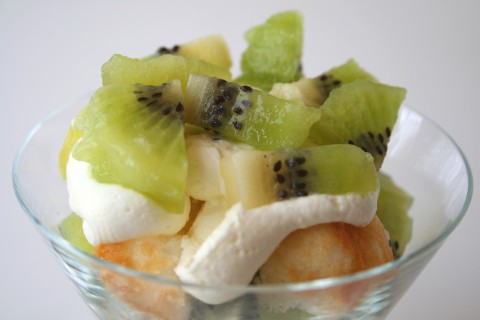 A new cookbook with a delectable recipe, a handful of ripe kiwi fruit on the counter, and a desire for something yummy prompted this new sweet from "Desserts 4 Today," by Abby Dodge.
All it took was four ingredients (cream, lemon curd,kiwi and ladyfingers, or, in my case, angel food cake) to make a very tasty and gorgeous treat.
Kiwi is a particularly beautiful fruit, and did you know it is a good source of dietary fiber, vitamin E, potassium and copper, and a very good source of vitamins C and K?
I offer those nutrition facts as a consolation prize, in case you might like to join me in deluding yourself into thinking they cancel out the sins of the cream.
Works for me! 
Kiwi Lemon Mousse Recipe
From "Desserts 4 Today: Flavorful Desserts with Just Four Ingredients," by Abby Dodge (Taunton Press; $17.95)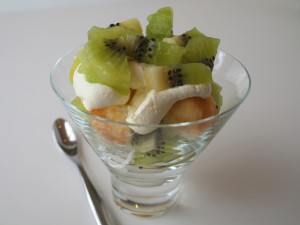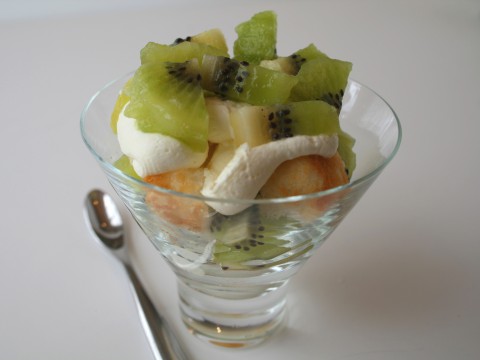 1 cup heavy cream
2/3 cup lemon curd (purchased, or make this version)
2 medium, ripe kiwis, peeled and coarsely chopped
6 whole soft ladyfingers, separated

(or use angel food cake torn into small pieces, says me)
Have ready 4 serving bowls or glasses and make room in the fridge. Set aside about 1/4 cup chopped kiwi for garnish.
Put the heavy cream in a medium bowl. Beat with an electric mixer until firm peaks form when the beaters are lifted (don't forget to stop the mixer before lifting!).
Add about two-thirds of the lemon curd into the whipped cream. Using a rubber spatula, gently fold in until well blended. Add the remaining curd and fold in just until some yellow streaks are still visible.
Arrange 3 ladyfingers, rounded side facing out, around the inside of each bowl or glass. Spoon about 3 tablespoons of the cream into the serving bowls or glasses. Top with about 2 tablespoons of the chopped kiwi. Spoon about 3 tablespoons cream over kiwis. Repeat layering with the remaining kiwi and cream. (You'll have a total of 3 layers of cream and 2 layers of kiwi, not including the garnish.) Cover and refrigerate until ready to serve for up to 1 day. Serve chilled, with the remaining kiwi on top.
Serves 4. (Note from me: This recipe can be made ahead several hours and refrigerated.)
Note from Shockinglydelicious: This lemon curd mousse is just like one I make that I call Lemon Whip. Love it!
Also, feel free to substitute golden kiwi (yellowish colored) instead of the usual green kiwi. One better yet, maybe use one of each!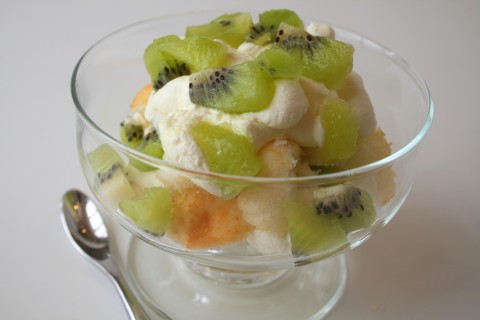 Disclosure: A review copy of the book was provided to me by the publisher. All opinions are my own and there was no compensation.