Print This Post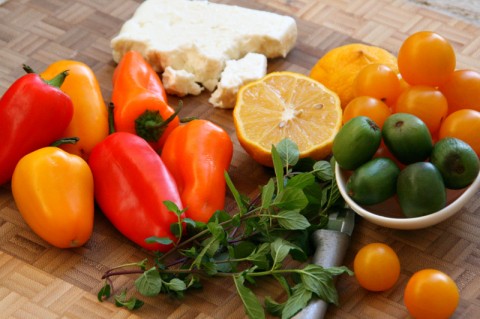 Have you ever had mint with tomato and feta in a salad? Me either, but I was game to try it when I saw the idea.
The beauty of the Internet is you can spelunk inside the brains of other like-minded people, and find inspiration in what they post on their blogs. This is particularly fun for home cooks, as we careen from one delicious blog to another, scampering into the kitchen when we find something particularly intriguing.
So it was with this salad idea. I knew I had a box of yellow cherry tomatoes (the best choice for winter months, since they are good all year around, not just in summer), and mint growing in a pot on my kitchen sink garden window. Good enough! Let's go!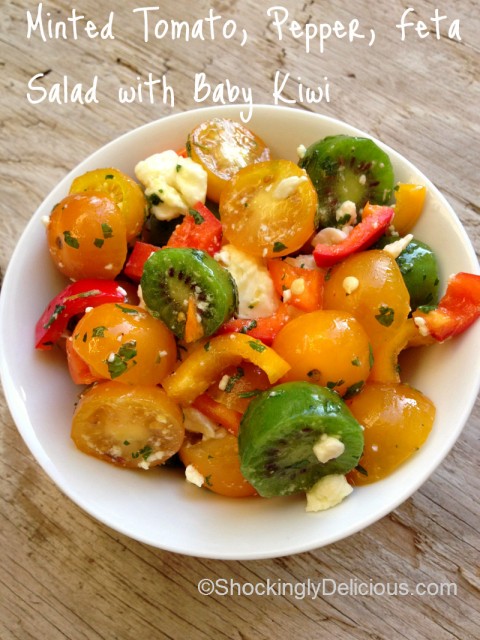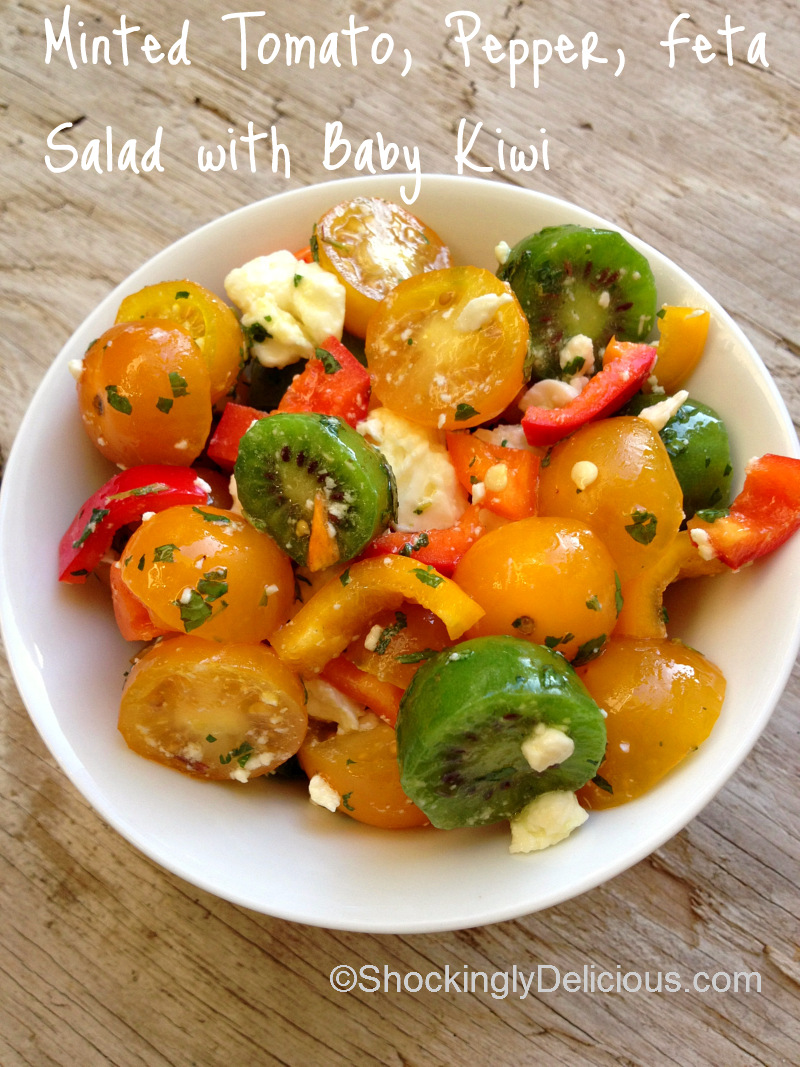 But first I was tempted by a few other things on this blog, Eat Live Blog, penned by Renee Hirschberg, who lives and eats well in New England. Renee is quite the force, having founded the 250-strong community called the Boston Brunchers. She travels the region doing restaurant reviews and frolicking in the fall leaves for her travel posts.
I loved the idea of her Deconstructed Stuffed Peppers, and her Baked Spinach Arancini (rice balls) look divine for the lunch box, after school or maybe even an appetizer. I wanted her Gourmet Pizza Rolls while I was watching the Oscars last night, or perhaps her Crispy Chickpeas.
But her Veggie Salad with Mint won the day, and I did my own riff on it, using yellow cherry tomatoes instead of red large tomatoes, a raw goat's milk feta, baby bell peppers, and adding some delicious baby kiwi for a sweet pop and dressing it with a zippy freshly pressed olive oil.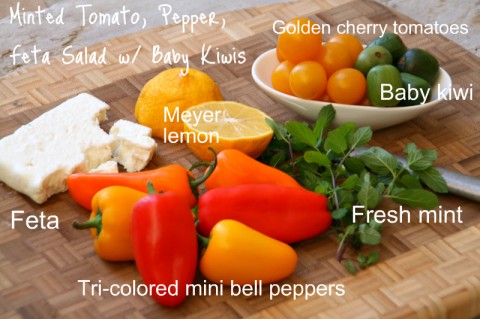 It rescued a winter day, in style!
Recipe: Minted Tomato, Pepper, Feta Salad with Baby Kiwi
Summary: A beautiful, healthy and fresh tomato salad with the unusual and delicious hint of mint.
Ingredients
1 teaspoon finely minced fresh mint (this will take a couple of sprigs)
2 tablespoons extra-virgin olive oil (I used Calolea Olio Nuovo Fresh Pressed)
1 tablespoon Meyer lemon juice
1 small shallot, finely minced
Pinch kosher salt
Grind of black pepper
6 ounces cherry tomatoes, cut in half (about 23 tomatoes) (I used NatureSweet Sunbursts Golden Tomatoes)
6 mini bell peppers, stemmed, seeded and chopped
8 baby kiwi, cut in half
2 ounces feta cheese, crumbled (I used Redwood Hill Farm Raw Milk Goat Feta)
Instructions
Add mint, oil, lemon juice, shallot, salt and pepper into a large salad bowl and whisk to combine.
Add in tomatoes and pepper and stir to combine. Add kiwi and feta and stir gently to combine (kiwi needs to be treated tenderly!).
Serves 4.
Baby kiwi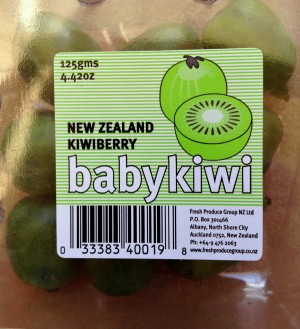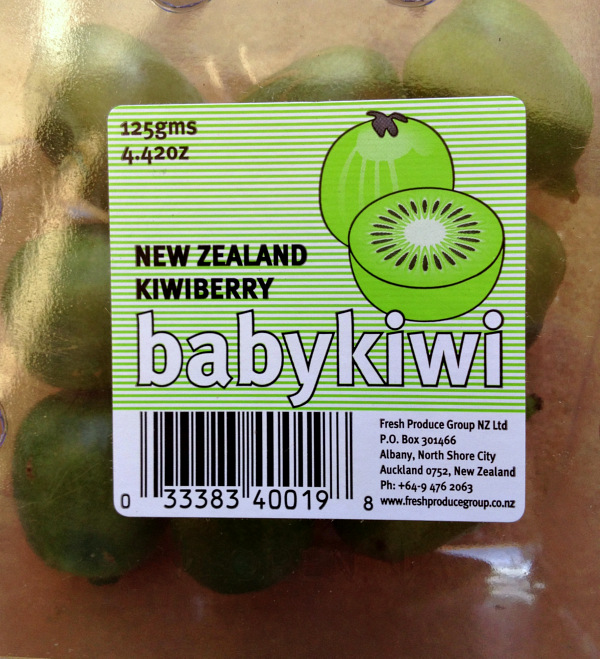 Baby Kiwi are delightful tiny, sweet, fuzzless versions of full-size kiwi, available February through mid-March (sourced from New Zealand), and September through mid-October (sourced domestically), in high-end markets. Here's an introduction to baby kiwi, including a few ideas on what to do with them! Melissa's Produce sent the baby kiwi for recipe testing.
Variations
If you like the looks of this salad, you might also like this Fruit Salad with Tomatoes.
Preparation time: 15 minutes
Diet type: Vegetarian, Vegan (if you leave out the feta)
Diet tags: Gluten free, Raw
Number of servings (yield): 4
Culinary tradition: USA (Nouveau)
I was assigned to explore Eat Live Blog as part of Secret Recipe Club, and today is our reveal day.
I've made a number of delicious dishes from Secret Recipe Club over the months. Here's a list of what else I have chosen to make from others' blogs for reveal days, and what they have chosen to make from Shockingly Delicious, in case you want to choose something from these lists as your own inspiration in the kitchen.
Readers, you can see what other cooks in the Secret Recipe Club made this month, right below here in the array of photos. Click any of them to be transported to that particular recipe!