Print This Post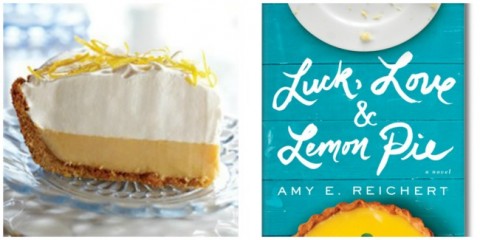 I just binge-read a newish book, and I want to recommend it to you. It's my favorite kind of reading, in which there is a pivotal dish that serves as a secondary character in the novel.
"Luck, Love & Lemon Pie," by Amy E. Reichert, is a story about an exasperated wife and mother who makes a play to reignite her marriage—and risks everything in a gamble she hopes is a sure bet. When she notices her husband seems more interested in the casino than her, she's more bothered that she isn't upset than by her husband's absence from home. She picks up poker as a way for them to spend more time together—and reignite their marital flame. It turns out she's great at it, and the book not only tells the story of modern marriage, but also takes you poolside to Vegas for the poker championship.
Most importantly to us here at Shockingly Delicious, the food that starts the book off is called Anniversary Lemon Custard Pie.
Let's listen in as protagonist MJ waits for her husband at a restaurant at what is supposed to be their anniversary lunch. He's three hours late, and has apparently stood her up.
"It took MJ one hour forty-seven minutes and three old-fashioneds to eat the entire anniversary pie herself. All that remained in the empty tin were a few smudges of lemon cream sprinkled with flakes of crust, but her stomach didn't seem to mind the alarming influx of calories…
… "It wasn't until the server had appeared with the pie that MJ had remembered special-ordering it for today's lunch. She'd called the chef weeks ago to arrange for her to make this particular pie and serve it at lunch, when Chris wouldn't be expecting it. For anniversaries past, Chris had always baked it, but last year he had said he didn't have time. So after twenty years, she decided it was her turn to bake. She'd attempted and failed to make it three times before accepting her culinary limits, and gave his recipe to the chef. It was meant to be a surprise, a romantic gesture on their twentieth anniversary — a celebration. Instead, alone, she had grabbed the pie and a fork and settled into her dining chair, mollifying her disappointment one flaky bite at a time, ignoring the judgey looks of the other restaurant guests."
See, right then, right there, I was hooked on this book, and I also knew I had to make this pie.
Luckily for us, the author helpfully has her husband character, Chris, provide his recipe at the end of the book.
Today, I'm sharing it with you, in hopes you'll want to read the book and make the pie, too. (If you read the book for your book club, make the pie for the meeting where you discuss it!)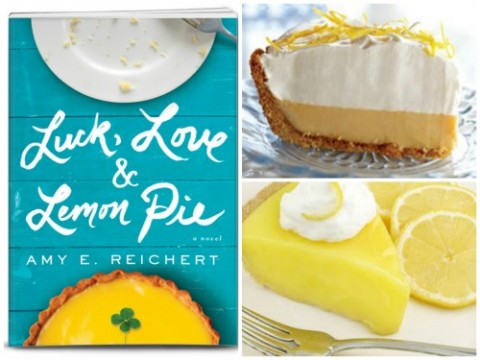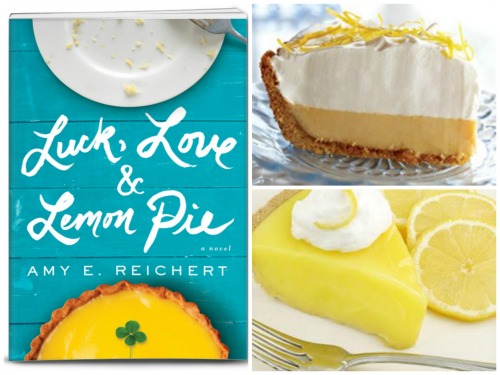 Anniversary Lemon Custard Pie
Sweet, tangy, smooth, flaky, seductive Lemon Custard Pie was the way Chris Boudreaux lured MJ to him, and it became the pie he made each year for their anniversary. It's from the book "Luck, Love & Lemon Pie" by Amy Reichert.
Ingredients
Crust

1 1/4 cups unbleached all-purpose flour
1/4 teaspoon table salt
2 tablespoons sugar
2 tablespoons lemon zest
6 tablespoons unsalted butter, chilled and cut into 1/2-inch slices
4 tablespoons lard, chilled and cut into 2 pieces
2 tablespoons lemon vodka, chilled
2 tablespoons water, chilled
.

Filling

1 (14-ounce) can sweetened condensed milk
4 egg yolks
1/3 cup heavy cream
2 tablespoons lemon zest
1/2 cup fresh lemon juice
Pinch of salt
.

Lemon Syrup

1/4 cup fresh lemon juice
1/4 cup sugar
.

Whipped Cream

1 cup heavy cream
2 tablespoons lemon syrup
Directions
For the crust:

In a food processor, mix the flour, salt, sugar, and lemon zest 3-4 pulses. Add in butter and lard. Pulse until butter and lard are broken down to pea-size pieces (10-15 pulses).
Dump flour mixture into a separate bowl and sprinkle with vodka and water. Using a fork, mix until it comes together. Using your hands, form it into a 4-inch disk, wrap in plastic wrap, chill 30 minutes.
Flour the counter and roll out the dough into a 12-inch circle. Transfer to pie plate. Form edges, chill for 20 minutes.
Heat oven to 425 degrees. Line crust with foil and fill with pie weights or dried beans. Bake 15 minutes. Remove foil and weights, bake another 5-10 minutes until golden and crispy.

Filling:

Heat oven to 350 degrees. Whisk all of the filling ingredients together until fully combined. Set pie plate on baking sheet. Pour filling into baked pie crust (crust doesn't need to be cooled). Bake 15-17 minutes.
Remove from oven and cool completely, then refrigerate for at least 4 hours before topping with whipped cream.

Lemon Syrup:

Combine juice and sugar in small saucepan. Bring to boil for 2 minutes, cool. Brush half of syrup on cooled edge crust of lemon pie. Reserve 2 tablespoons for whipped cream.

Whipped Cream:

Using a mixer, whip the cream and syrup together on medium speed until combined. Raise speed to high until stiff peaks form. Spread on the chilled pie filling and serve.
Serves 6-8.
Notes
Recipe source: Fictional character Chris Boudreaux, from "Luck, Love & Lemon Pie," by Amy E. Reichert.
https://www.shockinglydelicious.com/anniversary-lemon-custard-pie/
Copyright Dorothy Reinhold | ShockinglyDelicious.com. All rights reserved.
Having discovered this author, I now can't wait to read her prior book, "The Coincidence of Coconut Cake." I'm sensing a theme…alliterative title, with a scrumptious sounding recipe!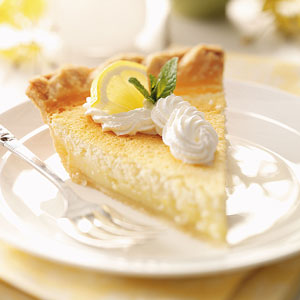 This is a recipe the book recommends if you don't want to make Chris Boudreaux's particular version.
Turn on the oven and have some fun!