Print This Post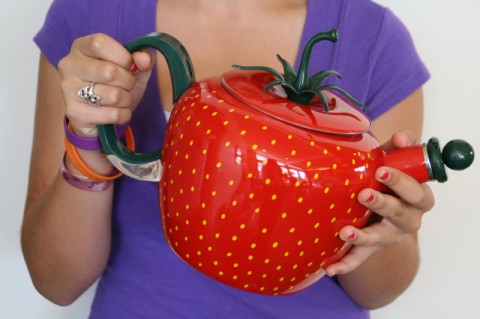 The "strawberry people" are the California Strawberry Commission, whose mission is to encourage you to buy fresh strawberries from California. How easy would THAT job be? Who doesn't love strawberries, in all their juicy deliciousness?
I buy my berries from a man who trucks them down from Camarillo every day, and parks on Pacific Coast Highway in mid-Malibu. I know spring has sprung when he shows up, and whenever I see his sign out, I veer off and buy a half a flat. Unless I pick them myself, they aren't going to get more fresh! Is it just me, or do they seem extra sweet and astonishingly tasty this year? Ge'cher berries while they are fresh and in season.
So I won this cute Copco kettle from the strawberry people for posting a bunch of great fresh strawberry recipes on their Facebook page. Thank you, strawberry people! I love it! The Calif. Strawberry Commission  continues the contest to win another kettle, so if you have great photos of strawberries, go plant them on their FB page and see what sprouts. 
Why don't you veer off your own path, hunt down some strawberries, and go to town on these: