Print This Post
This post was created for #SummerDessertWeek. I was sent samples by some of the sponsor companies but, as always, opinions are 100% mine.
STRAWBERRY CLOUD DESSERT: A light, refreshing, creamy yet fruity fluff ball of a dessert with fresh strawberries, toasted angel food cake and whipped cream makes everyone happy!
This is one of my most requested recipes, and once you taste it, you'll see why. I have made it for a potluck in April (as soon as strawberries are abundant in the stores), Mother's Day in May, a pool party in June and a July 4th celebration (red, white and blueberries, get it?). My daughter asked for it as her birthday dessert in August, too, so this lovely sweet thing will take you through the entire season.
Put it together in the morning to serve after dinner, or better yet, make it the day before. Just wire the lid shut or you'll go to serve it and the pan will be empty from little fingers that wanted "just a little taste"!
How to make Strawberry Cloud Dessert
Gather your ingredients.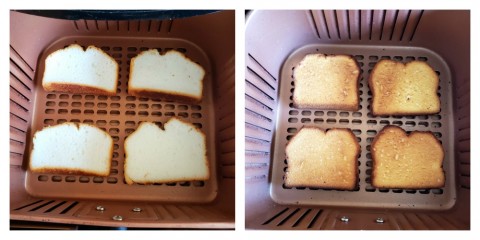 Toast the angel food cake slices, either in an air fryer like I did, or use your oven broiler.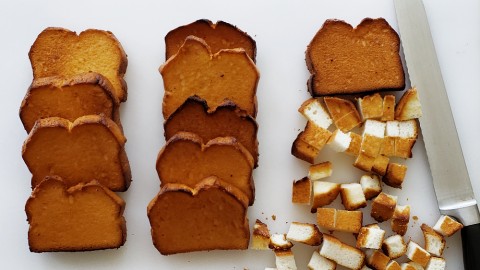 Cut the cake into bite-size chunks.
Dollop on the white layer. Try not to eat too much of it while you are working. 😉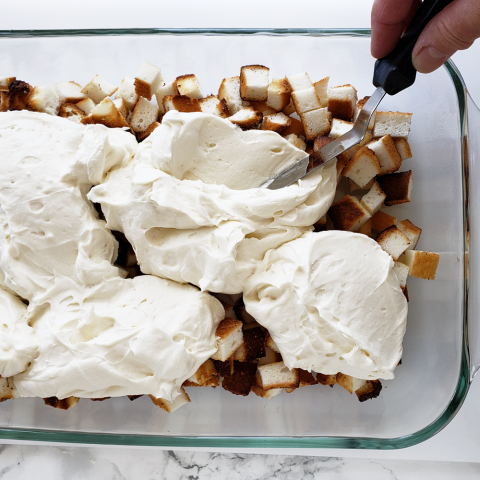 An offset spatula is helpful in spreading out the white layer.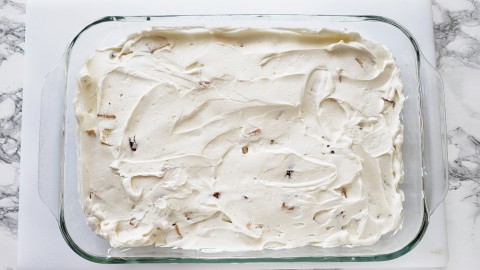 It looks good enough to eat right now, doesn't it?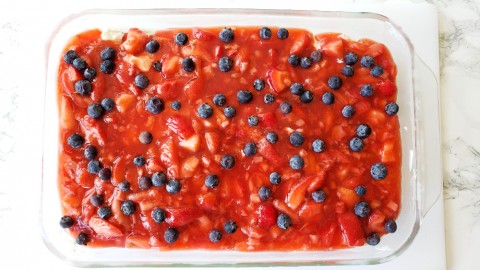 Layer on the strawberry filling.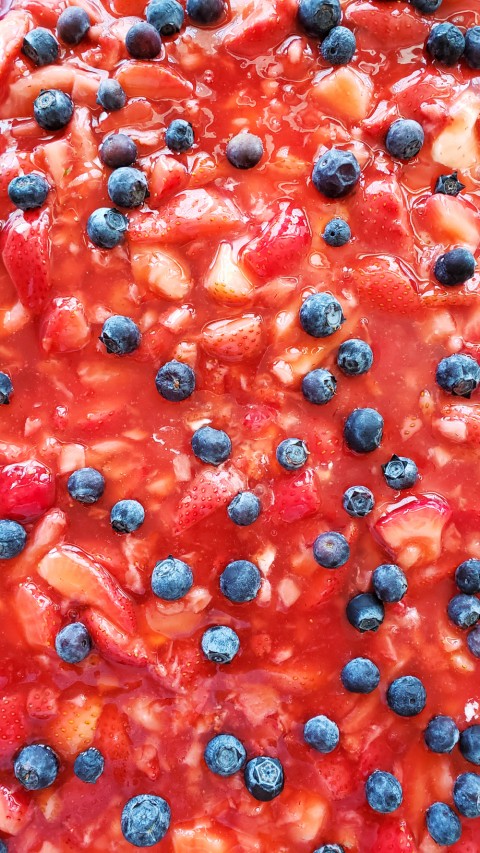 Doesn't this look fantastic? I put on some blueberries because I was making it for July 4 and I wanted the red, white and blue situation.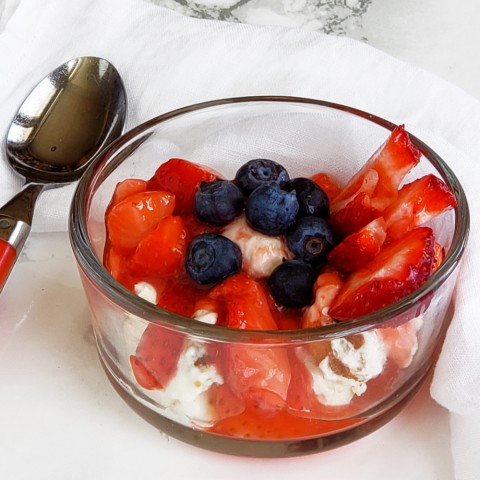 When you see fresh strawberries in the store, you know it's time to make Strawberry Cloud.
Today is the fifth day of #SummerDessertWeek, and 23 bloggers have joined forces to share recipes with you all week. I posted Monday (Strawberry Lassi), Wednesday (Cream Cheese Pastry with Almond Filling), and today (Strawberry Cloud Dessert), and have linked up to all the bloggers at the end of each post this week. So make sure to check back to see the new recipes, and follow #SummerDessertWeek on social media. There's a giveaway below, as well, so make sure you enter! Five people will win, and you might as well be one of them!
STRAWBERRY CLOUD DESSERT: A light, refreshing, creamy yet fruity fluff ball of a dessert with fresh strawberries, toasted angel food cake and whipped cream makes everyone happy!
Ingredients
Strawberry Filling

6 cups fresh strawberries (about 2 pounds)
1/2 cup sugar
3 tablespoons cornstarch
1 cup water
Red food coloring (optional), or use 1/4 teaspoon Strawberry Extract, which will also amp up the red color a bit
.
1 medium-sized rectangular (10 ounces or so) angel food cake
1 cup powdered sugar
1 (8-ounce) package low-fat cream cheese (or use regular)
1/2 teaspoon almond extract
1 1/2 cups heavy whipping cream
1/2 teaspoon vanilla extract
.

Garnish:

Thinly sliced strawberries and fresh blueberries (if you are going for the red, white and blue effect)
Directions
Make Strawberry Filling first:

Wash and remove caps from strawberries. Finely chop 1 cup of the berries. Mix sugar and cornstarch in a 2-quart saucepan. Stir in water and mix until smooth. Add the 1 cup chopped berries and a couple of drops of food coloring (optional) or Strawberry Extract.
Cook and stir over medium heat until it begins to thicken, becomes clear and comes to a boil. Boil for 1 minute, then remove pan from heat. Set mixture aside to cool completely.
While mixture cools, slice remaining berries in half or quarters (or eighths, if they are gargantuan). When mixture is cool, fold in sliced berries, stirring gently to coat them well.

While berries are cooling:

Slice angel food cake and toast the slices. I did it in an air fryer (400 degrees, 4-ish minutes), or you could line up all the slices on a baking sheet and toast them under the broiler. Watch carefully because if you go away to check your email, they will burn! Toast both sides for best flavor and effect. Remove from oven and allow to cool.

Assemble the dessert:

Break or cut angel food cake into small bite-sized pieces, placing cake pieces evenly in an ungreased 13- by 9-inch pan (use one with a lid if you have it). Using an electric mixer, beat powdered sugar, cream cheese, almond and vanilla extracts together until smooth. In a separate bowl, whip the cream until it has firm peaks. Add whipped cream to the cream cheese mixture, stirring by hand so you don't deflate the whipped cream. Blend thoroughly. Spoon the white cream mixture evenly on top of the cake layer, and stir it around in the dish to make sure the cake pieces are coated.
Spoon the cooled Strawberry Filling evenly into the pan, covering the white cream layer. Cover and refrigerate until ready to serve; should be refrigerated at least 4 hours for best results (cream mixture will soak into the cake a bit). Can be made the day before, and some people believe it is better made at least 24 hours in advance.
When ready to serve, garnish with thinly sliced strawberries, and a handful of blueberries (especially if you are going for the red, white and blue idea).
Serves 8-10.
Notes
Recipe source: Dorothy Reinhold | Shockingly Delicious.
Substitution: You may substitute an 8-ounce container of non-dairy whipped topping, thawed (such as Cool Whip), for the whipped cream and vanilla in the recipe, if you need to. The dessert will be sweeter.
Fancy: For a fancier presentation, you could certainly layer this in a large clear trifle bowl. If doing so, start with a layer of cake, then creamy filling, then strawberry filling, then repeat, ending with strawberry filling. Cover and refrigerate as directed.
https://www.shockinglydelicious.com/strawberry-cloud-dessert/
Copyright Dorothy Reinhold | ShockinglyDelicious.com. All rights reserved.
Sponsored items used in this recipe:
If you like this recipe and want to save it, pin the image below to your Pinterest board.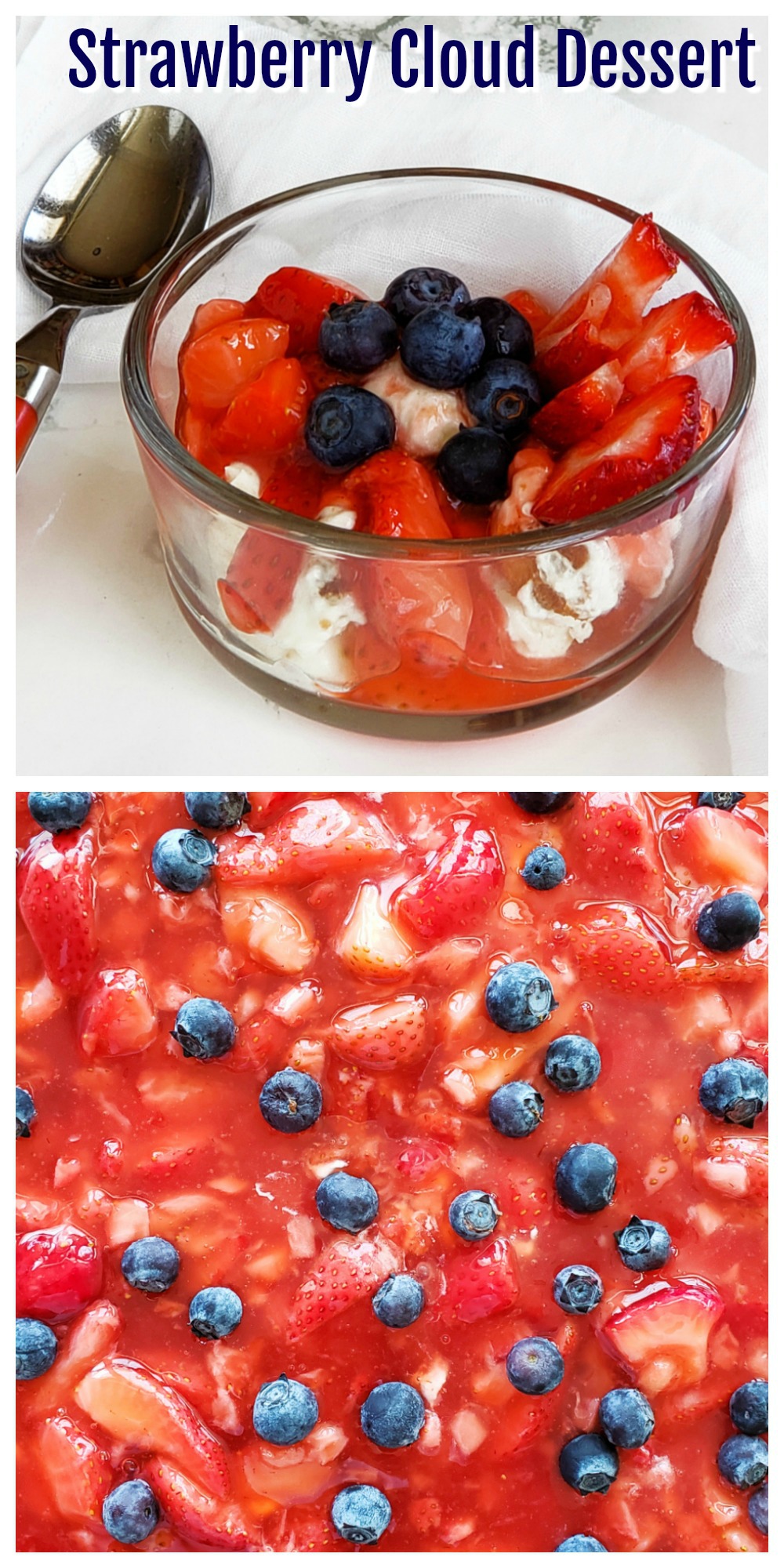 Check out the fantastic #SummerDessertWeek recipes from our bloggers today
Sweet Summertime Cakes:
No-Bake Treats:
Baked Desserts:
Sweet Sips:
Giveaway!
Welcome to the 2nd Annual #SummerDessertWeek event hosted by Angie from Big Bear's Wife. This sweet week-long event is filled with fun dessert recipes from amazing bloggers and some great giveaways from our generous sponsors! We can't wait to share all of these summer-themed desserts with everyone and celebrate summertime sweets all week long!
There are 23 wonderful bloggers participating in this year's event. With over 60 recipes being shared this week we just know that you're going to find a new summer favorite. Plus, don't forget that we have 5 (five) great giveaways for you this week too!
Scroll down to take a look.
PRIZE #1
Prize #1 — Dixie Crystals is giving away one (1) Instant Pot (8 Qt) to one lucky winner!
PRIZE #2
Prize #2 — Adam's Extract is giving away – One bottle of Adams Best Vanilla Flavor, Adams Best Prize Winning Pound Cake Mix, Adams Extract Twice as Strong Vanilla and Adams Extract Lemon Extract
PRIZE #3
Prize #3– Red Star Yeast is giving away a gift pack including an Insulated Tote Bag, Apron, "The New Artisan Bread in Five Minutes a Day" Cookbook, Yeast, Rolling Pin, Measuring Spoons, Bench Scraper/Dough Cutter, Oven Mitt and Kitchen Towel
PRIZE #4
Prize #4 — Susquehanna Glass Co. is giving away one set (4 glasses) of Mermaids Stemless Wine Glasses. (like the Mermaid glasses you'll see in some of our recipes this week!)
PRIZE #5
Prize #5 — Lodge Cast Iron is giving away one (1) 12-inch Cast Iron Skillet.
Giveaway open to US Residents 18 years or older. No PO Boxes Please. giveaway runs from July 9th until July 15th at 12AMEST. Winners will be selected soon afterward and contacted by e-mail. Winners will have 48 hours to respond or a new winner will be chosen. There are a total of 5 (five) prizes and therefore we will have a total of 5 (five) winners.
Disclaimer: These posts and recipes are part of the week-long event, #SummerDessertWeek but all opinions are 100% mine. We would like to thank our sponsors: Dixie Crystals, Adam's Extract, Red Star Yeast, Susquehanna Glass Co. and Lodge Cast Iron, who provided the prize packs for our giveaways and also sent samples and products to the #SummerDessertWeek bloggers to use in their recipes.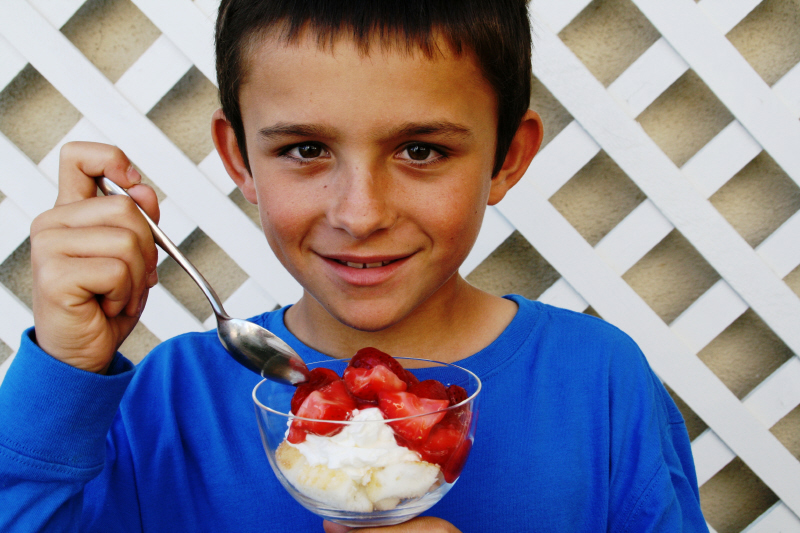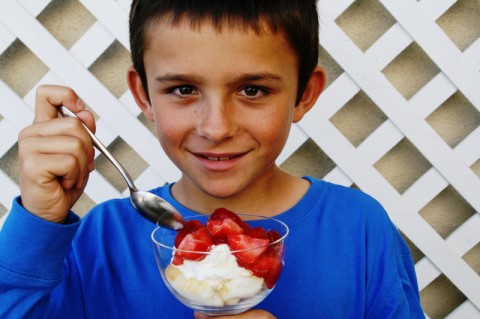 This recipe was first published on Shockingly Delicious on May 31, 2010. I have updated it with new photos and copy.