Print This Post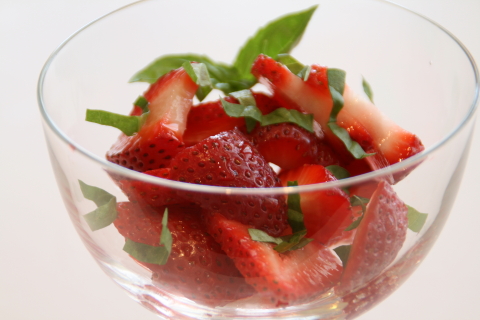 Basil might seem most suited to main course dishes, but in the Shockinglydelicious kitchen, we found that widening the focus showed basil in a new light. We began using it to add a sophisticated twist to a handful of different dishes, from dessert to drinks.
This one herb, probably growing abundantly in your garden right now, makes for an easy, elegant variation on a simple bowl of fresh fruit, a glass of lemonade or iced tea, or even a dessert.
Make some Basil Simple Syrup and set your imagination free!
Basil Simple Syrup
1/2 cup granulated sugar
1/2 cup water
1 cup fresh basil leaves
Put sugar and water in a small saucepan, stir and heat until it boils; sugar will dissolve and the syrup will be clear. Add basil leaves, stir to submerge all leaves, and turn heat off. Allow leaves to steep until liquid cools, 30-45 minutes or so. Strain leaves out using a mesh strainer; discard leaves. Syrup will be tinged with pale green. Store syrup in a labeled jar in the refrigerator.
Makes about 3/4 cup syrup — enough to play with in several different ways!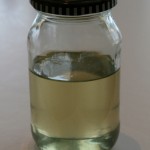 Strawberries with Basil Simple Syrup
Slice berries into a large bowl, spoon some simple syrup over berries, stir gently and allow to sit for 10 or so minutes. Stir again and serve berries and syrup in individual bowls, garnishing fruit with a few thinly sliced basil leaves for pretty.
Other Fresh Fruits with Basil Simple Syrup
As with strawberries, you may use this syrup to sweeten and flavor sliced mangos, nectarines or peaches, chunked watermelon, or berries, if you like.
Basil Lemonade
For one glass of lemonade, stir together 8 ounces ice water (or club soda or mineral water, for a fizzy version), 2 tablespoons fresh lemon juice and 2 tablespoons Basil Simple Syrup. Taste and adjust tart/sweet to your liking, adding either a bit more lemon or syrup, depending on if you like your lemonade more tart or sweet. Serve over ice in a tall glass, with a sprig of basil sticking out, if you have one! Life is good!
Sweet Tea with Basil Simple Syrup
For each glass of plain iced tea, add 1-3 tablespoons of Basil Simple Syrup (depending on how sweet you like your tea). Adjust sweetener to your liking.
Other uses for Basil Simple Syrup
–Drizzled over lemon poundcake
–Drizzled over cottage cheese, for breakfast. (Try it before you make fun of it!)
–Use it to sweeten a smoothie
–Use it to sweeten a cocktail