Print This Post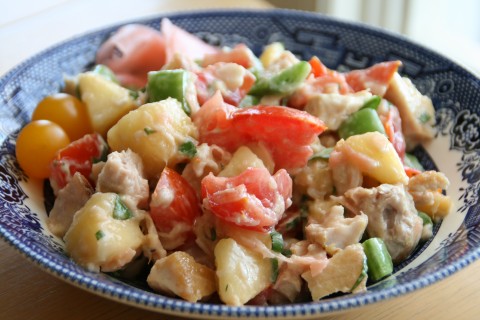 When people learn that I write about food, the next question I am often asked is how I make up recipes.
It's both easier and harder than you might think. Easy if you have food on the brain like I do. I know I am not alone in that; there are plenty of others for whom food goes way beyond the hobby stage and into an obsession, albeit a delicious obsession!
And hard because you have to almost "make" the dish in your head, and imagine the flavors as you progress, so you can figure out what to add, when and how much.
So how does a foodie make up a recipe?
Start with one ingredient that is staring you in the face, or that you need to use up.
In this case, it was some fresh wild-caught albacore I got on sale at the market. (I know fish in the sale bin might make most people pause and turn away, but when I see a certain attractive, wild-caught fish on sale, I say, "That's what's for dinner TONIGHT!")
The next question to ask myself is how I would like to cook it. On this day, weather played a role in that answer. It was a broiling hot afternoon, so I didn't want to heat the kitchen up, and I didn't want to have a big hot dinner staring at me later. So I decided to quickly pan-sear the fish, let it cool down, and then chop it to make a room-temperature salad.
With the main ingredient and the cooking method solved, all I had to do was add some more ingredients to create my dish.
I am constantly in a use-it-up mode, so I looked in the fruit and vegetable baskets, and this is what I found that might work and needed using:
–tomatoes
–ripe peaches
Both would add freshness and a slight sweetness to my salad.
I had fresh basil and chives growing in a pot on the window sill, and luckily there were a few more sugar snap peas on the vines in the veggie garden out back. The basil would add an herby quality, the chives an oniony bite, while the peas would add a lush "green" flavor and a bit of sweetness.
What to do to balance it all out? A dressing that has a bit of a kick. Since I had fish and veggies in my salad, I decided to play up the Asian influence.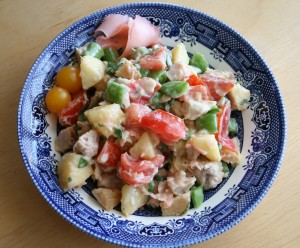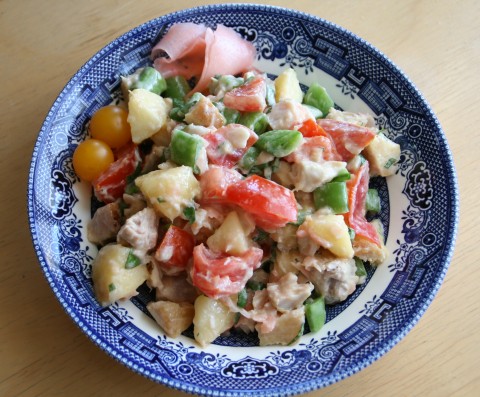 I found some wasabi mayonnaise in the refrigerator, and a little bag of pickled ginger that I had saved from my last take-out sushi meal. (I swear, I am not a hoarder.)
Into a large bowl all of it went, and ta-da, that made a delicious, fresh, seasonal main-dish dinner salad with an Asian bent.
The last thing on your plate, after you have eaten your creation, is to name it. And then write it down for posterity.
I present…
Recipe: Fresh Tuna Summer Salad
Summary: Add summery fruits,  vegetables and herbs to create your own Fresh Tuna Summer Salad, starring pan-seared albacore, peaches, tomatoes, sugar-snap peas, and a dressing with a wasabi kick.
Ingredients
1 tablespoon Wasabi mayonnaise (I used Trader Joe's jarred version)
1 tablespoon regular or light mayonnaise
1 tablespoon olive oil
A pinch of sea salt
1/2 pound fresh albacore or ahi tuna (wild caught preferred)
20 sugar snap peas, cap removed and pods sliced
2 tomatoes, cut in half and seeds removed
2 ripe peaches, skin and pit removed, chopped
2 tablespoons finely chopped pickled ginger
1 tablespoon fresh chopped chives
15-20 basil leaves, finely chopped into a chiffonade
Instructions
In a large salad bowl, stir together the two mayos, olive oil and salt. Set aside.
Heat a skillet, film it with a tiny bit of oil, and pan sear the fish on both side, until it is cooked on the outside but slightly raw in the very center. Remove fish from pan and set aside on a plate to cool.
Into the bowl, add the peas, tomatoes, peaches, ginger, chives and basil. Stir to combine with dressing.
When fish is cool, chop it and add to the salad, along with any accumulated juices on the plate. Stir gently to combine.
Garnish with whatever you have on hand that is cute – a tiny sprig of basil, a cherry tomato or two, a couple of long chives – just something to give it additional interest.
Serves 2.
Preparation time: 15 minute(s)
Cooking time: 5 minute(s)
Diet type: Pescatarian
Number of servings (yield): 2
Culinary tradition: USA (General)