Print This Post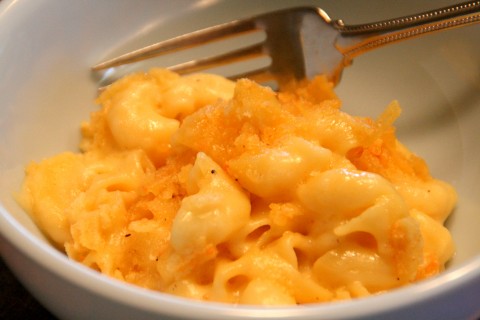 My neighbor John Liu has become famous in our town for his mac `n cheese.
Loaded with Gruyere and cheddar, this is a comforting, cheesy bomb of goodness topped with crushed Ruffles.
Yeah, he went there. Forget butter bread crumbs. Ruffles rule.
Let's let him show us how to make it…
Want to make this delicious mac `n cheese? It's easy, and the recipe is below. You can read more about John, including his favorite Southern California markets and his cooking inspirations, over on Malibu Patch in my column.
Cheddar and Gruyere cheeses marry into a rich sauce for this locally famous mac 'n cheese, topped with the crowning glory -- Parmesan potato chips!
Ingredients
2 cups large elbow macaroni
3/4 stick butter (6 tablespoons)
1/2 cup flour
1 1/2 cups half and half (can use whole milk)
1 cup shredded cheddar cheese
1 cup shredded gruyere cheese
1/2 teaspoon garlic salt
1/2 teaspoon nutmeg
Kosher salt
Pepper
2 handfuls Ruffles potato chips (John prefers Ruffles® Natural Reduced Fat Sea Salted Potato Chips)
1/2 cup grated Parmesan cheese
Directions
Heat oven to 400 degrees.
Bring a pot of water to a boil. Add about a tablespoon of kosher salt to the water. Cook macaroni until al dente and drain well. Set aside.
In a sauce pan, melt the butter and then stir in the flour to make a roux. Pour in the half and half (or milk) and cook over medium heat until just before it boils, stirring constantly so as not to burn the mixture. It will thicken slightly. Stirring will also help dissolve the flour mixture. Slowly add the cheddar and gruyere to the sauce while stirring; it will thicken considerably.
Once the cheese is melted, add the cooked macaroni and stir into the cheese sauce. Flavor with a dash of garlic salt and nutmeg. Taste, and add kosher salt and pepper to your taste.
Pour mixture into a 13- by 9-inch baking dish and bake for about 45 minutes.
While dish is baking, toss potato chips into a mixing bowl, and crush them with your hands. He says you can do it in a blender, but observes that using your hands is more fun! Add the Parmesan cheese and mix with the crushed chips.
During the last 5-10 minutes of baking time, generously sprinkle the cheesy crushed chips on top of the mac `n cheese. Return to the oven and finish baking. Chips will be crispy and slightly browned.
(You can run the dish under the broiler if you like, but he warns that the chips burn easily, so don't walk away if you choose to do this.)
Serves 8-10.
Notes
Recipe source: John Liu of Malibu, California.
https://www.shockinglydelicious.com/great-mac-n-cheese/
Copyright Dorothy Reinhold | ShockinglyDelicious.com. All rights reserved.